In light of COVID-19, there's no better time to show the loved one in your life that you care – it doesn't matter if you say it with flowers, chocolates or personalised photo books, just say it. Here's our pick of the best gifts for Mother's Day 2020 (we have tried to include a range of retailers, to allow for any shortages in stock):
Mother's Day Gift Guide 2020: Food + Drink
What: Gü's limited-edition Creamy Cappuccino Cheesecakes are the ideal treat for your loved ones this Mother's Day, with the ultimate combination of everyone's favourites: coffee, chocolate and cheesecake.
The Lowdown: These cheesecakes include a delicious blend of ground Arabica and Robusta coffee in the biscuit base, layered with an irresistible chocolate and coffee sauce, topped with Gü's signature mascarpone cheesecake filling, for the ultimate sweet pud. Carefully crafted by Gü Head Chef Fred Ponnavoy, these cheesecakes will go down a treat.
Price: The limited-edition flavour is priced at £3.30 – available in both Tesco and Waitrose
What: If you are looking for the perfect gift to make her smile this Mother's Day, look no further than Cartwright & Butler Just for You Hamper.
The Lowdown: This delightful hamper contains a selection of C&B's finest pink products, beautifully presented in a pink wicker heart-shaped basket. They'll be spoilt for choice with all-butter Classic Fudge, delicate Rose Petal Jelly, Sherbet Pips, Cranberry Crumbles and Chocolate Wafer Crispies.
Price: The hamper costs £40 and can be purchased online. There's also a good selection on Selfridges online
What: The Lily O'Brien's Dessert Collection is the ideal choice for mums this Mother's Day, featuring a delicious assortment chocolates inspired by classic dessert recipes from across the globe.
The Lowdown: Each chocolate box contains 18 chocolates including Banoffee Pie, Hazelnut Torte, Crème Brûlée, Passion Fruit Posset, Key Limey Pie and Raspberry Infusion.
Price: From £7 – available on Amazon and online here
What: Brand new for this year, Baileys Strawberries & Cream Hearts are the ultimate gift for any mums who love a tipple of the iconic Irish cream liqueur.
The Lowdown: Made with love and care, the heart-shaped sweet treats are guaranteed to be a great gift for someone special. Encased in a smooth milk chocolate shell, filled with a dreamy truffle filling that perfectly blends the fresh, sumptuous taste of strawberries with light and creamy vanilla, together with the luxurious taste of Baileys Original Irish Cream. This match made in heaven is perfect to share with your mum over a cuppa or a gift for her to indulge in on her own – and let's face it, she deserves it.
Price: Get your hands on an irresistible box for £4 from Asda and Amazon
What: Bottega's Petalo Moscato Vino dell'Amore – as the rose on the bottle suggests, Bottega's Petalo Moscato is kissed with the scent of roses and a touch of sweetness. With a low alcohol content, the white sparkling wine is characterised by floral (rose, wisteria and wildflowers) and fruity (peach, apricot and citrus) notes creating a velvety and intense taste sensation.
The Lowdown: Made from grapes grown in the Padua region of Northern Italy, an area that has the perfect climate and ground condition to ripen and develop the wine giving the Petalo Moscato its pronounced and elegant bouquet. Petalo Moscato complements a range of sweet and savoury desserts, making it the perfect after dinner tipple. What's more, this wine is encased in a beautiful rose scented box giving that extra decadent touch.
Price: £15.50 – available online here and Amazon here
What: Looking for a cute Mother's Day gift? Whittard has a range of great gifts this Mothering Sunday.
The Lowdown: Something to settle down with after a strenuous game of croquet (hedgehog and flamingo-free might we add)? Ah, now we have just the thing. Designed exclusively for Whittard, this fine bone china tea-for-one features reimagined illustrations from Lewis Carroll's Alice in Wonderland. It's what we'd call "a cuppa fit for a queen". Enjoy a cuppa with their delicious Earl Grey shortbread.
Price: Available from whittard.co.uk and in-store for £40
What: Boodles Mulberry gin is perfect for sipping warm or cold and combines delicate mulberries with notes of raspberry and currant to create a sweet and subtle medley.
The Lowdown: Traditional sloe gin – a product long steeped in British tradition – serves as the primary inspiration behind Boodles Mulberry. Made with Gin, mulberries,  raspberries and a blend of natural ingredients, Boodles Mulberry is a liqueur perfect for sipping both warm and cold. Delicate mulberries combined with notes of raspberries and currants to create a sweet and subtle medley. It's the perfect complement to Boodles British Gin's unique botanicals of rosemary, nutmeg and sage, creating the proper balance and complexity of flavour.
Price: The new Boodles Mulberry comes in a charming bottle set to dazzle any drinks cabinet this season. Currently on offer at Morrison's and Amazon. Both priced at £20
What: With research showing that the second most popular gift for Mother's Day is now gin, second only to flowers, Craft Gin Club offers a unique gift perfect for the superwomen of the world. 
The Lowdown: A Craft Gin Club box is so much more than just a gin-in-a-box – it comes packed with a full-size bottle of craft gin (70cl), perfectly paired tonic, sweet and savoury treats, garnishes, cocktail of the month ingredients, and a 56-page magazine – all remaining a surprise for the recipient until it arrives on their doorstep.
Price: One-off gift boxes are available for £49.99 and gift subscriptions start at £149 for quarterly boxes – online here
What: English Tea Shop's speciality wellness teas are the perfect gift for mum to help her relax and rejuvenate. Offering a variety of unique flavours, there's a tea for every relaxing moment, made from organic, healthy ingredients with no additives or flavourings.
The Lowdown: The range includes wellness teas such as Beautiful Me, Happy Me and Sleep Me. Sustainability is at the core of the brand, working with the finest organic and Fairtrade farmers to produce the highest quality products. The English Tea Shop range is handpicked in limited quantities before being packed in the English Tea Shop factory in Sri Lanka. With certifications from the Soil Association and Fairtrade International, the wellness collection tea bags are all staple-free, home compostable and come in fully recyclable sachets.
Price: From £2 – available on Amazon
What: Laurent-Perrier's limited edition Cuvée Rosé 
The Lowdown: Champagne is always on ice for celebrations, and this Mother's Day make it an unforgettable one with Laurent-Perrier's Cuvée Rosé. The striking and bold new robe has been crafted to reflect vibrant pink hues of the champagne and enhance the luxurious rose gold features of the iconic bottle, adding an extra touch of sparkle to the light and graceful champagne. The benchmark of rosé champagne, Laurent-Perrier's Cuvée Rosé offers the freshest red fruit notes with every enticing sip.
Price: £79.99 (75cl), available at Selfridges
Mother's Day Gift Guide 2020: Lifestyle
What: Enjoy the benefits of aromatherapy, hydration and Himalayan pink salt therapy with the madebyzen Glo aroma diffuser. Achieving the perfect balance of aesthetics, simplicity and functionality, Glo combines aromatherapy with the calming effects of Himalayan pink salt. It creates an inviting space and a serene atmosphere for relaxing or socialising.
The Lowdown: Traditionally mined from the foothills of the Himalayan mountains, salt lamps are blocks of pure Himalayan rock salt which act as ionisers by releasing negative ions into the air. They have been reported to boost serotonin levels, improve mood, alertness and assist with anxiety and depression. The idea behind negative ion therapy is that positive ions in the air make us feel bad, and negative ions in the air make us feel good.
Price: £89.99 – available online here
What: Denby Quartz Rose 4 Piece Rice Bowl Set
The Lowdown: Quartz Rose is a striking collaborative ceramics collection from Denby and John Lewis & Partners which features reactive glazes and blush shades to bring warmth and style to the home. Masterfully crafted at the Denby Pottery from local Derbyshire clay, these beautiful Rice Bowls are the perfect size for rice, side dishes and condiments and look beautiful when stacked showcasing the tonal glazes of the collection.
Price: £48 – available here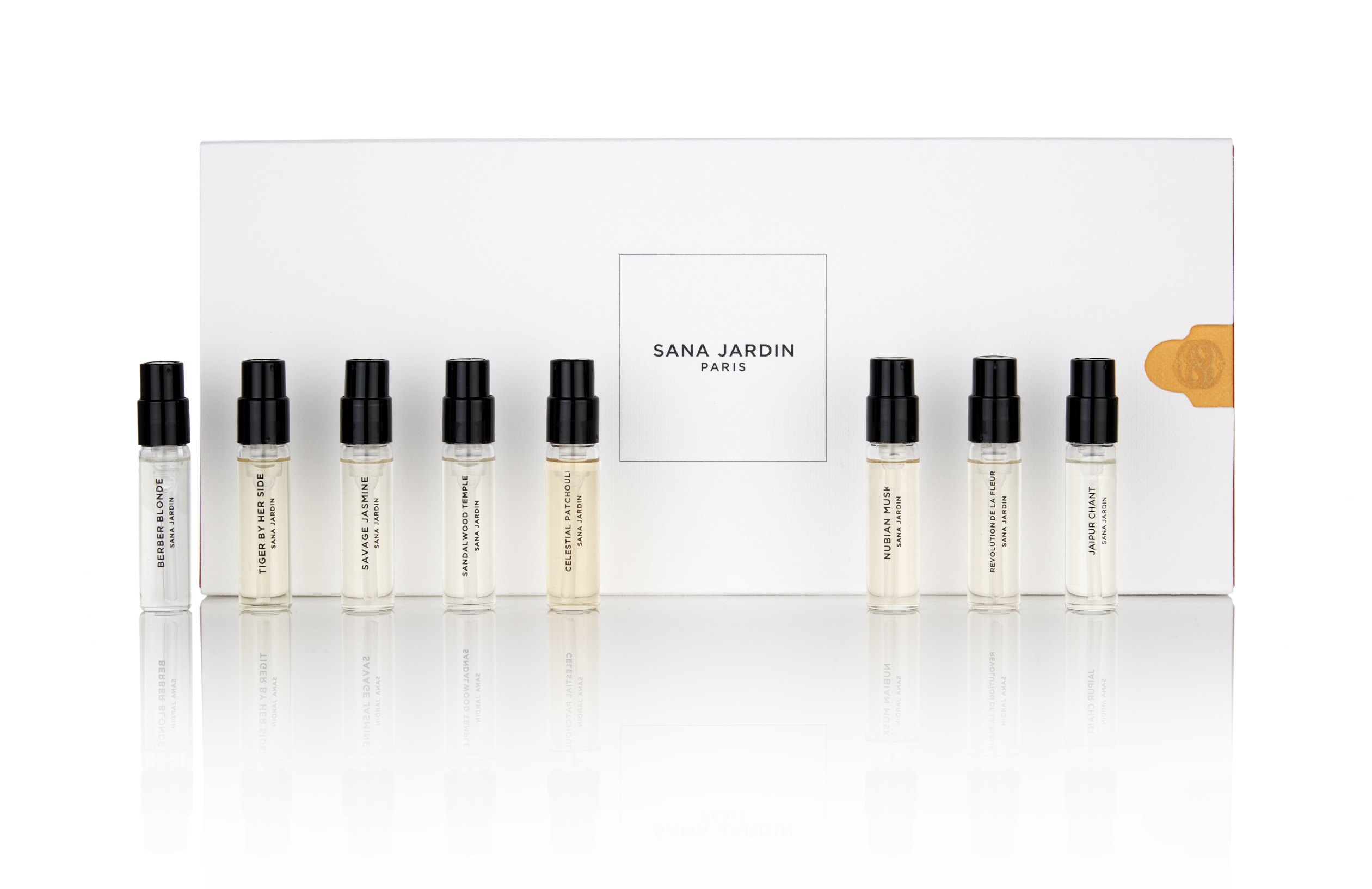 What: Sana Jardin was built on the principles of a circular economy; their alternative business model enables women in the supply chain to become micro-entrepreneurs by up-cycling the waste products from perfume production. This lovely discovery set contains 2ml phials of the entire collection; the perfect gift for those looking for a signature scent.
The Lowdown: Each of the eight intoxicating fragrances are designed to transport and uplift whilst giving the wearer a role in the cycle of change; empowering all woven in the circle, from harvester to consumer.
Price: Buy the set for £30 and receive a voucher for same amount to redeem against your next purchase of a 50ml or 100ml Jardin fragrance. Online here.
What: This Lucy Bee Radiance-Boosting Face Cream is an antioxidant and contains vitamin E and apricot oil to help repair and rejuvenate tired, dull-looking skin. It also contains turmeric which improves skin radiance, reduces redness and evens skin tone due to its anti-inflammatory properties, giving you a natural glow.
The Lowdown: This cream is ideal to help maintain the softness of the skin and reduce the appearance of ageing. If used morning and night, it will keep the skin hydrated and with the added turmeric, it'll give you skin the extra boost it needs to look healthier, fresher and more radiant. The range was created using high quality, all-natural ingredients and is cruelty-free, vegan and COSMOS Organic so is good for your skin and good for the planet.
Price: Radiance-Boosting Face Cream is £35 – available online here
What: Delight your Mum this Mother's Day with Ted Baker's Opulent Blossom Vanity Case. The gift comes in a stylish grey featuring Ted's statement magnolia print that was inspired by country gardens.
The Lowdown: This elegant case contains a luxurious Body Wash, Body Spray, Body Conditioner and Bath Fizzer, that is infused with a feminine and sophisticated floral fragrance. The Opulent Crush fragrance has a base of white patchouli, soft moss, vanilla, amber and tonka is linked with a floral heart of jasmine and rose. Citrus top notes are teamed with dewy raspberry, pear and magnolia flower.
Price: Ted Baker's Opulent Blossom Vanity Case is priced at £28 and is available exclusively at Boots and boots.com
What: The beautiful Interflora's Beaming Brights Hatbox is the perfect pop of colour for mum.
The Lowdown: Featuring zingy asclepia, scented lisianthus and purple clematis, this cheery bunch of blooms will go down a treat. Best of all, it's delivered perfectly pre-arranged by Interflora's pro florists so Mum can enjoy her blooms right from the moment they arrive (and get back to putting her feet up!) This bouquet features cerise large headed roses, orange asclepia, a yellow spray rose, a purple lisianthus, a yellow spray chrysanthemum, a purple clematis and pistache, presented in a soft cream and black hatbox.
Price: £35 – available online here
What: Nostara is a home fragrance must-have with its luxury scented candles and reed diffusers. Hand poured in the South West of England, Nostara's natural eco-friendly soy wax candles contain high quality essential oils to deliver a clean, long lasting burn candle with a beautiful aroma throughout your home.
The Lowdown: From the stunning glassware to their rose gold lids and understated packaging – their products are the epitome of luxury. All the scents have been designed with an emphasis on complex fragrance notes, giving a multi-dimensional olfactory experience. Whether you are tempted by their zesty homage to G&T – Lime & Juniper Berry, or their seductive take on the Queen of Flowers – Ebony Rose, there's sure to be something for everyone. Available in 7 fragrances: Lime & Juniper, Bergamot & Black Tea, Linen & White Gardenia, Ebony Rose, Burnished Amber, Frosted Fir and Leather & Vetiver.
Price: Candles start from £35 and room diffusers from £39 – available online here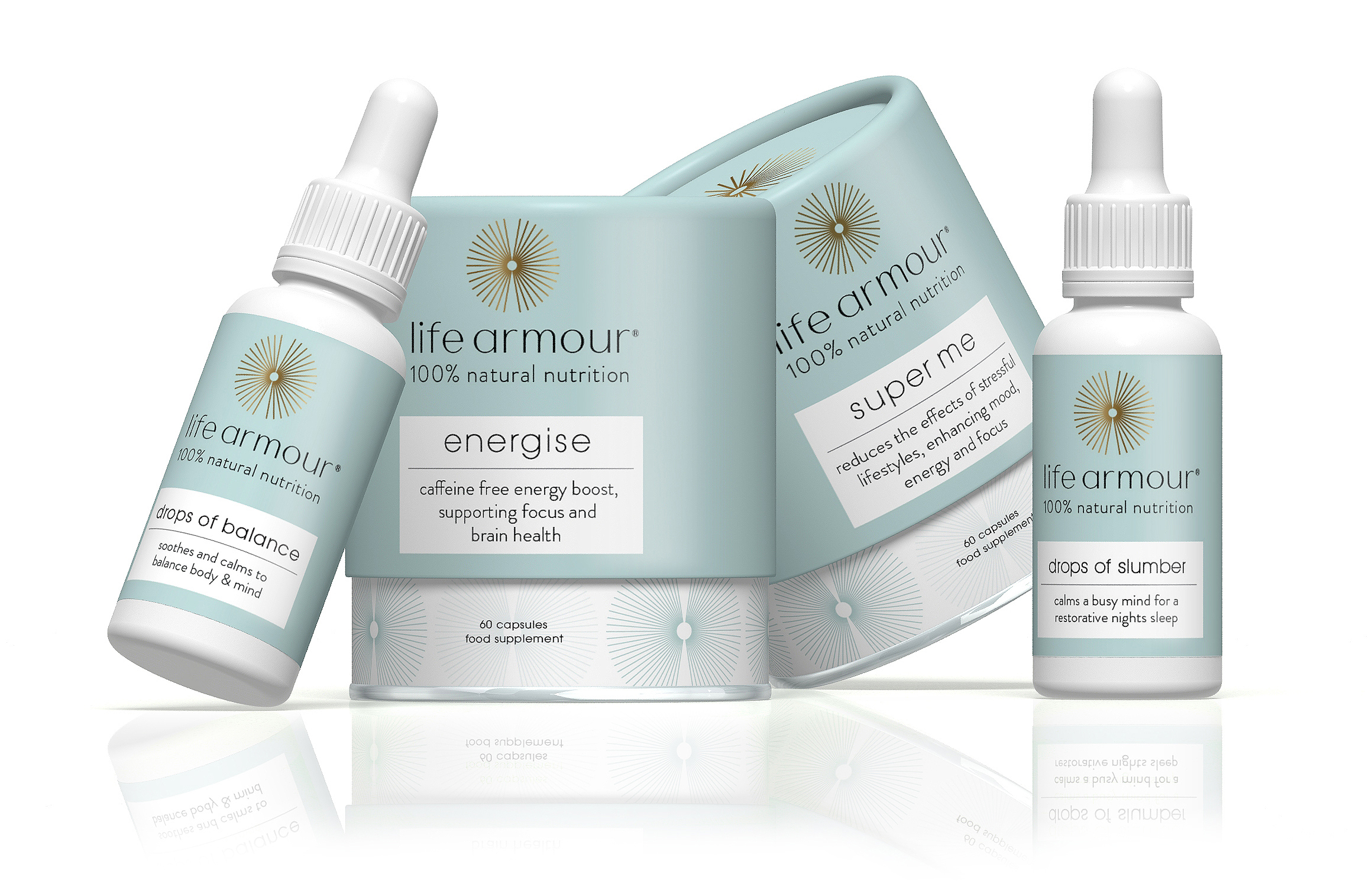 What: Give the gift of calm this Mother's Day with Life Armour, the new 100% natural and vegan friendly supplement range
The Lowdown: Every mum deserves more than a brief moment of tranquillity. Show her how much you care by gifting her lasting calmness . Trust us, she will thank you for it! The Life Armour range is designed to nourish from within to protect against the stresses and strains of modern life. Containing clinically proven ingredients that effectively reduce stress and anxiety, the natural formulas work in harmony with the body and products focus on sleep, brain health and increasing resilience to daily stressors.
Price: Capsules (1 month's supply) : super me £30 | energise £28  – Tinctures 30ml:  drops of balance £22.50 | drops of slumber £25
What: Give the gift of Rose with Dr Hauschka's best selling face and body products in a beautiful cosmetics bag. We love the brand's rose day cream, body oil and bath essence.
The Lowdown: The Dr. Hauschka Nurturing Rose Skin Care Kit includes their best-selling Rose Day Cream plus a free Hydrating Hand Cream and Rose Nurturing Bath Essence. Put together in a beautiful reusable cosmetics bag, this kit is the ideal gift to the natural skin care enthusiast in your life.
Price: £30.50
What: Release the tension for your mum this Mother's Day with Theragun's percussive therapy. Alleviating muscle tension, improving mobility and posture and aiding recovery, their products provide natural relief from the stresses of everyday life.
The Lowdown: The vertical motion of percussive therapy causes a deeper impact on the body than other forms of myofascial release such as foam rolling. For some people foam rolling and different forms of myofascial release can be uncomfortable or painful. Theragun's physician calibrated percussive therapy combines an optimal frequency (speed), amplitude (depth) and torque (pressure) to override these pain signals from reaching the brain – thereby making the treatment a more comfortable experience.
Price: From £229 – available to purchase from the Theragun website and on Amazon