Seventies Fashion is difficult to categorise, as just like its women, it didn't play by the rules. 60s cute collars were pushed aside by all that was big and bold, from the loud prints, to the flared jeans, to the high hair and the high-kneed boots. The padded-shouldered power dressing of the 80s was actually born in the 70s, the era where fashion was the epitome of effortless chic with that Ross-meets-Springfield edge.
Boho
Remnants of the flower-powered 60s blossomed Boho into the next decade. Although synonymous with spring-time daisy chain making, the 70s Boho look can be achieved in the winter without making you look like a displaced pseudo-Pocahontas. This Ukulele best-seller is the perfect boho party dress, it features luxury lace inserts, a matching lace bow belt and a concealed zip.
This look can be completed (or achieved more subtly) with Nostalgic Feather jewellery. Designer, Sarah Gouge, collects and selects her own stones and crystals which means each piece is unique and exclusively yours. A plain backless dress can be given a bohemian edge with her body chains, and her bracelets and rings can give an everyday look some gypsy-soul.
These charcoal Seven Boot Lane Annie boots are perfect for the transition into spring. Their both versatile and won't get ruined in the rain.
This Tusting bag is also the perfect Boho companion. Made with real leather, it's durable (and an *investment*).
Texture(al) healing
You want to stroke the 70s, there's suede, tassels, velvet, silks. The only issue is your dry cleaning bill.
This Asos 70s halter is perfect for the evening and you'll be the most huggable person at the party. Wear at your peril.
These Topshop boots are also perfect for the transition into spring and the pop of earthy colour will liven up any outfit.
The 70s were a big decade for fashion in that it brought us the DVF wrap dress. We opt for this colourful 70s number, which with the navy gives it that SFW stamp of approval.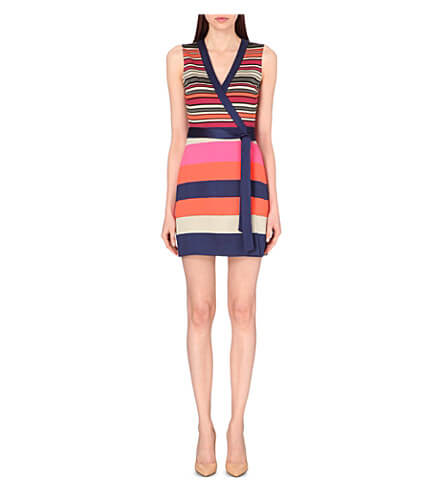 Ukulele Victoria Flare Trousers offer a seventies boogie feel crafted in luxury golden cross print on a double-layered mesh fabric. The accompanying top is sheer with beautifully embroidered ruffle cuffs, a peasant blouse Cinderella-d.
Prints
If you want prints, look no further than Pucci. This dress also ticks the 70s 'one-shoulder-trend'. (Two birds one stone). If you don't want to commit to a dress you can ease your way into the Pucci print with one of their statement piece scarves.
Equally if you're all for bold but not for breaking the bank, here's a great flowery Topshop option, great for both winter to spring, day to night.
Last but not least, our ultimate 70s print must-have is this pink vintage shirt by Sara Waiste. Shop her collection here 
Accessories
These Miu Miu sunglasses will give your daytime some saturday night-fever. Yes to glitter, always.
Hair 
The seventies are back in a big way for SS15 across the style spectrum from flares to Farrah flicks. Sam Burnett, founder and Creative Director of new London salon spot, HARE&BONE explains the trick to stay on trend is through texture – playing with finishes to keep the style modern.
THE CUT: For that real boho style it's all in the details – focusing on a curved eye skimming fringe and round layers to frame the face and accentuate the cheekbones. I would then use a free-hand layering technique through the front lengths to create a modern softness. The perimeter through the back should be kept heavy and blunt for a fresh take on the look.
THE FINISH: Prep hair with KMS 'Add Volume Volumizing Spray' for a strong hold and subtle shine, drying the roots and fringe smooth with a round brush – think bounce rather than body. Then tong your hair away from your face in large sections from the lip line down and gently brush through to create a more lived in, relaxed look. KMS 'Playable Texture' is perfect for creating this boho-beauty texture.