Looking for the best face oils that will totally transform your skin? There's nothing more luxury and indulgent for the skin than a really good, nourishing face oil. Here's 10 of our favourite face oils right now:
1. Best Face Oil for Hydration: Skyn ICELAND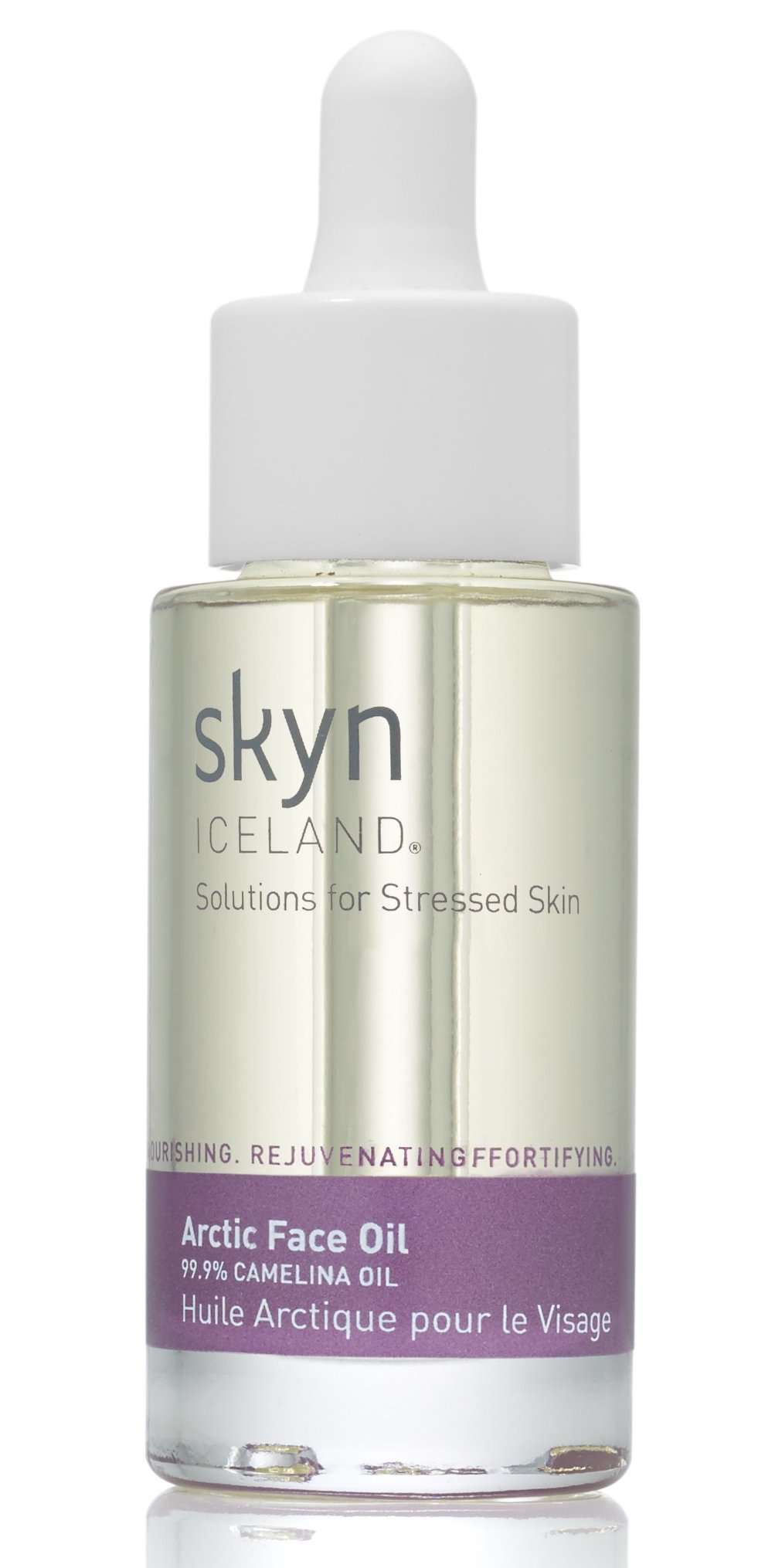 The Product: Arctic Face Oil (£30)
The Lowdown: It's high time you dumped your moisturiser and tried Skyn ICELAND's Arctic Face Oil. The oil's nourishing infusion of soothing hydration helps revitalise and repair. Although luxurious and lightweight in texture, Arctic Face Oil delivers powerful hydration, helping to repair and balance skin's lipid barrier while locking in lasting moisture. If you're an oil newbie – Skyn ICELAND's facial serum is an excellent gateway product.
Stockists: Buy online 
2. Best Face Oil for Natural Goodness: Neom Organics
The Product: Perfect Night's Sleep Face Oil (£42)
The Lowdown: Neom Organics only launched their new night oil fairly recently and people have been going crazy for it. Why? Because this is a 100% natural face oil that not only leaves your skin deeply nourished and hydrated, but helps it get the absolute most out of those night-time hours. The Perfect Night's Sleep Face Oil includes an incredibly powerful formula of antioxidants, omega complex and oils rich in vitamins
Stockists: Buy here 
3. Best Face Oil for a Youthful Glow: Time Bomb
The Product: Time Bomb Youth Juice Secret Oil  (£42)
The Lowdown: This ultra-fine, non-greasy oil not only quenches thirsty, ageing skin, but also creates a moisture barrier that helps to reduce the appearance of lines and crevices. The oil is rich in Vitamins E and C, and the Youth Juice helps plump, protect and seal in natural moisture. 
Stockists: Buy here 
4. Best Face Oil for Dry Skin: The Ordinary
The Product: 100% Organic Cold-Pressed Moroccan Argan Oil (£5.90)
The Lowdown: If you haven't heard of The Ordinary, get to know. This formulation uses 100% pure Moroccan Argan Seed Oil extracted through a cold pressing that preserves the integrity of the oil's fatty acids, vitamins, phenols (including caffeic acid) and carotenes. The oil supports healthy skin and reduces the appearance of flaking.
Stockists: Buy online 
5. Best Face Oil for Light-Weight Hydration: A'kin
The Product: Weightless Rosehip Oil (£26.25)
The Lowdown: One of our favourite facial oils, for sure. This fast absorbing oil is perfect for resetting your skin for the week ahead, and hydrate and soften skin with no greasy residue. Unlike cream formulas that are normally water-based, the Weightless Rosehip Oil is made from omega fatty acids and an abundance of anti-oxidants that will boost your skin's wellbeing.
Stockists: Buy online 
6. Best Face Oil for Repairing Skin: Kiehl's
The Product: Midnight Recovery Concentrate (£38)
The Lowdown: One night. A few drops. Healthier-looking skin by morning. This formula works by enhancing your skin's natural night-time recovery process, and by morning you'll wake up with fresher-feeling skin, which is more toned, and with improved radiance. A few of the key ingredients include Lavender Essential Oil, Primrose Oil, and Kiehl's-signature ingredient squalane, derived from olives. People rave about this product for good reason.
Stockists: Locations here
7. Best Face Oil for Rejuvenation: PURE 
The Product: PURE Regulate and Clear Face Oil (£32) 
The Lowdown: Ideal for oily, combination or blemished skin, PURE's Regulate and Clear Face Oil has been formulated to replenish and rehydrate the skin with aromatic Rose, Geranium and Orange plus enriching Macadamia, Calendula and Evening Primrose. Omega 6 + 9 help to repair and rejuvenate and restore the skins natural lipid barrier.
Stockists: Buy online 
8. Best Face Oil for Nourishing: Elemis
The Product: Superfood Facial Oil (£45)
The Lowdown: If your skin needs a lil TLC, the Superfood Facial Oil by Elemis hydrates, nourishes and smoothes. Anti-oxidant and omega-rich broccoli, flax seed and daikon dadish feed the skin for a healthy, radiant glow. One of the best natural facial oils on the market.
Stockists: Buy here 
9. Best Face Oil for Cell Repair: Aurelia
The Product: Cell Repair Night Oil (£64)
The Lowdown: This oil glides on and leave skill feeing hydrated. BioOrganic pure botanicals ensure this oil instantly absorbs to work on all fronts: Kalahari oil provides abundant essential fatty acids, Mongongo oil restructures and regenerates the epidermis and Kigelia firms and tones. Baobab, rich in precious Omegas, helps repair, hydrate and renew while the antioxidant properties of Hibiscus and Pomegranate fight free radicals reducing oxidative stress.
Stockists: Buy online 
10. Best Face Oil for Firmer Skin: Body Shop
The Product: Intensely Revitalising Facial Oil (£30)
The Lowdown: By infusing 3 precious seed oils from around the world, known for their revitalising and repairing properties on skin – Black Cumin seed oil from Egypt, Camellia seed oil from China and Rosehip seed oil from Chile – with a powerful blend of essential oils, the Body Shop's daily facial oil intensely revitalises skin, instantly replenishes moisture and revives radiance.
Stockists: Buy online