From a seemingly innocent one-night stand, How To Hold Your Breath dives into our recent European history, in an epic look at the true cost of principles and how we live now. Assessing the value of self-worth, this dark, witty play is a testimony to contemporary writing in its ability to reinvent the ecology of theatre. Written by Zinnie Harris and with the Royal Court's Artistic Director Vicky Featherstone at the helm, How To Hold Your Breath menacingly sweeps up its audience with infectious and pacy storytelling.
Image credit: Manuel Harlan
The show opens with loud-mouthed leading lady, Dana (Maxine Peake) and demon (yes, actual demon) Jarron (Michael Shaeffer) bedbound. Unbeknownst to Dana, he thinks she's a prostitute. She refuses to accept a fee for the night's activities and thus the unpredictable and seductive plot begins to take its shape. Shifting from casual demonic shag fests, the twisted drama soon centralises on the epic journey of orphan sisters Dana and Jasmine (Christine Bottomley). A delectable balancing act, Jasmine provides the yin to Dana's yang. If Dana needs shoes to go to work, Jasmine gives hers over and stays in the apartment. The chemistry between these two actresses is matched in their reactive performances. Bottomley's soulful portrayal of Jasmine is humorous, hearty and fearless, as the spunky, leopard coat-clad sister who deals with everything from unexpected pregnancies to rationed food supplies with buoyant optimism.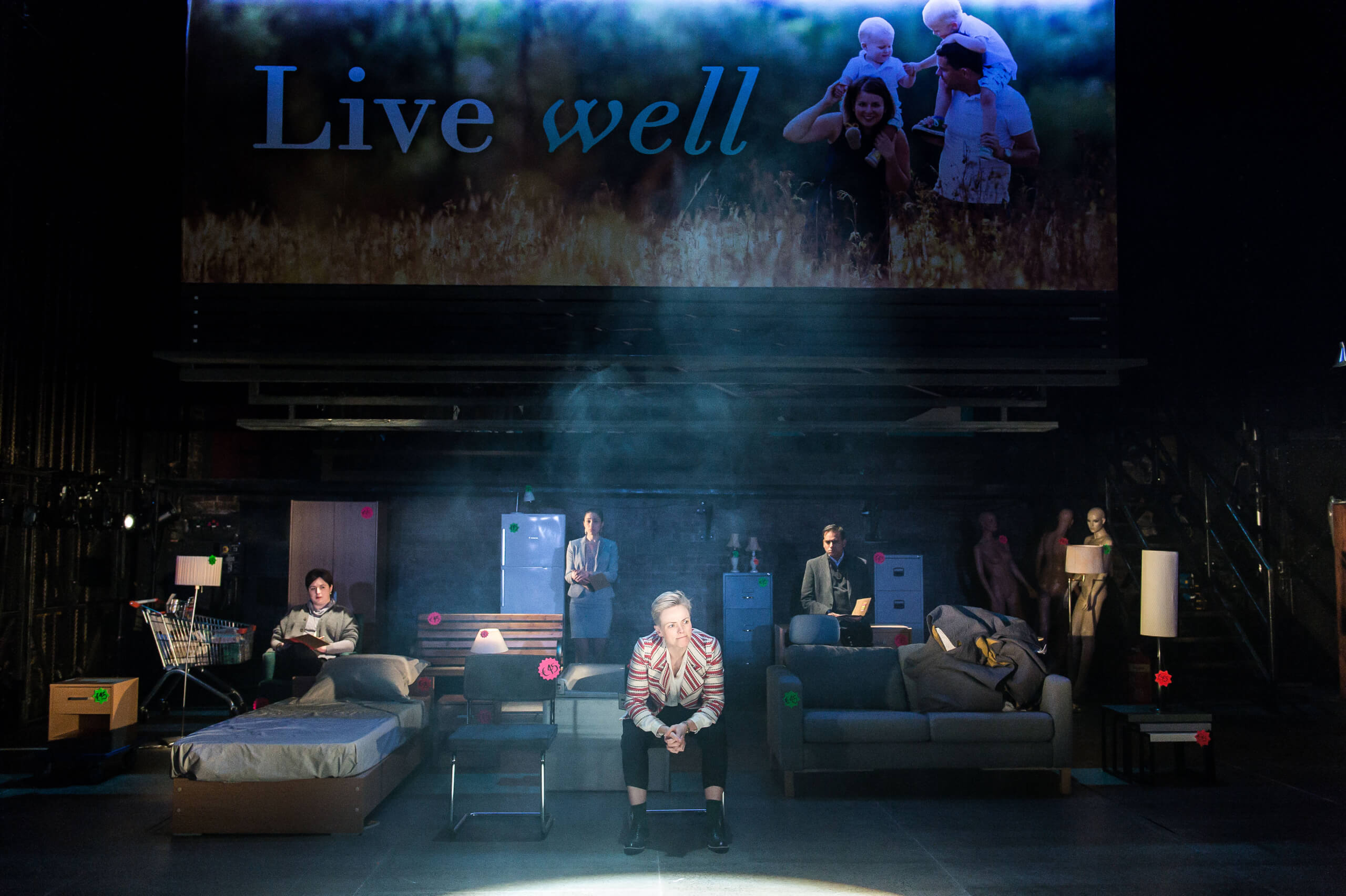 Image credit: Manuel Harlan
Exploring how we live today, the sisters embark on an epic journey through Europe. Modern living – prescribed, guided, measured and frantic – proves strenuous when basic comforts and certainties are removed. Meanwhile prudish Librarian (Peter Forbes), serves as a guide, providing a drip feed of information in precise and measured encounters (despite having a demon story of his own).  As the tilting stage rises and the innocent fall away, it is all too apparent: the world can swallow you up – you better learn how to hold your breath.
Image credit: Manuel Harlan
Until 21st March, royalcourttheatre.com/whats-on/how-to-hold-your-breath