Need to find your mum a suitable gift for Mother's Day? We've got just the feature. From boozy gift sets to breakfast in bed hampers – here's 10 hampers that will rock your mum's world on her special day:
1. For a Tea and Toast Hamper: Fortnum & Mason
What: Mother's Day Hamper (£85)
The 411: Spoil mum with choice, in the form of this wonderful wicker basket containing all the essentials required for a truly exceptional Mother's Day experience. Filled to the brim with the finest of Fortnum's, the Mother's Day Hamper includes a tin of delicately aromatic Countess Grey Tea, ideally matched with a tea disk infuser and hand-iced biscuit.  Also included is F&M's flavourful Wild Blueberry Preserve and Nonpareil Marmalade, an enchanting selection of chocolate creams and finally, an exclusive Countess Grey Tea Votive Candle.
Where: Online here 
2. For an Afternoon Tea Hamper: Forman & Field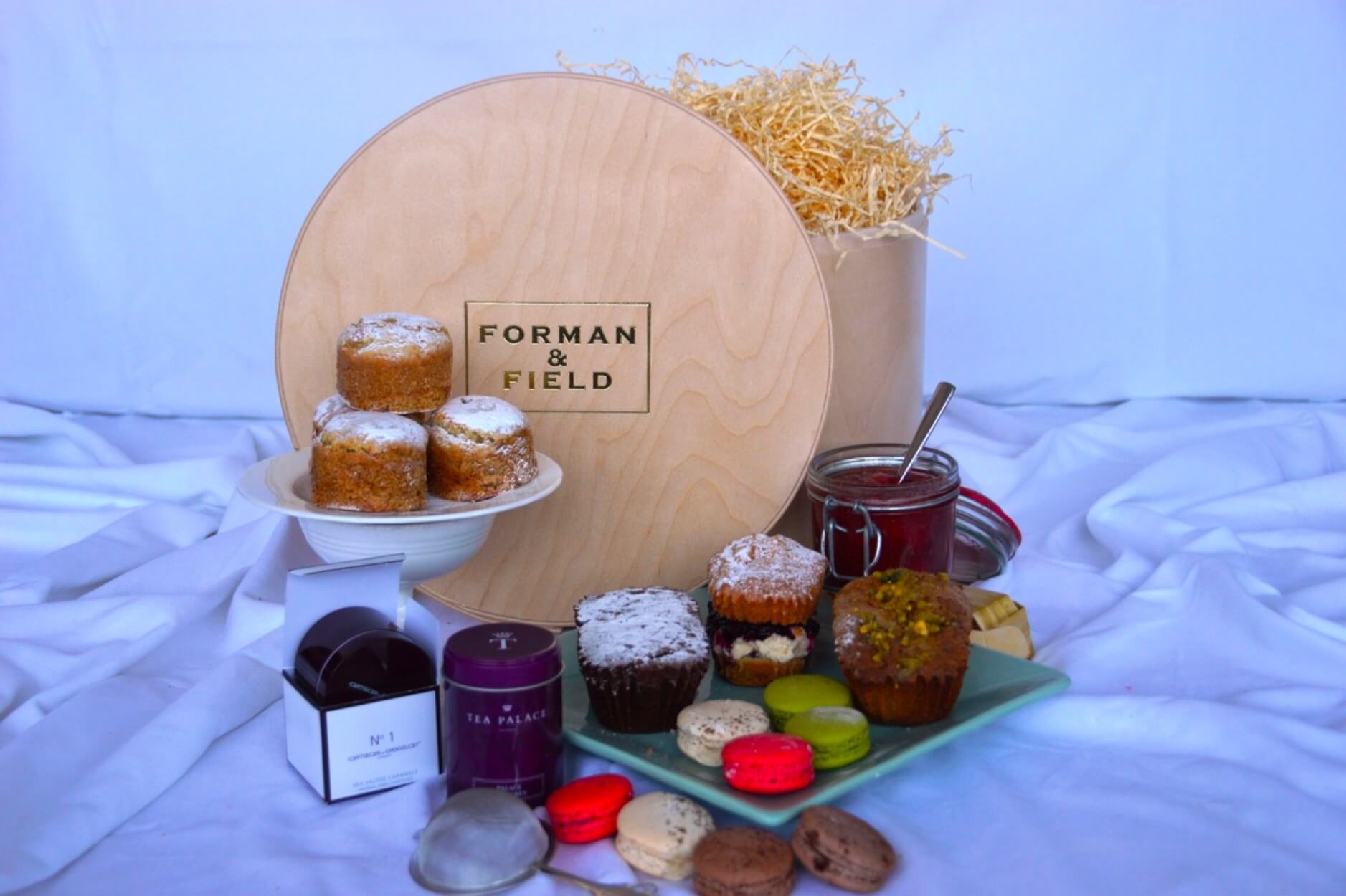 What: Afternoon Tea Hamper (£49.95)
The 411: The Forman & Field Afternoon Tea Hamper is jam-packed with treats to make your Mum feel special. They have hand-picked some of their finest sweet treats and even produced a mini trio of their most popular cakes to create that perfect afternoon tea at home, that little bit easier.  The hamper contains: a trio of mini cakes – chocolate brownie loaf, blueberry Victoria sponge, and lemon and pistachio cake, freshly made scones with Forman & Field strawberry jam, L'Orchidée Café classic macaroons, Artisan du Chocolat salted caramel minis, earl grey tea, and a tea strainer from The Tea Palace.
Where: Online here 
3. For an Italian Hamper: Bellavita 
What: Luxury Mother's Day Hamper (£50)
The 411: Bellavita Shop is a treasure trove of beautiful, artisan Italian food and drink products and ingredients.  The team have lovingly put together a smashing luxury Mother's Day hamper, with all products matching perfectly together – ideal for a shared feast. Sip on the wonderful Spumante Metodo Classico DOC Brut Serenissima Opere Trevigiane by Villa Sandi, and give your mamma a taste of real Sicily, with a all-natural Sicilian orange marmalade. You and Mamma will also get the handmade Foresta chocolate mini box also created by maîtrechocolatier, Gay Odin.  Layers upon layers of fine milk chocolate crafted to create a mouth-watering chocolate log of sheer delight.
Where: The hampers can be purchased both online and in store: Bellavita Shop, 11C Dock Street, London E1 8JN
4. For a Veggie Hamper: Ottolenghi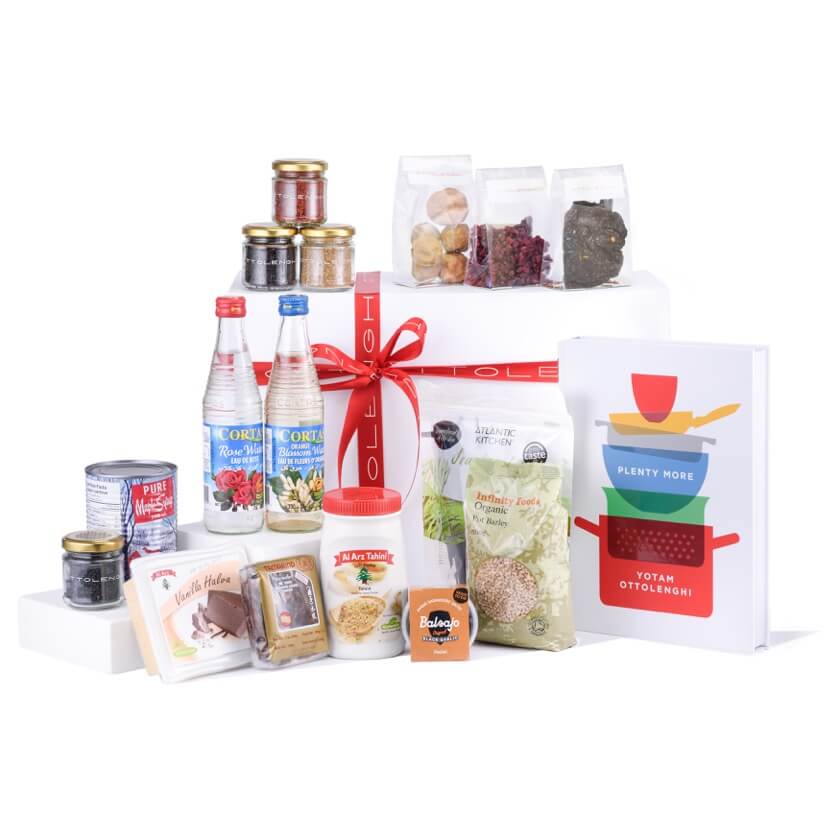 What: The Vegetarian Cook's Hamper + Plenty (£100)
The 411: Is your mum all about the meat-free life? Yotam Ottolenghi has just the hamper. The veggie hamper is filled with new kids on the block when it comes to cooking. The hamper includes mellow black garlic and urfa chilli flakes, sweet-sharp tamarind pulp and dried barberries, creamy tahini, sweet halva and so much more; all of Yotam's favourite ingredients are ready and waiting, along with a signed copy of the book.
Where: Online here 
5. For a Cake Hamper: Balthazar Boulangerie
What: Balthazar Boulangerie Hamper (£30)
The 411: The Balthazar Boulangerie team have been doing some market research and concludes that the way to a mum's heart is through scrummy food, pampering and cake. They can't cater for the pampering, but delicious goodies are their raison d'être. They've put together a hamper of homemade products for mum which include chocolate truffles, granola, parmesan shortbread, marmalade and other ridiculously tempting goodies.
Where: Call 020 3301 1155 to reserve a hamper or visit the store: 8 Russell Street, London WC2B 5HZ)
6. For a Bathtime Hamper: Harvey Nichols
What: Me Time Hamper (£75)
The 411: The afternoon retreat has everything for your mum to indulge in a little me time. Run a bath, dig out the finest glassware, put on some comfy clothes and kick back with your mum. The hamper features a bottle of Prosecco, a bathing candle, camomile tea, Baci Di Dama biscuits, and Pink Marc de Champagne truffles.
Where: Online here 
7. For a Boozy Hamper: Pinkster Gin 
What: Let the love beGin Hamper (£53)
The 411: For the gin loving mum – a wicker hamper containing a limited edition bottle of Pinkster, a jar of Gin Jam, two Fever-Tree tonics and three love heart chocolates. Gin Jam is Pinkster Gin's latest product – using leftover inebriated raspberries from producing Pinkster, this jam is guaranteed to put the tipple in your teatime.
Where: Online here 
8. For a Chocolate Hamper: Pierre Marcolini 
What: The Discovery Hamper (£149)
The 411: The discovery hamper is filled with luxury chocolate goodies from Belgian's only haute chocolatiere, Pierre Marcolini. If you mum has a massive sweet tooth – she's in for a good time. The hamper is filled with Plumier Découverte, Pralinés 9, Palets Fins 16, Tablet Chocolate au lait, Tablet Chocolat Blanc, Tablet Fleur de Cacao, Tablet Chuao Venezuela, Rocher Lait, Croustillant Dark, and Milk Chocolate Spread.
Where: Online here 
9. For a Boozy Hamper: John Lewis 
What: John Lewis Prosecco Duo Hamper (£50)
The 411: The Prosecco duo hamper contains a bottle of Zonin Rosato Vino Spumante Brut, a lightly-coloured sparkling rosé with a fine and seductively delicate perlage, a bottle of Zonin Prosecco DOC Spumante Brut, a well-balanced and appealing sparkling wine, with the extremely delicate almond note that is typical of Glera grapes. And there's a box of raspberry and champagne truffles for a sweet touch.
Where: Order online 
10. For a Chocolate Hamper: Hotel Chocolat 
What: The Chocolate and Prosecco Collection (£70)
The 411: This collection has something for everyone, not just for your beloved mum: a mellow box of caramel and milk chocolates, strawberry and white chocolate puddles, creamy chocolate batons, enrobed almonds and single-origin bars with fruity and roasted notes. And to finish,  a bottle of Prosecco Superiore DOCG made from handpicked 100% Glera grapes, specially selected to pair perfectly with the chocolates.
Where: Online here 
One for luck… 
11. For a Breakfast in Bed Hamper: The De Beauvior Deli 
What: Breakfast Hamper (£36)
The 411: The breakfast hamper boasts a wonderful selection of breakfast items from five artisinal producers, including The De Beauvior Deli. Presented in a gift box, it contains: Monmouth coffee, London Honey Co honey, Honey & Husk granola, De Beauvoir Deli marmalade and Rare Tea English Breakfast tea.
Where: Online