If your diary is looking a little lacklustre this month, you've come to the right place. Yet again, London is embracing the warmer climes with a vast selection of outdoor festivals. There's everything from a nostalgic food fest, to a day celebrating sweet, delicious cider. It's about time you discovered the best July festivals in London. Time to explore:
July Festivals: Drink
1. For a Belgian Beer Festival: Ales Tales 
What: The UK's first ever Belgian craft beer festival takes place at Oval Space in Hackney, between July 21st – 22nd. The intimate event will give beer lovers across London a chance to sample Belgium's unique beer culture, along with the food and music.
Why: Manning the taps at Ales Tales will be Belgo Sapiens, Mr Rock, Brasserie Lupulus, de Glazen Toren, and Fort Lapin with each brewery bringing a selection of their finest beers from across the channel. The renowned Brasserie De La Senne will showcase their Brusseleir, Zinnebir, Taras Boulba and Bruxellensiswhile Hof Ten Dormaal who are famed to use mixed fermentation with sour fruits, will bring four of their best beers. Beyond plentiful amounts of beer, food will be provided by Fabrice Rocheteau.  With 25 years experience as a chef, he'll be on hand to give a taste of Belgium with typical national dishes such as croquette de crevettes'(shrimps croquette) and ballekes sauce liegeoise (meatballs with beer sauce).
Price: Tickets start at £35. Buy here.
Where: Oval Space, 29-32 The Oval, London E2 9DT
2. For a Rum Festival: The Jam Tree 
What: Throughout July, The Jam Tree venues in Clapham and Chelsea will transport Londoners to the sunshine and laid-back feel of the Caribbean and the verve of Latin America with a brand-new rum festival. Rum will infuse everything from the barbecue menu and cocktails to the vibrant décor. Music Concierge have devised a summery soundtrack of Reggae, Ska, Salsa and Soukous which will drift through the venues and out into their sunny gardens.
Why: With an extensive rum list featuring new and unusual rums from around the globe, available to try at all price levels, this new festival will give the spirit the attention that it deserves. The rums will also be incorporated into a tantalising cocktail list as well as thirst- quenching rum punch bowls, available to indulge in with friends on select summer evenings. During the festival, The Jam Tree will also be hosting tastings with Masters of Rum; these industry experts will be on hand to offer novices and rum-buffs a fun and educational way into tasting rum, as well as teaching guests to whip up innovative rum cocktails.
Price: Free entry.
Where: The Jam Tree Chelsea, 541 King's Road, London, SW6 2EB and The Jam Tree Clapham, 13-19 Old Town, London SW4 0JT
3. For a Cider Festival: Ciderdog
What: After the monumental turnout for last year's festival, Ciderdog returns for a fifth year even bigger and better. Ciderdog will feature a staggering 100+ British ciders and perrys expertly picked from makers such as Sheppys, Ascension, Lily's Cider Barn and Abrahalls. Almost every style will be catered for from very sweet to super dry, cloudy scrumpy, and single varieties and blends.
Why: There will be special one-off collaborations and cider mixed with everything from passion fruit and pineapple to chill and ginger. Ciders have been supplied by independent producers from across the UK and will be served alongside cider cocktails and a selection of ales. The food options have been increased with the addition of pop-up Sticky Ribs who will be serving juicy BBQ pork loin ribs with all the trimmings.  Additionally, burger favourites Bunsmiths will be offering tasty vegan buns and cider marinated meats in buns. And festival favourites The Solid Steel Band will be performing all afternoon before handing over to resident DJs to take the party well into the night.
Price: Entry is free and all festival ciders will cost £3.50 per pint.
Where: The Miller 96 Snowsfields, London Bridge, London SE1 3SS
July Festivals: Film
4. For Outdoor Screenings: Grosvenor Film Festival 
What: The ever-popular Grosvenor Film Festival returns for a series of fantastic open-air screenings, taking place in Grosvenor Square on six nights during the wider Summer in the Square event from 7th-21st July.
Why: Presented by The Nomad Cinema, key films include the Oscar award winning La La Land, revolutionary psychological horror film Psycho and Hollywood Blockbuster Top Gun. Each night will be themed around the film shown, with bespoke themed food, live pre-screening entertainment and tasty tipples.
Price: Tickets include a free glass of wine or soft drink and are available here.
Where: Grosvenor Square, Mayfair, London, W1K
5. For Flicks on the Water: The Floating Film Festival 
What: St Katherine Docks will be hosting a fortnight film festival on its floating pontoon 17th-30th July, screening the very best modern classics that cinema has to offer. If you're a sucker for watching a rom-com under the stars – we're pretty certain you'll like the sound of this.
Why: The line-up includes well-loved flicks including Mean Girls, Skyfall, tear jerker The Notebook, The Matrix, La La Land, The Dark Knight and Anchorman. Film showings start at 7pm as well as family screenings of Finding Dory, Beauty & The Beast, Moana and The Lego Batman Story on Saturday and Sunday starting at 2pm. Everyone is invited to sit on bean bags and deckchairs, and enjoy the films with a pop-up bar serving snacks, cool craft beer and cocktails.
Price: Tickets are £10 and will be available from here, with the full film programme available here.
Where: 50 St Katharine's Way, St Katharine's and Wapping, London E1W 1LA
July Festivals: Food
6. For Desert Island Dishes: Just Eat Food Fest 
What: Just Eat's Food Fest returns to Last Days of Shoreditch from 14th – 16th July for three days of food, music and fun. This year's theme will see the festival address the hypothetical scenario regularly pondered by foodies – If I was stranded on a remote desert island, what would be my ultimate desert island dish?
Why: Just Eat will cater to this very question at Just Eat Food Fest: Desert Island Dishes, serving up the nation's most loved takeaway dishes they couldn't live without if stranded on a desert island. The festival will transport everyone to a summery beach-inspired space, offering  cuisines from across the globe, cocktails and a line-up of popular live music bringing island vibes to life in the heart of east London.
Price: Free entry (food tokens can be purchased at event).
Where: 288 Old Street, London EC1V 9LA
7. For a Guilty Pleasures Food Festival: KERB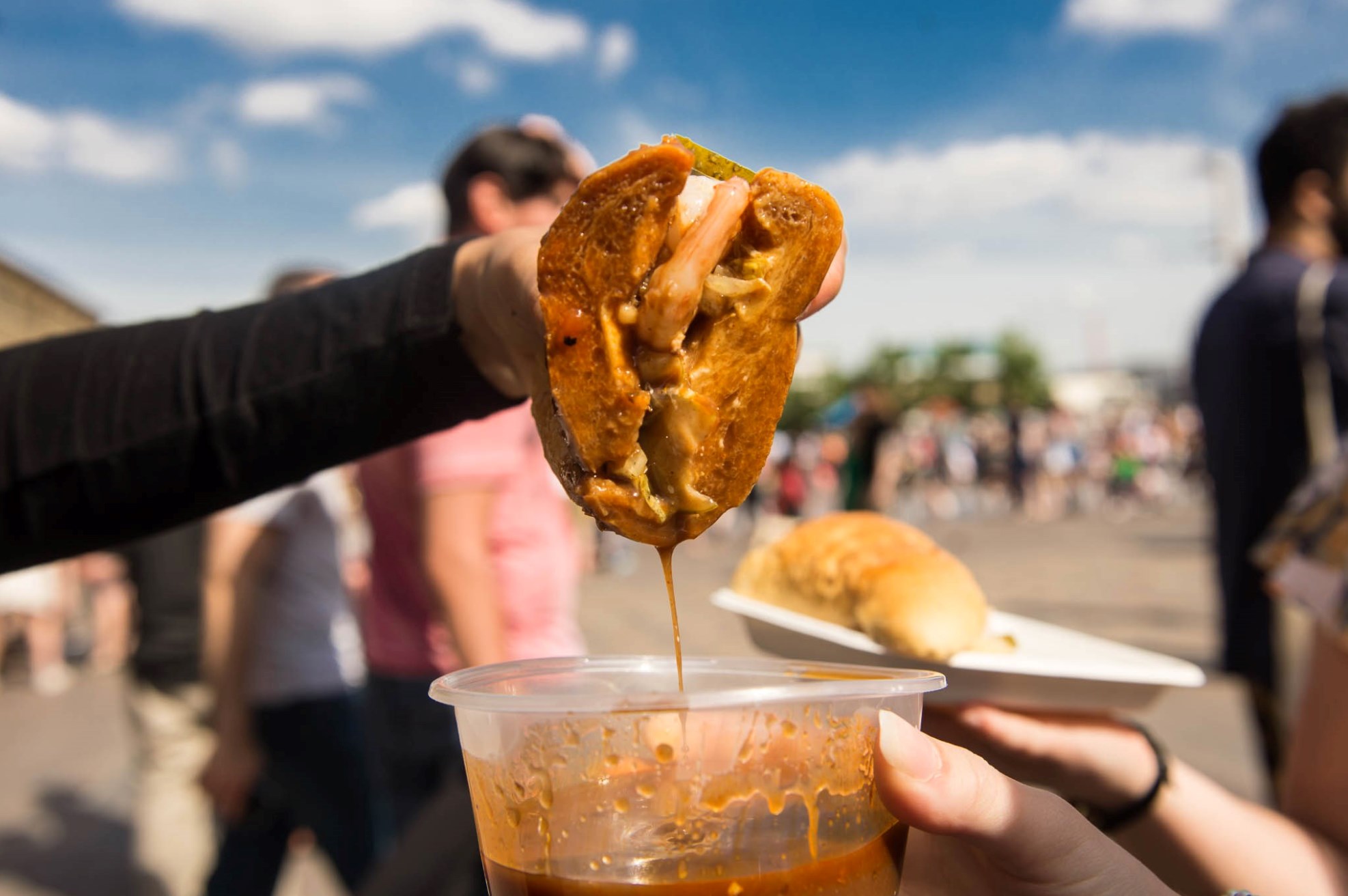 What: KERB are back on Granary Square with their free second weekender of the summer, to celebrate all that stuff that's so wrong, it's so right. Taking place from Friday (21st) – Saturday (22nd July), KERB's Noshville is a chance to all get together and indulge in a delicious cacophony of good ol' nosh-talgia under the sky.
Why: Forget the trends; go soggy-chips not hip, bottoms-up that butterscotch Angel Delight and chow down on your chicken dippers with pride. They've chosen 13 KERBanists to conjure up their best 'show-stopper' guilty pleasure dishes, and sling them out to lucky Londoners for two days straight. Oh, and there'll be a live TV 'Dream Themes' cover band, Old School DJ's, 80's Jane Fonda aerobics, KERB's guiltiest pleasure cocktails, bingo and lucky dip to add to the hot fuzzy plunge pool of sins.
Price: Entry free.
Where: Granary Square, Kings Cross, London N1C
8. For a Weekend Festival: Foodstock LDN 
What: Taking place on Saturday (15th) and Sunday (16th July), Foodstock LDN is the food festival that has something for everyone; street food, farmers' market, local craft beer, live music, entertainment for the kiddies, workshops for the adults, and a large outdoor screen to watch the Wimbledon finals.
Why: The gourmet area is an exciting addition to Foodstock LDN 2017. Lucky Pierre's pop-up restaurant  will show off what they can do with the best of July's produce. Their five course set menu includes dishes like heritage potato risotto with artichoke, orange and herbs and miso aubergine, charred onions with chicory. Newcomers Mondo Brewing Company and returning favourites Sambrook's Brewery are both based a stone's throw away from Battersea Park. With multiple bars at the festival you will be spoilt for choice, from cocktails to cider slush; Foodstock LDN has the best in the business.
Price: Tickets here.
Where: Battersea Park, British Genius Site, London SW8 4NW
9. For Food and Live Shows: National Theatre's River Stage festival
What: This summer, throughout July and August, the National Theatre's River Stage festival returns once again for five free weekends of the best and brightest entertainment accompanied by a host of food and drink pop-ups on the South Bank. Launching on 28th July and welcoming Londoners and visitors alike, Thames-side performances at the River Stage festival will run long into the summer evenings with weekend events curated by some of the UK's most recognised music festivals and internationally renowned arts organisations.
Why: Brisket and Bird hits the South Bank with a bang this summer in its bespoke trailer inspired by a classic American airstream. Indulge on slow cooked beef brisket baps, Asian style pulled chicken and chicken salt fries whilst you soak up the vibrant atmosphere of the River Stage Festival. Following the tremendous success of the NT's 2016 Apothecary Cocktail bar and its bottled botanical cocktails, Apothecary returns in 2017 to the River Stage festival with a brand new look. And there's also The Green Room Garden Bar, The Understudy Container Bar and Espresso Bar for liquid goodness. 
Price: Free entry.
Where: South Bank, London SE1 9PX
July Festivals: Fitness
10. For Wellness: Sweatlife Festival
What: Release everything and step into a powerful day of life-changing, mind altering, body-stoking sweat, endorphins, knowledge and connection. Last year, Canadian technical apparel brand lululemon introduced its Sweatlife festival, and it's returning to London's Tobacco Dock on Saturday (July 22nd).
 Why: Mindfully designed to celebrate the ever evolving and expanding fitness landscape of London, featuring a lively crew of local sweatxperts in yoga, boxing, pilates, spin, barre, bootcamp, dance and crossfit from some of London's best studios such as Barry's Bootcamp, Breathe Studios, Frame, Heartcore, Kobox, My Pilates, Neat Nutrition, Psycle, UN1T and Xtend Barre. Dip your toe in the world of rowing with a workshop led by a former Olympian, take a nice, long soak in a gong bath or let loose with some Hip Hop yoga. Unwind at motivational talks hosted by inspiring people such as Jody Shield, author of LifeTonic and Annie Clark of Mind, Body, Bowl, keep the good times rolling and get mindful in motion on the lululemon Om the Move meditation bus.
Price: Tickets here
Where: Tobacco Quay, Wapping Ln, St Katharine's & Wapping, London E1W 2SF