Art Attack: The Best Events in London for Frieze WeekBy Angelica Malin
Calling all art lovers! Frieze London is back, and set to better than ever. For those that don't know, Frieze London is a special global art fair, which encapsulates over 1,000 of today's leading artists and more than 160 of the world's leading art galleries, making it one of the world's most exciting art destinations. The festival takes place this year on the 6th-9th October in Regent's Park and you can purchase tickets here. Once you've seen all the amazing art at the festival, get exploring and discover some great art events taking place in the capital this month:
1. For Food: Petersham Nurseries at Frieze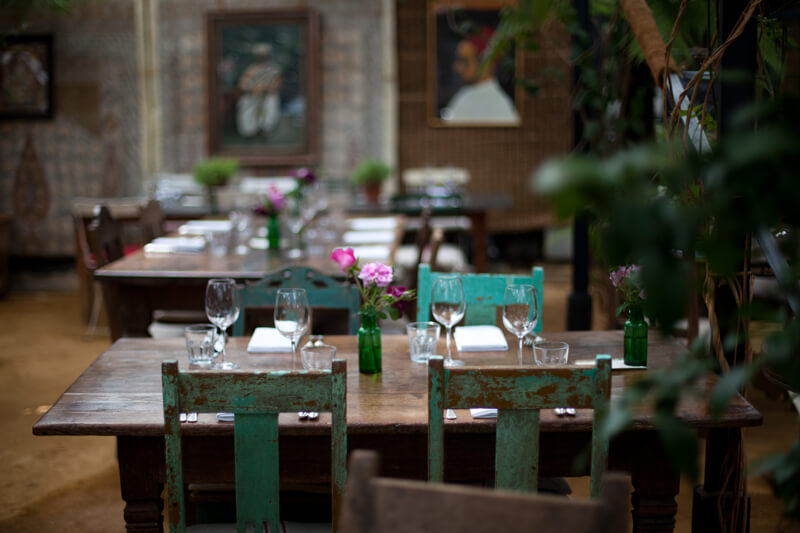 What: Petersham Nurseries will be returning to Frieze for a second time in Regent's Park. Recreating the beauty of the iconic café, Petersham Nurseries will offer an a-la-carte restaurant at this year's fair. There will be an à la carte restaurant where Petersham Nursery Shop buyer Ronny de Koning and head Horticulturist Thomas Broom-Hughes are planning and creating the most beautiful living installations. Head Chef Damian Clisby and Culinary Director Lucy Boyd have curated a special menu, with seasonal dishes such as crab linguine with chilli, sea purslane and garlic, fillet of beef with barolo, borlotti beans, beetroots, and horseradish crème fraiche.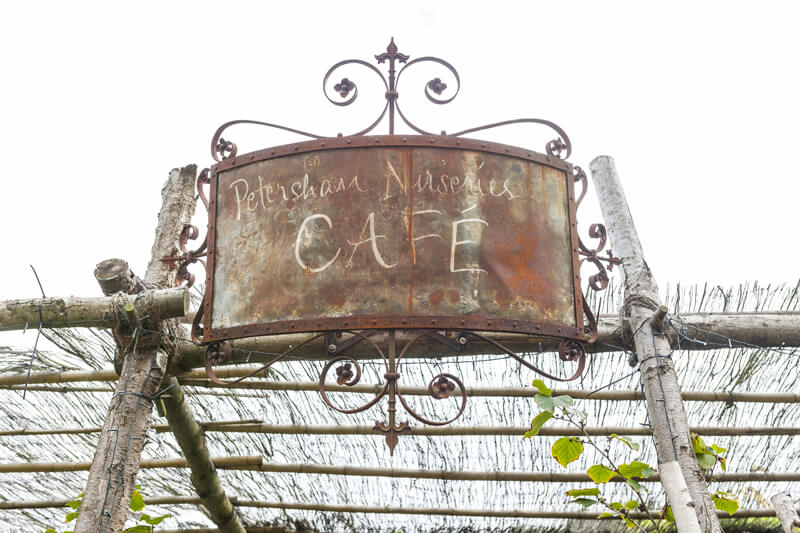 Gimme More: Downstairs at Frieze London, Petersham Nurseries will serve drinks all day with a more informal bar menu, using the best quality seasonal ingredients from the kitchen garden for salads, soups and sandwiches. Handpicked wines from the Petersham Cellar collection will be available alongside a selection of cocktails.
When: Petersham Nurseries at Frieze will be open from 12pm-4.30pm from Thursday 6th-Sunday 9th October at Regent's Park.
Photo credit: Lisa Barber and Ming Tang-Evans
2. For Future Talent: Moncler Freeze for Frieze
What: Looking for something unique? Well, Moncler has asked artists, fashion designers, cultural icons from the worlds of international pop-culture, music and design, and some of the renowned college's alumni and current students to donate an original, postcard-sized artwork. Each card will be sold anonymously; the artist behind each postcard will not be revealed until after purchasing.
Gimme More: Proceeds will raise funds to cover two exceptionally talented and deserving students' full tuition for their 2-year MA degree program in Fashion and Textiles at the Royal College of Art. Get involved.
When: Moncler Freeze for Frieze will take place from 7-9th October 2016 at the new flagship store at 26 Old Bond Street.
3. For Brave Individuals: Scott Campbell at Lazarides Gallery
What: Lazarides Gallery presents celebrity tattoo artist Scott Campbell's famed Whole Glory project in Covent Garden during Frieze. From Friday 7th – Sunday 9th October, Campbell will tattoo the arms of lottery-drawn participants who place their arm through a hole in a wall.
Gimme More: The project gives the bravest and luckiest candidates the chance to be inked by the same hand that tattooed Heath Ledger, Marc Jacobs, Orlando Bloom and Courtney Love. Campbell will also present a series of tattooed pigskin artworks encased in formaldehyde frames. Wow.
Where: 26 Henrietta Street, Covent Garden, London WC2E 8NA
Photo credit: Milk Studios
4. For an Art Tour: Tokyobike at The London EDITION
What: Fancy an an arty adventure? The London EDITION hotel has teamed up with their neighbours tokyobike to take you on a two-wheeled tour of London's best public art curated by Arts Co. Join them on this cultural exploration that will take in works by world renowned artists including Barbara Hepworth, Joel Shapiro, Elizabeth Frink and Julian Opie.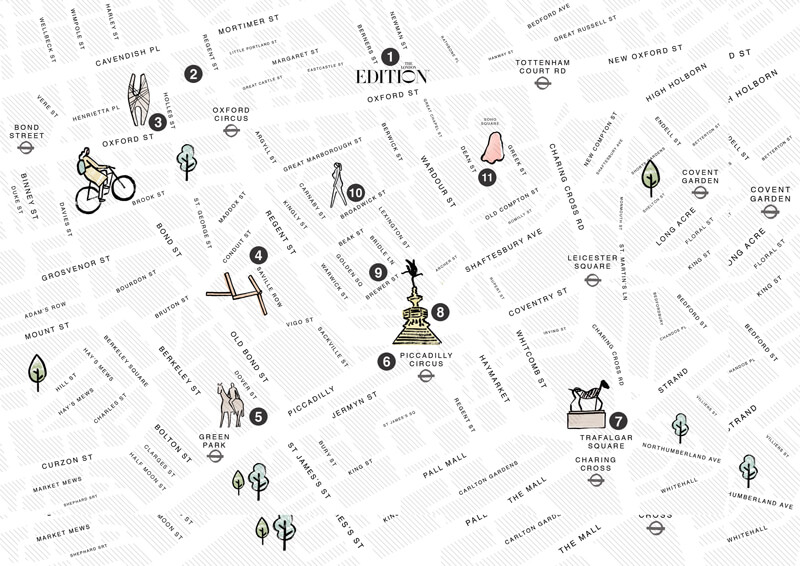 Gimme More: The meeting point will be in the lobby of the EDITION hotel where you'll be served coffee before heading across the road to the tokyobike store to pick up the bikes. The ride will be at a leisurely pace on quiet roads and cycle paths where possible. You'll need to bring suitable clothing depending on the weather.
Tickets: £25, includes coffee, bike and helmet hire.
Where: The London EDITION, 10 Berners Street, W1T 3NP
When: 8th October 2016 10am – 1pm
5. Giuseppe Penone at Marian Goodman Gallery London
What: If you fancy a break from the main event, Italian arte povera artist Giuseppe Penone is exhibiting a new solo show at Marian Goodman Gallery London until 22nd October, in addition to a simultaneous solo exhibition at Marian Goodman Gallery Paris.
Gimme More: In the London show, 'Fui, Sarò, Non Sono (I was, I will be, I am not)', Penone has presented a series of sculptures and installations relating to the sense of touch and the natural world, including a forest of interweaving bronze branches supporting terracotta casts and a wall of caged laurel leaves.
Where: 5-8 Lower John St, London W1F 9DY
6. For an Art Package: Hotel Café Royal
What: As an official partner of Frieze London and Frieze Masters, Hotel Café Royal has created an exclusive package for guests to enjoy unlimited access to the fair, and to indulge in a beautiful sweet creation from Executive Pastry Chef Sarah Barber. Guests will be able to discover the world's most exciting artists, from the emerging to the iconic, combined with a luxurious stay in one of Hotel Café Royal's design-led suites.
The Frieze Art Fair package at Hotel Café Royal will include a stay in one of the hotel's luxurious suites, two passes to Frieze London and Frieze Masters, private butler services, exclusive access to The Club at Café Royal and the Akasha Holistic Wellbeing Centre, and the specially-themed Frieze creation by Sarah Barber waiting for guests in the suite.
Gimme More: Hotel Cafe Royal's Executive Pastry Chef, Sarah Barber, has designed an art-themed gift for guests of the Frieze package. Created from solid Valrhona Opayls white chocolate and flavoured with an indulgent butterscotch essence, the gift comes in the form of an edible artist's palette, which has then been brushed in Dulcey chocolate to give the effect of wood for the base. Dreamy.
Price: £750 for a one night stay in a suite.
When: Offer is available from 5 October until 9 October 2016 and is subject to availability. For further information, see here.
Where: 68 Regent St, London, W1B 4DY
7. For a Free Exhibition: Fortnum's X Frank
What: Fortnum & Mason has just unveiled Fortnum's X Frank, one of the most original art events ever to take place in London. For the next month, the iconic Piccadilly store is the temporary home of works from the Frank Cohen Collection – one of the most important collections of Modern British art in private hands. What's more, the exhibition is totally free!
Gimme More: Conceived as a provocative art installation, Fortnum's X Frank displays 70 works by renowned artists including Frank Auerbach, Charming Baker, Tracey Emin, Howard Hodgkin and Bridget Riley across the entire store – from the award-winning windows facing the Royal Academy, throughout every floor and even on the canopy of the building's façade. The show has been curated by Robert Upstone – former Director of Modern British Art at the Fine Art Society, and Curator of Modern British Art at Tate Britain.
When: There's also private tours with Robert Upstone. Each tour will encompass all five floors of Fortnum's including the boardroom and the Crypt, where the tour will culminate with a cheese and wine reception and an informal opportunity to discuss art and artists with Upstone. Dates and prices here.
Where: 181 Piccadilly, London, W1A 1ER
8. For an Alternative Event: Moniker Art Fair
What: Moniker Art Fair 2016 opens its doors next Thursday, housing the best and brightest of contemporary talent exhibiting alongside an international selection of galleries representing the fringe of the scene. For an art fair with a difference, you can't miss Moniker. 
Gimme More: Moniker's eclectic program aims to celebrate a generation of artists at the forefront of a unique contemporary art movement, this year encouraging visitors to engage and play directly with curated installations designed exclusively for our seventh edition. Globally-acclaimed street artist Maser joins the fray with Digital Playground, creating an urban adventure created purely to be played with: become part of the installation and access hidden content through the MAF2016 App.
When: 6th-9th October
Where: The Old Truman Brewery, Brick Lane, London, E1 6QL
Tickets: £15.60 – here
Artwork: James Earley and Eoin Holland from 'Fat Cap' Series. Photo courtesy of Moniker Art Fair.
9. For Italian Art: Marisa Merz at Thomas Dane Gallery
What: An important exhibition for art lovers in London! Marisa Merz is a Turin-based artist – she is also one of the few members left of the Arte Povera group, an Italian movement that centred on the use of simple materials to redefine what we know as art.
Gimme More: This exhibition is set to be fantastic, with a selection of her drawings and paintings on wood, card, paper and alabaster. There's also some more works to discover, including clay and wax busts, which remain a mystery today.
When: 28th September to 12th November 2016
Where: Thomas Dane Gallery, 11 Duke Street, London SW1
Photo courtesy of Thomas Dane Gallery
10. For African Art: 1:54 Contemporary Art Fair
What: This leading international art fair dedicated to Contemporary African Art will return to London for its fourth edition, from the 6-9th of October 2016. With biannual editions in London and New York, 1:54 is the leading international art fair dedicated to contemporary art from Africa and its diaspora.
Gimme More: Drawing reference to the fifty-four countries that constitute the African continent, 1:54 is a sustainable and dynamic platform that is engaged in contemporary dialogue and exchange. Initiated by Touria El Glaoui in 2013, October 2016 will mark its fourth consecutive edition at Somerset House, having returned from its second New York edition in May 2016. 1:54 London 2016 will showcase about 40 exhibitors, presenting over 130 African and African diasporan artists across the East, South and West Wings of Somerset House.
When: 6-9th of October 2016
Where: Somerset House, Strand, London, WC2R 1LA
Photo courtesy of 1:54 Contemporary Art Fair
And one for luck…
11. For Picasso: Picasso on Paper at Omer Tiroche Gallery
What: This autumn, Omer Tiroche Gallery will be presenting an intimate collection of more than thirty works on paper by Pablo Picasso. Bringing together pieces from the early 1900s up until the last years of his life, Picasso on Paper follows the development of arguably the greatest artist of the 20th century.
Gimme More: Paper was an essential part of Picasso's creative process, an immediate way to pin an idea down. He used every scrap he could get his hands on, wherever he found himself: pages torn from books, sheets of tracing paper, the back of a café receipt, scraps of lined note paper. Elevating the medium above its ordinary throwaway status, he treated it as carefully as canvas or ceramic, deliberately using any surface imperfections to shape the compositional layout.These works on paper contain the initial sparks of Picasso's master works, they are records of his fleeting thoughts darting in and around the same motifs: the birds, bulls, horses and goats.
When: 4th October-16th December 2016
Where: 21 Conduit Street, London, W1S 2XP
Photo courtesy of Omer Tiroche Gallery
12. For Cool Factor: Neon Legacy at Bankrobber Gallery
What: This October, Bankrobber will present an installation of Chris Bracey's artworks, transforming the Shepherd Market area of Mayfair into a neon-bathed bacchanalian theatre set. To mark two years since Chris' untimely passing at the age of just 59, Bankrobber will celebrate life and work with a ten-day parade that will run concurrently with London Frieze Art week.
Gimme More: Neon Legacy will feature many iconic pieces from Chris' oeuvre, some of which are too big to be mounted or hung in a traditional gallery space. Fans of Bracey's art and neon in general will delight in this exhibition of the unexpected. Artworks and installations will blaze from the most unusual places. Some will be mounted on buildings in the areas, while others will be on display in various venues and ventures, as well as at the Bankrobber gallery space. During his life Chris created and installed signs that have appeared in many iconic movies from Blade Runner, to Eyes Wide Shut and Batman. He is quoted as saying, "When the film is wrapped, neons are discarded like yesterdays newspapers, unwanted, unloved". Now some of these precious discarded fragments of movie and fashion world history will be given a new public arena as Shepherd Market's takes its turn to be sexed-up by the Bracey magic.
When: Monday 3 — Thursday 13 October 2016
Where: Shepherd Market, Mayfair, W1J 7PD and the Shepherd Market area