Want to get the lowdown on what's happening in London this week? Our latest week guide is back with some of the top events to look forward to in the capital. Sunday 8th March is International Women's Day and to celebrate, one of the top entrepreneurial podcasts in the UK is putting together a lineup of inspirational women in business which you can see live. Other events in the capital include an Argentine Sparkling Wine event hosted by The Women's Chapter at Gaucho and an all-female bar takeover at Lyanness and the Artesian. For free jazz head down to Seven Dials Market every Sunday and for a boozy afternoon, Cahoots have launched an afternoon tea to remember. Here are the top things to do in London in March 2020:
What: From now until 22nd March, Darkfield, the multi-sensory sonic theme park is running three internationally acclaimed shows Séance, Flight and Coma in Lewis Cubitt Square in King's Cross. 
Why: After 3 sold-out Edinburgh Fringe Festival runs and a sold-out run in Canary Wharf, the innovative and risk-taking theatre company Darkfield are bringing their shows to King's Cross. Séance, Flight and Coma are each held behind the doors of 3 containers and you can catch them daily with numerous shows in the afternoon and evening. Séance, the first Darkfield experience sees the 24ft container transformed into a Victorian séance room and promises to challenge audience members' beliefs. Flight, held inside a 40ft container, resembles the exact replica of an Airbus 320 economy cabin and transports its audience into 2 possible realities. Coma invites the group to lie down and imagine a new collective reality. Interactive and engaging experiences, Darkfield's 3 shows are not for the fainthearted. 
Price: Tickets are from £7.57 to £10.08 per person. Get them here. 
Where: Lewis Cubitt Square, King's Cross, London, N1C 4BT
What: On 5th March, Secret Leaders podcast will be celebrating International Women's Day with a special event focusing on leading businesswomen, leadership and entrepreneurship. 
Why: One of our favourite things to do in London this week; Secret Leaders, one of the UK's top entrepreneurial podcasts will be hosting a stellar lineup of leading businesswomen, including Tamara Lohan co-founder and chief operating officer of boutique hotel travel specialists Mr & Mrs Smith; Alice Yvonne Bentinck, co-founder of Entrepreneur First; Debbie Wosskow, co-founder of club and community space AllBright, and Saasha Celestial-One, co-founder of the world's first food-sharing app Olio. They will be discussing all things leadership, equality and entrepreneurship from a variety of different perspectives and backgrounds. This live podcast recording will cover a range of topics, including how to break through the glass ceiling, maternity, labels and the general lack of support in business. You can listen to Secret Leaders season 4 on all major podcast listening platforms now. 
Price: Tickets are £20 per person. Get them here. 
Where: Aviation House, 125 Kingsway, WeWork Holborn, WC2B 6NH
What: To celebrate International Women's Day (8th March), Gaucho has teamed up with The Women's Chapter to invite women in business to meet, inspire and encourage each other in their brand new Charlotte Street restaurant. This special event, named 'Gather for Purpose' will be held on Thursday 5th March. 
Why: Female entrepreneurs and high-powered professionals from all walks of life are invited to meet for an evening of Argentine Sparkling Wine and canapés and goodie bags. 'Gather for Purpose' will be hosted by Michelle de Klerk, founder of The Women's Chapter to mark the beginning of an exciting new series of empowering events taking place throughout the year at Charlotte Street's Gaucho. Tickets cost £15 per person and all proceeds will be donated to the charity Women for Women who offer vital support and education for women in Afghanistan, South Sudan, Rwanda, Kosovo and beyond. Membership for The Women's Chapter is free and applications are open for all women here. 
Price: Tickets cost £15 per person with 100% of proceeds going to charity Women for Women. Get them here. 
Where: 60A Charlotte St, Bloomsbury, London W1T 2NU
What: Launching Friday 6th March and every Friday and Sunday after, Kingly Court's cocktail bar Cahoots is hosting a quintessentially British tipsy afternoon tea experience with a twist in their newly opened Ticket Hall. Named 'Tea for Scoundrels', this afternoon tea promises a riotous afternoon and it's one of our top things to do in London in March 2020. 
Why: Tea for Scoundrels will be available to all who pass by Cahoots from 12pm every Friday and Sunday. Guests can expect the ultimate 1940s-inspired afternoon tea, featuring cocktails as cuppas and a delicious selection of sweet and savoury treats stowed within a clandestine tea crate and revealed by clues and secret codes. There are 3 crates to choose from and each one contains a selection of classic Cahoots cocktails. For example, 'Wink Wink contains Winston Churchill, Jerry's Cherries and Keep Marm and Carry On. There is also an alcohol-free version called 'Say No More'. The first cocktail associated with each crate comes with a key and once the crate arrives, guests will be invited to decipher the clues to reveal the edible goodies inside. 
Price: £44pp, includes x3 cocktails each, and an assortment of pickable finger food and nostalgic nibbles (gluten-free, vegetarian & vegan options available). Book your tickets here. 
Where: Cahoots Ticket Hall, 13 Kingly Street, Soho, W1B 5PF
What: From 5th to 7th March, catch Part Two of The Spirit, a trilogy of physical performances by radical Belgian artist Thibault Delférière and New Perspective's Artistic Director Jack McNamara. You can see Part Three from 12th to 14th March. 
Why: Born with cerebral palsy, Thibault has created a radical style of painting and performance that is unique, powerful and unsettling. Each part of The Spirit can be enjoyed as part of a trilogy or as standalone pieces of theatre. This week, Thibault and Jack will be accompanied by renowned drummer Steve Noble while Part Three will see the esteemed electronic vocal artist and co-founder of Resonance FM, Sharon Gal take to the stage. In The Spirit, audience members can see Thibault take on the great philosophical ideas of the human spirit through physical theatre, visual art and live improvised music. 
Price: Tickets are from £10 – £12.50 per person. Call 020 7223 2223 or get them online here. 
Where: Battersea Arts Centre, Lavender Hill, London SW11 5TN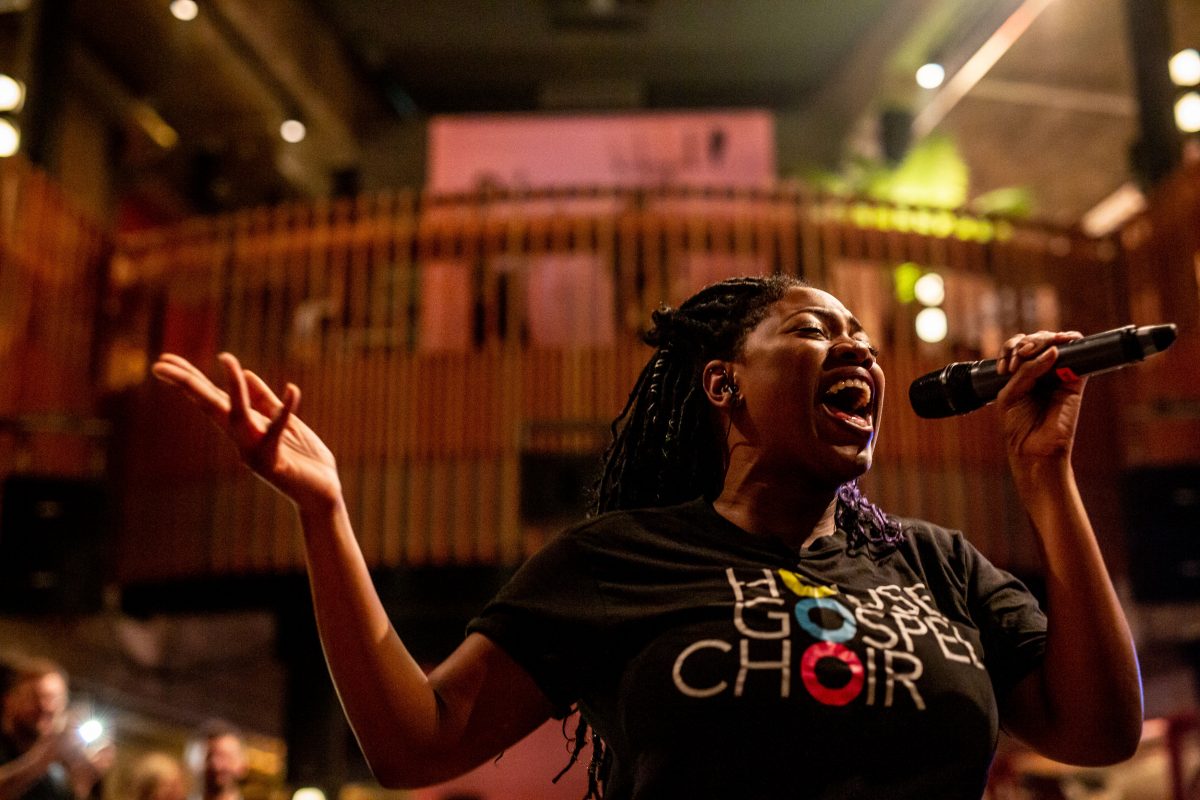 What: Seven Dials Market have launched a brand new Sunday Jazz Session every Sunday between 5 to 7pm in Banana Warehouse. 
Why: Sunday Jazz Sessions offer an ideal relaxing retreat in the heart of London's Seven Dials Market and it's free to attend. The evenings are hosted by Tomorrow's Warriors, a charity organisation who work to inspire a new generation of artists and audiences, and increasing diversity in jazz. Listen to top-quality jazz while enjoying indulgent dishes from restaurants, including ramen royalty Nanban and the world's first cheese conveyor belt, Pick & Cheese. 
Price: FREE entry
Where: 35 Earlham St, West End, London WC2H 9LD
What: From Saturday 7th to Sunday 8th March, Mercato Metropolitano, the sustainable foodie marketplace in Elephant & Castle will be hosting Crafty Fox Market featuring the UK's best designers and makers. 
Why: This weekend, shop for stunning jewellery pieces, original artwork, creative kidswear and more. Browse through 35 of the best artisanal, sustainable and small-batch makers with a passion for creating purposeful design-led products. Just some of the highlights include Freya's Embroideries, who will be embroidering slogans of the customer's choice on the day. Other independent brands include handcrafted jewellery from Brass+Bold, hand-drawn and hand-printed architectural artwork from Will Clarke and handmade kidswear from The Fourth Bear.  
Price: FREE entry
Where: 42 Newington Causeway, London SE1 6DR.
What: On Sunday 8th March, for International Women's Day, the critically acclaimed London bar Lyaness will partner with fellow hotel bar Artesian from the Langham hotel for an all-female takeover with key names from the hospitality industry. 
Why: This Sunday from 5pm until 8:30pm, 7 brand ambassadors from Bacardi, Discardedcompany, Grey Goose, Patron, Maker's Mark and Hendricks will take over Lyaness, with a menu comprised of 7 drinks, one from each of the team. One of the most exciting things to do in London this week, the team will work in pairs behind the bar, switching every hour and serving bespoke cocktails with a playful twist. A charitable donation from the drinks sold will be made by Lyaness to The WOW Foundation which runs WOW – Women of The World Festivals across the globe to celebrate women and girls and raise awareness of issues that prevent them from reaching their potential. After enjoying their creative drinks, guests will be invited to take a complimentary transfer to Artesian at 8:30pm for an exciting new menu created by key female bartenders. 
Price: For reservations email: james.w@seacontainerslondon.com or Veronica.dp@seacontainerslondon.com. Prices vary depending on the cocktail. 
Where: Sea Containers London, 20 Upper Ground, SE1 9PD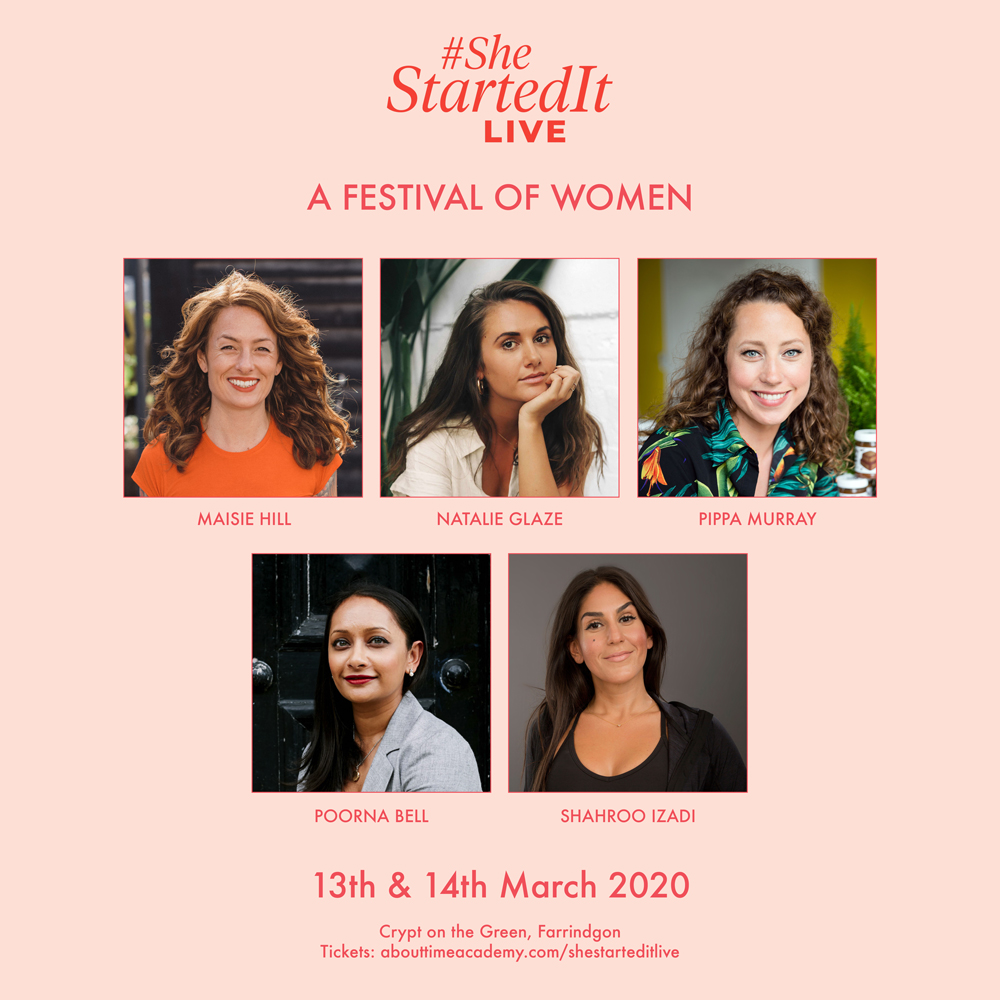 What: The countdown has begun for About Time Academy's #SheStartedItLIVE 2020 Festival of Female Empowerment on 13th and 14th March. Tickets are on sale now.  
Why: #SheStartedItLIVE is a recognition of inspirational women up and down the country who have started companies, movements, initiatives, families, revolutions and everything in-between. In celebration of International Women's Day, #SheStartedItLIVE is inviting you to come along and hear from incredible women who are experts in their respective fields, on a wide variety of topics, including work, money, motherhood and self-love. Just some of the talks featured are 'follow the leader: the future of female leadership', 'getting clear on your career', 'personal finance 101' and 'what's the future of sustainability for businesses?' and much more.
Price: Tickets from £32.93 to £140.73 per person. Get them here. 
Where: Saint James Church, Clerkenwell Close, London EC1R 0EA