In the corner of a basement cocktail bar in Camberwell, framed by three faux-stained glass panels, the softest voice in London is playing some of the most honest music you are ever likely to hear in the capital. Adjectives like 'fragile' and 'haunting' often come with music this poignant, but this particular singer's vocals are just as resolute and unwavering as they are beautiful. A chocolate smooth tone flows over melodies that sound as if they were composed in the name of nothing other than a love of the craft behind them. It's about time you heard: Ellie Rose Rusbridge.
Firstly, tell us a little about yourself and how you started off in music?
E: I grew up around music, there was always singing in my house because my mum's a singer and a music teacher, and taught singing and piano at home on Saturday mornings. My parents sang folk music together. I started writing songs when I was 9 for a 'band' with 4 girls at primary school… After leaving school years later I played with various groups before really committing to my own project. I was pretty scared of performing my own songs for a long time. Luckily I'm over that now.
You've mentioned that your sources of inspiration range from H E Bates to Joni Mitchell. In anything from a story to a song, what qualities must something have to inspire you? What and who inspires you most?
E: People. Struggle. Friendship. Growth. I am inspired by other artists, and work that is very direct and honest, but always poetic; work that strives to express the most complex and universal feelings or ideas in rich and new ways; work that speaks to the most vulnerable, raw and most courageous parts of the listener/watcher/reader, but never forgets the rational mind and so is never over-identified with emotion, and never indulgent. I am inspired by anything, any person, song or story that is brave; that thinks rigorously, that embraces the light and the dark of our internal worlds, and that carries optimism to its darkest corners.
[soundcloud url="https://api.soundcloud.com/tracks/142554700″ params="auto_play=false&hide_related=false&show_comments=true&show_user=true&show_reposts=false&visual=true" width="100%" height="450″ iframe="true" /]
Would you say there are any recurring themes through your EP Night Becoming?
E: There are many. Light and dark. Isolation and togetherness. The struggle to speak and to be heard and a struggle to separate from others in favour of a calm solitude. A desire to marry the rational with the spiritual or irrational. Love – a search for understanding of this extraordinarily powerful feeling. Friendship. Pride. Most of all – becoming, becoming who you want to be.
You use animals in a few of your songs – do you think they work well as vessels for meaning in your lyrics?
Yeah! Firstly, we're always attributing human characteristics to animals and vice versa. But also, animals are so much a part of every day descriptive language, it's something people don't even realise they're doing– they are just hugely present in our imaginations.
On a dream tour, who would you love to support? 
E: God I don't know – people ask this a lot and I never know what to say. I mean what does it mean to support? I can think of people I love right now or who I think have a wicked following – Laura Marling, Dirty Projectors, Warpaint, Ane Brun but I think I'd rather just watch and listen all the people I love most and never have to support them.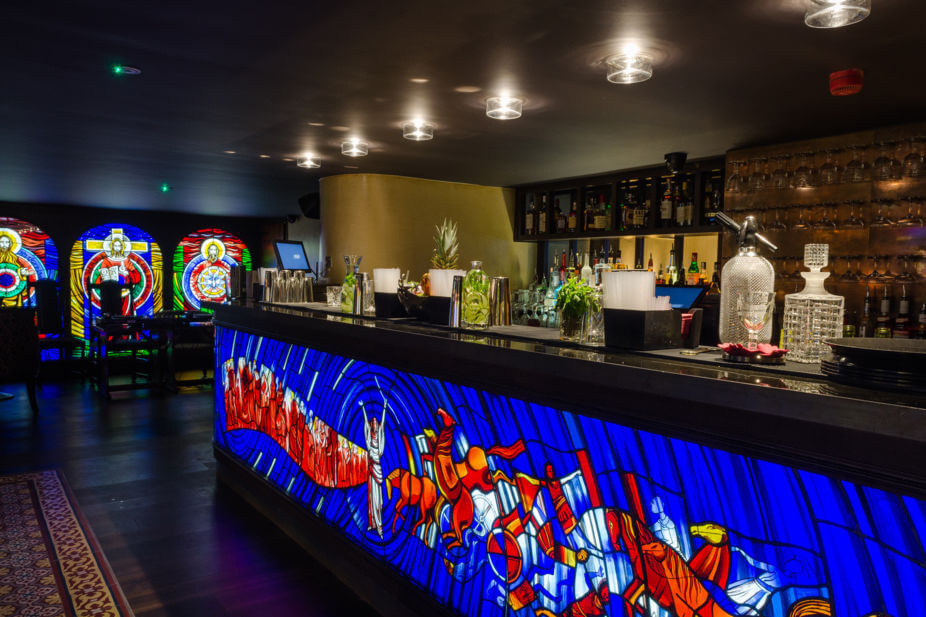 Last night we found you in a smaller venue in front of three stained glass windows with jesus on. Do you think certain genres suit certain settings? Do you prefer smaller or larger venues?
E: The Jesuses were odd! It was very kitsch wasn't it? The darkness and candlelit feeling of the room was lovely but I don't think I'm particularly kitsch. I like playing really intimate gigs in underground venues most. I think the music suits quiet venues that are very music focused, where people can hear the words. Bigger venues are exciting I suppose as a mark of your audience size but I don't really care about a huge stage or powerful sound system. I'd prefer to see the faces I'm singing too and feel the energy in the room. 
Finally, you are currently unsigned. Would you like to reach the point where you could sign on to a record deal?
Yes of course I would. If the right one came along. But following on from the previous question, in many ways I'm already living the dream: I got an amazing band, manager and producer, I play gigs I love and for people I love and people are buying the album and my fan base is steadily growing. A record deal would be worth signing if it meant I could do exactly this but more and better – by making the band more financially successful and exposing me to new audiences and pushing the music further and wider geographically.
[soundcloud url="https://api.soundcloud.com/tracks/139109485″ params="auto_play=false&hide_related=false&show_comments=true&show_user=true&show_reposts=false&visual=true" width="100%" height="450″ iframe="true" /]
Ellie Rose Rusbridge – http://ellieroserusbridge.com/