Summer Holiday panic – you start craving one by about January 4th and you want to get it right. Ask people what they want from an ideal holiday and they'll go on forever, but the basic dilemma (we've decided) is that it is difficult to balance being relaxed with going nuts (or getting drunk, or whatever…). We've all been wasted enough to find even walking confusing before, and that's not relaxing at all, but quite a few holiday-goers still want to have that big night to remember while they're away. Music Festivals are a no brainer for that side of things – massive headliners bring the party, and if you travel abroad odds on you'll catch some scorching sunshine too as a bonus. And there are so many of them, so you should be able to find one that suits your tastes. But then someone says camping, sweat, sleeping bag, dirt. The part of you that wants to have nice dinners, read a book by the beach, even just bring shoes of any kind without resigning to their impending destruction is less enthusiastic.
But you can break your holiday up- see the sights on the way to the festival or relax somewhere on your way back. Here's why you should try EXIT Festival:
EXIT Festival: The Lowdown
Serbia's EXIT Festival has grown from a student protest against the communist Milosevic regime to win Best Major European Festival at the European Festival Awards in 2013. All held in the formidable Petrovaradin Fortress, tunnels and cobbled alleys lead you to a tree-lined main stage and a world famous dance arena which carves an amphitheatre out of a moat-style niche down the seams of this impressive 18th century construction.  Huge acts make the trip to Novi Sad to reach this stunning venue in the east every year, and a Serbian summer is a hot one. 
EXIT Festival: The Brit Vote
The UK is well represented, both in the crowd and on the line up. Bass powerhouse UKF had a partnership with the festival which brought more than a handful of British Drum & Bass acts to the main stage including Sub Focus, Dimension and Fred V & Grafix. Then that's not to mention a triumphant performance from Rudimental, Brit-Pop heavy weights Damon Albarn (whose headline set featured a rousing rendition of the Gorillaz favourite Clint Eastwood) and Suede, as well as a good showing from our golden boys Disclosure at the Dance Arena too. As for the punters, I'd say while every second voice you heard was probably English, it really is an increasingly global festival as it's reputation and stature grows year on year (notably with Bulgarians. A big festival in Bulgaria got cancelled and there were hundreds of them. They all speak brilliant English, drink loads, and don't mind when you ashamedly admit all you really know about Bulgaria is that Victor Krum supposedly came from there and Berbatov won 'nation's sexiest man' a couple of years on the trot. Go to EXIT to hang out with Bulgarians).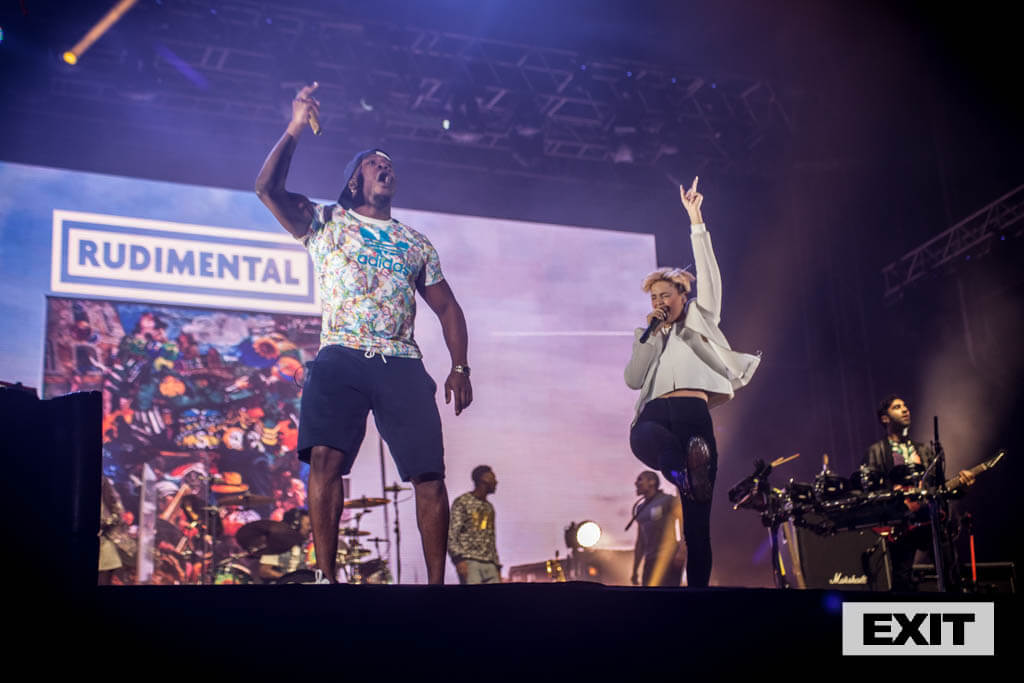 EXIT Festival: Wins
Elsewhere on the main stage Dub FX was a huge hit, bringing a massive following along to his set of beat-boxing and loops on the first night. And while not necessarily on brand for what is largely a dance music festival – Gloria Gaynor absolutely smashed it. If you don't enjoy I Will Survive late on a Friday night you can go back to carving out that ice heart of yours.
But the real gem of EXIT is the Dance Arena. Beautifully cut into the fortress' outer limits, this is what the numerous EXIT faithful come back for.  The Carl Coxs, the Afrojacks- the world's biggest DJ's play from midnight through till morning and it's worth the price of a ticket for one set alone.
Novi Sad, the town that EXIT calls home, is not overshadowed by what goes on in the fortress that looks over it. A wonderful square with a beautiful church is lined with strips of outdoor bars. Wanna sunbathe? There's a man made beach by the Danube covered in deckchairs and places for a beer on the sand, and because the campsite is next to a sports centre there's an olympic pool 1 minute away from your tent (accompanied by more bars and deckchairs). Plus, the food is good – on my way into Serbia a fellow traveller told me to expect some of the best food in Europe. By his logic, the closeness to Eastern Europe brings heavier meat stews and "grandmother's cooking" style dishes, while the equal proximity to the coast adds Mediterranean influences. If you're heading down to EXIT in 2015, try Cafe Veliki. The restaurant, perched comfortably atop the tripdavisor rankings, is based in a Serbian cultural heritage site offering a range of courses including traditional beef goulash, a sirloin, leek and cheese pasta, and breaded chicken on a bed of grilled vegetables. All are great quality. 
EXIT Festival: Losses
But fortresses were typically designed to be impenetrable – and that's not a million miles away from the truth when it comes to travelling to EXIT. Novi Sad has no airport, so you need to fly into a different city and transfer from there. One of the most common routes foreign EXIT goers take is via the beautiful city of Budapest. Try the city's famous ruin bars, where derelict spaces are transformed with vintage furniture and contemporary art pieces to make for striking places to drink. Try the best in Hungarian dining too (and wear those shoes). Relax in the outdoor natural baths, hit the sauna and sweat out the Tuborg.
A european festival offers more than just dirt. Explore, and remember EXIT when your summer holiday panic returns: http://www.exitfest.org/en