About Time You Met: The Awesome Carly RowenaBy Megan Weal
Carly Rowena is a Personal Trainer and rising YouTube star. Her fun fitness videos reach an audience of nearly 100,000 and and i's easy to see why: she's beautiful, she's loves her food and she's got a killer six-pack. You need to meet, Carly Rowena. 
Have you always been driven by fitness?
I've always been a member of a gym. I remember I joined when I was 18 and I only went because my boyfriend joined the gym and I didn't want to be the unfit one in the relationship. When I was younger I did school sports and everything but I was never particularly great and it wasn't really until the past ¾ years that I really got into fitness.
Did you find yourself making a lifestyle change?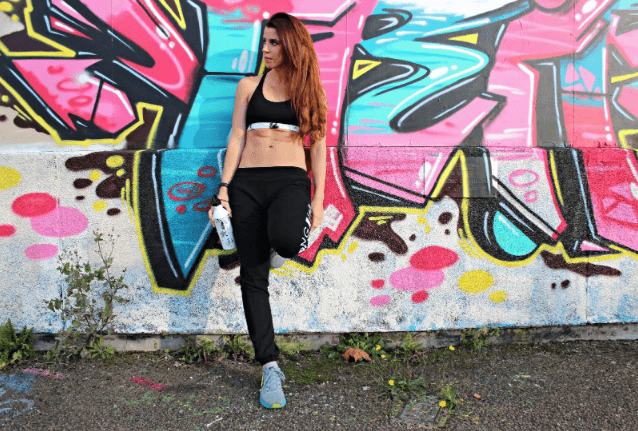 Definitely. I love cheesecake and chocolates and if I keep eating those things I'm going to be huge. So, for me, I had to do the whole fitness thing so that I could enjoy the food that I was having but also realize what things were and weren't agreeing with me. I have a bit of a gluten intolerance and dairy was really messing with my skin so I started realizing what was and wasn't working. I also had problems going to the toilet and I just realized that that was down to the food that I was eating as well.
Why did you start your YouTube channel?
I was working in the motor trade and knew it wasn't my dream job, a friend suggested I started YouTube Channel to explore my talents and that's where it all began. I started with videos about periods, boobs, food and then posted a couple of my fitness routines – these ones really seemed to get peoples interest and before long I had requests and emails from people asking me to post more workouts.
We seem to be going through a fitness craze at the moment – where do you think that has come from?
I think the Olympics and the boost in top fashion designers creating sexy and attractive fitness gear has changed how the public perceive fitness. Everyone wants to live longer and look their best while trying to save some pennies, working out and eating better is a lot cheaper than heading to see a plastic surgeon.
How do you think social media plays into this?
Social media is huge. Nowadays you can see exactly what people are up to and crush on gorgeous healthy bodies on Instagram and Facebook, you don't just have to dream of looking like a Victoria secret model, now its all about having a bum, abs and thighs that could crush a walnut!
Do you think it's added another layer of pressure onto people?
Massively! I'd like to say that the new healthier body concept has helped people but unfortunately anorexia has risen by 25% this year and that's in men and women. There is more pressure to not just look good but feel good. Skinny has gone, toned is in and there's no end to fitness, everyone wants to be the perfect runner, the strongest weight lifter and the most flexible yogi.
How does it feel to motivate such a larger audience of people?
It's incredible, the funny thing is that without realising they are motivating me. It's like a huge support network of gorgeous people all wanting to feel better about themselves, I couldn't feel luckier that I have these people in my life.
When working with a long-term client, what are the most rewarding developments and changes that you see?
Physical changes are lovely to see but anyone can lose weight and tone up. It's the change in confidence, posture and their values. Women come to me with a full face of makeup, their hair done and within a couple of weeks the mask has gone, they feel happier in their natural state, it's so nice to see people realise what really matters, how you feel, not just how you look.
What do you do when you get unmotivated?
I turn to social media, it always gives me a boost, whether a photo, a video or a motivational tweet. Next I change my outfit, a brightly coloured workout outfit is far more likely to get me more interested and then I go and try out something new, a pole dancing class, boxing, yoga or just go for a run with a friend!
What are your favourite pre and post workout meals?
I adore peanut butter on apple or protein balls I love my food so sometimes it's just everything in the fridge cooked into one big meal!
For workouts,  feel-good tips and weekday recipes, find Carly at www.youtube.com/Carlyrowena or www.carlyrowena.com