My Quaroutine: Selina and Alice Krespi, Founders of Posh CowBy Angelica Malin
Welcome to My Quaroutine – our new weekly interview series on About Time, where each week we'll be talking to an inspirational figure on their work, routine and life during lockdown. Today it's Alice and Selina, founders of Posh Cow:
What inspired you to start your company?
Selina: Posh Cow started from a love of butter. I used to have butter on toast with some kind of condiment every day for breakfast, and it would usually feature as a mid-afternoon snack on most days for me too. That's where the seed was planted – thinking how cool it would be to have an all-in-one product. The more I thought about it the more I wondered why flavoured butter wasn't a thing. It's so versatile, so useful and really quite delicious. If I would ever go to Europe or Turkey (we're both half Turkish), I would see that butter would feature much more as a staple on the table with all meals. In the UK, it felt like butter for a while had been forgotten as a product in itself and cast as a back-up dancer in the food world. So we created Posh Cow with 2 things in mind; the first to create a delicious product, easy to use straight from the fridge as a quick snack or meal, and the second to celebrate butter and bring it back to our tables at home.
Alice: Selina had the idea a couple of years ago, and brought me in on the journey from the get-go, sharing design, recipe samples, and asking industry advice. In summer 2019 I joined her fully as co-founder to launch Posh Cow.
How hard was it getting things off the ground?
Selina: It was relatively tough and a very steep learning process to get to where we are today. As with any start-up we had a lot of moments where it felt like it was one step forward, two steps back. Although Alice & I both have different experiences in business that we could apply, neither of us could have anticipated what was needed to start something like this from scratch. We were always conscious that as a small brand we would need to be scalable when the time came and that was hard to prepare for as you almost need everything lined up at the same time – from recipes and suppliers to branding and all sorts of logistics.
However, somethings are co-dependent so it was hard to figure out where to start. For example, scaling from kitchen to manufacturer posed a bit of a dead end at first, as without large orders it's hard to engage with a manufacturer, but at the same time you can't secure a large order if you're still only producing on a small scale. In the end, we were really fortunate to find a manufacturer who took a risk and believed in us. Our biggest hurdle in general has been finding the confidence to pick ourselves back up when faced with any setback, of which there have been a few! Our passion for the product and brand has ultimately been our saving grace.
Alice: From concept to product prototypes, it was a slightly slow process as Selina was working on it by herself, whilst juggling her job as a fixed-income trader and the birth of her twins. Selina and I are close sisters-in-law, having lived together previously, and from the moment she told me she wanted to forge a flavoured butter business and foray into the food FMCG world, the industry in which I worked, I knew I wanted to join her. I came on board with Selina last spring and together we pushed forward with excitement and a new momentum.
We soft launched last summer with our website and social channels. Our biggest hurdle was taking it from small-scale kitchen to mass market. There aren't many dairies or packers who were willing to work with flavoured butters in the UK, and it's hard to engage a manufacturer when you don't yet have orders from customers. When we met with our manufacturers, we knew straight away that they were the perfect partners for us. They believed in the product as much as we did, so we're blessed to have their backing.
From there we were really lucky in that things started moving much more hastily. M&S approached us via our manufacturers, and this gave us the kick we needed to get it off the ground for an imminent launch. It was a steep hill to climb to get everything ready in a matter of weeks, but we're ecstatic it happened so quickly from meeting M&S to launching in stores nationwide.
What would you do differently if you could?
Selina: I first embarked on creating Posh Cow on my own, and whilst I got some distance in creating a product and brand, when it came to pulling the cord, I held back (it probably didn't help that I had to take a little break to have twins in between). It wasn't until Alice came on board that we actually launched the business, and started to get things in motion.  If I could have done it differently, Alice & I would have teamed up a lot sooner.
Alice: If I wasn't shackled by my monthly outgoings I would have dedicated more time to the business from the outset to get it moving more swiftly. As with so many founders of start-ups, it has been a process of juggling other jobs to pay my bills and invest my time into the business where I can. I've loved the variety so far, but as we grow Posh Cow I can't wait to work on it solely and build out a team.
What advice would you give others looking to launch a food brand?
Selina: I would say always have the future in mind and to think about where you want the product & brand to end up so that you can implement that as much as possible from the beginning. The last thing you want to be doing is having to change tried and tested recipes or packaging once you realise it doesn't work on a larger scale.  Most importantly, if you are passionate about your idea, don't let the little things bring you down. Try and team up with someone you trust as that helps to keep perspective and confidence in check.
Alice: Be confident in your product and resilient in the face of no's and blockers. Foster your relationships with your suppliers and third parties as this is a business of many moving parts! Take feedback and criticism on board to better your business and not personally. I really feel that having a co-founder, someone to support you, to challenge you, to problem solve with when things go awry, and to regularly laugh with, has been the greatest bit of it all.
How has Covid 19 affected your business? What are you currently doing as a business during this time?
Selina: Firstly, I think we'd really like to take this opportunity to thank all our key workers and the NHS in this very daunting time and that we hope everyone is keeping safe. As a business it's been predominantly important for us to make sure that everyone we work with, all our suppliers, friends, family and consumers are well and safe. Alice & I have been working from home and we are committing to continue producing and working with M&S to help keep their shelves stocked whilst it's safe and possible for everyone involved to do so. We're looking into ways we might be able to give back to our communities as this really is a time to support one another.
Alice: Ensuring that we can help, support and fulfil the requirements of our key customer M&S during this time has been our main priority, as well as supporting our community through social media, with recipe inspiration and product giveaways.
How are you spending your time in self-isolation?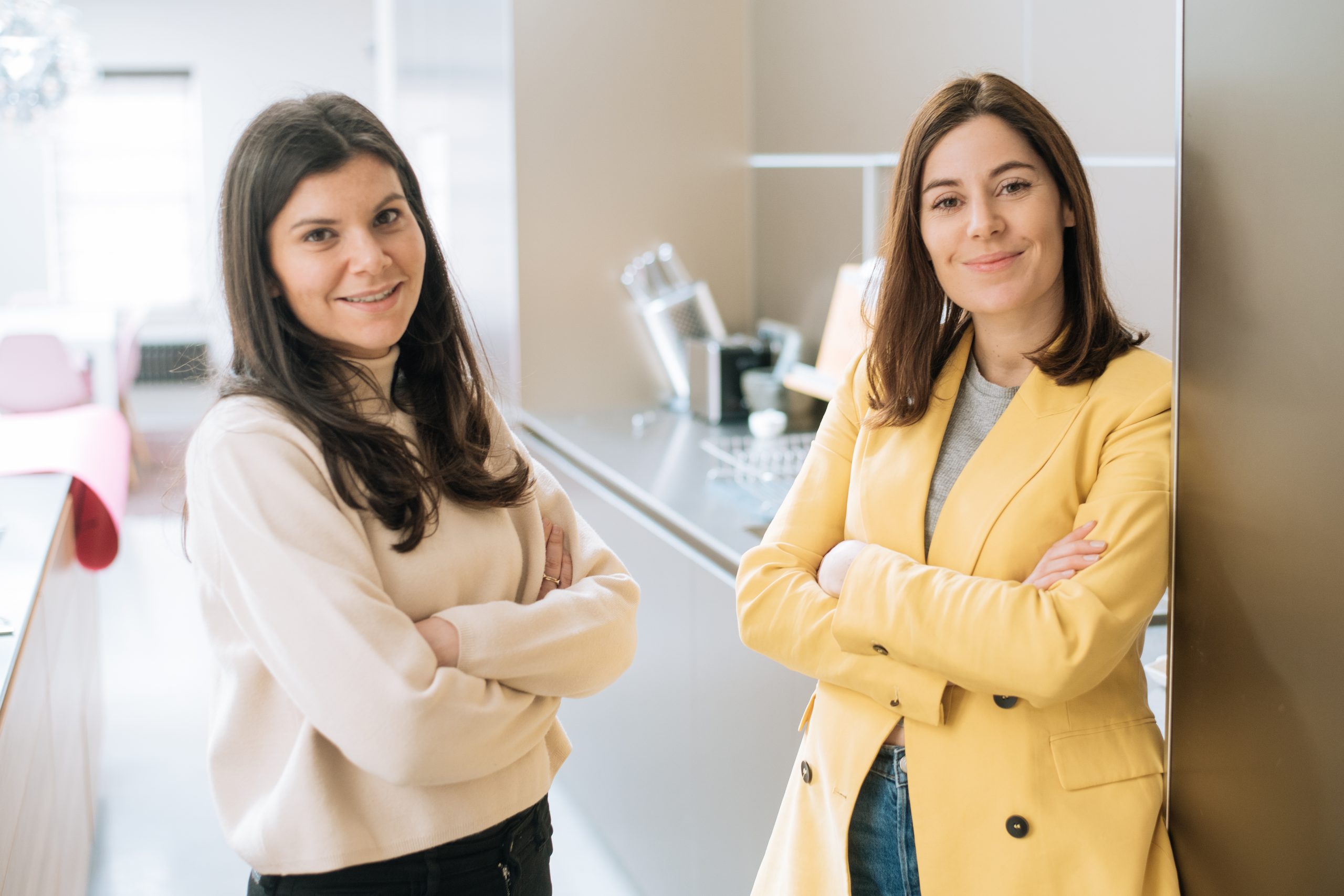 Selina: I have 3 young kids so self isolation was pretty much a way of live for me already!  I have made sure to keep to a routine though, and it has been important to separate my working from home time with family time, and a little me time too.
Alice: I'm keeping my days busy working on Posh Cow, enjoying time with my husband, and speaking daily to loved ones who we can't be with.
I've enjoyed spending more time cooking at home. I love creating new recipes featuring our butters. In the last week, I have used our Smoked Sea Salt butter in a wild garlic risotto, with sautéed spinach & a soft boiled egg on toast, and our Blossom Honey & Cinnamon butter in a cherry & cinnamon crumble, and in amascarpone, maple & cinnamon cheesecake. Next week I have plans to get creative with our Smoked Sea Salt butter and chocolate as requested by one of our social media followers. My husband and I also enjoy Posh Cow butters slathered on toast for breakfast most days!
Tips for managing your mental health as a business owner?
Selina: It's really easy to over think everything in your business so I find that taking a step back every now and again really helps mentally on a personal level, but also helps you come back with a refreshed view on a business level too. It's important to work with someone you trust and can be honest with too, especially when you need help with some of the pressures of the business.
Alice: Manage your own expectations, remind yourself how long things can take or how slow things can be at times. Reflect on the small wins and tiny incremental gains or actions that move your business forward on a frequent basis, as well as keeping an eye on your long-term goals and plans. I try to always keep focused and not overwhelmed with a list of priorities to be working on. The satisfaction of ticking things off when they have been completed brings me joy.
What's next for you and your brand?
Selina: We are working really hard to get Posh Cow into more retailers nationwide and plan to launch our next 2 flavours this year. The dream, much further in the distance would be to look into creating interesting flavour combinations in other areas of the food industry, but one step at a time.
Alice: Once we emerge from these uncertain Covid-19 times, we hope to grow our business by increasing our stockists and distribution across the UK and further afield, launch new flavoured butter recipes and also to develop our innovation pipeline, thinking about new products categories we could take the brand into.