#SheStartedIt100: Top 10 Female Entrepreneurs to Watch 2019By Angelica Malin
Introducing: #SheStartedIt100, our definitive list of the top 100 professional women to watch in the UK 2019. From tech to media, all this week we'll be giving you the who's who on the UK's most exciting, dynamic female leaders. What's more, this September, About Time is hosting #SheStartedItLIVE: our 1-day festival dedicated to female entrepreneurship on Saturday 14th September 2019. Book your ticket here and use the code 'Angelica50' for half price tickets this week only. Now, discover our 2019 top 10 female entrepreneurs to watch in the UK:
Name: Ashleigh Hinde
Age: 30
Profession: Founder and CEO of Waldo
Her Story: Originally from South Africa, 30-year-old Ashleigh Hinde has worked all over the world, finally settling in London after finishing a course in Entrepreneurship at Harvard. Whilst studying, Hinde began the road to Waldo, studying and researching everything about contact lens industry after she realised that she couldn't get her hands on a pair of contact lenses without great expense and difficulty. Within Ashleigh's first year of 2017, she launched Waldo in the UK, Europe and most recently the US following an injection of £3.7m series A capital funding, now serving over 90,000 customers worldwide.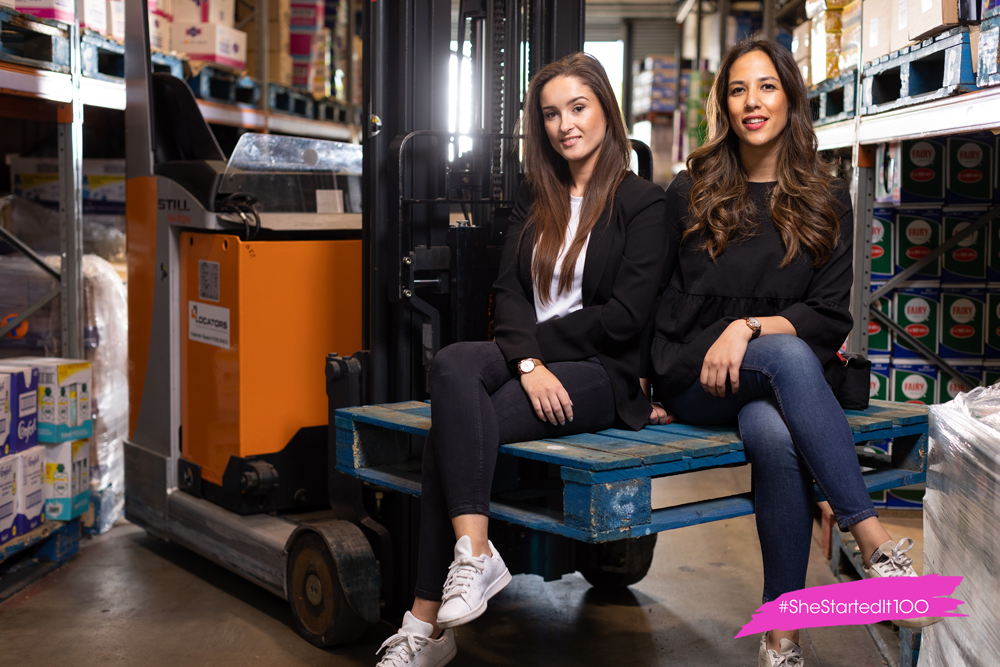 Name: Sonya Chatwani
Age: 29
Profession: Co-Founder of Easho
The Lowdown: Sonya, a former management consultant, along with her co-founder Aymi, set up Easho (which stands for Easy Shopping) in 2017 in a bid to disrupt the traditional wholesale shopping sector. They wanted to offer customers the same savings they would expect at Costco or Bookers while ditching membership fees and shipping goods direct to the door. Sonya's Dad had established a UK wholesale business in the 1970s after fleeing Uganda under dictatorship and Sonya had gleaned an insight this way. Easho's social media commits stands at over 250,000 and they work with influencers, as well as a partnership with Beauty Banks charity initiative.
Name: Tamara Littleton
Age: 49
Profession: Founder and CEO, The Social Element and Co-Founder, Polpeo
Her Story:  Tamara Littleton is founder and CEO of The Social Element, a consultancy-led social media agency advising some of the world's biggest brands on how to use social to solve business challenges. She founded the company in 2002 before the explosion of social media, pioneering and building her global business (now 300+ strong) predominantly through a remote working model, that to this day is truly innovative. In 2013, she co-founded Polpeo, which help brands withstand a crisis breaking online through the use of simulation technology. Tamara is a champion of diversity, LGBTQ, female entrepreneurship and keeping children safe online.
Name: Annastasia Seebohm
Age: 32
Profession: Group CEO of the Quintessentially Group
Her Story: Annastasia Seebohm is Group CEO of Quintessentially, the global luxury lifestyle group. The Group's revenues exceed $100 million, and includes a team of 1,000 employees, 160,000 clients, and 60 offices worldwide. A leader in the lifestyle and luxury market, she has been featured in Business Insider, Entrepreneur Magazine, Harper's Bazaar, Forbes and HuffPost amongst others. In 2018, Annastasia was included in Luxury Daily's 'Women to Watch' list, honouring 25 top women executives in the luxury industry. Annastasia sits on the board of Racked Stretch, an innovative wellness start-up, and Electric Woman, which helps connect women to 1-1 coaching and workshops.
Name: Joyce and Raissa de Haas
Age: 28
Profession: Co-Founders of Double Dutch
Her Story: Joyce and Raissa de Haas are the Dutch identical twin founders of Double Dutch, a start-up drinks company that is taking the industry by storm with its new "premium" mixers range. The de Haas twins, born in the Netherlands, are the Co-Founders of Double Dutch Drinks, a range of soft drinks developed specifically for pairing with higher-quality spirits including gin, whiskey, rum and tequila. Since its 2015 launch, the London-based brand has sold 10 million bottles and raised GBP 1.9 million. Their drinks are available in 22 countries and are sold in more than 4,500 outlets, including Michelin star restaurants and luxury hotels, such as The Savoy and Mandarin Oriental, as well as 2,000 supermarkets. The brand began life as a joint MA dissertation in technology entrepreneurship at University College London in 2014.
Name: Teresa Boughey
Profession: Founder and CEO of Jungle HR
Her Story: Teresa Boughey is Founder and CEO of Jungle HR, a strategic HR consultancy practice that works with Executive Boards and Leadership Teams during times of change and business transformation. She is passionate about enabling organisations to create inclusive workplace cultures. Teresa has extensive Strategic HR experience, operating at a Senior level within a variety of industries and sectors including FTSE 250, Financial Services, Travel Industry, Private and Public Sectors and a Sunday Times Top 100 Company that grew 20% year on year. Teresa has also been appointed to one of only 50 UK Female Entrepreneur Ambassador roles and is the author of new book Closing the Gap, which has reached Amazon bestseller status in 3 categories.
Name: Shazia Mustafa
Age: 42
Profession: MD and Co-Founder of Third Door
Her Story: Shazia Mustafa is the Co-Founder of Third Door, a family-friendly co-working space with an onsite flexible Ofsted registered Nursery. Third Door is not only the first in London to offer a hybrid co-working and childcare model, but the first in the world. As such, Shazia has inspired countless companies around the world to open their own version of Third Door and hopes to encourage many more to join the movement of creating places 'Where Family & Work can grow together'. In her spare time, Shazia is passionate about equal parenting. She is a member of the Women's Equality Party, and Movement Builder for their Equal Parenting and Caregiving policy. Most recently Shazia joined the newly formed board of Pregnant then Screwed and is  looking forward to helping women across the UK who suffer from discrimination at work and working to remove the motherhood penalty. Most importantly, Shazia is mum to three children who have been the inspiration for Third Door. She is currently working on the next stage of Third Door's growth, including opening in new locations.
Name: Katharine Pooley
Age: 42
Profession: Interior Designer and Philanthropist
Her Story: Katharine Pooley eponymous Knightsbridge design studio was established over 15 years ago and continues to create unmatched luxury interior designs for the most discerning clients. Overseeing her team of 47 interior designers and architects Katharine's highly personal approach – she immerses herself in every detail of her client's complex projects – ensures a loyal international fan base for her impressive designs. Katharine is a hugely passionate philanthropist – she is currently working with Childhood Trust to transform underprivileged children's bedrooms, and she recently hiked 100m for charity in South Africa.
Name: Henrietta Morrison
Age: 50
Profession: Founder, Executive Chair and Global Brand Director, Lily's Kitchen
Her story: Henrietta started the brand on her kitchen counter 10 years ago after her (now 16) border terrier Lily fell ill and refused to eat. Starting the brand purely out of love for her pet, Henrietta re-mortgaged her house, put all her savings in and did initial deliveries in her tiny electric car! The brand today is a multimillion pound business with presence in 16 countries across Europe, Asia and Middle East. Winning the Queen's Enterprise Award in 2016, the brand was also awarded the prestigious Royal Warrant by HRH Prince of Wales earlier this year.
Name: Bianca Miller-Cole
Age: 28
Profession: CEO of The Be Group
Her Story: Bianca Miller -Cole is an award-winning entrepreneur, having started The Be Group in 2012 with the belief that all individuals should be able to access personal development services. Bianca has developed her company into the 'go to' business for personal branding success. The business has an impressive list of clients including HSBC, Accenture, AMEX, Olswang LLP, Google, BT, EY, LSE and Kings College London to name a few. Bianca became known as a public face after an excellent performance on BBC business competition, The Apprentice in 2014.
Inspired by these amazing entrepreneurs? Join us for #SheStartedItLIVE: our 1-day festival dedicated to female entrepreneurship and empowerment on Saturday 14th September 2019. Book your ticket here and use the code 'Angelica50' for half price tickets this week only.