Anna Jones is chef, food stylist and author of A Modern Way to Eat and A Modern Way to Cook. She lives in Hackney and spends most of her dreaming up recipes, food styling and eating – read more about Anna here. As Anna is is the Soil Association's Ambassador for this year's BOOM Awards, we sit down to chat with Anna about all these organic, Hackney and food:
So, Anna, how important is organic food to you?
I believe that food and eating should be joyful, and good organic produce is at the centre of this joy. There has been a real shift towards people wanting to know the origins of what they're eating – from where it was grown to who planted the seeds – and organic produce has these values at its core. I am excited to celebrate the individuals and businesses that are giving us some brilliant choices about what we buy and eat.
Where's best for buying organic food in London?
I am part of Growing Communities – an organic veg box scheme in Hackney. The salad is grown right here in Hackney, lots more in Dagenham, and then anything not currently available is grown a bit further afield. The scheme works with lots of small-scale, organic and biodynamic farmers close to London.
Describe your cooking style in a sentence:
My cooking is all about putting vegetables at the centre of a meal, and I use spice, texture, flavour and easy-eating grains to make delicious food that satisfies without heaviness.
What first got you into cooking?
I've always loved food, but made the leap when I was working in an office job and I read an article about following your passion by which bit of the newspaper you read first. The food and recipes pages were always my go-to weekend read, and within days I had quit my job for a place on the training programme at Jamie Oliver's Fifteen in London.
What's your go-to comfort food dish?
Soup is one of my favourite comfort foods – a bowl of something warm and nourishing is always so soothing. I'll often make base, say of sweet potato, and then add lots of different textures or flavours throughout the week to switch it up a little – brown rice and cannellini beans, or a pesto drizzle.
Describe your day on a plate:
I like to start the day with a nourishing breakfast whenever I can. At home I'll have an energy packed smoothie or juice, maybe with porridge or a bowl of fruit, and if I'm out I'll make a jar of chia overnight oats the night before to take on the road. I try and eat a substantial lunch – I'll make some quesadillas or have Turkish fried eggs, and then something a bit lighter in the evening. At the moment, dinner is all about quick meals, as my little boy is so small. My tomato and kale one pot spaghetti is making a few appearances as you can just put everything in together and it's really delicious.
What's your first memory of food?
One of my earliest memories is of dinners at my nan's – which were merely killing time until we were allowed into the old teak sideboard and let loose on the chocolate stash.
How hard has it been to climb the chef's ladder?
I consider myself very lucky to have been able to do some of the things I have over the last 12 years working in food, it's been down to a mixture of some very hard work and meeting some amazing people and keeping the truth of what I love at the core of everything I do.
I believe that if you do what you do with passion and dedication to the best of your ability and believe anything is possible you don't have to do a hard sell. I have believed in gentleness and led my work with the joy of food and my love for cooking and everything else has fallen into place.
Describe your latest book in a sentence:
A Modern Way to Cook is a collection of delicious satisfying recipes that are so quick to make that they're achievable on any night of the week.

What's your store cupboard staples?
Good olive oil – a grassy olive oil is such a staple for me, and so versatile.
Sourdough – a good loaf is so difficult to beat. I'll often eat a slice of sourdough toast with a slick of nut butter, or use roughly torn pieces to top my coconut cassoulet.
Good tinned tomatoes – So versatile and useful to have in your store cupboard, I always have a few tins of good organic tinned tomatoes on hand, San Marzano tomatoes are the best, sometime I use tinned cherry too for an extra sweet tomato sauce.
London's best breakfast can be found at:
Locally, I love Hatch in Homerton or Dandy in London Fields.
London's best cake can be found at:
Violet Cakes in Hackney – Claire's cakes are always wonderful.
London's best veggie food can be found at: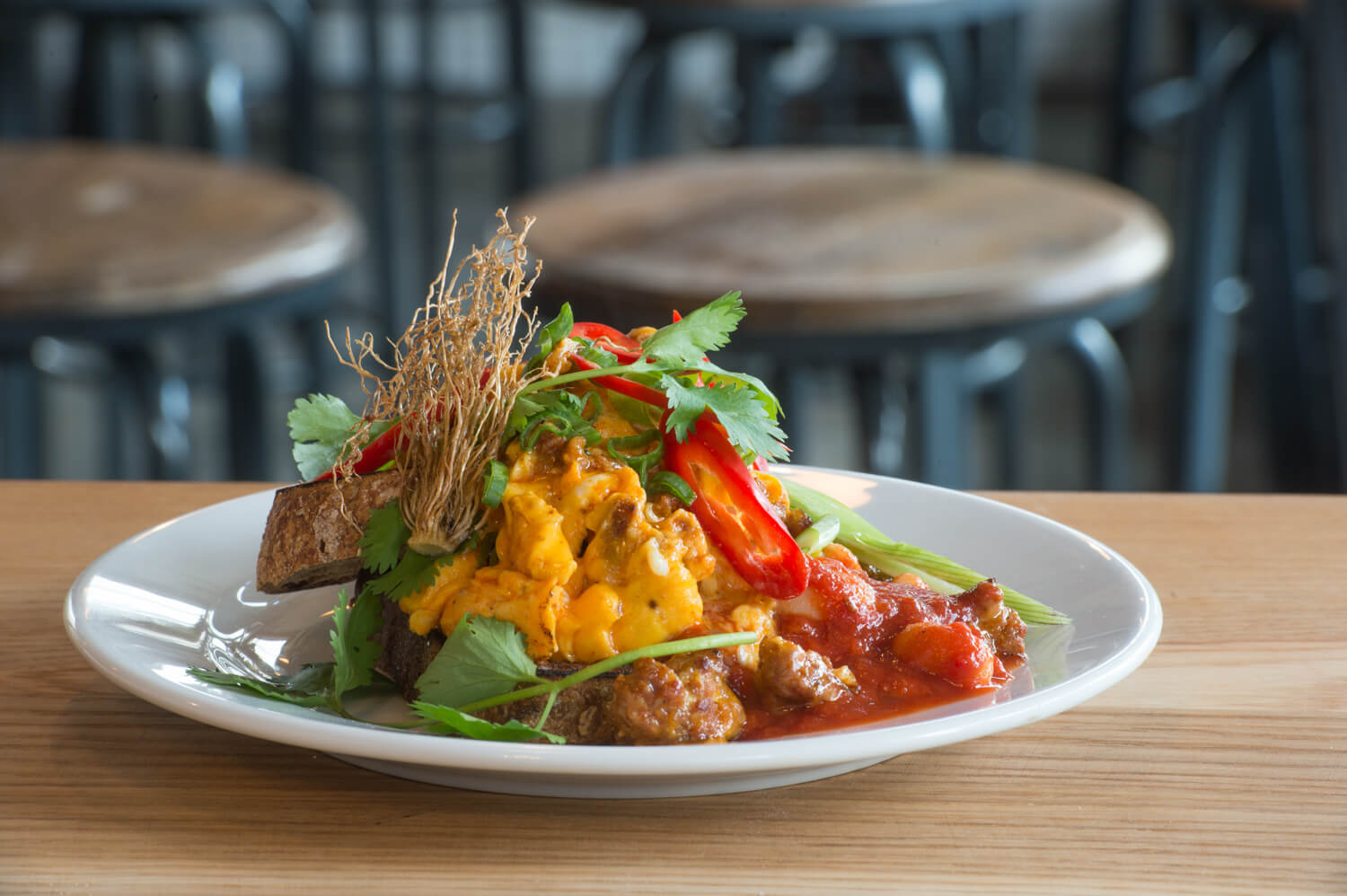 Difficult to pick one – in Hackney the recently opened Poco is amazing for veggie food – I had some wonderful roast beetroot, labneh and broad bean falafel last week. Grain Store and The Modern Pantry always have amazing offerings. For a lot of choice, Rasa in Stoke Newington is difficult to beat.
Photo Credit: Tom Bowles
London's best coffee can be found at:
I don't drink a huge amount of coffee, but when I do it'll often be from Cooper and Wolf, a wonderful Swedish café on Chatsworth Road.
Photo credits: Anna Jones. Anna Jones is the Soil Association's Ambassador for this year's BOOM (Best of Organic Market) Awards. To nominate your absolutely favourite organic product visit www.soilassociation.org/awards/boomawards by Friday 15 April.