How to Celebrate Wimbledon 2016 Finals in London: The Only Guide You NeedBy Angelica Malin
Looking for ways to celebrate Wimbledon finals this year? We've discovered some unique ways to get in the Wimbledon spirit in the final days of the tournament this year. Let's get physical:
1. For a Wimbledon Feast: Ramsay's Ridge at Bread Street Kitchen
What: This summer, Bread Street Kitchen's Bar in the shadow of St Paul's, is transformed into Ramsay's Ridge, a playful take on 'Henman's Hill' for Wimbledon lovers to enjoy. With soft, grassy knolls and picnic blankets, it is the perfect area for relaxing: sipping the specially created house 'serve' — presented in a large tennis ball — nibbling on delicious, themed snacks and watching tennis on the bar's widescreen TVs — whatever the weather.
Eat: The pic'n'mix food menu is perfect for light refreshments throughout the day and prominently reflects Wimbledon's fabulously British connotations. Savoury options include a crispy Scotch egg, deliciously decadent lobster roll and potted ham hock with piccalilli. To complement this, a trio of sumptuously sweet desserts: chocolate tarts with honey comb, a rich Eton mess and, of course, the obligatory toasted scone, strawberry jam and clotted cream rounds off the food selection wonderfully. Alternatively, go for the game, set, match approach and order a taster of all the dishes — served on a mini picnic bench — for £20.
Drink: For tennis fans in search of liquid refreshment, Bread Street Kitchen have created a new house serve; the 'Wimbledon Summer Cup' (£11) presented in a large tennis ball globe and served on a vintage tennis racket by the 'ball boys' and 'ball girls'. The cocktail comprises of Bombay Sapphire gin, expertly combined with peach purée, lemon juice, passion fruit syrup and is infused with Earl Grey tea.
Ramsay's Ridge at Bread Street Kitchen will be open to the public from 27th June – 10th July 2016. 
2. For Outdoor Screenings: The Gin Garden at Camino Bankside
What: There's nothing that heralds the arrival of summer quite like al fresco drinking, and Spanish tapas Restaurant and Bar Camino Bankside is certainly getting into the spirit with the launch of the Gin Garden pop up on the terrace this June. Located at 5 Canvey Street, Camino Bankside is just a stone's throw away from Tate Modern and is positioned on a pedestrianised walkway, providing the perfect location for the Gin Garden.
Drink: The Gin Garden will serve six select gins and tonics with original and inventive garnishes, perfectly refreshing for long summer evenings. Alongside a selection of Fever Tree Tonics, Pedrino, an alcoholic tonic containing Pedro Ximenes and natural botanicals, will also be available. All gins and tonics are served Spanish-style in large goblets and customers have the opportunity to design their own with garnishes. Glorious.
Why: The summer pop up, with a Spanish terraza theme, will be open to the public every day from midday from Thursday, 9th June through to September. With its Spanish-inspired furnishings, terracotta tones, patterned tiles, and of course, a dedicated Gin Bar, the outdoor terrace is the perfect place to soak up the rays and unwind. What's more, there will be a large screen showing the season's biggest sporting events including Wimbledon and the Olympics.
3. For a Wimbledon Special: PAUL Bakery
What: Nothing conjures up British summertime quite like the Wimbledon Tennis Championships – crowds cheering on Murray mound, picnics aplenty and a generous serving of deliciously sweet strawberries and cream.
Eat: Whilst the heat rises over on Centre Court, French artisan bakery and patisserie PAUL is keeping things cool, serving their new and truly irresistible Éclair Fraises (£3.75); a mascarpone and strawberry jam-filled choux pastry éclair topped with fresh strawberries and cream.
Where: Available to eat-in or takeaway at all PAUL shops throughout Wimbledon, grab a slice of the action this summer with this ultimate grand slam treat!
4. For Wimbledon Cocktails: Beany Green
What: This Wimbledon fortnight, visitors to Beany Green's Aussie-inspired cafe bars in Broadgate Circle and Little Venice can enjoy the aptly-named limited edition Pat Cash Smash cocktail.
Drink: A classic taste of British Summer time served up in champion Aussie style, this grand slam of a refreshing cocktail features Beefeater gin, ripe strawberries, fresh herbs and citrus, topped with Fever Tree soda.
Where: The Pat Cash Smash (£8.50) will be available on the bar menu from 4pm until close at Beany Green Romance in Little Venice (4 Sheldon Square, W2 6EZ) and Beany Green Broadgate Circle (EC2M 2QS) during Wimbledon fortnight.
Photo credit: Leyla Kazim @LeyLaLaa
5. For a Wimbledon Package: Tom's Kitchen
What: The Tom's Kitchen restaurants across London have created a range of packages that offer guests the perfect setting to watch every match during Wimbledon 2016. The restaurants in Chelsea, Canary Wharf and St Katharine Docks all have private spaces available from which guests can enjoy exclusive screenings, and the team have also created a range of delicious food and drink packages to be shared with friends, family and colleagues.
Eat: Sponsored by the Whitstable Bay Brewery, guests can enjoy a set menu that includes two glasses of house wine or Whitstable Bay Blonde Lager accompanied by eight substantial canapes each (£25pp), or two glasses of house wine or Whitstable Bay Blonde Lager, four pre-dinner canapes and a three-course set menu (£50pp).
Why: Furthermore, all major matches will also be screened live in the Canary Wharf bar, and Strawberries and Cream will be available from the Tom's Kitchen Delis in Canary Wharf, St Katharine Docks.
Photo credit: David Griffen
6. For a Wimbledon Picnic: City Social 
What: Guests at Jason Atherton's City Social can celebrate Wimbledon in style with picnic baskets in the sky at the 24th floor restaurant in Tower 42.
Eat: The Michelin-star twist on a traditional British picnic features a gourmet scotch egg, salt beef, isle of mull cheddar, homemade piccalilli and crisp cheese crackers, for dessert guests can enjoy the Gariguette strawberry parfait and yoghurt sorbet, with elderflower and verbena,overlooking the London skyline.
Why: A Jason Atherton restaurant that boasts panoramic views of London, set against a sumptuous art deco interiors? We'll take it. Expect beautiful cuisine in a glamorous environment for a Wimbledon in style.
7. For a Wimbledon Screening & Lunch: Bibendum
What: To celebrate Wimbledon this year, Bibendum has brought the trim lawns of the tennis court into the Oyster Bar. Throughout the tournament a specially crafted Championship Cocktail will be served, mingling gin, mint, lime, fragrant elderflower and tonic, perfect for a summer's day.
Eat: Bibendum Oyster Bar will host a ticketed screening of the Men's Final on Sunday 10th July, shown on a seventy-inch plasma screen. Tables seating two, three and four guests are available for £55 per person, for a four course set lunch, including Chilled Avocado Soup, Fresh Brixam Crab; Marinated Tomato and Burrata Salad; Cold Poached Sea Trout with Pickled Cucumber, Mustard and Dill Dressing and New Potatoes; and to finish Strawberry Pavlova, created especially for the game, set and match.
Why: The Oyster Bar is one of the most iconic Art Deco spaces in the capital; elegant, luxurious and welcoming in the best traditions of Bibendum. The open kitchen with its display for crustacea takes pride of place, surrounded by the carefully reconstructed stained glass windows, original tiling and mosaics from 1911.
Tickets for the screening of the Wimbledon Men's Final at Bibendum are priced at £55, and may be purchased, in advance only, on 020 7589 1480.
8. For Wimbledon Desserts & More: Gaucho
What: From the classic Wimbledon terrace in Gaucho Hampstead, to the lively and buzzing Gaucho Broadgate terrace and even the haven for hayfever sufferers at the indoor screening space at Gaucho City, to the luxe and exclusive private hire of Gaucho Piccadilly's roof terrace, Argentine steak restaurant Gaucho has a space for everyone to watch and enjoy the tennis tournament of the year.
Eat: Whilst tennis is a Great British favourite, Gaucho has also recognised our love for a summery cocktail and decadent dessert, and are set to bring all our favourite things together as they serve up a specially crafted Wimbledon themed cocktail and dessert menu to run for three weeks only.
Drink: From the indulgent Strawberry and Malbec Mess cocktail, combining fresh strawberries, Grey Goose vodka, a Malbec reduction, shaken with mascarpone and finished with crumbled meringue, to the refreshing Le Grand Fizz cocktail, combining Grey Goose vodka, St Germaine elderflower liqueur, topped with soda, Gaucho's Wimbledon cocktail offering is a perfect match for the Wimbledon inspired desserts. Whether it be the Strawberry Profiteroles or the traditional Strawberry Mess, with a twist of fresh basil, there will be something for everyone to love this Wimbledon season.
9. For a New Wimbledon Restaurant: The Ivy Café
What: Whether rain, or shine, The Ivy Café serves as a sanctuary for tennis fanatics, locals and shoppers during this year's Championships. The newly opened Ivy Café is ideally located in the heart of Wimbledon Village, with a selection of breakfast, brunch and lunch menus for all day dining. In celebration of this year's Championships, and to mark The Ivy Café's debut on the Wimbledon tennis scene, the team have created a special Wimbledon Serves menu.
Drink: Highlights include the Top Spin Spritz (£11.50), a refreshing and summery cocktail with Sipsmith London Cup, elderflower cordial, Cremant, Fever-Tree Lemonade, and lashings of summer fruits served in a crystal glass, embossed with a tennis net, and garnished with melon ball tennis balls and the more traditional British summertime-inspired dessert Champagne Jelly with English strawberries and pouring cream (£8.25).
Where: Both available from Monday 20th June – Monday 11th July 2016
10. For Wimbledon Fever: The London EDITION
What: In celebration of one of the biggest sporting weekends of the year, The London EDITION will host a pop-up ping pong bar screening Wimbledon and The Euros Cup Final. From 12:00pm – 11:00pm, 8th to 10th July, Wimbledon fanatics and ping pong pros can play the game along with the professionals as it is live streamed on a large format screen.
Drink: Quintessentially British Pimms cocktails and strawberry and cream alcoholic slushies will be served up alongside an assortment of Berners Tavern sandwiches. Ping pong players can get the courtside feeling as they relax in front of the big screen.
Why: Over the three day pop-up as the men's semifinals, and mens and womens finals, guests can play on matt grey ping pong tables by French table tennis manufacturer and designer, Cornilleau. The London EDITION's sporting weekend will culminate with a live screening of The Euros Cup Final, from 8:00pm on 10th July.
11. For Wimbledon Shakes: The Diner
What: London's favourite hangout, The Diner, is the first UK establishment to officially partner with New York's renowned burger joint, Black Tap, to create an original freakshake, to bring all the boys to the yard this summer.
Drink: Celebrating the world's most prestigious Grand Slam Tournament known for serving everything quintessentially British, The Diner will be serving the ultimate befitting strawberries and cream Wimbledon Shake. The magnificently garnished shake will be sure to satisfy your sweet tooth, get ready for a 'big serve'.
Why: The elaborate one-foot tall shake is guaranteed to release your inner child. Expect strawberry ice cream blended with fresh strawberries piled into a glass; the top half of the glass covered in vanilla frosting and dipped in mini marshmallows, topped by an alpine peak of whipped cream covered in fresh strawberries and red sprinkles with a strawberry shortcake and strawberry pocky sticks.
Photo credit: Paul Winch-Furness
12. For Wimbledon Fun: Big Screen on the Green
What: The Big Screen on the Green is the most exciting and exclusive venue to watch an action packed weekend of summer sport. Located on Parsons Green, SW London over 9th-10th July, Big Screen on the Green powered by Porsche gives you the chance to watch live Wimbledon, the British Grand-Prix and Euro 2016 Finals on super-sized LED screens.
Why: Alongside the sport you can also enjoy live music, guest DJ's, fabulous gourmet food & inspired cocktails and pop-up shopping experiences. In addition, Big Screen On the Green will offer guests special tickets to the VIP marquee, silent disco, Moet & Chandon bar, complimentary ice-cream van and a picnic area. Brought to you by the team behind last year's hugely successful Rugby on The Green, Big Screen on The Green will be raising funds for Cancer Research UK and Help The Heroes.
Where: Parson's Green, SW6 – prices start from £10 for a day ticket available here
13. For a Wimbledon Pop-Up: The Kensington
What: Nyetimber, England's most famous sparkling wine, has opened a pop-up bar celebrating quintessential Britishness in all its forms, located on the terrace at The Kensington hotel from Friday 1st to Sunday 10th July. Arguably one of the UK's most famous vineyards, Nyetimber wines have been winning awards for over 20 years and are credited with being forerunners in the recent resurgence of British and sparkling wines across the globe. 
Drink: The pop-up bar, a concept developed by The Kensington's Bar Manager Ben Manchester, will serve Nyetimber Rosé by the glass (£10) and bottle (£60), alongside Executive Chef Steve Gibbs' Wimbledon-inspired dish of the classic strawberries and cream.
Eat: Made with Nyetimber jelly, Kentish strawberries and elderflower cream, the dish honors The Kensington's emphasis on seasonal and local produce to recreate simple, British dishes with an imaginative twist. Nestled in the heart of one of London's most desirable neighbourhoods, The Kensington is located on the corner of two of London's iconic thoroughfares, Queen's Gate and the Old Brompton Road. The recently refurbished hotel includes Town House restaurant, spread across three classically designed drawing rooms and serving locally-sourced, seasonal modern British cuisine.
Honourable mentions…
Wimbledon Sundae at OXBO Bankside
Available throughout Wimbledon, OXBO Bankside will be serving up a bespoke Wimbledon Sundae (£8). Inspired by the historic tournament, the sundae will be made with fresh strawberries, chantilly cream and strawberry coulis topped with tennis ball macarons, white chocolate shards and popping candy.
The big tennis balls decorating Bluebird Chelsea's terrace can only signal one thing, it's Wimbledon time again!  From 27th June-10th July, Bluebird Chelsea will host a big screen in their renowned courtyard and will be serving delicious food and Pimm's by the hand.
Wimbledon Specials at The Royal Exchange
During Wimbledon, The Royal Exchange is offering a delicious fresh strawberry and mint salad on a fluid elderflower infused panna cotta and selection of alcoholic cocktails, including Strawberry Play with Tarquin's gin, lime, strawberry, lemon thyme or refreshing Murray's cobbler with orange and lime, Watermelon cup or The Centre Court – all priced at £10.50.
Special Wimbledon Shake at Shake Shack
From 27th June to 10th July Shake Shack will be spinning up a limited edition strawberry marshmallow Match Point Shake. Made with frozen custard and hand-spun daily the Match Point Shake (£6) will be available at all Shake Shack sites.
Wimbledon Dessert at Launceston Place
For tennis aficionados summer doesn't officially start until late June, with the start of The Championships at Wimbledon.  If you're not fortunate enough to have nabbed a ticket for the main event, experience a taste of Wimbledon at Launceston Place, enjoying Chef Patron Raphael Francois's fresh strawberry dessert with ragu, mango, crispy nuts and meringue available from 27th June – 10th July.  Launceston Place is a Michelin-starred restaurant in South Kensington, serving seasonally-inspired British menu.
This year, Mayfair favourite, Sartoria, will be serving a special lemon cream dessert garnished with strawberries (£7.50), created by Chef Patron Francesco Mazzei, and served on the restaurant's recently launched summer terrace.  Guests can enjoy the bespoke dessert al fresco on the glamourous Capri-inspired terrace while sipping a Spritz cocktail – or two!  Sartoria, meaning 'tailor' in Italian, is located on Mayfair's Savile Row with a menu inspired by Chef Francesco Mazzei's home region of Calabria and surrounding regions of Italy.
Wimbledon Cocktail at Kensington Place
In honour of Wimbledon Kensington Place will be re-launching their bespoke Murray-tini cocktail priced at £10.75, available  from the 27th June to the 10th July. The cocktail has carefully selected ingredients including: honeydew melon, lemon juice, Belvedere unfiltered vodka, Cointreau, Angostura bitters and mint.
Wimbledon Special at Grain Store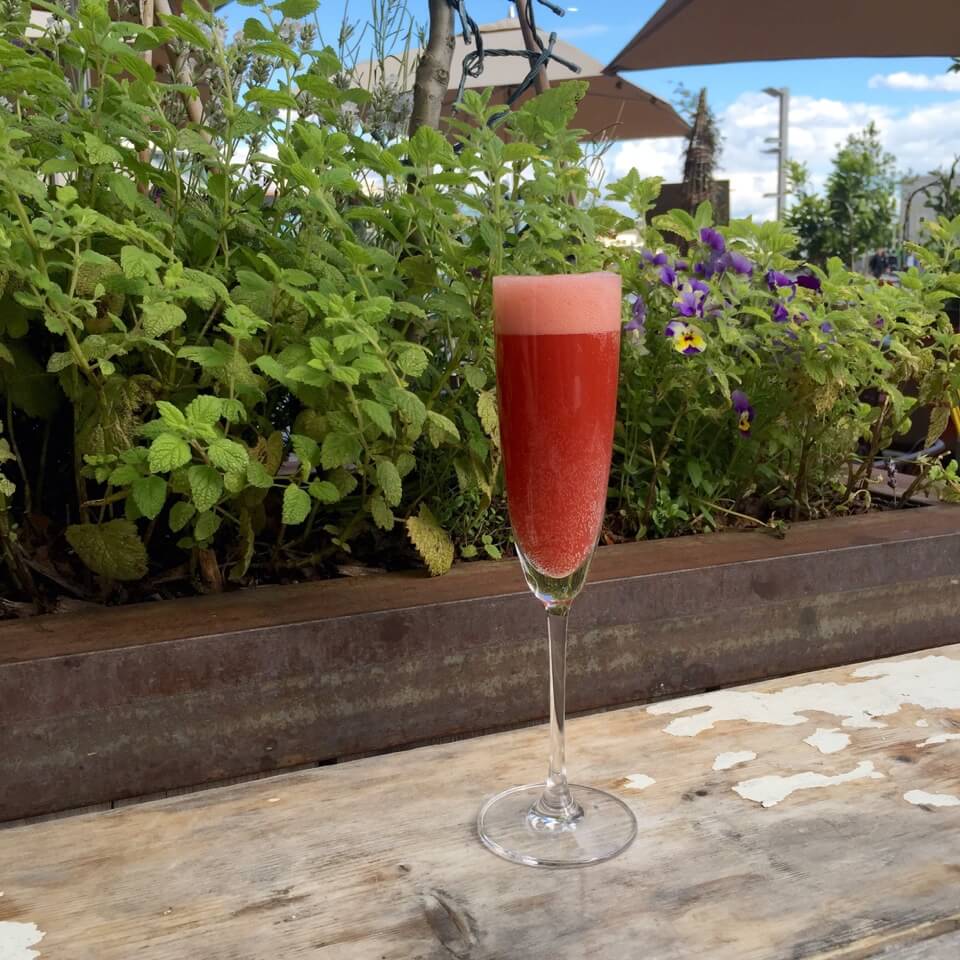 To coincide with Wimbledon, Grain Store in King's Cross will once again be serving a Strawberry and Green Grass Bellini developed by Tony Conigliaro and his team at The Drinks Factory. Visitors to the King's Cross restaurant will be able to try the new bellini before or after watching the tennis at Wimbledon which will be projected at Strawberries and Screen, a large screen on Cubitt Square just round the corner from the restaurant. The bellini is made from pureed strawberries with added green grass essence and topped up with prosecco and will cost £8.50.
Wimbledon at ROKA Canary Wharf
To celebrate Wimbledon, ROKA Canary Wharf has created a special Himawari Pimm's Cup cocktail that will be served this summer. Exclusive to ROKA Canary Wharf, the stunning cocktail is a Japanese-inspired Pimms with an enticing blend of Pimm's, Shochu, cucumber, mint, shiso and a summer berries soda, served with a garnish of melon tennis balls. Guests will be invited to enjoy the Himawari Pimm's Cup on the new ROKA Canary Wharf terrace, which overlooks the Summer Screens in Canada Square Park that will be showing the Wimbledon tournament.
Wimbledon Screenings at Broadgate
Experience a sporting summer at Broadgate, as Exchange Square's giant, open-air screen has once again popped up to showcase a variety of sporting events – kicking off with Wimbledon this June. Broadgate will be showcasing the spirit of Wimbledon, with Pimm's, strawberries and cream and street food served throughout the day – as well as fun Wimbledon-themed menu options from Broadgate's resident restaurants. For those looking to get competitive, Broadgate will be offering children and families a chance to test their sporting skills, with Wimbledon-themed games including Tennis Limbo, tennis-themed Egg and Spoon Races, and a Wimbledon-themed obstacle course.
Wimbledon Screenings at Paddington Central
Celebrate Wimbledon in style this summer at Paddington Central. Finals Weekend will be shown on the big, open-air screen, during which celebrations will have a strong focus on health and wellbeing – strawberries and Coyo (organic coconut yogurt) will be served as a lighter alternative to everyone's favourite strawberries and cream, whilst MILK's beauty pop-ups will be on hand to pamper and preen, with a roaming masseuse and on-site nail bar.
Wimbledon Screenings at Regents Place
To celebrate summer, Regents Place will once again host a giant open air screen showcasing the very best sporting highlights, alongside popular films throughout the summer. Kicking off with Wimbledon, the area will come alive with tennis 'lookalike' stars – including Andy Murray, complimentary pampering treatments from MILK beauty bars, free HIIT classes and entertaining group games.
Secret Wimbledon Screening at South Place Hotel
On 10th July, the Wimbledon Final will be shown on an oversized Bang and Olufsen screen in South Place Hotel's open-air Secret Garden bar. As you sit back in your deckchair, expect to be treated to handmade chocolate-dipped strawberries by artisan suppliers Doisy&Dom, a boozy fresh fruit ice-pop from Poptails by LAPP and a glass of Sipsmith's infamous Summer Cup, all included in the ticket price of £25. Seats are limited. Like Centre Court, rain certainly won't stop play as the Secret Garden. Should the heavens open, a fully retractable roof will conceal this hidden oasis of waterfalls and palm trees. To secure your deckchair please visit here or call South Place Hotel: +44 (0) 20 3503 0000.
Wimbledon at The Truscott Arms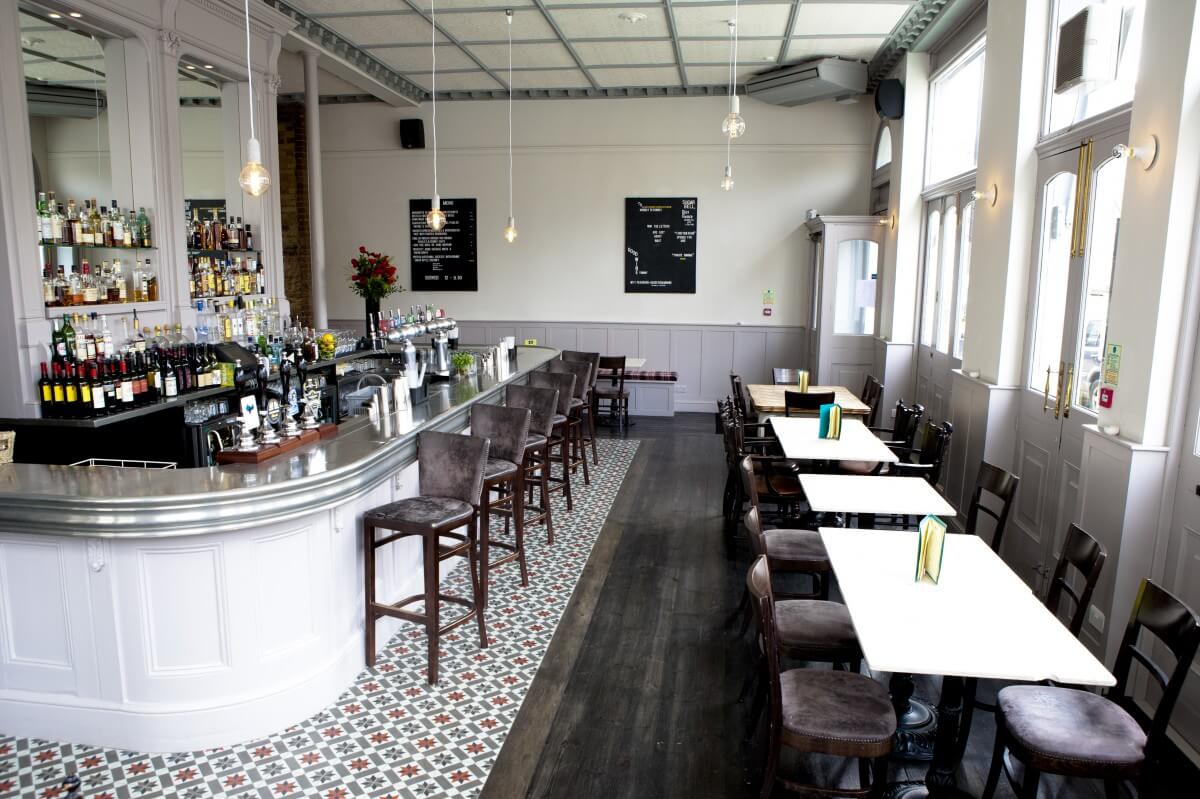 The Truscott Arms is turning their function room (the Denbury Room) in to the best centre court seats again this year for the Men's Finals on Sunday 10th July! They will be grassing the entire room allowing people to watch the final on our 3m HD cinema screen. Pairs of tickets (£50) including 2 deck chair seats, a hamper containing Lanson Rosé Champagne and strawberries and cream.
Wimbledon at the Bulgari Hotel
To celebrate Wimbledon this year, Bulgari Hotel has created a playful pastry for the world-famous annual championships. Created by Alain Ducasse protégé and head pastry chef Alexandre Talpaert, the patisserie tennis ball will encapsulate the traditional flavours of Wimbledon. The white chocolate shell holds a filling of vanilla and mascarpone cream, strawberry confit and orange blossom sponge. Available throughout the tournament in the Lounge at the Bulgari Hotel, London, the tennis balls will be priced at £9 each.
The bar team at Mayfair hotspot, Nobu Berkeley ST have created a unique cocktail specially for Wimbledon 2016 with Frangelico liqueur, Chambord liqueur and double cream flavoured with matcha tea powder. The bar team at Mayfair hotspot, Nobu Berkeley ST have created a unique cocktail specially for Wimbledon 2016. Aptly named 'The Perfect Serve', this enticing drink pays tribute to the strawberries and cream treat famed for being almost as iconic as the sporting tournament itself. Served in a coupé glass, the cocktail incorporates the elegance of Roger Federer whilst packing the punch of Novak Djokovic. Nobu Berkeley ST will be showing all tennis matches throughout the tournament, making it the perfect place to kick back and watch the matches. The Perfect Serve will be available throughout the course of the tournament at the all new Lounge bar, and is priced at £10.
Why not kill two birds with one stone this weekend and enjoy the Wimbledon Tennis Finals and the Euro 2016 Finals in one place? the common slice has the answer, Willesden's newest canal side restaurant offers wood-fired pizzas, Frontier lager on tap and an array of cocktails to wet your whistle. What's more they're offering some unbeatable deals to make England not winning that little bit easier to stomach and Murray's potential win even sweeter. During the Wimbledon final you can get a glass of prosecco and a common mess – a delicious combination of seasonal berries, meringue and vanilla cream – for only £7. You can also enjoy 2 for 1 pizzas all afternoon with delicious flavours including: Parmesan mustard crème fraiche, potato, crispy bacon and oregano oil £9 or Basil and rocket pesto, roasted peppers, courgette and goat's cheese £9. And during the Euro final match Frontier lager will be £4 a pint.