Looking for the best pasta in London? We've got a serious treat for you. Londoners have gone absolutely mad for pasta over the last few years – whether it's because of those Dolce & Gabbana adverts, a nostalgia for a simpler time, or a backlash against the 'clean eating brigade', pasta is clearly having a moment. To celebrate what we consider a to be a wholly positive revival, we have drawn together a list of our very favourite dishes from across the city:
The Scoop: Flour & Grape has appeared on more 'best of' lists this year than most other restaurants in the capital put together, and for good reason. Their pasta is always perfectly rolled – elastic and thin – and cooked to absolute perfection. Never too soft, never too hard. They have vegan options, a wine list as long as the Tiber, and rotating specials – such as this Raviolo with spinach, ricotta, lemon, oozy egg yolk & parmesan – that will blow your socks off.
Where Can I Find It? 214 Bermondsey St, Bermondsey, London SE1 3TQ
Opening Hours: 12.00-3.00pm & 5.30-10.00pm Tuesday – Saturday, 12.00-3.30pm & 5.30-9.30pm Sunday, 5.30-10.00pm Monday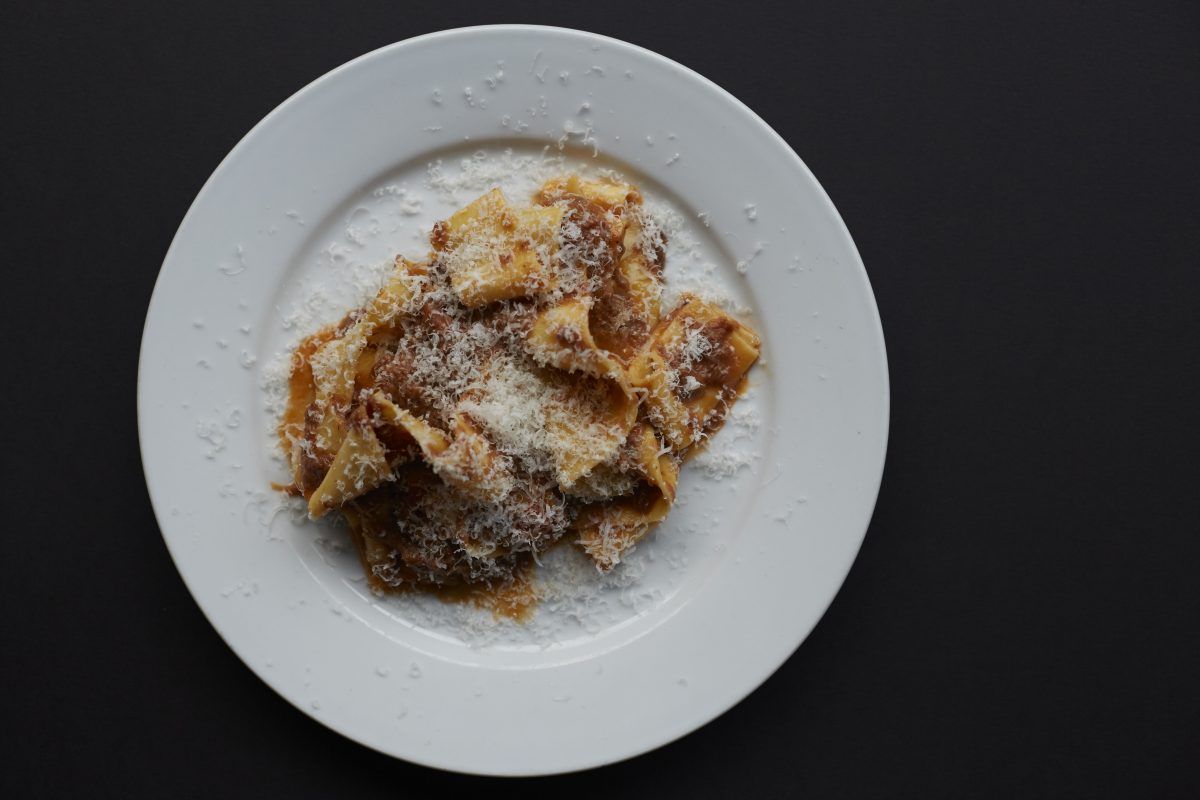 The Scoop: This dish has been Trullo's menu since the day it opened on an unassuming Highbury street way back in June 2010. In fact, it is arguably the dish that spurred London's love affair with pasta and inspired so many other restaurateurs to focus their efforts on elevating what is probably the most humble meal in all of Europe, if not the world, to cult-culinary status.
Fresh hand-made pasta and a charcoal grill are the counterpoints of the menu at Trullo and they place hefty importance on sustainable sourcing and quality of ingredients. The pasta is rolled mere moments before service, and the fish and meat are cooked to perfection over burning coals. Their emphasis on seasonality means that they operate a daily changing menu so no matter how many times you return (and believe us, you will return) there will always be something new for you to try.
Where Can I Find It? 300-302 St Paul's Rd, Highbury East, London N1 2LH
Opening Hours: 12.30-2.45pm & 6-10.15pm Tuesday – Saturday, 12.30-2.45pm & 6-9.15pm Sunday & Monday
The Scoop: Little sister to Trullo, it wouldn't be a pasta round-up without Padella now would it? And their Cacio e Pepe (literally, 'Cheese & Pepper') is still an unbeatable example of the genre in our opinion. Although they've become infamous for their long queues and packed tables, there is actually a way around standing around in the cold waiting for a table: in the evenings the restaurant runs a waiting list system so you can pop by, leave your name, and then head off for a tipple somewhere nearby. The friendly staff will call you once your table becomes available.
Where Can I Find It? 6 Southwark St, London SE1 1TQ
Opening Hours: 12-3.45pm & 5-10pm every day
The Scoop: 'Bancone' literally translates to mean 'bar' or 'counter' and can be found in the middle of hustle & bustle of Covent Garden. Most of the seats are positioned so that eaters can watch the chefs at work hand rolling, stretching and cooking pastas. We were lucky enough to try their signature 'Silk Handkerchiefs with Confit Egg Yolk and Walnut Butter' which was an absolute delight. Rich & unctuous, with the nobbly studs of walnut acting as a perfect foil to the creamy yolk and slippery, buttery sauce. The aubergine roll antipasti was also delicious, and came with the rather unusual – in a good way – accompaniment of dehydrated tomato sand. Texture, in fact, is a huge strength at Bancone. Expect twists on classics and a solid wine list. Make sure to book in advance.
Where Can I Find It? 39 William IV St, Charing Cross, London WC2N 4DD
Opening Hours: 12-2.30pm & 5.30-11pm Monday – Saturday, 1-3.30pm & 6-10pm Sunday
The Scoop: Bringing authentic Italian charm to Islington, TerraRossa on Upper Street takes diners on a flavour journey through the sun-baked region of Puglia – the heel of Italy renowned for its rich local cuisine.  Pass by the restaurant and see the pasta being lovingly hand-rolled in the window at the restaurant's custom-built pasta station. Showcasing the best in seasonal produce, the signature Puglian pasta, orecchiette, is served with turnip tops; or with heritage yellow tomatoes, olives and broccoli purée.
Where Can I Find It? 139 Upper Street, London N1 1QP
Opening Hours: 12-10.30pm Monday – Thursday, 12-11pm Friday & Saturday, 12-10pm Sunday
The Scoop: Al Dente is a pastificio – translation: pasta laboratory – and restaurant in the heart of Fitzrovia. The young, passionate founder Filippo hails from Rome and uses the absolute best regional ingredients in all his dishes. We seriously rate Filippo's Spaghettoni alla Carbonara which is made with guanciale from Bassiano (the best area in the Lazio region for pork), and real Italian pasta flour from Laquone, one Italy's best producers.
Where Can I Find It? 51 Goodge St, Fitzrovia, London W1T 1TG
Opening Hours: 11.30am-10.30pm Tuesday – Saturday, 12 – 10pm Sunday & Monday