Life is short. London is overwhelming. We've made it simple for you, here's 5 things you need to eat this week in the capital:
1. For a Taste of Spain: Ollie Templeton at Carousel
What: Carousel in Marylebone is currently hosting Head Chef Ollie Templeton for his first solo residency in the kitchen. Drawing inspiration from his childhood growing up in southern Spain, Ollie puts his own modern twist on traditional Spanish flavours and the food he loves most, with an emphasis on locally sourced British seasonal ingredients. You heard it from us: the menu is damn delicious.
Eat: Meaty mains like Lamb's heart with tomato, sesame & manchego and imaginative veggie dishes such as broad beans, peas, bottarga & wild garlic, with sorrel vinaigrette. Ollie's menu is available as a one to three-course lunch and a four-course dinner menu until the 30th of May.
Why: For set dinner at £35 per person, and set lunch at £9.50 for one-course, it's actually great value for money – in terms of the quality of food and the whole experience. Carousel is awesome; the spring residencies showcase both established and up-and-coming chefs from around the world, all hand-picked by Ollie and the Carousel team. Go and see for yourself.
Where: 71 Blandford Street, London W1U 8AB – book here
Photo credit: Matt Hickman
2. For a Good Cause: The Doughnut Menu at Parlour
What: For National Doughnut Week, Parlour is raising funds for The Children's Trust – the UK's leading charity for children with brain injury. Joining in the cause is the brilliant Jesse Dunford Wood whose quirky and delicious Doughnut Menu will include 3 courses and be available at Parlour in Kensal Rise for one week only.
Eat: Start with a smoked salmon doughnut with sour cream & fennel followed by rabbit with asparagus, radishes & doughnuts. Finish off with scrumptious cinnamon doughnuts and vanilla yoghurt.
Why: For every doughnut menu sold, £2 will go to The Children's Trust. And it's a real bargain – lunch is £10 for 2 courses, dinner is £18 for 2 courses.
Where: 5 Regent Street, London NW10 5LG
3. For Another Good Cause: Nepalese Charity Dinner at Caravan
What: Caravan Exmouth Market are hosting a one-off evening of Nepalese food at the restaurant on Sunday 17th May to raise money for the victims of the recent earthquake in Nepal. The evening will feature a three-course Nepalese feast prepared by Caravan's Director Miles Kirby alongside the restaurant's long-standing Nepalese chefs.
Eat: Delicious food, such as Momos served with tomato chutney, Nepalese potato salad, daikon pickle, beaten rice & roti', followed by Welsh Mutton Curry with cucumber pickle – finish with a dessert of Gulab Jamun – the tempting and sweet Nepalese take on the humble doughnut served with passion fruit sorbet & Kaffir lime syrup.
Why: All proceeds from the evening will be donated to the Disasters Emergency Committee, a charity running an appeal following the devastating Nepal earthquake last month.
£40 per person – call 02078338115 or email restaurant@caravanonexmouth.co.uk (including NEPAL in the subject line) to make a booking 
3. Parisian Food at Les Gourmets des Ternes
What: Newly opened in Knightsbridge, Les Gourmets des Ternes brings French food to the capital. Keeping it in the family, the original Les Gourmets des Ternes restaurant was opened in 1962 in the 8th District of Paris – it's now owned by Maximilien Marie, a 23-year-old entrepreneur, son of Paris restaurateur Jean-Francois Marie.
Eat: All the French classic. For starter, try the Rosette Salami or tomato salad, then move onto the beef or simple grilled fish, and finish with sweetened chestnut puree and creme caramel.
Why: For a taste of real French cuisine in London, it's really worth a try. Simple, good quality food with a distinctly French touch.
Where: 9 Knightsbridge Green, London SW1X 7QL
4. Lebanese Feasting at Le Menar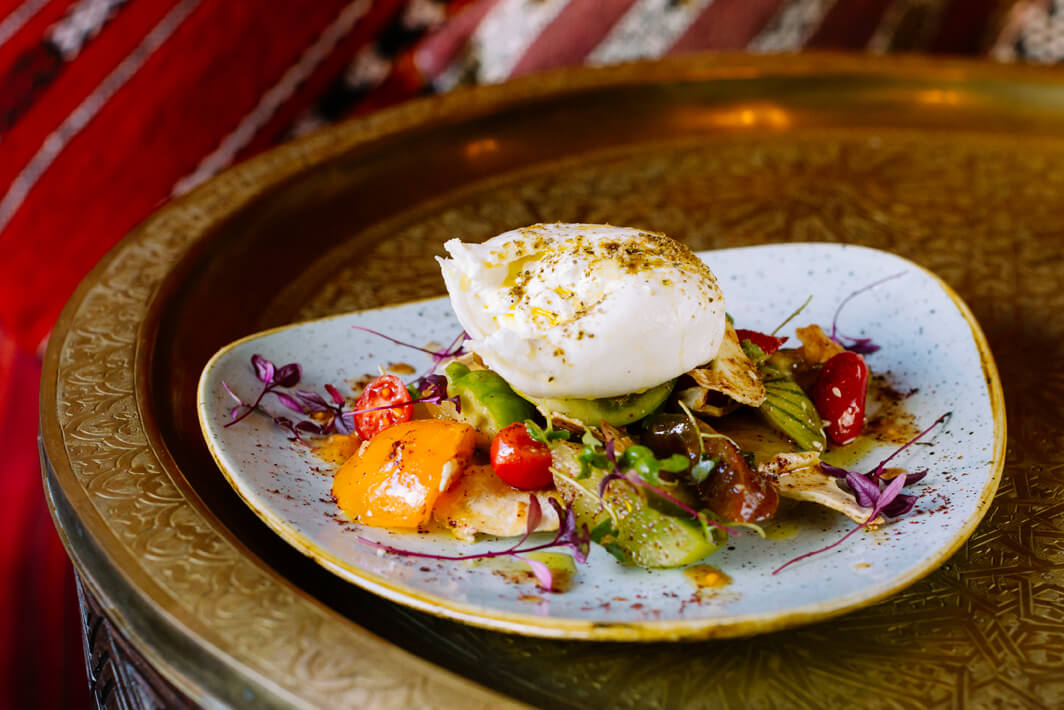 What: A great Lebanese find in Fitzrovia, Le Menar uses a modern approach to North African Cuisine to create something truly unique – think wasabi hummus and perfectly seared scallops. They use an unusual mix of flavours to create dishes that really zing, and have a great selection of Lebanese wines.
Eat: All the mezze – hummus, falafel, vine leaves, all of it. Try their Moutabal – grilled aubergine puree with tahini and lemon juice – and great Fattoush salad with pomegranate.
Why: Lebanese food is a crowd pleaser – great for veggies and fussy eaters alike – and perfect for Summer when you want something a little lighter and more shareable. The tapas-style sharing plates are great for groups, and even, dare I say for a first date. Come here for the intimate lighting, cool vibe and relaxed setting.
Where: 55 Cleveland Street, London W1T 4JL