Looking for a delicious vegan hot cross bun recipe? We've got you covered for Easter baking with two amazing Violife recipes, both totally vegan and totally delicious. See more our recipes here. Now, let's get baking:
Vegan Hot Cross Bun Recipe with Violife Creamy Caramel Filling
This vegan hot cross bun recipe uses a mix of spices, to give a warming, delicious flavour, and zesty oranges and lemon, the sweetness of banana and a dash of almond milk for creaminess. Perfection. Serve with your favourite jam and Violife vegan spread for an Easter treat: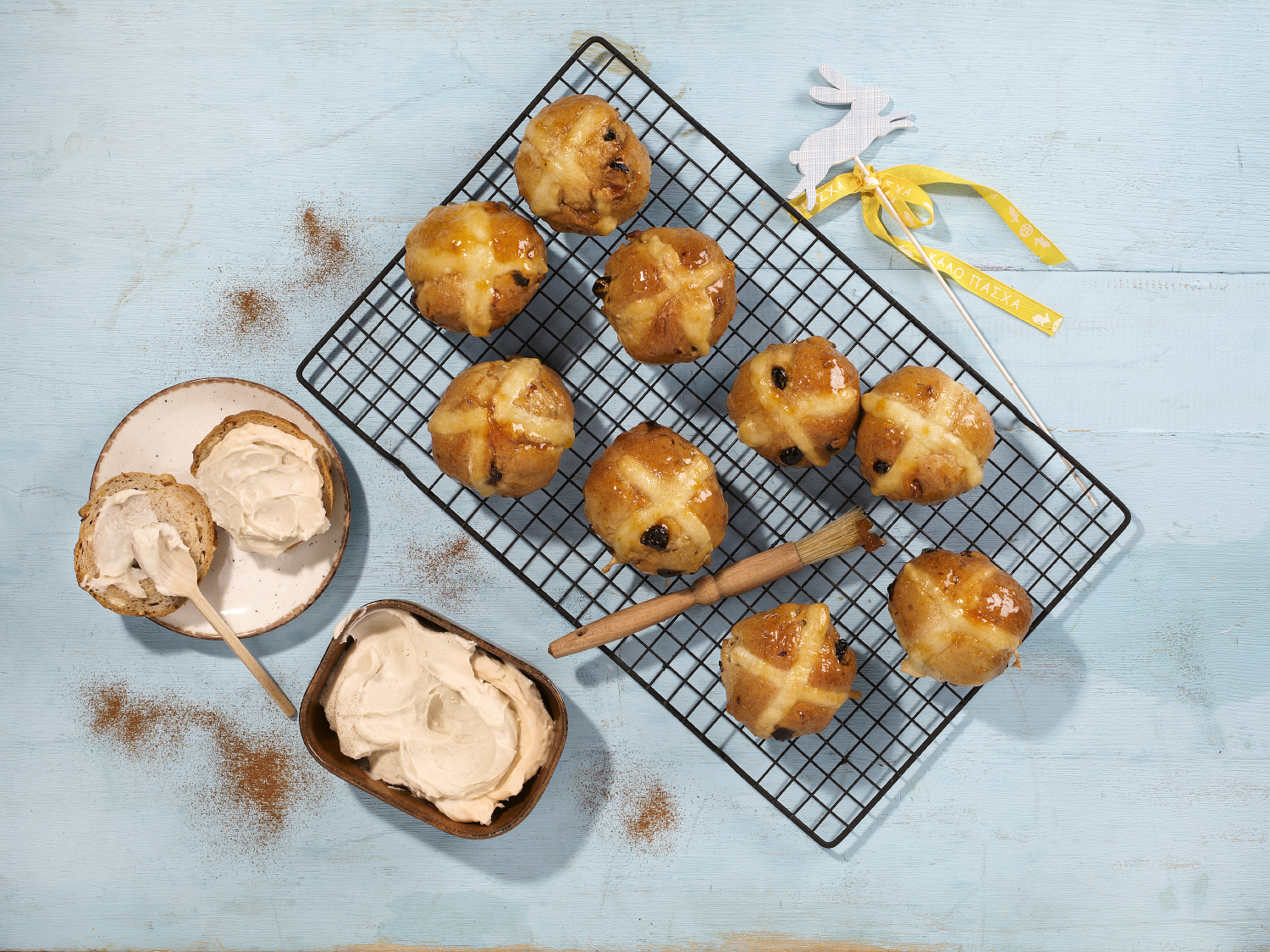 Serves 12
Prep time: 20 minutes
Ingredients:
480g all-purpose flour
1½ tsp salt
1 pack of instant dried yeast (7g)
3 tbsp and 1 tsp sugar
2 tsp cinnamon
1 tsp nutmeg
150g raisins
¼ chopped walnuts
½ banana, pureed
Zest of one lemon
Zest of one orange
125ml of unsweetened almond milk
125ml of warm water
2 tbsp of olive oil, with extra for coating the buns
Hot Cross Bun paste:
5 tbsp all-purpose flour
62.5ml water
Apricot glaze:
2 tbsp of apricot jam (or your favourite flavour of jam)
1 tbsp of water
For the filling: 
200g Violife creamy original
3 tsp caramel syrup
Directions:
Mix the flour, salt, yeast, sugar, cinnamon, nutmeg, raisins, walnuts, banana puree, and orange and lemon zest in a large mixing bowl.
Warm the almond milk, add the warm water and stir into the flour mixture. Then add olive oil and combine.
When mixture has taken a dough like form, turn onto a floured surface and knead until smooth. Make the dough into a ball and place in a lightly oiled glass bowl. Cover with cling film and place in a warm place to rise for 1 hour or until doubled.
Divide the dough into 12 equal pieces and arrange on a lined baking tray. Cover and let rise for another half hour until double in size. Preheat the oven to 180oC.
In a bowl mix the flour and water to create the bun paste. Once the dough has risen, using a piping bag create small crosses on each bun.
Bake for 15-20 minutes.
In a small bowl, mix together two tablespoons of jam and 1 tablespoon of hot water.
As soon as the buns are out of the oven, brush each bun with the apricot glaze and let cool on a wire rack. Whisk together the Violife creamy original and the caramel syrup.
Cut the buns in half and fill with creamy caramel sauce.
Vegan Date Bun Recipe with Violife Creamy Frosting
If you're looking to mix things up this Easter, try this recipe for sticky and delicious vegan date buns. Using dates, cinnamon, oat milk and coconut oil, these totally plant-based treats are the perfect addition to your Easter spread. Get the recipe here:
Serves 7
Prep Time: 90 minutes + 25 cooking time
Ingredients:
500g all purpose flour
250ml oat milk (at room temperature)
1 sachet dry yeast
½ tsp salt
2 tbsp brown sugar
5 tbsp vegan butter
400g dates, pitted
1/2 tsp cinnamon
3 tbsp melted coconut butter
3 tbsp coconut oil
For the frosting:
Method:
Melt the coconut butter and add the milk and dry yeast, stirring to combine.
In another bowl combine, flour, salt and sugar, add the wet ingredients and mix for about 5 minutes until a soft dough forms. Remove the dough from the mixer and continue kneading with your hands for a few more minutes. Place the dough back in the bowl and cover with cling film, let the dough rest and double in size for 1 hour in a warm place.
Once the dough has risen, preheat the oven to 180°C.
For the date caramel sauce add dates in a small pot over medium heat with 80 ml of water. Stir until the dates have completely melted. Add the cinnamon and set aside to cool.
Roll your dough out onto a floured surface into a rectangle. Spread with date caramel.
Roll up the dough and cut into 7 parts, about 3-4 cm long each.
Brush a cake tin with coconut oil and place the buns inside, cut side facing up. Brush the top with some oat milk. Bake for 25 minutes. When ready, brush with maple syrup.
For the creamy frosting, mix the Violife creamy original and the maple syrup together. Just before serving, spread the creamy frosting on top of your buns and then add some nuts on top.