About Time You Tried: Best Veggie Dishes at Taste of LondonBy Angelica Malin
Food festivals are normally a nightmare for veggies. We have to sit in the corner, watching hipsters chow down on delicious-looking burgers and juicy ribs, while we pick at an Asian salad and hide our shame. But not at Taste of London. Oh, no. It's only the best restaurant festival in the world – and, for me, really marks the start of summer (wellies and all).
Photo Credit: Justine Trinkett
If you're vegetarian, you won't go hungry at Taste of London – there's everything from Japanese-inspired delights to charitable veggie burgers. I popped down last night to try out this year's foodie options – and can report it's very good news. Here's my own little veggie awards, let's get feasting:
1. Best Veggie Starter: Kurobuta London
Photo Credit: Kurobuta London
The Dish: Nasu Dengaku – sticky miso grilled aubergine with candied walnuts
Expect: This is probably my favourite restaurant dish in the whole world. My boyfriend and I are known to come to Kurobuta to get this as a starter, on our way home. In fact, we did the rounds and ate this twice at Taste of London, it's just that good. Sticky, sweet, a little bit sour with a touch of lemon, the crunch of the walnuts. Oh, it's just too good. You MUST try this. Kurobuta restaurant takes inspiration from the Izakayas of Japan, where exceptional tapas-style plates are served to accompany drinks, with dishes such as Scott's signature dish of BBQ pork belly in steamed buns, crab tempura maki and tea-smoked lamb.
2. Best Veggie Pasta: Theo Randall at the Intercontinental
The Dish: Orecchiette pasta with slow cooked violet aubergine, fresh plum tomatoes, basil and ricotta salata
Expect: This was my favourite pasta dish at Taste last year, and not a lot has changed! Theo Randall is the king of veggie pasta, and he's really smashed it with this veggie delight. The aubergines simply melt in the mouth, and are a match made in heaven with the fresh tomatoes and salty cheese. Glorious. This year InterContinental London Park Lane marks 10 years since acclaimed Chef Theo Randall launched his award-winning Italian restaurant, and it's only gone from strength to strength.
3. Best Simple Veggie Dish: Sartoria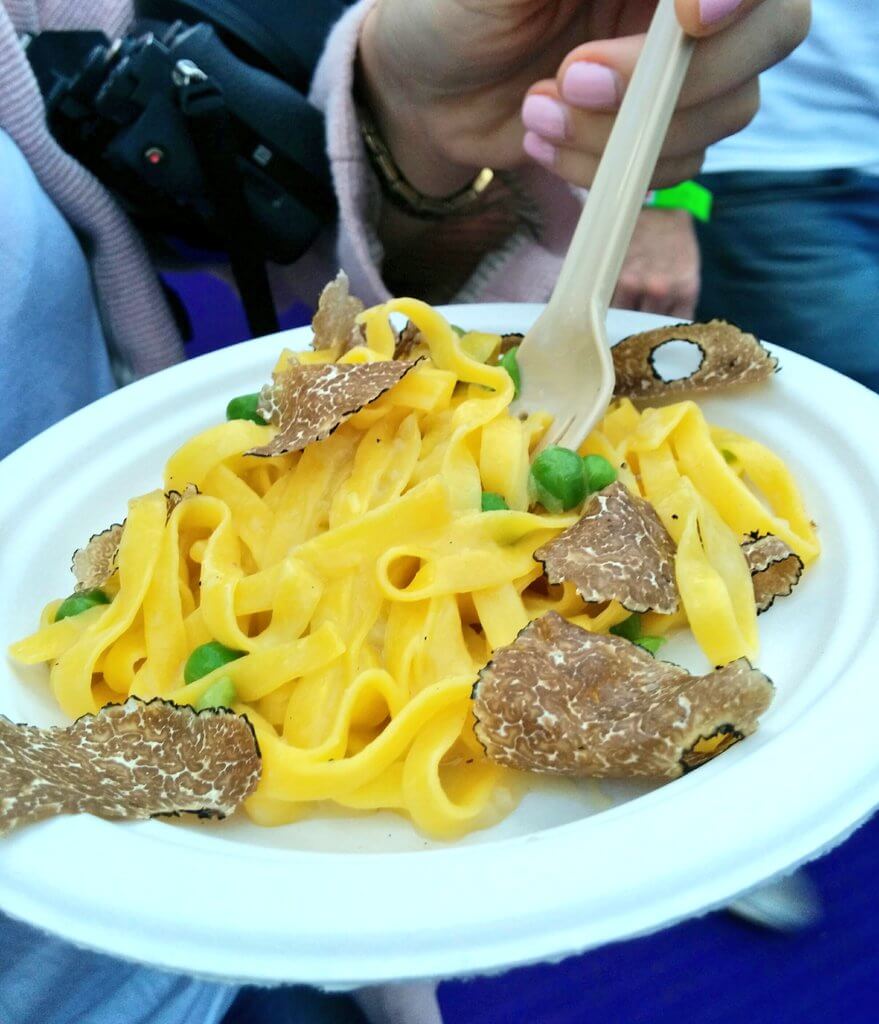 The Dish: Fettuccine with Grana Padano, broad beans, peas & black truffle
Expect: Simple, but seriously good. A new restaurant at Taste this year, Sartoria is part of the D&D restaurant group, who are the kings of fine dining in the capital. Headed up by chef Francesco Mazzei, expect only the best simple Italian food here. Savile Row's Sartoria has a great all-day dining menu, with food inspired by Francesco's home region of Calabria and surrounding areas of Italy. This fettucine dish is simply wonderful – light, summery, full of flavour from the truffle, you must try it.
4. Best Veggie Main: Action Against Hunger
The Dish: 5 Star Burger – five varieties of burger, including a veggie burger by Gizzi Erskine
Expect: The best veggie burger in town, great by the amazing Gizzi. Taste of London proudly works with Action Against Hunger as its charity partner. It's all for a good cause; Action Against Hunger unites top chefs, restaurants, critics, food producers and food lovers to raise funds and awareness to help get child hunger off the table. All proceeds go to charity, so there's no excuse not to indulge!
5. Best Veggie Creation: Vanilla Black
The Dish: Goat's milk & tomato shortbread, broccoli, gem lettuce & egg yolk fudge
Expect: For something a bit different, head to Vanilla Black. It's one of the few all-veggie restaurant at Taste this year, and their inventive vegetarian cuisine really put them on the map. This dish is an unusual but stellar combination, with crisp shortbread and the creamiest egg yolk fudge, it's a total winner. The brainchild of Andrew Dargue and Donna Conroy, Vanilla Black set out to smash the stereotypes associated with vegetarian cuisine – and they've certainly done that.
6. Best Gluten-Free Dish: Amico Bio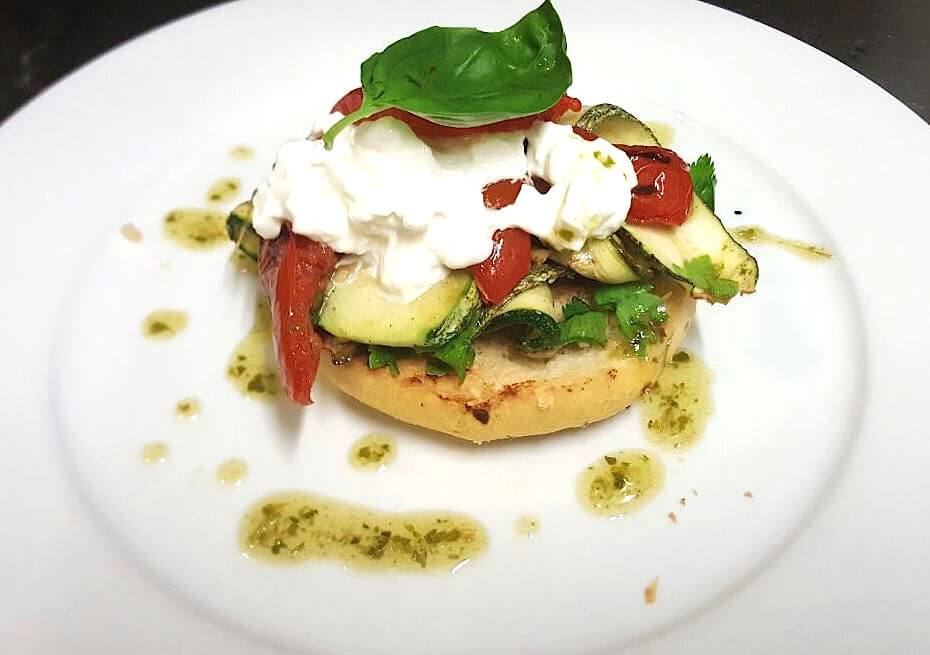 The Dish: Gluten-free potato gnocchi with rice milk mozzarella, chives & shaved summer truffle
Expect: This was one of the best pasta dishes we sampled at Taste, and, added bonus, it's vegan too! Served with rice milk cheese (how is that a thing?), the gnocchi is surprisingly light and comes in the most delicious rich, creamy sauce – perfect with the hints of raw truffle. Oh, it's so delicious. If you've got room, try their foccacia too! Proprietor and Head Chef, Pasquale Amico, opened Amico Bio in 2010. He believed that there was an opportunity for people to experience his particular style of Italian-vegetarian cooking, and it's gone down a storm.
7. Best Veggie Salad: Champor-champor
The Dish: Som Tam – crispy tofu salad with star fruit, pomegranate, green papaya, cashew nuts & som tam sauce
Expect: A salad bursting with flavour and freshness, it's the perfect dish if you're looking for something lighter after all that pasta! We totally loved this salad – the crunch of the nuts and the sweetness of the fruit is just perfect in it. Champor-champor, a Thai-Malaysian fusion restaurant, opened at the turn of the millennium to fast become a hit with the critics. In 2012, female restaurant entrepreneurs, Som and Bee, took the helm and have continued to keep the legacy, of this firm London favourite, alive.
8. Best Veggie Dessert: Heddon Street Kitchen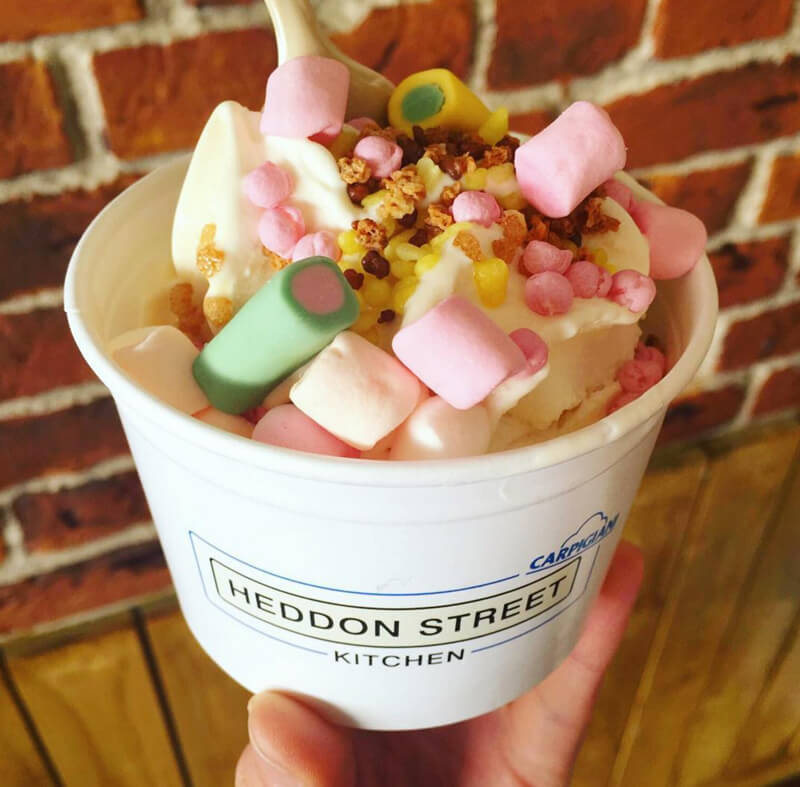 The Dish: HSK ice cream bar, bread & butter ice cream
Expect: Decorate your own ice cream? Yes, please. This dessert will bring out the big kid in you, and it's so, so good. Heddon Street Kitchen is a beautiful space over two floors, with an interactive wine counter, daily-changing ice cream, open kitchen and trendy lounge bar. Their food at Taste this year is totally on point – and we think it's imperative you end your Taste journey here.
Taste of London will take over Regent's Park from 15 th – 19 th June and turn it into a foodie wonderland. Tickets from £16. For more information or to purchase tickets go to: www.tasteoflondon.co.uk