About Time: You Totally Smashed Valentine's Day in LondonBy Angelica Malin
Don't be a last minute Larry. Here are the best ways to totally smash Valentine's Day in London this year.
1. For Special Cocktails: Valentine's Love Potion at Discount Suit Company
What: This Valentine's Day, why not cosy up with your date in the dark corners of East London haunt Discount Suit Company to enjoy their special Valentine's cocktail? Designed for two to share, Love Potion #9 (£18.50) features within Discount Company's new menu; a revival of classic, sea style drinks, branded witsh the bar's trademark twist. Take it from these expert mixologists, you'll be onto winner this Vt mineutalentine's Day with this heady mix of Quiquiriqui Mezcal, Bold Cherry Aperitif and Kamm and Sons Ginseng Spirit. Located on Petticoat Lane, Discount Suit Company is an underground drinking den;  an intimate sanctuary within the enclaves of London's East End, styled up to evoke its 1980s suit shop heritage.
Where: 29A Wentworth Street E1 7TB
2. For an Event: Venetian Masquerade Dinner at Il Cudega
What: Celebrate La Festa di San Valentino the Venetian way at Il Cudega, with a masquerade dinner this Valentine's weekend. Traditional dishes from the three course menu include starters such as carpaccio 'Cipriani style' of smoked chianina beef to start, followed by king prawn and green dandelion ravioli with stracciatella di burrata and spicy tomato sauce, and finishing with desserts such as a dark chocolate and raspberry tiramisu. Located in one of three newly developed railway arches just off Westgate Street, Il Cudega is run by Italian born Giovanni Brighi, a local Hackney resident of 20 years, and his Milanese business partner and childhood friend, Luca Gaggioli.  Together they offer weekly changing menus using ingredients sourced by Luca's travels throughout the region, from handpicked 'slow food' producers in Lombardy.
Price: £45 per person excluding drinks & £65 per person with a bottle of Prosecco Casanova. For those in the carnevale mood, a complimentary glass of prosecco will be offered to guests wearing a mask.
Where: Arch 358 Westgate Street, E8 – booking availability: Saturday 13th 7pm – 10pm
3. For Healthy People: Valentine's Raw Chocolate at NAMA
What: Perfect for wooing clean-living foodies, artisan raw food restaurant NAMA are whipping up their much-loved raw heart shaped chocolates, which for the first time can be ordered online for UK-wide delivery. Gift-givers can opt for six individual raw chocolates (£8.50) or one giant raw chocolate heart (£9.50) to express their love. Want to make that statement a homemade one? Throughout the month, Nama host various Raw Food Masterclasses. Students will learn the basics of raw food cooking, and get to take away some lovely food made with only raw and natural ingredients. Winner.
Where: 110 Talbot Road, London, W11 1JR
4. For Valentine's Brunch: Valentine's at Christopher's Covent Garden
What: Love is in the air and classic American restaurant and bar Christopher's Covent Garden has just the tonic. This year the art-deco inspired Martini bar will be serving limited edition Valentine's cocktails, which include an aperitif, dessert and virgin. Choose from the tantalising Spiced Strawberry Kiss with champagne, Cupid's Perfect Martini with raspberry puree and pineapple juice and the non-alcoholic Lychee Lover with lychee and lime juice, strawberry and peach puree. They will also be serving Valentine's specials throughout the weekend in the iconic high-ceilinged dining room. From brunch dishes such as Valentine's Huevos with black truffle and kale, fried egg, soft flour tortilla, black bean salsa and honey and almond French toast, with cherries, honey ice cream to dinner delights including oysters with Cabernet Sauvignon vinegar, and cucumber and Wild Bass with artichoke cream, piquillo peppers, samphire and shaved truffle. Want to up the romance factor? Would-be-Romeos can order a wrapped red rose to be placed on their table on arrival (£7.50) plus each couple will get to take away a box of two beetroot and chocolate macaroons on the house.
When: Available Saturday 13th & Sunday 14th February.
Where: 18 Wellington Street, Covent Garden, WC2E 7DD
5. For a Special Menu: Valentine's Day at Lanes of London, Mayfair
What: Celebrate with your loved one at Park Lane restaurant and bar, Lanes of London, and treat yourselves to a Valentine's Afternoon Tea available on Saturday 13th and Sunday 14th February, featuring chocolate dipped strawberries and Chambord macarons or indulge in a Valentine's weekend set dinner menu in partnership with Chambord Royale, against unrivalled backdrops of Marble Arch and Hyde Park. Housed within London Marriott Hotel, Park Lane, Lanes of London is a modern British restaurant and bar. Formerly an Edwardian mansion block, the dining room and bar is an informal, modern space, complete with comfortable booths, snug inlets and private dining facilities. Great for cuddling up this Valentine's Day.
Price: Tea is £39 per person & £45 per person including a glass of Moët & Chandon, dinner is £29 per person and £35 per person including a glass of Moët & Chandon.
Where: 140 Park Lane, London, W1K 7AA
5. For Single Kids: Anti-Valentine's at The Zetter Townhouse, Marylebone and Clerkenwell
What: A room full of couples can really kill the mood, so both The Zetter Townhouse Marylebone and Clerkenwell will be throwing an Anti-Valentine's Day bashes as an antidote to this. Every party of three will be offered a complimentary cocktail – either the Gooseberry Kir or the Third Wheel – both specially created for the evening. This 24-bedroom Georgian townhouse and cocktail lounge enjoys an enviable location on Seymour Street, in Marylebone – perfect for a night out in town, or casual cocktails with friends. Who needs a man, hey?
Where: The Zetter Townhouse Marylebone and Clerkenwell
6. For Bubbly Brunch: The Modern Pantry, Clerkenwell and Finsbury Square
What: Anna Hansen's restaurants the Modern Pantry Clerkenwell and Finsbury Square will be offering bottomless prosecco and handmade truffles to accompany their brunch menu on Valentine's Day, which include dishes such as coconut and cassava waffle, pineapple and thyme salsa, salted peanut brittle, coconut yoghurt and The Modern Pantry favourite Sugar-cured New Caledonian prawn omelette, green chilli, spring onion, coriander, smoked chilli sambal, toast.
Where: The Modern Pantry Clerkenwell and Finsbury Square
7. For Amazing Food: Sea Containers at Mondrian London, Southwark
What: Sea Containers at Mondrian London on London's South Bank are offering a sumptuous special menu for the Valentines weekend. Overlooking the Thames and St Paul's, guests can enjoy Valentine's menu, with a perfect setting for a romantic night. The menu includes a seafood indulgences pre-starter with oysters, crab, tuna tartar and caviar, followed by starters such as salt baked beetroot, blood orange labneh, almonds, maple syrup and main course options such as dover sole and lobster with leeks, pear, fennel, saffron. The menu also includes sharing desserts such as pink champagne, strawberry and white chocolate lollipops. The menu will be available for dinner on Saturday 13th February and for both lunch and dinner on Sunday 14th February.
Price: £75 per person or £110 with wine pairing.
Where: 20 Upper Ground, London SE1 9PD
8. For Treats: Ottolenghi Spitalfields, Islington and Notting Hill
What: For gifts, Ottolenghi have created an array of Valentine's inspired sweet treats, including meringues with rose petals, heart shaped chocolate tea cakes, pink macaroons and a heart-shaped red berry pavlova for two to share, available to take out at all the delis and also to eat in Ottolenghi Spitalfields and Islington, which will be opening specially for the evening.
Where: Ottolenghi Spitalfields, Islington and Notting Hill
9. For Sharing Food: Brunch at Poco, Broadway Market
What: Poco on Broadway Market are offering a sharing style set menu; guests will begin with a rhubarb bellini before choosing from a selection of dishes to share, including Arctic Char with purple dulse, blood orange and cacao and roasted whey-brined chicken, roasted cauliflower, black olives.  Dessert is a roast rhubarb, hibiscus flower and brown sugar pavlova. At brunch they'll also be offering a Valentines special of Shakshuka for two to share.
Price: £25 per person
Where: 129 Pritchard's Rd, London E2 9AP
10. For French Food: Valentine's Day at Blanchette, Soho
What: On Valentine's Day, the quintessentially Parisian bistro Blanchette will offer its beautifully decorated space, filled with romantically ambient lighting, good vibes and bags of charm. Blanchette will be serving the usual a la carte menu as well as some delicious specials, including a chocolate fondue.
Where: 9 D'Arblay St, London W1F 8DR
11. For Japanese Food: Valentine's at Tokimeite, Mayfair
What: Situated in the heart of Mayfair, on Conduit Street, the newly opened Japanese restaurant Tokimeitē will invite guests to celebrate Valentine's Day in style with a fabulous set menu, priced at £80 per head. Highlights from the menu include Wagyu Rei Shabu – thinly sliced Wagyu shabu shabu garnished with ponzu jelly and edible flowers, a table simmered Wagyu Sukiyaki served with onion and watercress in miso dashi with a side of creamy truffle sauce and a variety of sashimi sets and sushi rolls.
Price: £80 per person
Where: 23 Conduit St, London W1S 2XS
12. For Speed: Le Pont de la Tour and Thames Limo
What: Renowned French restaurant Le Pont de la Tour, which has recently re-launched following an extensive refurbishment, has partnered with Thames Limo, a bespoke water limousine charter service on the Thames, to offer guests the perfect alternative to a traditional proposal, engagement party, anniversary or special occasion. London's latest water limousine, sporting the unmistakable Union Jack hull, has been especially adapted with sleek styling and elegant fitting, and will provide guests with a memorable river voyage and a stylish arrival and/or departure from Le Pont de la Tour. Upon arrival at Le Pont de la Tour, guests will be greeted with creative cocktails and a wonderful four course menu from head chef Frederick Forster.
Price: Fees start from £700 per hour and the Thames Limo can accommodate up to 8 people
Where: 36D Shad Thames, London SE1 2YE
13. For Valentine's Exclusives: Dirty Lovin' Specials at Dirty Bones
What: This Valentine's weekend, Dirty Bones restaurants will be offering their new Dirty Lovin' specials, including theSugar Daddy Cocktail with Bombay Sapphire, Cointreau, lemon, Lillet Rouge and egg white, served in a glass rimmed with popping candy and hundreds and thousands. Guests will also be able to enjoy the Banana Toblerone-Tella Waffles – caramelised banana, Toblerone-tella, blueberry jam, peanut butter gelato, and crushed nuts served on a freshly baked waffle – normally only available on the weekend brunch menu! The Sugar Daddy cocktail and Waffles will be available as a la carte features all day and evening at Carnaby from 12th-14th February, and in Kensington on evening 12th , all day 13th, and day only 14th February.
Where: Dirty Bones Carnaby and Kensington
14. For Tea, Ice Cream & More: Fortnum and Mason, Mayfair
What: Whether a sweet-tooth or carnivore, a tea-sipper or champagne-popper, the perfect Valentine's restaurant experience is waiting at Fortnum's. At 181 Piccadilly itself, The Gallery offers a veritable feast of beautifully-crafted sharing dishes, from Roast Châteaubriand or smoked salmon for two, to a sumptuous and shareable ice cream bombe with hot chocolate sauce and berry compote. The Diamond Jubilee Tea Salon, meanwhile, is offering a signature Fortnum's Afternoon Tea with a range of romance-ready treats, from rose and rhubarb fool choux bun to Red Velvet cake with heart-shaped popping candy.
And sweethearts with a passion for ice cream have reason to celebrate too: The Parlour is also in the mood for love, serving a cornucopia of delicious desserts that are made for sharing, but glorious enough to keep to yourself. And for the first time in Fortnum's history, visitors to Piccadilly can also add a little personal touch to this special occasion. Visitors can pre-order a bottle of personalised Fortnum's Blancs de Blancs or Rosé Champagne; a single red rose or a dozen red roses; or a beautiful heart-shaped chocolate box, when booking their table.
When: Thursday 11 February to Sunday 14 February
Where: Fortnum & Mason Piccadilly, St Pancras and Heathrow T5
15. For a Chocolate Menu: Chocolate Menu at Capricci, Southwark
What: Cocoa and spice is the only way spend Valentine's Day if you love food, chocolate and wine, and who doesn't! Opening exclusively on a Sunday for Valentine's Day Capricci invites you to night of indulgence. With 3 courses shaped around the starring ingredient of cocoa you can expect cocoa stout beer risotto, Liquorice Crostatina and fried taglierini pasta with chocolate fondue all perfectly paired with some of Capricci's finest wines and sparkling wine on arrival. Tucked away by the river this is the perfect romantic spot to relax and enjoy the flavours.
When: Available 13th and 14th of February from 18:30
Price: £36 per head
Where: 72 Holland Street, SE1 9NX, London
16. For Naughtiness: Valentine's at Playboy Club London, Mayfair
What: Looking for somewhere a little more lavish to celebrate Valentine's Day? Then head to the stylish night-time lounge Barouque, boasting opulence and intimacy. Revel In the seductive atmosphere whilst Wining and dining your partner with a four-course meal for £50 per person. Love will most certainly be in the air, with smooth tunes from Steve Trowell, to help fan the flames of passion. Steve and his trio, who have performed for the Queen, Tom Jones, and Brian Adams, will be performing songs from Michael Bublé to Bruno Mars.
Price: £50 per person
Where: 14 Old Park Ln, London W1K 1ND
17. For Fun: Special Menu at Sixtyone Restaurant, Marble Arch
What: This year for Valentine's Day, Arnaud Stevens' Sixtyone award winning restaurant in Marble Arch is inviting you to play a game of trust and surprise with your loved one and enjoy a more exciting dining experience. On February 13th, Sixtyone is offering guests the unique chance to secretly choose their loved one's meal. Guests will find a tick box next to the menu choices, and all they have to do is simply tick off the desired three course meal for their partner and secretively return it to the envelope and give back to their server. They say the way to someone's heart is through food so what will you be choosing for your loved one this Valentine's? Sixtyone is all about elegance, exceptional food and friendly service, the perfect setting to wow your Valentine this year.
Price: The 3-course menu is £35 including a glass of champagne
Where: 61 Upper Berkeley St, London W1H 7PP
18. For Local Fare: Bistro Union, Clapham
What: Set on Clapham's bustling Abbeville Road, Bistro Union's rare charm and delicious offerings have been making the locals swoon. Their ethos is simple; there is no better way to show love than through food. This Valentine's Day, they will be spreading the love by means of a delectable three course meal for only £38 per person. The evening will kick off with a Rhubarb Fizz cocktail, perfect for washing down the first offering of delicate goujons of sole with devilled tartare canapés. Once steered to your table for two, start with a smoked deer carpaccio or seared scallops with prosciutto, Jerusalem artichoke and chestnuts. For your main course, you and yours have the choice to share a Chateaubriand with Boulangère potatoes or Brill for two with crab bisque, cockles and samphire. The romantic finale is served in the form of two luscious sweet offerings, where the last bite on the plate of desserts for two might just be the truest test of love out there.
Price: £38 per person, £22 extra for wine pairing
Where: 40 Abbeville Rd, London SW4 9NG
19. For a Sharing Roast: The Hourglass Pub, South Kensington
What: If you fancy a good feed on Valentine's day and want the focus to be on the food without all the fuss, head on down to The Hour Glass pub in South Kensington for your Valentine's Day Sunday roast.
For just £45 you get three delicious courses AND half a bottle of house Champagne. Start off with handpicked crab parfait, spiced pumpkin soup or a British charcuterie plate. For the main event, enjoy a sharing roast for two with a choice of either a whole honey glazed Aylesbury duck, Herb Fed chicken or Orchard Farm pork belly, served with all the trimmings. To finish off this beautiful banquet with your betrothed, you'll get a whole tantalising Tarte Tatin to end the meal on a real high
Price: £45 per person
When: Served between 12-5PM on Sunday 14th February
20. For a Fiery Menu: Valentine's Day at Rudie's, Stoke Newington
What: This Valentine's Day treat your loved one to some guaranteed sunshine at Rudie's with an exciting and exotic menu designed to thrill and delight your taste buds! Start things off with Rudie's very special grilled oysters served with Appleton rum cream or fiery scotch bonnet butter or how about jerk chicken liver pate served with homemade bread and Jamaican orange chutney? For the main event dive into seafood heaven with fresh lobster, scallops and prawns or jerk duck leg – a twist on Rudie's classic jerk chicken which has won them such critical acclaim. Valentine's desserts have got to involve chocolate, and Rudie's nails it this year with their indulgent mousse using Black River Jamaican chocolate adorned with gold leaf and spiked with chilli. Ignite the flames further with Rudie's delicious and aptly named "One Love" Valentines cocktail – a heady mix of Scotch bonnet infused vodka, Appleton VX rum, fresh Strawberry, dark chocolate, lime and sugar.
Price: 2-courses, £34.75 and 3-coures, £39.75 including a glass of prosecco
Where: 7XB, 50 Stoke Newington High St, London N16
21. For Indian Food: Valentine's Day Menu at Darbaar
What: The extraordinarily talented Head Chef at Darbaar, Adbul Yaseen, is always pushing the boundaries and Darbaar's Valentine's Day menu is no exception. His creative cooking style takes centre stage with dishes inspired by the banquets of Royal India. This year will see a mouth-watering 3 courses as well as Rose Passion Fizz on arrival, 3 different canapes and side dishes which include spiced daal, basil and garlic naan and pilau rice. Choose from a variety of dishes including Kasturi Butter Chicken in a rich silky tomato & fenugreek sauce and spiced roasted sea bass with green moong lentil and shrimp kedgeree.
When: The set menu is available on the 13th & 14th February and there will be live music entertainment from 7:30pm onwards on the 14th to help set the mood.
Price: The set menu is priced at £60 per person
Where: 1 Snowden St, Broadgate West, London EC2A 2DQ
21. For Chocolate Pizza: Wedge Issue, Clerkenwell
What: Wedge issue are taking a pizza your heart this Valentine's day, with their delectable heart shaped pizza with the classic combination of Nutella, chocolate, and strawberries. The newly opened Clerkenwell outpost specialises in craft beer and authentic Napoli-style pizzas, allowing you to have as many toppings as you like for just £8.50, and all can come heart shaped this Valentine's day if you so prefer.
Price: From £8.50
Where: 91-95 Clerkenwell Road, London, EC1R 5BX 020 7242 3246
22. For Chicken: Sylvia's Love Bucket at Ma'Plucker
What: Ma'Plucker in Soho has created an oh-so-cheeky chicken Valentine's special: Sylvia's Love Bucket! This bucket of love will include the infamous 3-way chicken: buttermilk dipped, chipotle roasted and hickory spiced pulled. And for sides? Ma' Pluckers homemade baked beans, fries and a freshly plucked salad. So PLUCKER UP for a mouth-wateringly tempting treat for two.
Where: 75 Beak St, London W1F 9SS
23. For Madness: Strawberry Nutella Cheesecake Toastie at Melt Room, Soho
What: Melt Room, London's favourite spot for deliciously comforting grilled cheese melts, have come up with a superbly sweet special to celebrate Valentine's Day. The strawberry Nutella cheesecake is a delicious creation made up of strawberry jam, cream cheese and Nutella melted in between two pieces of moreish milk bread. So pop down to Melt Room this between Monday 8th-Sunday 21st Feb to give yourself a little Valentine's Love or if you are feeling extra romantic- have one delivered to your loved one!
Price: £5
Where: 26 Noel St, London W1F 8GY
24. For a Masterclass: 69 Colebrook Row, Islington
What: Tony Conigliaro's celebrated bar in Islington, 69 Colebrook Row, are putting on a special masterclass on Saturday 13th February to celebrate Valentines Day. Guests will learn how to make some romantic favourites including The French 75, Jack Rose and some of the Perfume inspired cocktails including, Lipstick Rose and The Blush.
Price: £40
Where: 69 Colebrooke Row, London, UK N1 8AA
25. For Home Cooking: Lina Stores, Soho
What: Lina Stores, the authentic Italian delicatessen in Soho, are offering a Valentine's Bag for the week leading up to the big day. The Lina Stores' signature white and mint green striped canvas tote will contain all of the ingredients to make a delicious meal for two – Anna Spinato Prosecco Frizzante, Principato/Cascina Arborio Rice, Parmigiano Reggiano, Dried Porcini and San Pietro White Truffle Oil.
When: The bags will be available from 8th – 14th February
Price: £35
Where: 18 Brewer St, London W1F 0SH
26. For Peruvian Food: Valentine's at Andina, Ceviche and Ceviche Old St
What: Martin Morales' Peruvian restaurants Andina, Ceviche and Ceviche Old St. are all offering a special Valentine's ceviche and dessert alongside a Valentine's cocktail throughout the weekend. The menu at Andina in Shoreditch will include Conchas a la Parmesana – a ceviche of Diver scallops, amarillo chilli parmesan cream, sweet and sour green tomato salad, quinoa crisps – and for pudding Delicado de Chocolate, served to share, a Peruvian chocolate mousse with raspberry gelée, white chocolate velvet, hibiscus-rose petal sauce, crushed long pepper. Native oysters will be on offer at Ceviche Old St., as an oyster ceviche called Ostras Fogosas made with rocoto chilli tiger's milk, wood sorrel granité, pickled kohlrabi and seaweed. The dessert is Encanto de Valentin – a vanilla tart, forced rhubarb and chia cream, pisco-glazed wild strawberries, huacatay crystals and rose petals. At Ceviche Soho there will be Lenguado Apasionado – pan-seared sole, king prawns, squid, rocoto chilli seafood sauce, steamed cassava and amarillo chilli crackers and Choco-Rosa – a Peruvian chocolate tart, wild strawberry and rose jelly, almond pisco ice cream, alfajor crumble.
When: Available on Friday 12 Feb, Saturday 13 Feb and Sunday 14 Feb.
Where: Andina, Ceviche and Ceviche Old St
27. For Cheese and Wine: Valentine's at Compagnie des Vins Surnaturels, Covent Garden
What: Compagnie des Vins Surnaturels, hidden away in the heart of Neal's Yard, offers expertly selected wine by award-winning sommelier Julia Oudill and the French-inspired menu for a truly romantic evening come Valentine's day. Classic dishes such as pan fried scallops with cauliflower and Worcestershire sauce or the signature Posh Madame have been designed to complement the extensive wine list and will no doubt impress your other half. To complete the evening, the dessert menu includes a crème au chocolat with salted caramel, peanut and chantilly. They are also offering a set menu themed around the Black Truffle, attached. Enjoy dishes such as Fassona beef tartare and black truffle and a main course of rack of lamb, spinach and truffled mash potatoes.
Price: £85 for Black Truffle menu
Where: 8-10 Neal's Yard, London WC2H 9DP
28. For Cocktail Lovers: Negroni Trolley at 45 Park Lane, Mayfair
What: 45 Park Lane has introduced a new Negroni Trolley in BAR 45 which will offer three variations of the popular drink; the Classic Negroni, Vintage Negroni and an Aged Negroni. The Aged Negroni recipe, perfected by their bartenders, has been placed in an American oak barrel for eight weeks which has allowed the liquid to slowly absorb the woody flavour to create a fuller taste. Guests will also be able to taste hints of vanilla and caramel finished off with a twist of citrus. The Negroni is the perfect winter treat with these warming flavours.
Where: 45 Park Ln, London W1K 1PN
29. For a Special Cocktail: Hugs & Kisses at Pollen Street Social
What: To celebrate this year's Valentine's Day, Jason Atherton's Pollen Street Social will be mixing up a decadent Champagne cocktail with a twist. Evoking the spirit of the Greek goddess of love and sexuality, 'Hugs & Kisses' combines the coffee, ginger and chilli notes of Aphrodite bitters with the citrus and floral taste of Remy Martin XO. In true Pollen Street Social style, the presentation of the cocktail is as impressive as its flavour. Served in a champagne flute and garnished with a single, elegant rose petal, Hugs & Kisses is finished in front of guests with a delicate Grand Marnier Quintessence mist. Made from Grand Champagne cognac aged between 25 and 135 years and extracted using a 'double parfum' method to produce an incredible orange liqueur, the mist is sprayed from an ornate perfume bottle.
Price: £18
Where: 8-10 Pollen St, London W1S 1NQ
30. For Serious Foodies: Les 110 de Taillevent
What: Couple up this Valentine's day at Les 110 de Taillevent with a four course Valentine's Menu. For £75 per person, couples can indulge in canapés of cured salmon with leek and aneth, followed by a starter of lobster salad with heritage carrots and a cocktail sauce. For the main course, a roasted filet of duck with market vegetables and honey Xéres will be served with a perfectly paired, complimentary glass of Billecart-Salmon Brut Rosé and a dessert of Vacherin served with exotic fruit will end the meal. Situated in the grand surroundings of a former bank, with deep velvet interiors and ornate ceilings, Les 110 de Taillevent will bring the romance and splendour of Paris right to the heart of London this Valentine's Day.
Price: £75 per person
Where: 16 Cavendish Square, London W1G 9DD
31. For Thai Food: Valentine's Menu at Mango Tree, Belgravia
What: This Valentine's weekend, award-winning Belgravia restaurant, Mango Tree, are offering guests an authentic Thai set menu, also including a glass of bubbly, and for those dining on the 14th February, an instant photo of the happy couple presented in a heart-shaped frame. Guests will begin with a sharing platter including Lobster tempura with Thai seasoning and sweet chilli sauce, and honey-glazed chicken thighs with Thai herbs, before choosing from main courses of grilled chicken breast with garlic and kaicha sauce, Rib Eye Beef steak with chuchee curry sauce or deep fried sea bass with sweet basil. A medley of fresh Berries with clotted cream, berry sauce and raspberry sorbet will complete the meal.
When: The Valentine's menus will be served from the 12th to the 14th February
Price: £65 per person
Where: 46 Grosvenor Pl, London SW1X 7EQ
32. For Italian Cooking: Geometry of Pasta
What: Matching the pasta shape to the right sauce is the key to authentic Italian eating. Cook a romantic meal for two with the perfect pairing of pasta from Geometry of Pasta. Pick your favourtie sauce to match with it's corresponding pasta shape from Caz Hildbrand's beautifully designed, slow-dried, bronze-drawn, award-winning Tuscan pasta range The Geometry of Pasta. Why not try the Sugo di Antata and Pici pasta set priced at £12.99 for an easy but delicious meal in the comforts of your own home.
Price: From £12.99
33. For Meat Lovers: Ginger Pig's Sharing Beef Wellington
What: What's better than a romantic meaty gesture of a beef wellington for two to share for Valentine's day? Karl, Ginger Pig's talented chef based on their North Yorkshire farm, will be making mini beef wellingtons by taking a centre cut of specially selected dry-aged, grass fed beef fillet and smothering it in homemade smoked pigs cheek paté before wrapping in Parma ham, then encasing in homemade all-butter puff pastry. Pastry heart decorations will add  the final flourish.
Where: Wellingtons will be available in all seven GP shops from Thursday 11th February.
Price: One wellington will serve two people and weigh between 700-800g, priced at £55/kg.
34. For Quintessentially British: Valentine's Day at H.Forman and Son Restaurant
What: H.Forman and Son chefs are really feeling the love this weekend. Visit the unique restaurant and try the delicious menu filled with the best of British product all picked for their fresh taste. The menu of sharing dishes and perfectly matched food combinations is available for dinner on Saturday 13th February, such as Fruits de Mer platter, roast chateaubriand of beef and white chocolate and raspberry plate. There is also the opportunity to match the dishes with English wine from the bar which only contains British produce. Step into the newly refurbished H.Forman & Son restaurant and be surprised and delighted by the amazing riverside views. Enter even further onto the private balcony to admire the neighbouring Olympic stadium sitting on the opposite side of the Thames.
Price: £39.50 per person
Where: H. Forman & Son, Stour Road, Fish Island, London E3 2NT
35. For Italian Food: Valentine's Day Menu at TOZI, Victoria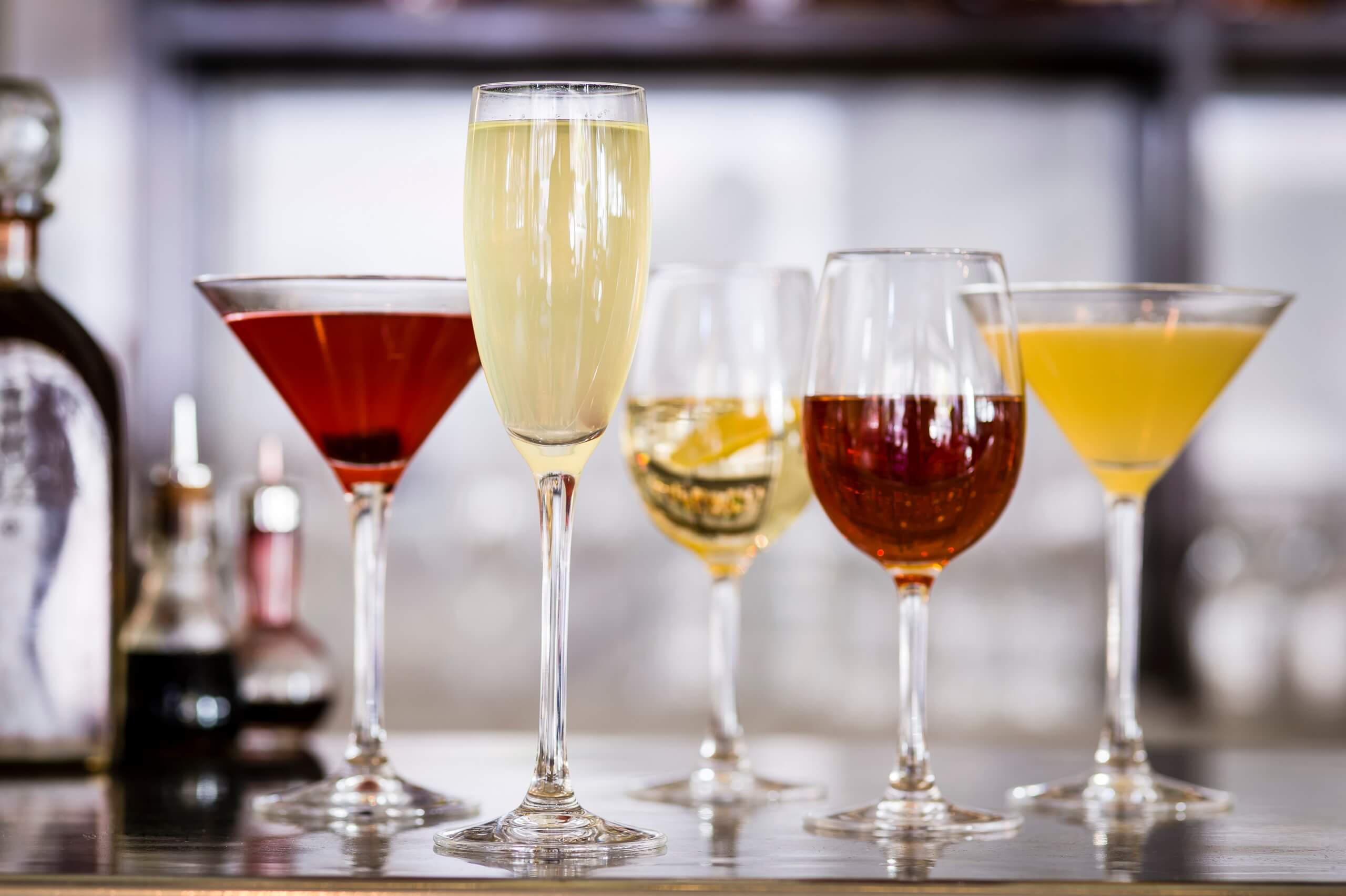 What: To woo diners via their tastebuds, Head Chef Maurilio Molteni has concocted a whopping 10-course Italian San Valentino cicchetti feast menu featuring twists on some of the restaurant's best-selling dishes. These include artichoke and buffalo ricotta ravioli with saffron butter, seared beef carpaccio, pickled mushrooms, black truffle and cress, hazelnut lamb milanese, radishes, rocket & lemon and a homemade blood orange & fennel sorbet. TOZI is vibrant Italian cicchetti (small plates) restaurant and bar in Pimlico. Inspired by the casual dining ethos of the Veneto region, the all-Italian TOZI team are high on quality, seasonal ingredients – sourced where possible from the best Italian producers. The food is designed to be shared amongst friends, either in view of the open kitchen, butcher and salumi counter or in the spacious private dining area featuring a classic vintage FIAT Cinquecento and retro photography. The wine-list travels all across the Italian boot and cocktails focus on house-made Vermouth concoctions and the barrel-aged, homemade Negroni.
Where:  8 Gillingham Street, London SW1V 1HJ
36. For a Sexy Sleepover: London Hilton on Park Lane
What: Channel 4 First Dates host and Maitre d' of Michelin-starred Galvin at the Window's, Fred Sirieix, has curated a seductive Valentine's Day package available at iconic hotel London Hilton On Park Lane. The unique package, available from £2,579, includes an overnight stay in one of London Hilton on Park Lane's exclusive signature suites and a candlelit dinner for two from Michelin star restaurant Galvin at Windows. Guests will enjoy an elaborate tasting menu accompanied by Laurent Perrier champagne in the privacy of their suite whilst being waited on by resident French love guru, Fred Sirieix. A treasure trove of sensual treats handpicked from luxury erotic boutique, Coco de Mer, will also be waiting on arrival for the happy couple and Fred has created a romantic playlist to set the mood.
Price: £2,579
Where: 22 Park Ln, London W1K 1BE
37. For a Valentine's Package: M, Victoria and Shoreditch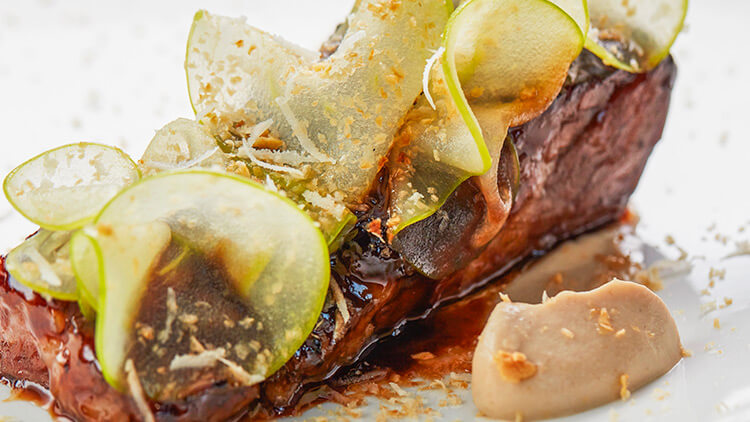 What: M, one of London's most luxurious dining and drinking brands is offering the city's most extravagant Valentine's Day package for £5,000. One couple will have the opportunity to dine in the privacy of M DEN, an intimate space perfect for a romantic dinner for two. The pair will be served a decadent menu curated by Executive Chef, Michael Reid which will include the finest cuts of steaks from around the world, and the highest grade of Kobe and Wagyu beef available anywhere in London. Volzhenka and Beluga Caviar will also feature on the menu, with luxury wines paired especially to each course by decorated sommelier Zack Charilaou. Michael Reid will be curating two additional menus, which will be on offer at both M VICTORIA STREET and M THREADNEEDLE STREET. For couples who really want to indulge, a 7-course degustation menu will be on offer for £90 per person, including oysters and Blackmore Wagyu. Each course will be accompanied with a carefully selected wine. There will also be a Valentine's sharing menu for just £40.00 per person. Perfect for meat-loving couples, 600g short rib will be the star of the show. Additionally, there will a 'love booth' available at each restaurant, where couples can book the most romantic spot in the restaurant to dine.
Price: £40 per person
Where: M VICTORIA STREET and M THREADNEEDLE STREET
And one for luck…
38. Travel in Style: CupidCab with Addison Lee
What: Addison Lee is helping Londoners lay on the love this February with the launch of CupidCab – an exclusive limited service promising to be the capital's most romantic cab ride. One-part date, one-part rescue service, the CupidCab will cater for even the most forgetful Romeo's! Kitted out with sparkling Moët Champagne, indulgent Prestat chocolates, a fresh bunch of roses and an emergency Valentine's Day card and pen, slipped in the side pocket of the cab door to keep it out of sight, this service is ideal for last-minute Valentine's Day date ideas.
When: Bookable from now until the 14th February, the service will see couples being whisked around the Capital's most iconic and romantic hotspots – in the premium comfort of a luxury Addison Lee executive fleet cab S or E Class Mercedes.
Price: For more information about the Addison Lee CupidCab service, head here. The limited edition service is available on a first come first served basis. Journeys will be charged at one-off set price of £40.00, with a maximum journey time of 1-1.5 hours.