Looking for the best Burns Night menus in London? We've got you covered. In haggis, and malt whisky. Don your finest kilt, here's where to enjoy London's best burns night menus in 2017:
1. For a Seven-Course Dinner: James Cochran Restaurant
What: To celebrate his Scottish roots and poet Burns, Cochran has created a seven course tasting menu, including complimentary whisky pairings. No bagpipes in sight, but exquisite food ensured to have you singing Auld Lang Syne by the end of the night.
Eat and Drink: The Burns Night menu is the bees knees. Chow down on raw venison with chicory, Brussel leaves and oats, Orkney scallops with black pudding crumble, whisky cured salmon, cucumber and rye. There's also Scottish mussels, cooked with lardo and burnt leeks and poached chicken breast with haggis, swede and honey and a deep fried Mars Bar to finish the evening on a sweet note.
Price: £60 per person
Where: 19 Bevis Marks, London EC3A 7JA
Photo Credit: Jessica Jill Photography
2. For a Quirky Burns Night: Rabbit and The Shed
What: On Wednesday, Chelsea restaurant, Rabbit and sister venue The Shed, will be getting in the Burn's night party spirit, by offering diners Scottish specials fit for the bard himself.
Eat and Drink: Rabbit and The Shed''s Burns Night menu will include homemade bites of duck livers on girddle cakes and smoked salmon, rye and rose geranium. Choose from a Scottish classic, neeps and tatties rosti with whisky ketchup, or lamb faggots with pumpkin spaghetti and artichoke mud before finishing the meal with a traditional deep fried homemade Mars Bar.
Where: Rabbit, 172 Kings Road, London, SW3 4UP. The Shed – 112 Palace Gardens Terrace, London, W84RT
3. For Traditional Burns Night: Bonnie Gull
What: Burns Night is always a big deal at Bonnie Gull – what else would you expect when the co-founder and head chef are both proud Scots.
Eat and Drink: On Wednesday, both restaurants will offer a specially tailored dinner menu celebrating the best of Scottish produce, accompanied by bagpipes, traditional poetry reading and plenty of whisky. Book a table at their Fitzrovia Seafood Shack or hire out the back room of their new Soho sister restaurant.
Price: Email burns@bonniegull.com to make a reservation.
Where: Locations here
4. For a Special Dinner: Plum + Spilt Milk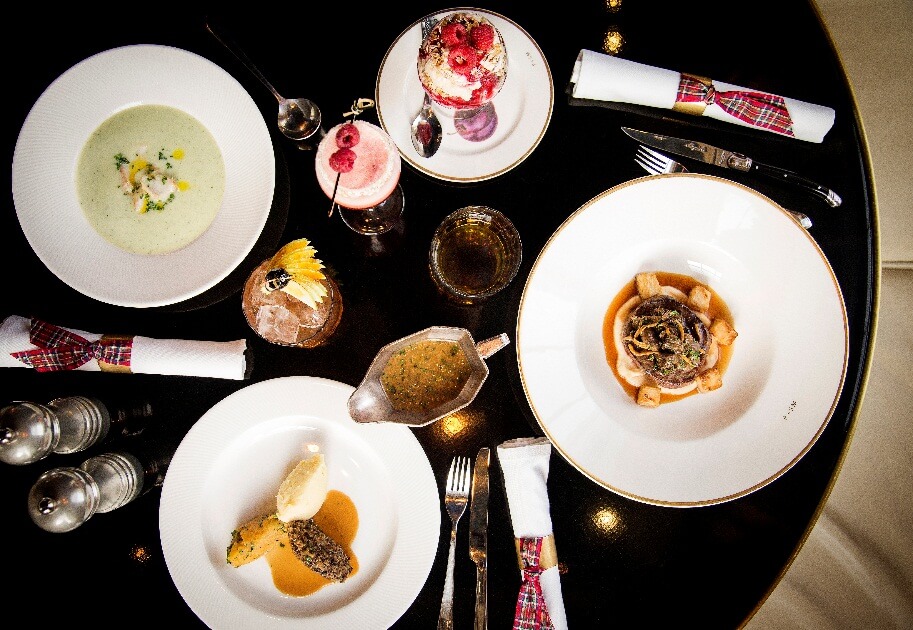 What: This Wednesday, head down to Plum + Spilt Milk for their annual Burns Night event. For one night only, the modern British restaurant will present a quintessentially Scottish Burns Supper complemented by Dalmore Whiskies and ceremonially piping by a bagpiper.
Eat and Drink: The menu is a downright feast. The menu features Arbroath Smokie, leek and whisky soup; haggis, neeps and tatties, fillet of Mey Selections Highland beef with roast celeriac and wild mushrooms and cranachan. Ooo-er.
Price: £70 per person including paired whisky or cocktail with each course
Where: Great Northern Hotel, Kings Cross St Pancras Station, Pancras Rd, Kings Cross, London N1C 4TB
5. For a Fun Evening: Boisdale
What: Throughout this month, visitors to Boisdale Restaurants will be transported deep into the Scottish Highlands with a resplendent five-course feast. A specially selected wine pairing will be served with each course, rounded off in traditional style with a noggin of fine Scotch, of course.
 Eat and Drink: The menu features Dunkeld classic Scottish oak smoked salmon, roast Aberdeenshire dry-aged fillet of beef, roast Macsween haggis with mashed potatoes and bashed neeps, and 70% Valhrona dark chocolate fondant with salted caramel and Drambuie ice cream. The evening will be hosted by owner of Boisdale, Ranald of the Macdonald Clan and promises to be one of fine food, drink and entertainment.
Where: Locations here
6. For an Unusual Burns Night: Chai Ki
What: For one week from Monday 23rd January, Chai Ki will pay homage to Burns Night in its Toddy Shop Bar. Always up for a Shindig, or in this case a Hootenanny, the team will be toasting the legendary evening with a menu of spicy soul food, hops and grain inspired by Scotland's finest flavours and ingredients throughout the week.
Eat and Drink: Chai Ki founder, Rohit Chugh, and his team have created a bar plate menu, including coorgi pulled pork with a curry leaf and chilli rub. Haggis will feature in a rich venison keema, served with crumbled haggis, naan and 'achari' pickled red onions. Celebrating Scottish ingredients, the Toddy Shop burger will be made with 35 day dry-aged Scottish Angus beef from the Ayrshire coast topped with smoked chilli chutney, cheese and paprika mayo.
Where: Crossrail Place, London E14 5AR
7. For an Italian Burns Night: VICO
What: What does Italian and Scottish cuisine have in common? Not much you'd expect, but this Burns Night, VICO (the Soho restaurant from the team behind Bocca di Lupo and Gelupo), will prove they go together surprisingly well.
Eat and Drink: Two special hybrids: a haggis pizza, and a scotch whisky gelato sundae will bring Italo-Scottish inspired twists to VICO's menu. Crumbled haggis and half-moon slices of Italian black pudding with Cardoncelli mushrooms, parsley and raddichio on a mozzarella pizza marries the Highlands and the Mediterranean for a inventive dish. VICO's Whisky Sundae: three scoops of whisky gelato, crumbled shortbread, and whisky hot chocolate sauce will knock your tartan socks off for just.
Where: 1 Cambridge Circus, London WC2H 8PA
8. For Trendy Burns Night: Merchants Tavern
What: Merchants Tavern – the Shoreditch restaurant from Angela Hartnett and Neil Borthwick – is celebrating Burns Night on Wednesday with a menu of Burns Night dishes in the dining room, a Scottish whisky flight, special cocktails and music from DJ Bob Johnston in the bar.
Eat and Drink: The special Burns Night menu, from Scottish head chef Neil, features dishes including cullen skink, smoked grouse and beetroot salad, haggis, neeps and tatties, cranachan, Isle of Arran cheese and oatcakes and deep fried Mars bar.
Price: £45 per person
Where: 36 Charlotte Rd, London EC2A 3PG
9. For a 5-Course Feast: Galvin Bistrot de Luxe
What: Bistrot de Luxe are celebrating Burns Night with a special five-course menu showcasing top quality, and well-loved Scottish munch. Have a light lunch, and wear trousers with a lot of give.
Eat and Drink: The menu kicks off with a compass box whisky cocktail to get the party started. The menu includes cock-a-leekie, pithivier of partridge, haggis, neeps and tatties, Scottish crumpets with Isle of Mull cheddar and Clootie pudding. The evening will begin at 7pm, and also included is coffee and handmade chocolates to finish. Get there on time, because a traditional Scottish piper will commence proceedings.
Price: £49 per person
Where: 66 Baker Street, London W1U 7DJ
10. For a Delicious Burns Night: Craft London x Compass Box
What: Craft London and Stevie Parle are teaming up with the award-winning boutique Scotch whisky maker Compass Box to celebrate Burns Night this year.
Eat and Drink: The evening will be kicking off with a selection of snacks, served with a whisky highball cocktail of the full and fruity Great King Street, followed by a Craft London take on a traditional smoked haddock broth with shaved cured egg yolk, accompanied by a soft Asyla serve. The Craft London haggis is made using their Yorkshire lamb and a fantastic blend of spice and grains. As well as the neeps and tatties smothered in Craft London cured butter, the haggis will be served with parsley, potatoes and a whisky sauce, not to mention a 70ml serve of the bold Spice Tree in a large wine glass.
Price: £48 per person
Where: Craft London, Peninsula Square, Greenwich, London, SE10 0SQ
11. For a Week of Celebrations: Mac & Wild
What: Scottish champions Mac & Wild will be celebrating this age old tradition with not just one night of shenanigans, but a whole week of Burns inspired menus and events from Monday 23rd January.
Eat and Drink:  One of the best Burns Night menus in London if you're looking for something fun. From haggis-making masterclasses and beer and whisky pairing evenings, to live music and Burns cocktails galore, both Mac & Wild Fitzrovia and Mac & Wild Devonshire Square are on-hand to celebrate the life and works of one of Scotland''s' most renowned national treasures. On the menu, all week, will be a selection of Burns specials including haggis, neeps and tatties, a Burns Whisky Flight; and a Bobby Burns whisky cocktail. To celebrate the main event of Burns Night on Wednesday, both Mac & Wild restaurants will feature a special Burns Set Menu, including a suitably Scottish host to address the haggis, and the option of washing down each course with a specially paired whisky.
Where: Locations here 
12. For a Fancy Burns Night: Brown's Hotel
What: On Wednesday, Director of Food Mark Hix and newly appointed Restaurant Manager, Markus Savage will present a feast of traditional Burns Night dishes given a brand new Hix twist. This event also marks the birth of 'Mark and Markus evenings' where guests will be treated to a night of ultimate dining hosted by the two gentleman.
Eat and Drink: The evening will start with a wee dram in the Glenmorangie Library, a special pop-up created to celebrate this famous Scottish tipple.  The Burns Night menu will feature Scottish classics such as Black Face haggis with bashed neeps alongside a Laphproig single malt, followed by Kingairloch red deer Wellington with braised red cabbage and stovies. For dessert, a dropped scone with poached rhubarb and whisky cream will be served.
Price: £75 per person
Where: 33 Albemarle St, Mayfair, London W1S 4BP
13. For a Meaty Burns Night: Heliot Steak House
What: To celebrate the birthday of Scotland's famed national poet, the team at Heliot Steak House has paired classic Scottish fare with a few drams of whisky, from single malts for sipping to a specially crafted whisky cocktail.
Eat and Drink: Served exclusively on 25th January, the four course menu features Scottish smoked salmon with caramelised lemon and cream cheese paired with 808 whisky, Haggis paired with Dalmore 15 year single malt, Scottish fillet steak, neeps and tatties paired with Dalmore 18 year old single malt and cranachan with raspberries paired with a Tommy's Jam whisky cocktail.
Price: The menu is priced at £80, including the matching whisky flight, or £30 without.
Where: 14 Cranbourn St, London WC2H 7JH
14. For a One-Off Dinner: Saint Luke's Kitchen x Paul Wedgwood
What: Saint Luke's Kitchen will raise a glass in patriotic celebration of the national bard, and welcome Paul Wedgwood – one of Scotland's leading chefs and restaurateurs. Taking up chef residency for one-night, Paul will be serving up his own take on a Burns supper – eschewing the traditional dishes and taking the humble haggis up a few notches for a unique flavour of Scotland.
Eat and Drink: Dishes include roast partridge, served alongside Jerusalem artichokes, spelt, squash and kale followed by Douglas fir cured salmon and grapefruit. For the main event Paul will be making venison with its own haggis spiked with vintage Balblair, creamed leeks, pesto and beetroot. Pre-dessert is a nod to the traditional with and cranachan followed by sticky toffee pudding, drizzled in whisky butterscotch sauce and topped with vanilla ice cream.
Where: LIBRARY, 112 St Martin's Lane, London, WC2N 4BD
15. For a Whisky Evening: The Zetter Townhouse Clerkenwell
What: This Burns Night, The Zetter Townhouse will be serving a special menu of rare and vintage whiskeys, created in collaboration with Gordon & MacPhail.
Eat and Drink: Tasty Scottish specials will also be available on the food menu including haggis Scotch eggs and single malt cured and smoked Scottish salmon. The scotch menu is a sight to behold, and features various tipples such as Linkwood 15yo,Dailuaine 2002 Connoisseur Choice, Benromach 10yo, and Glenlivet Nadurra Oloroso Cask.
Where: 49-50 St John's Square, London EC1V 4JJ
16. For Scottish Burgers: BRGR.CO
What: BRGR.CO believes in on thing: Burns Night is not complete without haggis. In keeping with their beliefs, the chefs have incorporated this delicacy into their special BURNS BRGR.
Eat and Drink: A patty of Scottish blade steak is topped with grilled haggis and homemade Whisky Ketchup. The team have also added a slice of melted Monterey Jack cheddar and a handful of baby spinach to make it all the more gusty, and encased the lot in a potato bun with sage and onions. You can also add a dash of further merriment by ordering a whisky shake on the side.
Price: £10.50 or £12.95 with tatties (fries)
Where: Locations here 
17. For a Collaboration: Outlaw's at The Capital x Ondine
What: Critically-acclaimed Scottish seafood restaurant, Ondine and its Chef Patron, Roy Brett have announced a one night Burns Night supper collaboration with Outlaw's at The Capital restaurant in London on Wednesday 25th January.
Eat and Drink: One of the best Burns Night menus in London, we say. This unique collaboration between two of the country's seafood heavyweights will see Ondine's Chef Patron Roy Brett appearing in London, serving up an exquisite five course menu and optional whisky pairings at the Michelin starred restaurant in Knightsbridge, using the finest ingredients, seafood and Scottish produce.  Courses will include both seafood specialties such as oysters and langoustines as well as classic dishes such as haggis and mutton broth, and will focus on fresh ingredients and traditional techniques.
Price: £100 per person (with additional whisky pairings)
Where: 22-24 Basil St, Knightsbridge, London SW3 1AT
18. For a 3-Course Dinner: 108 Brasserie
What: Specially for Burns Night, 108 Brasserie are serving a three-course set menu, created by Executive Chef Russell Ford. Expect a selection of Scotland's culinary delights,
Eat and Drink: The menu includes the hearty and warming cullen skink. Also available will be the Scottish classic, haggis, served with neeps and tatties and a whisky cream sauce. For dessert, guests can finish off the evening in true Caledonian style with 108's deep-fried Mars Bar, an indulgent combination of Mars' eponymous chocolate and traditional chip shop batter, served with honeycomb ice cream.
Price: £40 per person
Where: 108 Marylebone Lane, London W1U 2QE
19. For a Shoreditch Dinner: The Jones Family Project 
What: The Jones Family Project are getting into the Burns Night spirit with their very own Scottish menu. Think three courses of traditional Scottish eats.
Eat and Drink: The menu is all about well-loved dishes. Dig into mini haggises; venison Wellington with braised winter leaves, crispy broccolis and whisky sauce; and layered cranachan studded with raspberries, shortbread, whisky cream, toasted almonds and oats.
Price: £35 for three courses, or £50 with a paired cocktail and two different whiskys.
Where: 78 Great Eastern St, London EC2A 3JL
Photo Credit: Simon Burrell
20. For an Indian-Inspired Burns Night: Benares
What: This Burns Night, Michelin-starred restaurant Benares' Chef Patron, Atul Kochhar has created a homage to Robert Burns with one special dish, and a limited-edition cocktail.
Eat and Drink: One of the best Burns Night menus in London if you're looking for something different. The off-the-menu-special is the tandoori haggis pie with cranberry and darjeeling chutney. To 'address the haggis' Benares has also teamed up with Chivas Regal 18 Year Old to create 'The Bobby Burns' cocktail. Chivas 18Y, Amaretto Disaronno, fresh lemon juice, fresh orange juice, chocolate bitters a homemade whisky and cardamom syrup are topped with a caramel basket, maraschino cherries and lemon and cardamom foam.
Where: 12a, Berkeley Square, Mayfair, London W1J 6BS