Tried and Tested: About Time's Easter Egg RoundupBy Jamie Muir
"What is the world, if we can't simply wake up at Easter and tuck into unspeakable amounts of chocolate?"
Who said that you ask? Well, it was us, because it's that time of year once again where the chocolate world kicks into another gear with a smorgasbord of every type of chocolate delight possible.
Like a beacon in the night sky, we can all agree that after the past year we decided to let ourselves go a bit and lay our finger in as many chocolate pies as possible. Whilst actual pies may not be on the menu this year, a range of greats; from the giant names to the up and coming tastemakers, they have all delivered a ridiculous mix of delights, so it's only right we run through the movers and shakers hitting home runs this year.
Gathering the special chocolate treats landing from supermarkets, coffee collaborations, independent chocolatiers and more – we present to you the essential guide to have the best possible Easter weekend. No matter the situation, we have the treat for you (complete with wild scoring and ideal moments to tuck into each). From the egg-cellent to the pretty r-egg-ular, we've done the l-egg-work for you. Don't say we don't do the hard work for you all?
So sit back, grab your debit card and get ready to order the perfect chocolate treat for you:
The Lowdown: We've become accustomed to the Easter egg in some sort of exaggerated form. An egg that would more likely home a small cat than its original desire, for the younger chick. AllPress Espresso's team-up with New Zealand's Bennett Chocolatiers gets to the heart of the egg's origin story – arriving in an egg box form and divvied into a half dozen regular eggs. Tinkled with an even split of flat white and double espresso flavours, the result is a delectable snack-sized selection full of earthy undertones. The flat-white is closer to your more milk chocolate flavourings, while the double espresso is a much darker affair – expanding through your mouth like a steam train pulling up in Texas. The coffee isn't overpowering and you come away from it feeling refreshed and safe in the knowledge that the early days of the egg are celebrated once again.
Egg In Context: How Do You Like Your Eggs In The Morning – classic, modern but also imbued with coffee.
Perfect For: Snacking in style, served up at a well fancy lunch party (when we can have them, am I right…).
Score: 4 eggs out of 5
The Lowdown: Whilst not as vivaciously packaged as some of the other choc treats on this list, Morrisons' Belgian Milk Chocolate and Caramel Egg is a standout that nails the fundamentals of a bloody delicious chocolate egg. The splashings of caramel, that drizzle on the outside of the egg are backed up by caramel cereals embedded in each bite, resulting in the sort of sweet crunchy mouthful that we could be munching on over and over. Subtle additions that take this legend to new heights.
Egg In Context: Reg(g)al Coronation – a subtle great that we should all gather on The Mall to celebrate.
Perfect For: An easter afternoon watching Chicken Run for the 400th time.
Score: 4.5 eggs out of 5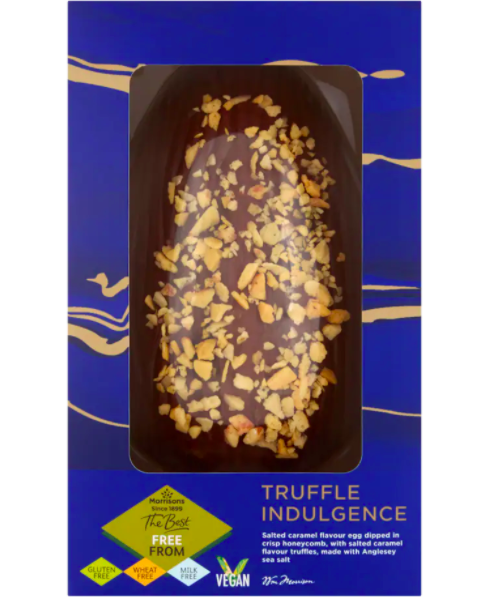 The Lowdown: The sheer notion that in 2021 the Easter chocolate game is one solely for non-vegans is an udder-ly ridiculous one, as shown by the showbiz flair of Morrisons' Vegan Truffle Indulgence. Coated in crisp honeycomb and served up with naughty caramel flavour truffles on the side – it's a chocolate egg that'll have you running back to the shop to grab another 10 in no time. Its chewy outer coating has you thinking back to a chompy bar of Snickers, but with more spine and decadence resulting in a big-time winner for all vegan tasters looking to nail Easter binging.
Egg In Context: Gr-egg-ta Thunberg – great for you and even better, great for the world around ya.
Perfect For: Vegans – obviously – but much more than that, a classy egg to serve to your Nan before saying "and it's vegan". Then she'll go "really?". It equals a wonderful afternoon.
Score: 4.5 eggs out of 5
The Lowdown: Also chucking their hat into the ring when it comes to stunning vegan options this year, is NOMO (No Missing Out) who've also booked a ticket on the caramel train with their offering. If you're looking for a to-the-point offering, you can't go wrong with this – with the caramel and sea salt flavourings turned up to 12 not only with the accompanying bar, but also in the egg itself. Not as flashy as the Vegan Truffle Indulgence, NOMO's offering focuses on nailing the fundamentals – like the Paul Scholes of the chocolate egg game. Not stealing the limelight, not always grabbing the headlines, but still world-class nonetheless.
Egg In Context: No R-egg-rets – if you splash out on the NOMO you'll be well and truly satisfied.
Perfect For: The first vegan chocolate treat for someone who's never had vegan chocolate before.
Score: 3.75 out of 5
The Lowdown: Flipping the script on the usual "eggs, eggs, eggs" model, Montezuma's Extraordinary Chocolate have done an absolute mischief with their 'The Three Chicklateers' design. In the shape of  y'know, cartoon chicks – the variety is bound to go down a storm with kids and adults alike. Don't think the playful design is all they have to offer though, as when the chocolate meets the mouth it's just as punchy as any other contender in the ring this year. Smooth, creamy and classic – it's what Easter chocolates should be in 2021. Classic, moreish and with a wink to the camera having a bit of a laff with it all.
Egg In Context: T(egg)Tok – modern, fun and sure to be copied over and over again in the years to come. (Yeah, we know it's a stretch but c'mon… have you seen how many things we're eating here!)
Perfect For: The Easter gift – if you're giving a chocolate delight to someone you love, this is bound to raise a smile.
Score: 4.5 eggs out of 5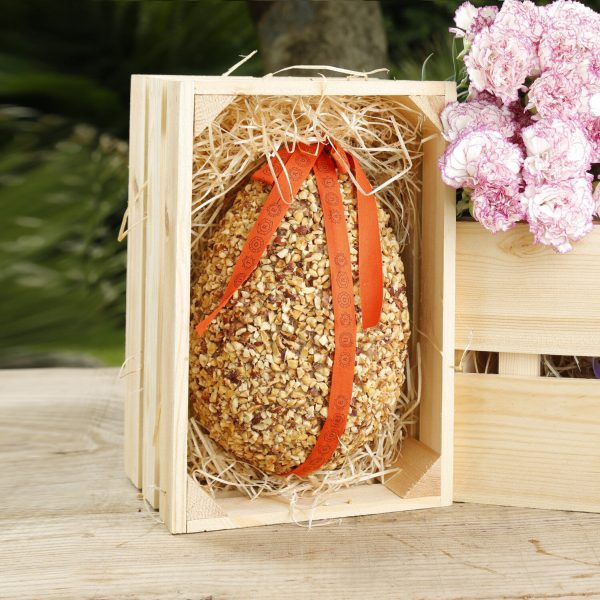 The Lowdown: We head to Italy for this contender, bringing their own spin to the humble chocolate egg by draping it in every hazelnut under the sun. What may first look like a giant Rice Krispie reveals itself to be a true romantic's dream, delightfully crafted and rich in a true upper-tier chocolate taste. Truly throwing away the creative shackles that many high street eggs fall into, this egg feels closer to a Chocolate Crumble than anything else (more nut than egg if you get our drift?). What at first is a shock, becomes box office as you get nibbling in, with the revelation of two cheeky smaller eggs inside the big egg a particular reward for the journey. It does what the Easter chocolate game should be revolving around, bringing excitement and intrigue back to the holiday weekend with an absolute belter.
Egg In Context: M-egg-an Thee Stallion – a festival-headlining entry that could very well be changing the game for all who come after.
Perfect For: This is what you bring to the parents-in-law to really make an impression. High-brow, different but very rewarding – you'll have their blessing in no time.
Score: 4.6 eggs out of 5
The Lowdown: When an egg arrives with a pink bow in its box, you know that it's going to have something to say. Enter Pierre Marcolini, whose dark chocolate egg doesn't rely on flashy showbiz pulls or whacky bright lights – but instead lets the chocolate do the talking. A real labour of love shines with this effort, minimal but classy in every element – whether that's the main eggs themselves or the smaller bitesize versions which add their own crunch and tastes. While you can tell there's crafted attention to detail, it does raise the question of what makes Easter chocolate so good? Is it the subtle tastes, or the full experience? For Pierre Marcolini, it feels like the former.
Egg In Context: Have you met an egg you didn't like? – it's a crafted chocolate experience indeed, but maybe lacking in the fun of it all. There's others you'd rather head down to the pub to than this.
Perfect For: A night out in Mayfair. Classy, little bit spenny, but with a name that stands out and will have people turning their heads to ask for more.
Score: 3 eggs out of 5
The Lowdown: Oh I say. It's the first reaction you'll have when opening up The Veggie – a chocolate egg selection that takes what you'd expect and turns it into a playful bubble of all sorts. Vegan dark chocolate is mixed with hints of beetroot and tomato, with the egg joined at the party with chocolate pieces not only shaped as corn, spinach and carrot, but actually infused with flavourings of each too. Now, that may sound like a bloody lot going on – but the result is an experience that'll have discussion roaring as you pull up a pew next to the Easter Bunny. What would the Bunny say? Well, who knows – we don't speak rabbit – but they'll be impressed at the effort that's gone in, that's for sure.
Egg In Context: Getting Egg-sperimental. Like someone has let Heston Buhmental go crackers on an easter egg, it's bound to cause a ruckus either way.
Perfect For: those sort of get-togethers where you need a talking point – no need to talk about current affairs, what about a bloody spinach-flavoured chocolate.
Score: 4 eggs out of 5 – for sheer bravery at the very least
The Lowdown: If someone said 'nutrition' and 'Easter chocolate' went together, you'd laugh at the sheer thought of it? Well folks, the times they are a-changing, as shown by Simsante and their special Easter Treats range.  Combining protein crunches, lotus seed pops, matcha bites and more to show that you actually can feel good about what you're tucking into as Good Friday becomes Easter Sunday. A pick and mix is definitely advised, but for those a bit hesitant to gorge away this Easter – Simsante feels like the perfect solution. Who said stuffing your face with chocolate couldn't be healthy eh?!
Egg In Context: Let's Get Phys-egg-ical – a stretch we know, but nutritious, protein-rich and more? Why we feel like we could look in the mirror and think we're Dwayne 'The Rock' Johnson in no time.
Perfect For: The health-conscious egg-eater this Easter.
Score: 3.75 eggs out of 5
The Lowdown: Another European contender stepping into the ring, Covent Garden's Mariage Fréres London are keeping things stylish with their Easter offering this year. Led by their Praline biscuit-of-sorts, this is the true outrageous Easter living that we've been waiting for, a decadent treat that bursts with flavour from the first bite. Recommended to eat alongside their earthy tea selection, it's a naughty bit of kit that shows how you can level up Easter chocolate treats in an authentic and stunning way – being smart about it all with a treat full of gumption. If this is what it's all about, then we're moving to France right away (or, just hanging outside Marage Fréres Covent Garden home – most likely the latter, means we can get home for tea well in time).
Egg In Context: Non, Je Ne R-egg-rette Rien – yes, it's impossible to regret this delightful biscuit base.
Perfect For: Livin La Vida Loca – not 'the crazy life' but we mean the spirit of it all Of dancing on the tiled floor with Ricky Martin. That sort of vibe.
Score: 4.25 eggs out of 5
The Lowdown: Coming through like the Foo Fighters of the Easter Egg world, Mini Eggs are as intrinsically linked to Easter as bread is to butter. The perfect snack treat for this time of year, their packaged nature has always been a tricky one when going to the main event of an easter egg bundle. Whilst you're getting the goods with a big 'ol bag of Mini Eggs, the egg itself is really an afterthought. Your classic Cadbury taste is a welcome one, and don't get us wrong it went down pretty sharpish, but the lack of imagination is a disappointing one. Maybe next year Mini Eggs will get the proper egg bundle it deserves.
Egg In Context: Egg Sheeran – the Mini Egg name is a giant, and while the Mini Eggs deliver – the rest doesn't live up to their standing in the game.
Perfect For: Giving to people you only see about 4 times a year – they'll appreciate the level but they're not looking for anything special
Score: 2.5 eggs out of 5
Has anyone ever met this Terry… off of chocolate orange fame? If anyone has a number, let us know because we'd like to personally thank him for a god-tier chocolate treat. Usually associated a bit more with Christmas, this year they deliver exactly what you want from a Terry's Chocolate Orange Easter egg. A bundle of some cheeky chocolate orange bars, the egg nails it. We want a chocolate orange flavoured egg, and we get a chocolate orange egg. No need for messing about or tickling at something wild – give us the business and we'll give you our money over and over. A real reliable friend for the Easter weekend.
Egg In Context: Legg Me Entertain You – the lights go up, you've paid your ticket money and the party is going. A scorcher.
Perfect For: An easter evening at the park – few shandies on the go and a tub of Pringles and you're well and truly back in the mixer
Score: 4 eggs out of 5
The Lowdown: If you like us are constantly entwined to the Americanisation of the chocolate game, then the expansion of Reese's is a sure sign that one day – we will all be Reece's Pieces. Like literally, we will one day become them. Until then, we have to purchase and eat other Reece's Pieces, who this year for Easter have come up with the big-time name 'Reese's Egg'. HUGE. The package is more of that sugar-filled sweetness in egg-form before they take the big-time step of making their own creme-filled eggs. I KNOW, THEIR OWN CREME EGGS. They're pretty good tbh and a true firing shot across the bow to Creme Egg that next year, you've got some competition. Get ready for an almighty scrap.
Egg In Context: Bruce Spingst-egg – a huge US favourite bringing the goods, with the gooey creed eggs also Born To… Run.
Perfect For: Sitting back and watching Independence Day on a big flat screen too. Live it up, also Goldblum and Smith vs Aliens? Result.
Score: 4.2 eggs out of 5