Love is how you choose to eat your Eggs Benedict.
From Peruvian-inspired greatness to championing British produce, there's a brunch option for everyone in London. Here's where to brunch in London this weekend:
1. For a Peruvian Brunch: Pachamama
What: Want a little South American kick to your brunch? Pachamama has just launched a British-Peruvian brunch with inspiration from traditional Andean dishes. Combining Peruvian flavours with British ingredients to create mouth-watering brunch plates, think dishes like quinoa waffles with Devonshire clotted cream & yacon syrup, baked eggs with hot avocado, spinach and beef short rib porridge with Peruvian kimchi & Burford Brown egg. Heaven.
Where: 18 Thayer Street, London W1U 3JY
Why: Head Chef Adam Rawson, previously of Lucky Chip, has worked hard on creating the ultimate fusion food – sourcing elusive ingredients from Peru, such as Yacon Syrup and Camu Camu, to give his dishes authenticity. What's more, you can pay an additional £15 to upgrade to the Pachamama's Bottomless Brunch Punch. The dream.
What to Order: If you've got a hangover, try the 'Tiger's Milk' dishes – Leche de Tigre, the citrus marinade used to cure fish and forms the base of a ceviche, is considered the answer to a hangover cure in Peru. Get it in the Seabass ceviche with sweet potato and samphire or Pachamama's fruit salad with strawberry & lemongrass Tiger's Milk.
Brunch is served 11.30-3 weekdays and 11-4 weekends. For the soft launch, guests will receive 25% off the total bill until Sunday 26th April. 
2. For a Boozy Brunch: Heddon Street Kitchen
What: Heddon Street Kitchen does a cracking breakfast. Nestled within the Regent Street Food Quarter and mere moments from the pavement-pounding of Oxford Street, Heddon Street Kitchen is great for an al fresco pit stop. It's great for a quick bite – the restaurant has an ideal piazza for grabbing a quick sunshine bite washed down with one of its signature cocktails from the bar.
Where: 3–9 Heddon Street, London W1B 4BE
Why: Anyone that has a dedicated Brunch Cocktails menu gets my vote. Try their Red Snapper (£10) with Bombay Sapphire gin, tomato juice, HSK Bloody Mary spice mix, raspberry syrup, fresh basil, Crofts pink port, Tio Pepe sherry. It's almost too easy to drink.
What to Order: Blueberry buttermilk pancakes with banana and maple syrup, and avocado on pumpernickel with a poached egg and mustard mayo. If you're feeling super indulgent, try the English Lobster Roll with Thousand Island dressing, lettuce, tomato with house-made paprika chips. Brunch perfection.
Brunch is served all day Saturday and Sunday
3. For a Veggie Brunch: Gail's Bakery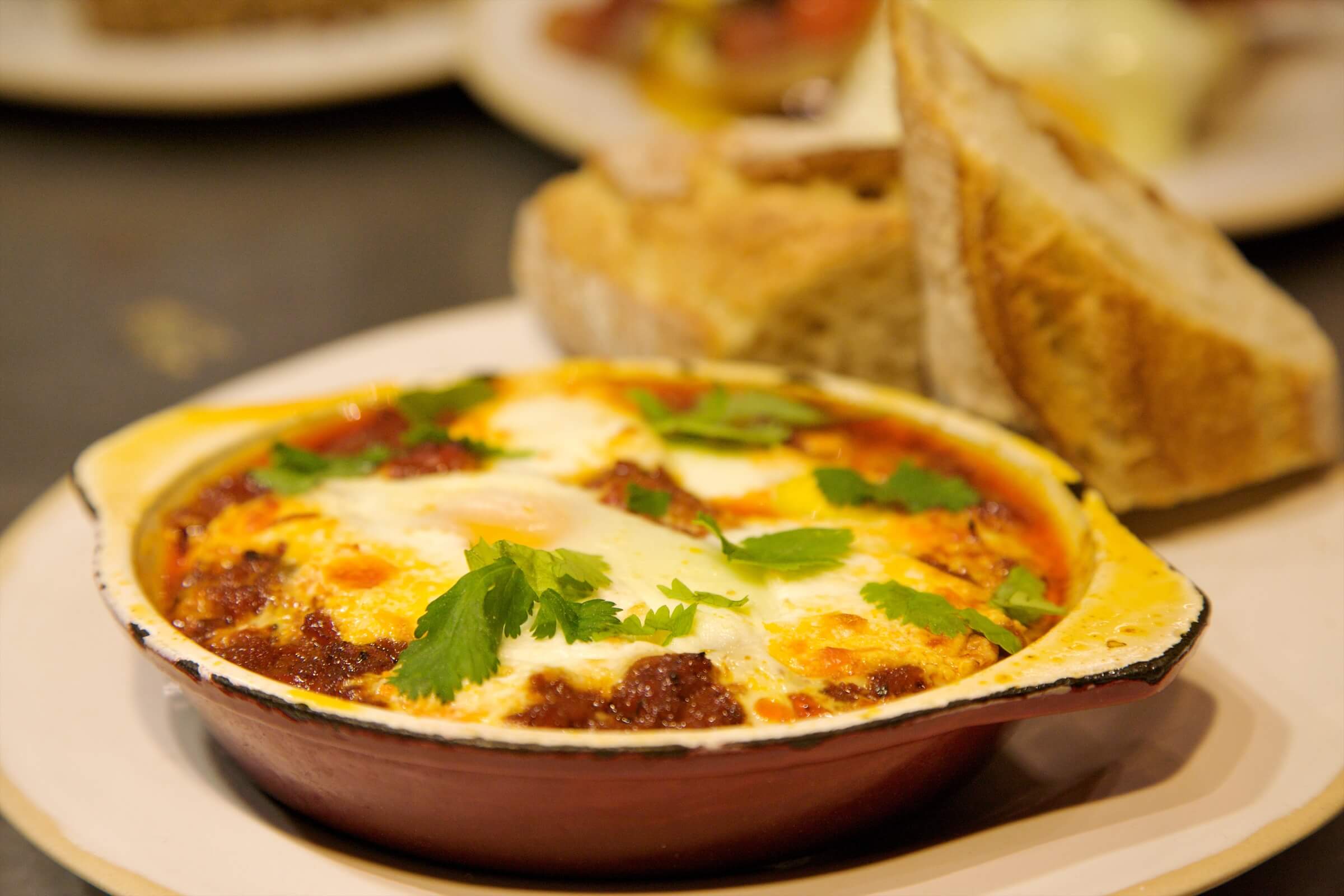 What: Ok, so it's not particularly new and concept-heavy, but that doesn't make Gail's a power player in your weekend brunching. The weekend brunch menu at Gail's is simple, and everything you need. It's also a total dream for vegetarians – try the sweet and spicy roasted sweetcorn pancake served with tomato relish, avocado salsa, sour cream and coriander cress. If you like sweet things, they do some of the best granola I've tried in London – get it with the Greek yogurt and apple yogurt. Absolute heaven.
Where: Branches throughout London – see here
Why: They do indulgence so, so well – healthier types can opt for the baked eggs and feta in a roasted pepper stew, served with bread to mop up the sauce, whilst sweet-toothed simply have to try the custard-dipped Brioche with Applewood crispy streaky bacon, pan-fried in maple syrup. They use local, free range and organic ingredients, like London's Goldstein Smoked Salmon, free range eggs, and Devon Rose's organic bacon. Win.
What to Order: Granola, granola and more granola.
Photo by Simon Kane
4. For a Pastry-Loving Brunch: Pennethorne's Cafe Bar
What: Pennethorne's Cafe Bar is the latest opening at beautiful Somerset House – it's an all-day cafe serving fresh pastries, deli style lunches and evening meals as well as artisan coffee and wonderland cocktails. Very, very cool vibe.
Where: Pennethorne's Cafe Bar, New Wing, Somerset House, Strand, London, WC2R 1LA
Why: Their artisan menu has been carefully selected, with each dish representing one of the destinations from the Grand Tour – they serve food and drink inspired by architect Sir James Pennethorne's journey across Europe in the 19th century. What this basically means if the best of Paris, Parma, Modena, Bologna and Rome in food, with amazing English and French wines. Sounds good to us.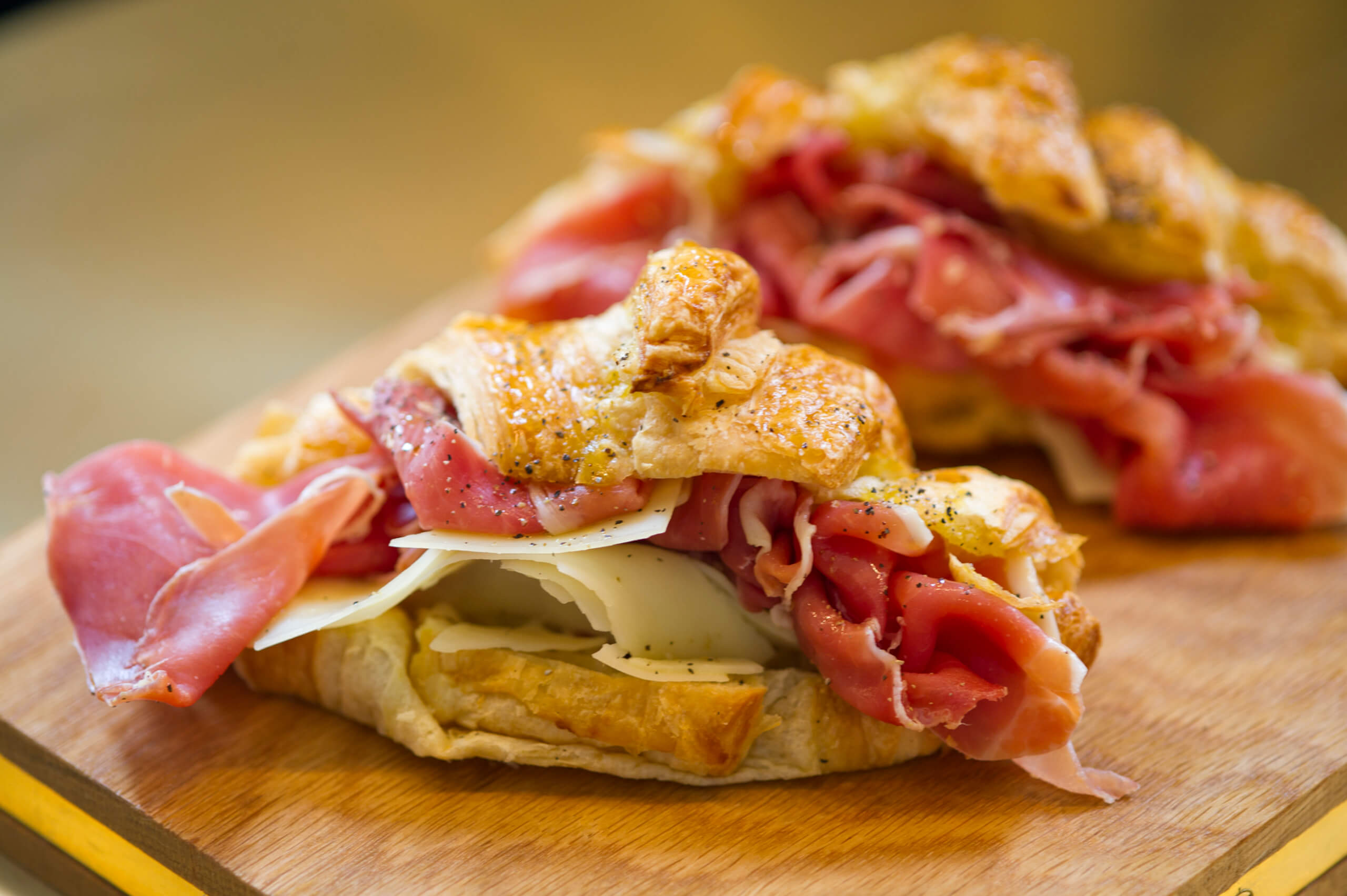 What to Order: All the baked goods. They make exceptional pastries, muffins and homemade Sourdough bread. If you like savoury brunch, try the smoked salmon and cream cheese bagel – perfect with a coffee and a good book.
Brunch is served every Saturday 
5. For a Posh Market Brunch: Rosewood London
What: Rosewood London has recently launched a weekly Slow Food & Living Market in the serenity of the hotel's grand inner courtyard. The weekly market, open every Sunday, is endorsed by Slow Food UK and is the only dedicated Slow Food & Living Market in London with 30 different merchants. It's got a lovely buzz about it – come to celebrate bountiful and wholesome produce with rural farmers, and pick up ingredients for your own picnic brunch.
Where: 252 High Holborn, London WC1V 7EN
Why: Rosewood London's culinary offerings, Holborn Dining Room, Scarfes Bar and the Mirror Room, are offering special dishes and wines incorporating Slow ingredients. You've got to try Holborn Dining Room – a grand brasserie with serves up seasonal, locally sourced British cuisine, it's absolutely amazing.
What to Order: All the eggs. Eggs Benedict, Eggs Florentine, Eggs Royale – they are all simply amazing here.
Saturday and Sunday brunch is served 12-5 in the Holborn Dining Room. Slow Food Market is open 10-3 every Sunday.