It's Wimbledon, it's sunny, everyone's in a good mood. And what makes a good mood even better? Strawberries of course. Forget your average Eton Mess, here's London's most creative, delicious strawberry dishes. Instagram at the ready, here's where to indulge this week:
1. Best Strawberry Dessert: Morden & Lea, Soho
Order: Pressed Oakenchurch strawberries, Brillat-Savarin Chantilly cream and almond crumble (two courses for £20)
Why: Newly opened Morden & Lea is at it again. After their crab sausage roll rocked our world, we headed for their dessert menu. Mark Sergeant, formerly Head Chef at Claridges, carefully curated the menu which offers small plates and bar snacks in the downstairs dining area, whilst upstairs is a classier affair with set lunch and dinner menus. Their strawberry number is a delicious, dressed-up trifle; a layer of light strawberry jelly dotted with fresh strawberries and a dollop of Chantilly with shards of sweet almond crumble and fresh basil.
Where: 17 Wardour Street, Soho, London W1D 6PJ
2. Best Strawberry Cocktail: Seven at Brixton, Brixton
Order: Strawberry Fields (£20)
Why: Seven at Brixton is a mecca for cocktails – come for reasonably priced drinks all made exceptionally well. Their Ginger Beer and Basil Mojito (£5) made with Santa Teresa rum, basil, lime, brown sugar and ginger beer is a must along with their Passion Mai-Tai (£7). Their latest summer cocktail menu features modern twists on classic favourites, including the Brixton Sour (£6) made with Koko Kanu (Jamaican coconut rum), Licor 43 (Spanish vanilla liquer) and orange bitters to give it a sweeter punch. Their Strawberry Fields cocktail brings a new dimension to the cocktail experience by giving you a DIY kit made up of Boxer gin, Luxardo limoncello, lime, strawberry and a mini bottle of prosecco, served on a field of strawberries – just whack it all in a glass and hope for the best.
Where: Unit 7, Market Row, 384 Coldharbour Lane, SW9 8LB
3. Best Strawberries & Cream: Rivea Restaurant, Bulgari Hotel 
Photo courtesy of Antoine Bled 
Order: Wild strawberry jelly topped with fresh wild strawberries and a quenelle of mascarpone sorbet, finished with warm strawberry juice (£8)
Why: You might associate Bulgari with gemstone jewellery, luxury watches and perfumes, but having opened the Bulgari Hotel in 2012, the establishment has set itself apart from other luxury hotels in London boasting luxury Italian silk decor and a food menu to rival all others. Alain Ducasse's Rivea London restaurant located in the heart of the Bulgari Hotel  is now serving up fraises des bois dans leur jus tiède. A celebration of summer, this elegant dessert features a subtle wild strawberry jelly topped with a generous portion of strawberries and the mascarpone sorbet providing the perfect accompaniment. Summer on a plate.
Where: Bulgari Hotel & Residences, 171 Knightsbridge, London SW7 1DW
4. Best Strawberry Ice Cream: Ping Pong 
Order: Strawberry and cream ice lollies (£3.50 for alcoholic, £2.50 for virgin)
Why: Ping Pong, the well-loved dim sum restaurant known for its artisanal cocktails, Chinese teas and eats has created a special ice lolly to get into the Wimbledon spirit. Head mixologist Daniele Ziaco's latest creation sees the classic strawberries and cream take centre court with Ice Vollies; the classic has been given an alcoholic makeover, with the help of a generous hit of Finlandia Vodka.
Where: Being served from Thursday 2nd July – Sunday 12th July. Locations here
5. Best Strawberry Doughnuts: Fenchurch, Sky Garden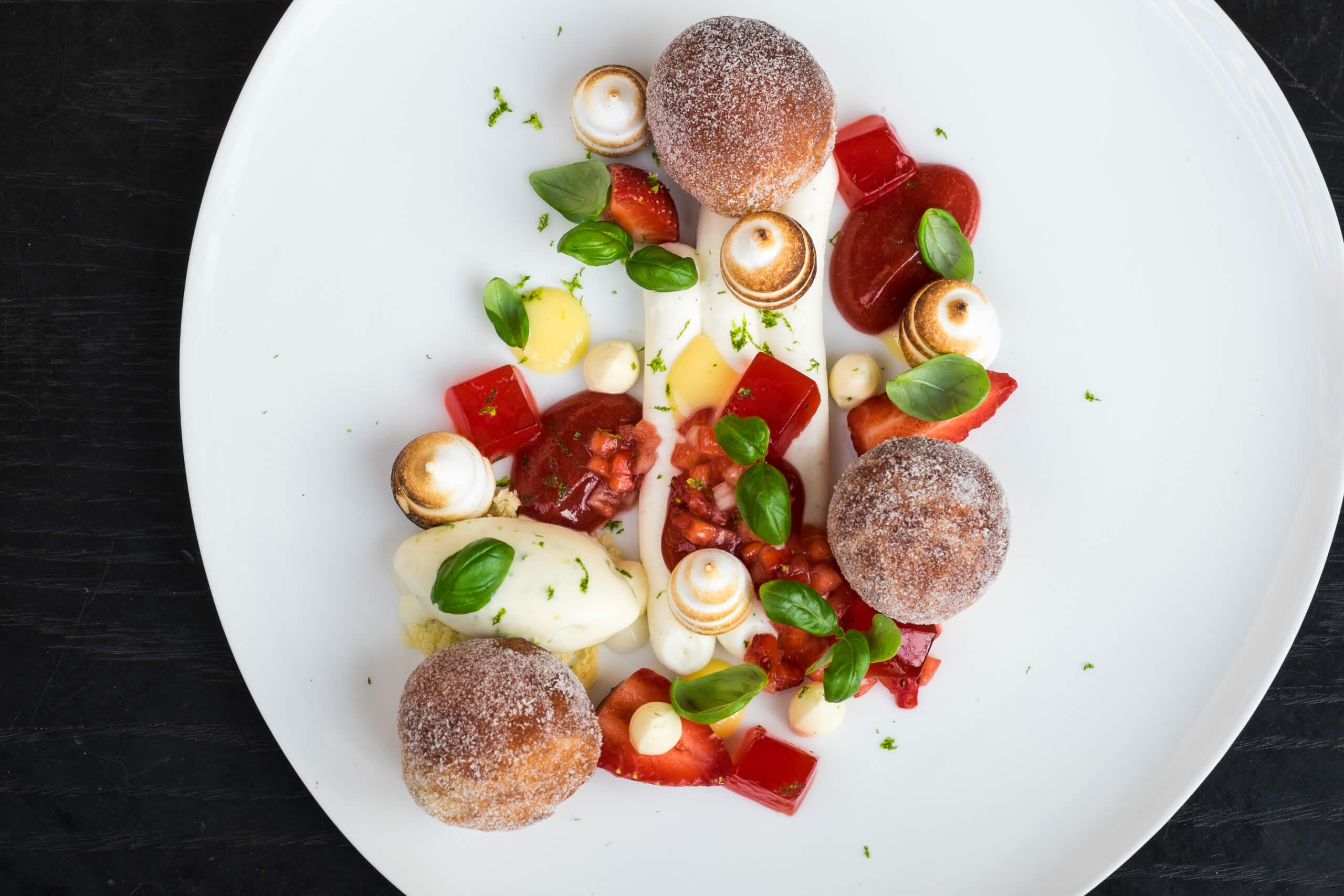 Order: Strawberry doughnuts, buttermilk, lemon ice cream and meringues (£10.50)
Why: The home to London's highest public garden, offering outstanding views across the city thanks to its large windows and open terrace, this is one spot not to be missed. For a seriously cool drinking spot, make sure you make the 30 floors up trip to Sky Garden. Whilst there, stop by the Fenchurch for modern British dishes, such as Cornish turbot with summer vegetable broth with mussels and seaweed (£30). The strawberry doughnuts are the real winners here, doughy warm and oozing of strawberry jam served with a refreshing kick of lemon ice cream. It really is the stuff of dreams, people.
Where: Sky Garden, 20 Fenchurch Street London EC3M 3BY
6. Best Strawberry Creation: ToastE.D, East Dulwich
Order: Gariguette strawberries with mint, yoghurt & white chocolate (£7.50)
Why: There's a lot of love for ToastE.D. in East Dulwich – the casual venue has a small, easy to navigate menu which changes daily and the menu focses on seasonal ingredients. Large main dishes have been swapped for sharing plates, incorporating a range of different global flavours from spiced pork fat and toast to smoked eel, beetroot and fermented celeriac and the tasty line caught pollock with black olive, trombetta courgette and basil. As well as being a restaurant, the are also wine retailer stocking organic, natural wines, spirits and locally brewed beers. Their strawberry dessert is like summer on a plate, Gariguette are a rather fancy French strawberries, joined by mint and white chocolate for an unusual (but incredible) combination.
Where: 36-38 Lordship Lane, London SE22 8HJ
7. Best Strawberry Tea: The Ampersand Hotel, South Kensington
Order: Wimbledon Afternoon Tea (£44.50 per person including a glass of champagne)
Why: This summer, Wimbledon Afternoon Tea is returning to The Drawing Rooms, South Kensington. Served in The Ampersand Hotel's beautiful patisserie lounge,  you'll be sure to love the selection of pastries inspired by Wimbledon, including a Pimm's cocktail shot, strawberry and cream tart and a lime cake tennis court. We've tried the tart, and we can report that it's very good news indeed.
Where: 10 Harrington Rd, London SW7 3ER
Available from 27 June – 17 July 2015
8. Best Strawberry Bellini: Grain Store, Kings Cross
Order: Strawberry and Green Grass Bellini (£8.50)
Why: Launching this week to coincide with the beginning of Wimbledon, Grain Store in King's Cross will be serving a Strawberry and Green Grass Bellini developed by Tony Conigliaro and his team at The Drinks Factory. Visitors to the King's Cross restaurant will be able to try the new bellini before or after watching the tennis at Wimbledon which will be projected onto a large screen on Cubitt Square just round the corner from the restaurant. The bellini is made from pureed strawberries with added green grass essence and topped up with prosecco – it's like summer in a glass.
Where: Granary Square, King's Cross, 1-3 Stable Street, London N1C 4AB