Steamed buns are like clouds of joy. Fluffy, light and utterly moreish – we think they are a craze that's here to stay. You can find lots of different versions – East Asian countries including Korea, Taiwan, China and Japan all do different versions, including sweet delights. If you like steamed buns, then you're in luck – this week, we've teamed up with amazing Korean sauce brand Yogiyo for a whole week dedicated to Korean foodie goodness, during #YogiyoKoreanWeek – find out more by following them on Twitter here and liking them on Facebook here. Now, the question is, where to eat steamed buns in London? The answer is simple, friends, and it lies in your hands:
1. For Japanese Steamed Buns: Flesh and Buns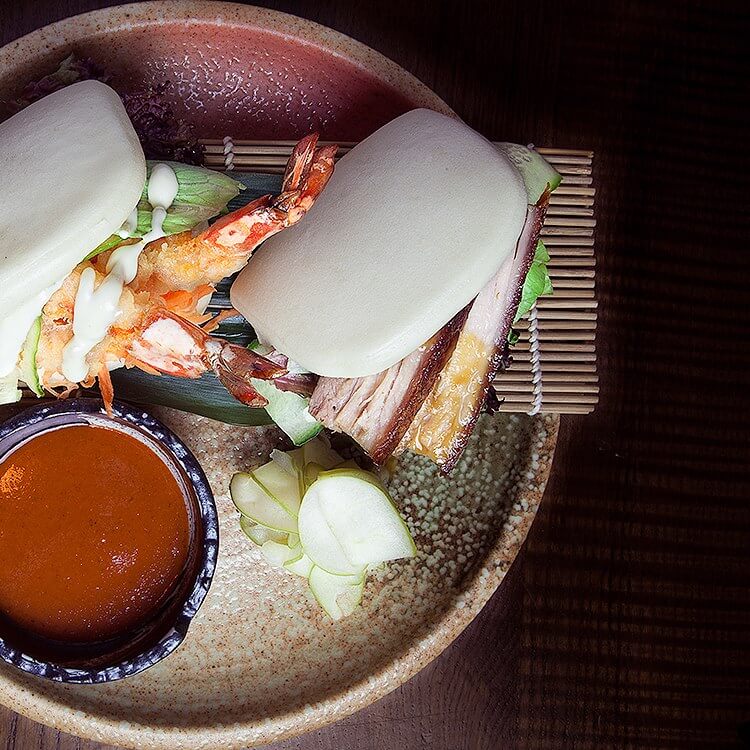 What: Brought to you by the people behind Bone Daddies Ramen and Shackfuyu, Flesh & Buns is an awesome Japanese Izakaya bar and restaurant in the heart of Covent Garden. They offer wicked Japanese food, delivered in a relaxed environment, and some great Japanese cocktails with a twist, such as the Frozen Yuzu Margarita. Life hack: come here after 10pm on weeknights and you can enjoy two courses and a drink for £19. Bargain.
The Buns: Expect DIY-filled steamed buns: they have a variety of meats and fish, all cooked and served different ways, each with a different sauce or marinade and a different pickled vegetable. These arrive with lettuce and sliced cucumber, and however many buns you want, so you can custom-build your bun the way you like it. All the portions are designed to fill roughly 4 buns, and it's great fun, too. Try the Crispy Piglet Belly – a steamed bun filled with pork, mustard miso, apple and pickle, it's the stuff of dreams.
Where: 41 Earlham St, London WC2H 9LX
2. For Taiwanese Steamed Buns: BAO
What: Queues out the door for a reason. It's all very simple at Bao – the menu isn't fussy or over-complicated, and that's what we love about it. The tiny restaurant in Soho serves up amazing Taiwanese small dishes, such as beef soup with braised daikon, and Erynigii mushroom with century egg. Don't be scared of the unusual menu items here – it's all about trying the pig blood cake and trotter nuggets, they are surprisingly tasty. If that's too much, the Taiwanese fried chicken will set you right.
The Buns: BAO, simply, serve steamed baos and a range of Taiwanese dishes, but what it does do, it does very well. If you're wondering, a bao is a pillowy soft steamed bun, and they make theirs with milk, for extra sweetness and moisture. The buns here come with a variety of fillings, such as lamb shoulder, confit pork and fried chicken – but you can't miss the classic bao, it's just the best. While you're here, check out the bao with fried Horlick's ice cream, and a peanut milk – just because.
Where: 53 Lexington St, Soho, W1F 9AS
Photo Credit: BAO London
3. For Peruvian Steamed Buns: Ceviche
What: Ceviche is seriously cool. Created by the award-winning Peruvian chef, restaurateur and cookbook author Martin Morales, Ceviche's food and drinks are based on Peruvian traditions fused with London creativity – think sweet potato and seabass ceviche, the best Pisco Sours and seriously wicked quinoa dishes. With its buzzing counter eating bar and large dining room at the back, Ceviche Soho kickstarted the Peruvian cuisine revolution, whereas Ceviche Old St (where the buns are available) is a gorgeous 130 seat restaurant, and the perfect place for taking groups of friends.
The Buns: Peruvian buns are a thing, we're telling you. Try the Golazos de Chicharrón (£6.50) – chia seed steamed buns filled with confit pork belly, salsa criolla, watermelon and rocoto jam and pork crackling popcorn. Sounds like a strange combination, sure, but they are totally delicious – the mix of sweet watermelon and crispy popcorn on top is utterly divine. With these bad boys, one just isn't enough. While you're there, try the Trujillo Tiradito – a ceviche of sea bass, rocoto chilli tiger's milk, Greek yoghurt, black tobiko caviar and sweet potato crisps which is totally to die for.
Where: Locations here
4. For Korean Steamed Buns: Jubo
What: Jubo in Hoxton is a feast for the tummy. This Korean restaurant is all about the meat – you can find their amazing quality meat in BBQ, steamed buns and unusual salads. Expect a menu of Korean delights; everything from Kochi street-style BBQ skewers of pork and chicken, to kimchi pancakes, spicy Korean fish cakes and glass noodle salads. There really is something for everyone here. They also do mean Soju cocktails, such as the Soju Mojito, and the Sassy Girl with lychee puree, soju and cranberry juice. Because everyone needs a Sassy Girl from time to time.
The Buns: The steamed buns here come in three flavours – a pork bun with slow-cooked pork, cucumber, hoisin and siracha, chicken bun with carrots and red onion, and a mushroom bun with charred portobello mushrooms and mixed vegetables. Our favourite is the pork bun, it's rich and full of flavour, with your favourite flavours from duck spring rolls thrown into the mix – heavenly.
Where: 50 Exmouth Market, London EC1R 4QE
Photo Credit: Jubo Restaurant
5. For Gluten-Free Buns: Shoryu Ramen
What: Shoryu Ramen is, obviously, the place to come for ramen. They just do it so well here – think authentic Hakata tonkotsu ramen, with some amazing flavour additions. The classic is the Tonkotsu ramen – a rich 12-hour pork broth ramen with char siu barbecue pork belly, nitamago egg, kikurage mushrooms and spring onion. For something deliciously different, try the Dracula Tonkotsuwith caramelised black garlic mayu and garlic chips and for fish lovers, try the Kimchi Seafood Tonkotsu – a fiery kimchi broth with prawns, scallops, squid, nitamago egg, kikurage mushrooms, nori seaweed, spring onion and seasoned beansprouts. You can also get gluten-free noodles in your ramen, so everyone's a winner here.
Where: Locations here
6. For Hirata Buns: Beer & Buns
What: Beer & Buns is a pop-up Izakaya Bar serving UK's largest range Japanese craft beer, steamed Hirata buns and Korean fried chicken wings. Born out of frustration of not being able to find a decent bar that provides great beer and authentic food, the founders decided to create it themselves. Expect a seriously great atmosphere and some of the most delicious Korean chicken wings in town. Take advantage of their Happy Mondays offer – any two buns plus a pint of beer for £7.50. Winner.  PINBALL
The Buns: Come here for soft, pillow-like steamed Hirata buns filled with a choice of delicious fillings. Try the Signature Bun, filled with Chicken Karaage and Japanese Yuzu Koshu slaw, it's seriously tasty. There's also a Chashu Pork Belly steamed bun, with braised red cabbage and mustard mayo, and an Ebi Katsu with baby gem lettuce and spicy mayo. Don't miss their sweet potato fries, they are devilishly good.
Where: Upstairs at 3 Appold Street, London, EC2A 2AF
What: Kurobuta is the place to come for Japanese junk food. The food is seriously tasty – everything is sensational here, from the Wagyu beef sliders to the salmon gravadlax and avocado tartare. You can't miss the tuna sashimi pizza with truffle ponzu, red onions and green chillies – sounds weird, but it's a Kurobuta classic. For something weird and wonderful, try the pumpkin tempura with pickled pumpkin and creamy spicy shiso dressing – it's so, so good.
The Buns: They only do one bun, but they are worth crossing town for. Expect BBQ Pork Belly in steamed buns with spicy peanut soy – an unusual combination that just totally works. While you're here, you must try the yellowtail sashimi with Kizami wasabi salsa and yuzu-soy – it's a taste sensation. And, of course, the Nasu Dengaku – sticky miso grilled aubergine with candied walnuts – is always a winner.
Where: Locations here
To spice up your Korean steamed buns at home, try Yogiyo – the UK's very first range of authentic Korean cooking sauces. Yogiyo was founded by married couple, Sue Youn, originally from South Korea and Ben Ansah, from Birmingham, who fell in love in Sue's native country after meeting by chance in her small fishing village on the east coast.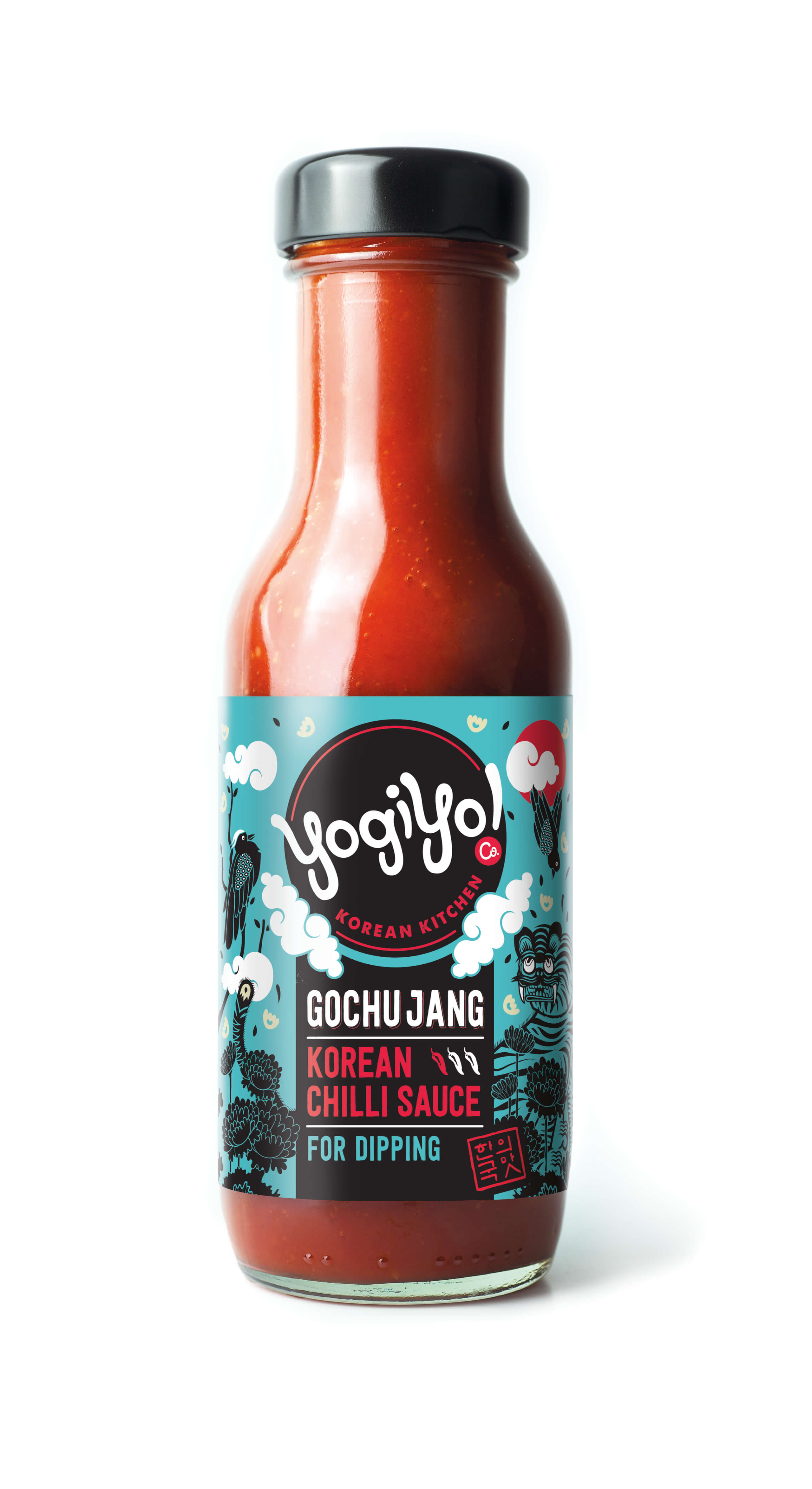 Their three-strong range is a celebration of the country's boldest and most popular flavours including Gochu Jang, a fermented chilli paste unique that is the cornerstone of Korean cooking and Galbi, a classic meat marinade. Put a little Korean touch to your dinner – you'll thank us later. 
Sponsored post in association with Yogiyo – see their website here.