Even though Epiphany has passed and the Christmas decorations are down – the Galette des Rois, a glorious puff pastry almond frangipane cake traditionally eaten on January 6th, is happily available in many London patisseries all month long. According to tradition, there is a small ceramic charm hidden inside called the feve – whoever finds it in their slice gets to become King or Queen for the day (just mind your teeth). Here's our top tips for celebrating the best Fete des Rois in town.
The Run-Down: The team at Dominique's London bakery know their pastry – and his version is beautifully light, with a rich, golden frangipane filling (make sure you ask for it to be warmed up). Go there for a slice, and maybe you will be lucky and find the piece with the feve inside. Or buy a whole one to take home, complete with a paper crown. (£5 per slice, £30 for a whole one).
Where: 17-21 Elizabeth St, Belgravia, London SW1W 9RP
The Run-Down: The Galette des Rois is available all month in Balthazar's Covent Garden restaurant and the next door boulangerie – it's got a touch of orange zest and hazelnut powder in the frangipane mix which gives it a rounded, warm flavour. A galette serving 6-8 is £20 in the restaurant (where, if you find the feve you'll get a free bottle of champagne too) or £15 in the bakery, while a slice costs £7 or £2.70.
Where: 4-6 Russell St, London WC2B 5HZ
Photo Credit: Steven Joyce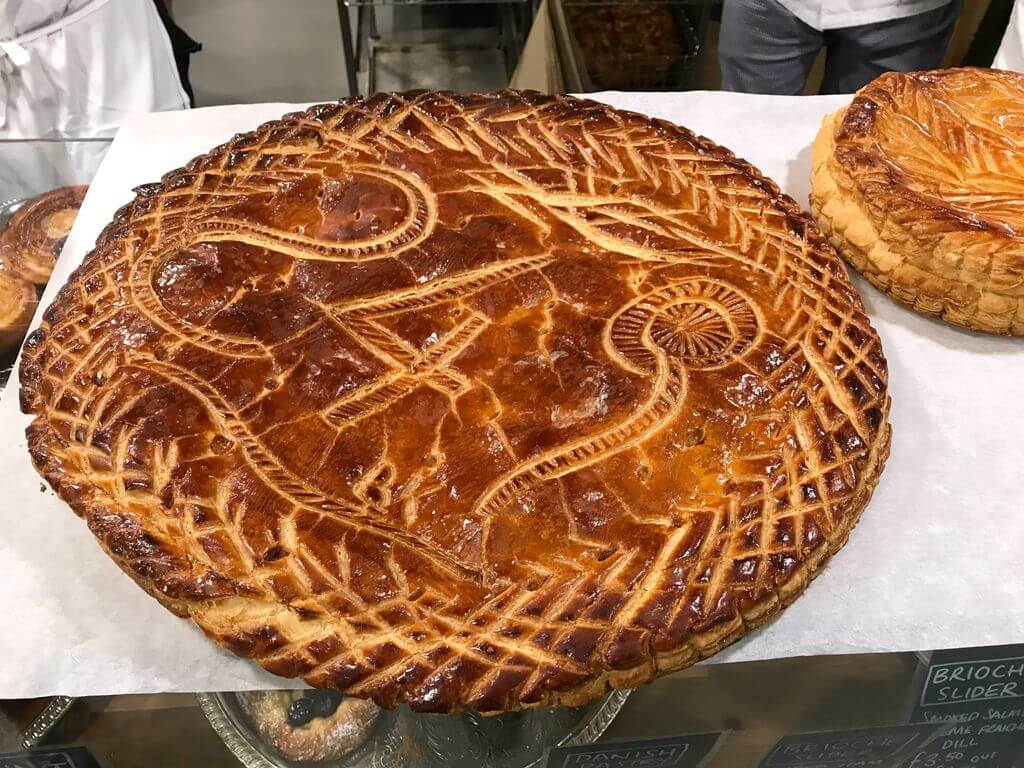 The Run-Down: The team here have truly perfected the art of pastry, and this year they are serving freshly baked Galettes des Rois to celebrate Epiphany. If these are anything like their famous almond croisssants, the frangipane filling will have you smiling all year long.
Where: Locations here 
The Run-Down: The pastry team are hand crafting their own Galette des Rois for a lucky few customers until Friday 13th January, available from the pastry shop in their Papillon Cafe. Exec chef Sarah Barber's pastry team are consistently excellent, so their galette should be top notch.
Where: 68 Regent St, Soho, London W1B 4DY
The Run-Down: The French bakery chain sells its own puff pastry Galette, filled with a frangipane cream at all its branches, complete with a ceramic charm and crown. A whole one is available for £17.95 or you can buy a single slice in store.
Where: Locations here 
The Run-Down: Oree Patisserie, with three branches across South West London, pride themselves on their authentic pastries, and they have two sizes of Galette des Rois on offer all month, a 6 portion size for £22, and a larger version for £28.
Where: Locations here 
The Run-Down: This Islington and Stoke Newington based patisserie is selling a temptingly bronzed flaky pastry Galette filled with frangipane cream, available in several sizes to share, whether there are 4 of you or 10. Get your order in early, they say – the galettes are selling fast.
Where: Locations here