Wondering where to eat in London this week? Well, fair enough. Your time is precious. And so are doughnuts. Don't go wasting your sparkles on mediocre grubs – here's 5 amazing things to eat in the capital this week. Happy munching, one and all:
1. For a New Snacking Menu: Talli Joe 
What: In India, the Pauwa is a drinker's best friend. A flat, quarter-measure bottle of your favourite spirit, it's small enough to carry in your pocket – and just about the right measure of booze to get you a little 'talli' without putting you on the floor. So, in the spirit of this venerable Indian tradition, all-day drinking and dining hotspot Talli Joe is launching a new range of Pauwa Cocktails, six bottled concoctions developed by award-winning bar consultant, Nitin Tewari, and inspired by six different pockets of the country.
Why: Highlights from the new menu includes the Talli @ Tito's Lane, a lively mix of rum, coconut water, curry leaf, lime and pineapple, inspired by a bar-filled street in India's party capital Goa. A vibrant, summery cocktail, it comes served with Goan Chorizo Bonda – croquettes of Goan spiced chorizo, sweet onion and chicken. The Old Delhi No.6 is a blend of vodka, orange juice, lime, spices and Rooh Afza, a kind of sherbet introduced to India by the Mughals. It comes served with a cheesy pakora chaat – a New Delhi-inspired pakora with English Cheddar, grated radish and fiery green chilli chutney.
Where: 152-156 Shaftesbury Avenue, London, WC2H 8HL
2. For a New Pop-Up: Crosstown Doughnuts
What: The beavers at Crosstown Doughnuts have been busy again with something very special. They've just launched their brand spanking new pop-up at Westfield Stratford. Running throughout the summer until August 14th and open 7 days a week, they'll be serving up their classic and premium favourites, alongside some new seasonal doughnuts. 
Why: To celebrate this exciting and momentous occasion, they've introduced a brand new flavour to match their fresh East London digs; a watermelon and lime glazed sourdough ring that's the perfect addition to their summer menu. And if you need help selecting your doughnut flavour, the banana and sea salted caramel one is an About Time fave. Find Crosstown in the World Food Court on the 1st floor, where they'll be providing the best way to end a meal, and much needed fuel for shopping
Where: Westfield Stratford City, Olympic Park, Montfichet Rd, London E20 1EJ
What: People have gone positively wild for Soho haunt, Hoppers. The restaurant opened to critical acclaim last October serving traditional street food dishes such as hoppers, dosas as well as a selection of short eats. They've recently announced their new bar menu which has been curated by recently appointed Group Bar Manager, James Stevenson, who took up the position earlier this month.
Why: The cocktail menu pays tribute to classic Sri Lankan spirits, Ceylon Arrack and Colombo No7 Gin, as well as the Indian malt whisky Amrut. Sip on the Hoppers Spritz made from buttered Genever, dry Sherry, fresh mint and alfonso mango soda, the Tye Dye made from Colombo No7 Gin, turmeric root, verbena, starfruit and honey fizz, the Burgher Sour made with Genever, jasmine, buttermilk, lemon, vanilla sugar, and toasted marshmallow and Tapper's Tipple with Arrack, toasted rice and bittered wine.
Where: 49 Frith Street, London W1D 4SG
Photo Credit: David Loftus
4. For New Celebratory Cocktails: Hakkasan Hanway Place and Hakkasan Mayfair
What: Hakkasan restaurants around the world, including its two London locations, Hakkasan Hanway Place and Hakkasan Mayfair, are celebrating the opening of Ling Ling Marrakech with a limited edition cocktail flight illustrating the 'Evolution of Ling Ling', from London to Mykonos to Marrakech, paired with three dim sum.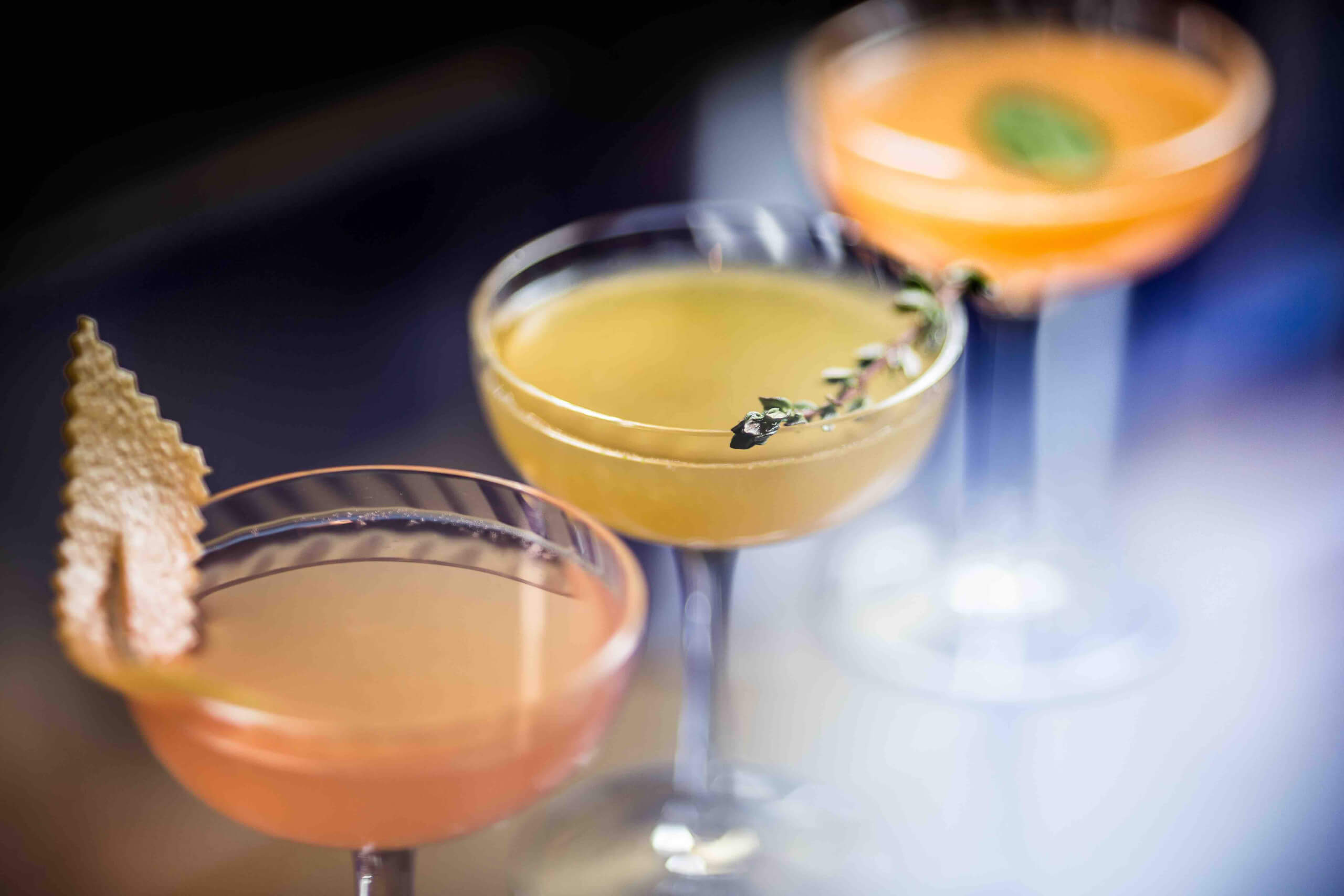 Why: Hakkasan Hanway Place and Hakkasan Mayfair are currently featuring the cocktail trio using authentic flavours taken from London, Mykonos and Marrakech. The three cocktails are each paired with one piece of signature Hakkasan dim sum, the venison puff, duck roll and sesame prawn toast. The first cocktail, the Bitter Fortune, is one of the original cocktails available at the first Ling Ling in Hakkasan Hanway Place in London, which forms the base of the following two cocktails. Bitter Fortune features Tanqueray No. Ten, Aperol, rhubarb liqueur, pink grapefruit, lime and peach bitters. The second cocktail, the Golden Mare, transforms the Bitter Fortune using Mediterranean herbs, rosemary and basil, to echo Ling Ling Mykonos. While the third, Chilli Coupette, is inspired by the fragrant spices of Morocco such as cardamom and chilli to evoke a sense of Marrakech.
Where: Locations here 
5. For New Summer Dishes: Busaba Eathai
What: To celebrate summer, or lack of, Busaba Eathai have launched a new summer menu featuring a range of fragrant and vibrant dishes. With a focus on seasonal ingredients, the dishes have been designed to transport your tastebuds to summer in Thailand inspired by the heat and flavours of Bangkok and beyond.
Why: New small plates ideal for a light summer bite include; duck and pineapple lettuce bites with cucumber, mint, shallots, sweet chilli lime dressing, and bang-kick prawns – tempura prawns, Thai seasoned mayo and mango. A taste of summer is added to the main menu in four new dishes including; Thai summer beef salad, a delightful combo of slow cooked beef, cherry tomatoes, green vegetables and wonton crisps, and grilled chicken and mango salad with baby gem, cherry tomatoes, mint, sweet chilli lime dressing and wonton crisps. To quench the Summer thirst, new drinks include Q-cumber sparkling mineral water with cucumber extracts, and fresh coconut water served in the whole coconut.
Where: Locations here