With a flurry of new brunch menus hitting the capital this weekend, it's about time you checked them out for yourself. From breakfast pizzas to crab toasties – here's where to get your brunch fix in the London this weekend:
1. For a New Brunch Menu: POLPO Notting Hill 
What: POLPO has expanded its weekend offering to include a brand new brunch menu, as well as a number of new alcoholic breakfast concoctions. The new menu, available from 27th October, is served from 10am to 12:30pm across the weekend at POLPO Notting Hill.
Eat and Drink: Staying true to POLPO's heritage, the menu featuring a Venetian take on brunch dishes, including brunch pizzetta with prosciutto, mushrooms, parmesan and soft egg, scafata with soft poached eggs, and indulgent ricotta doughnuts with cinnamon sugar. Traditional bruncher? Order either the eggs royale or eggs florentine, both served on toasted sourdough.
Where: 126-128 Notting Hill Gate, London W11 3QG
2. For a New Bottomless Brunch: CLAW 
What: Having successfully slung crab rolls and seafood small plates for the past year, CLAW is stepping up its seafood game. For the first time ever, their team are bringing a bottomless brunch to its casual seafood joint on Kingly St, available from Saturday 27th October.
Eat and Drink: Expect classic brunch dishes – naturally with some seafood twists – made from the best of British produce. Hero dishes on their menu include the likes of: Claw Benedict with spicy crab, potato and herb hash, poached eggs, spinach and lemon hollandaise, and crab and raclette toastie, served with fermented Peckham hot sauce. Not a seafood fan? No biggie. There's also a no-fuss bacon sandwich, Mexican egg tacos and avcocado on toast with miso and seaweed buttered sourdough on the bill, too.
Where:21 Kingly St, Soho, London W1B 5QA
3. For a New Veg Friendly Menu: ROVI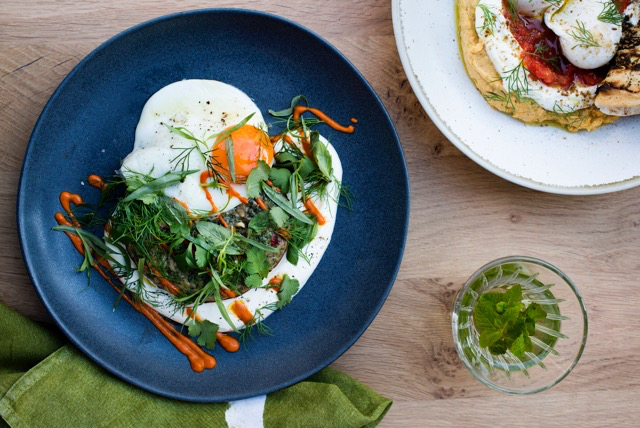 What: Following its opening this summer, ROVI, the new Fitzrovia restaurant from Ottolenghi, has rolled out a new breakfast/brunch menu. Head Chef Neil Campbell has created a menu, in collaboration with the wider Ottolenghi team, of breakfast dishes that are colourful, vegetable-focused and full of interesting flavour combinations.
Eat and Drink: The menu draws inspiration from a variety of different cuisines from across the globe. There are fragrant Iranian fritters filled with herbs, walnuts and barberries as well as a comforting jalapeño cornbread served with eggs, avocado and tomato. The menu also features a twist on a classic shakshuka, served at ROVI with a duck egg and a combination including flavourful swiss chard, green harissa and spinach.
Where: 59 Wells St, Fitzrovia, London W1A 3AE
4. For a New Boozy Brunch Menu: Ping Pong 
What: Ping Pong has just launched Soho Saturdays – a new bottomless brunch where you can chow down on a selection of dim sum with free-flowing cocktails alongside poppin' beats from Ping Pong's own resident DJ.
Eat and Drink: The dim sum brunch menu showcases Ping Pong's favourite eats including prawn and chive dumpling, spicy vegetable dumpling and Beijing quinoa gyoza, crispy duck spring roll, and chicken skewer, all to be washed down with a mix of bottomless cocktails including sangria, rose gin, blackberry bay and a Bloody Mary.
Where: 45 Great Marlborough St, Soho, London W1F 7JL
5. For a Charitable Brunch Event: Magic Brunch
What: POLPO, The Good Egg, Farmer J, Bistrotheque and Three Sheets are joining forces at Bistrotheque in east London on Sunday 28th October to host the first ever Magic Brunch. This new fundraiser is supporting Magic Breakfast, a charity that started in east London and provides healthy breakfasts to children who arrive at school too hungry or malnourished to learn.
Eat and Drink: Big names in the London restaurant world have created the special menu, including ricotta doughnuts and cinnamon sugar by Polpo, flatbreads and labneh with red harissa, pumpkin seed relish and soft boiled eggs by The Good Egg, and Bistrotheque's French toast with strawberry jam and fromage frais. Local experts and one of the World's 50 Best Bars, Three Sheets, have devised a cocktail menu including the 'Karmosa' using Karma Cola's Summer Orangeade drink.
Where: Bistrotheque, 23-27 Wadeson Street, London E2 9DR
One ticket for Magic Brunch costs £65, which will give a disadvantaged child a healthy breakfast and wrap-around support from Magic Breakfast every school day for a year. The ticket price includes food and four drinks for each Magic Brunch guest. Buy here.