If we ever became a pop group and released an album (I'm thinking best of brunch hits), we'd sing tracks such as Pancake Party, Don't Blame it on the Over-Cooked Yolk and Always Add a Side of Avocado. But brunch pop band stardom can wait, there's eggs to be eaten. Here's 5 fantastic brunch hangouts you need to hit up this weekend. Happy eating, folks:
1. For a New Brunch: Gunpowder 
What: Spitalfields favourite Gunpowder have finally seen the light, and have launched a new Saturday brunch menu to help you get the weekend started with a bang – full of spice, flavour and mega Bloody Marys. Bringing a distinctly Indian flavour to the growing London brunch scene, Gunpowder's menu offers the perfect antidote to anyone suffering the effects of peak avocado on toast.
Eat: Created by founder Harneet Baweja and Head Chef, Nirmal Save, dishes include: Savoury chickpea pancakes topped with Gunpowder's secret chutneys and shaved coconut; Kadhai paneer parcel with crispy kale; market-style spicy scrambled eggs with onion and tomatoes served on a sourdough toast; chicken liver and beef pie with spinach paratha crust, and for a healthy option, ginger cardamom tea oats.
Gimme more: Nothing goes better with brunch than a good Bloody Marys. Except, that is, a Bloody Batra, Gunpowder's own version, given a kick with natural ingredients such as whole chillies and mustard seeds instead of the traditional Tabasco.
Where: 11 White's Row, Spitalfields E1 7NF
2. For a Sweet Brunch: Where the Pancakes Are
What: Where the Pancakes Are have opened its first ever bricks and mortar restaurant in London serving, well, pancakes. Open early doors on weekends, and serving pancakes till 8pm on Saturdays and 4pm on Sundays – you can now get your brunch pancake fix any time of the day.
Eat: So many pancakes. The menu features savoury and seasonal pancake stacks such as the American with smoked streaky bacon, blueberries and maple syrup, and Australian corn fritters, topped with crème fraiche, preserved lemon and avocado. They've put a special twist on the classic eggs benny with their own version – tarragon hollandaise, salmon or ham, poached egg and pea shoots. Sweet colourful combinations include Hummingbird, a medley of cinnamon tossed pine apple, house cream, lime syrup, zest, pomegranate, toasted almond and coconut flakes, and the Hedgerow, with elderflower and forest berry compote, butter cream and crushed merengue.
Gimme More: Look out for the Dutch baby, a classic from the Californian breakfast table. Dig into the sweet taste of bramley and cox apples, blackberries, raisins, almond flakes and house cream, or if you're more of a savoury fan, try the Dutch baby with aged gouda, goats, parmesan, cheddar, gruyere with thyme and rosemary, served with bitter salad.
Where: Flat Iron Square Arch 35A, 85A Southwark Bridge Road, London, SE1 0NQ
Photo Credit: David Loftus 
3. For a British Brunch: Muriel's Kitchen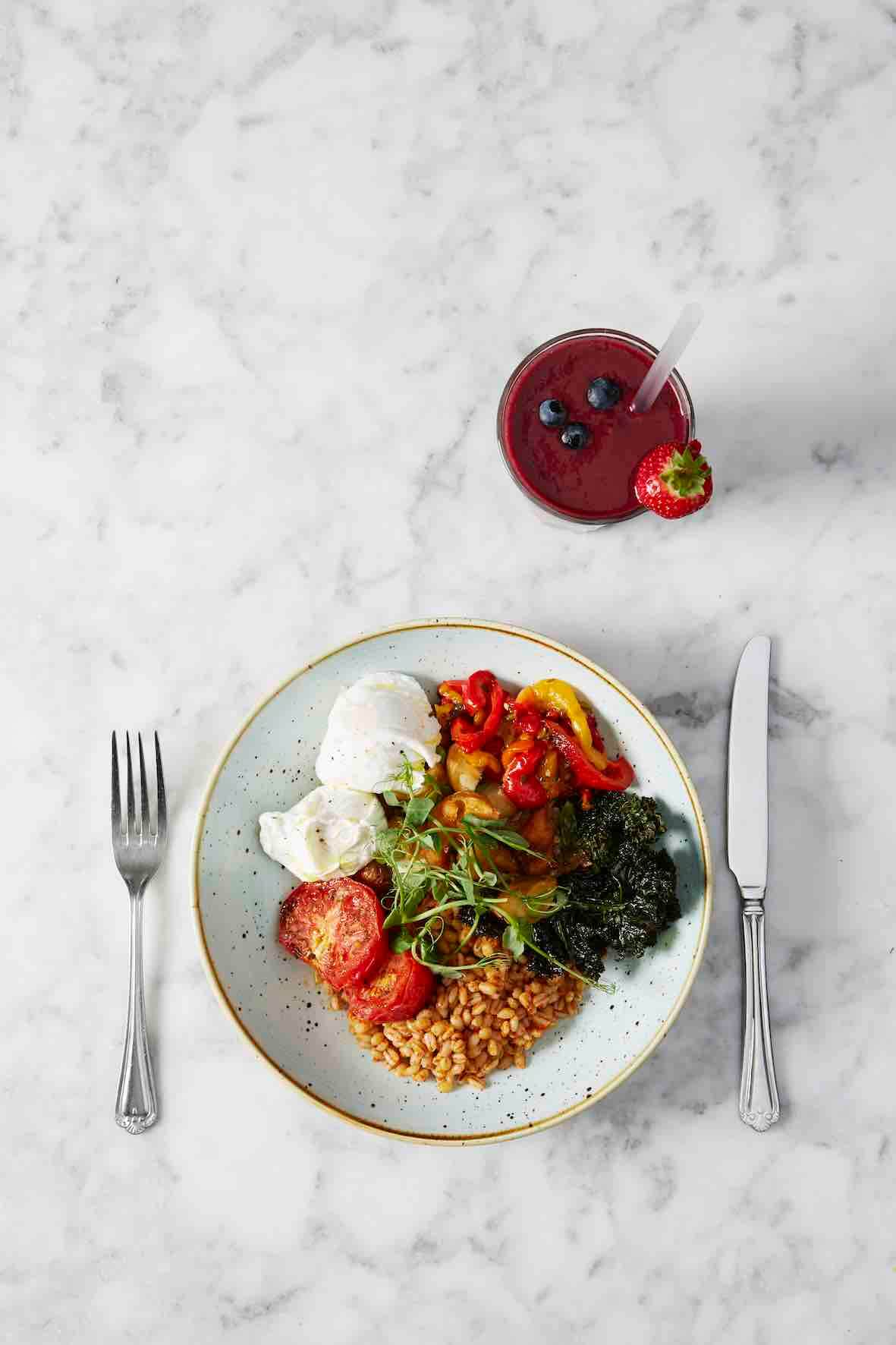 What: Independently owned by husband and wife team Sam and Charlotte Miller, Muriel's Kitchen was inspired by Charlotte's late grandmother Muriel and what came out of her 1950s kitchen. The result is a carefully curated menu that puts the emphasis on quality, British ingredients and dishes made to authentic family recipes at purse-pleasing prices.
Eat: For a something on the lighter side, there's the coconut and chia seed bowl with coconut milk, puffed quinoa and fresh blueberries, Goldilocks porridge topped with fresh banana and honey or apple, cinnamon and raisins, and oat and berry muesli with strawberries, blueberries and banana chips. If you're in need of something to soothe a sore head, order the ultimate breakfast sandwich served with either british Cumberland sausage or British streaky bacon, or go the whole nine yards and get involved with the Nana's full English – 0rganic Clarence Court eggs any style, rashers of British streaky bacon, baked tomatoes, British Cumberland sausages, portobello mushroom, baked beans and toasted bread. Muriel's also serve a slap up veggie breakfast – a plate of 2 organic Clarence Court eggs any style, 2 baked tomatoes, portobello mushroom, wilted spinach, bubble and squeak, baked beans and toasted bread.
Gimme more: There's a whole menu dedicated to pancakes – think fresh blueberries and maple syrup (extra bacon optional), chocolate sauce, whipped cream and banana, and strawberries and cream. Gluten-free pancakes are also available.
Where: Locations here 
4. For a Meaty Brunch: Below the Cut
What: On the weekend the party starts early with the Basement Brunch served from 12pm – 4.30pm Saturday and Sunday at Below the Cut at Hanger sw6. Head downstairs for live acoustic sets alongside American inspired brunch eats.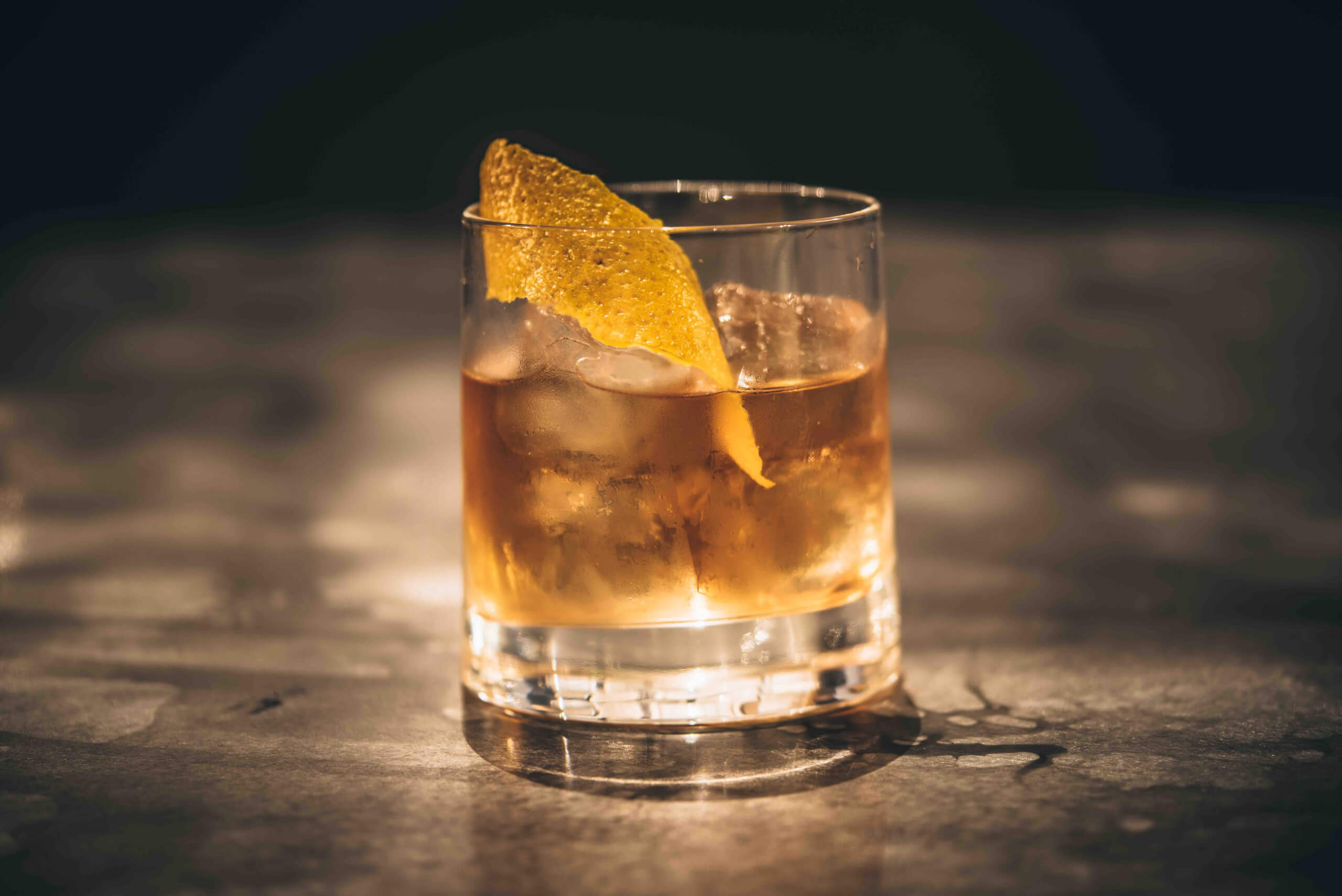 Eat: The menu brings big Stateside flavours to the streets of Fulham. Dig into steak n' eggs with hash browns and hanger relish; salt beef and potato hash topped with a fried duck egg, the epic brunch bap filled with venison sausage, sticky onions, dijon in a potato bun, and charred bacon with fried duck egg, hash browns and hanger relish. Leave your veggie mates at home for this brunch. But if you do decide to bring them along, there's homemade granola with fruit compote, Greek yoghurt and honey, and toasted crumpets topped with poached eggs, spinach and lemon avocado aioli (with the add-on of steak or bacon, obviously).
Gimme more: Pay £15 for bottomless Bloody Marys for two hours.
Where: 461 North End Rd, London SW6 1NZ
5. For a Japanese Brunch: Kurobuta Chelsea
What: Taking inspiration from the rock 'n' roll Izakayas of Japan, Kurobuta Chelsea has just launched a new all weekend brunch menu that will set your world on fire (in the best way possible). Boasting  live music, smashing food, an alternative party vibe and an absolute steal of unlimited prosecco for just £10, this is a London brunch that will make your stomach (and purse) very happy.
Eat: New dishes from the acclaimed chef Scott Hallsworth include Takoyaki octopus donuts; chilli mussels; spicy chicken kushiyaki; hot wings with Blair's 3am death sauce (make sure you order extra tap water); wood-fired cauliflower with sake and butter, and soft taco wraps with salmon ceviche-miso sauce. Pay £35 to sink your teeth in this fine array of delicious dishes, or upgrade to the £45 option to have extra prawns and steak thrown into the mix. Always, always go for additional steak.
Gimme more: Sake before midday? We're in.
Where: 312 King's Rd, London SW3 5UH