Top 5: Ways to Eat Brunch in London This Bank Holiday WeekendBy Alicia Grimshaw
In our books, the bank holiday weekend only means one thing; it's another day to eat brunch. Take our word for it, these 5 places are worth your sparkles. Here's five places to get your eggs and Bloody Mary kicks this weekend. Happy munching, London:
1. For a Classic Brunch: Social Pantry 
What: Social Pantry use the ethos and creativity of their catering business to inspire the menus at their award-winning café on Lavender Hill. Opened in 2013, Social Pantry café brings fresh, seasonal menus to the brunch-lovers of Battersea. Barista-brewed Union Coffee is offered alongside fresh juices and a seasonally changing menu with produce from the likes of Ginger Pig and Bad Boys Bakery.
Why: If London feels hotter than the sun this weekend, ditch the warming bowl of porridge in favour of their homemade granola with yogurt and fruit compote. For an artisan spin on a bacon sarnie, try the crusty toasted sourdough sandwich including Ginger Pig Bacon, sausage or fried eggs. The humble beans on toast has been given a snazzy makeover at Social Pantry –  cannellini, kidney, butter beans in a cajun tomato sauce with chorizo on toasted sourdough. Veggies, order the baked mushrooms with spinach in a parsley and mascarpone sauce, topped with two poached eggs – this dish is legendary.
Where: 170A Lavender Hill, SW11 5TG
2. For a New Brunch: Albion Clerkenwell 
What: Albion Clerkenwell is the latest branch from the Albion team. It's a sort of everything-under-one-roof vibe. There's a shop, cafe, wine and oyster bar, and cheese counter. As much as we love slabs of brie, we're only interested in their brunch offering, which is really good by the way. Drop in for Bloody Marys, killer coffee and a great selection of egg dishes.
Why: If you're in need of your protein fix – there's scrambled eggs and smoked salmon, omelette with a choice of toppings, eggs Benedict, and Burford Brown eggs on toast. Sweet treats are by no means a few naff pastries – there's sourdough doughnuts, chocolate and orange cream rolls, and cinnamon and butter swirls. If you need something to mend your sore head, opt for the hangover recovery sandwich, or the Full Albion – back bacon, Lincolnshire sausages, Bury black pudding, baked beans, plum tomato, mushrooms, eggs and toast. Feeling virtuous? Order the grilled sweet potato chili hash with spinach and poached organic eggs – it's our pick of the menu.
 Where: Unit 1, The Turnmill, 63 Clerkenwell Road, London EC1M 5NP
Photo credit for interior shot: Paul Raeside 
3. For a Bottomless Brunch: Rotunda 
What: Rotuna have boarded the bottomless Prosecco train with their latest brunch menu. Launching this Saturday (27th), pick one brunch dish of your choice and 2 hours of unlimited Prosecco for £26.95. Kicking off at 11am, nab a table on their waterside terrace to enjoy your eggs alfresco.
Why: Dishes available on the menu include; Rotunda's full works – a hearty portion of Butcher's sausage, smoked bacon, English black pudding, grilled tomato, flat mushroom, toast, and spring onion and sweet chilli relish. On the savoury side, get involved with the Northumberland 32 day aged 4.0z. steak and fried Clarence Court duck eggs,  sweetcorn fritters, with heritage tomato and red onion salsa and crème fraiche, and chilli and coriander avocado on toast, served with grilled spring onion and roast vine cherry tomatoes. Sugar hunnies, try the wholemeal pancakes, topped with homemade maple bacon and grilled banana.
Where: Kings Place, 90 York Way, London N1 9AG
What: MeatUp is the all-day restaurant and late night bar who know their meat. This BBQ hotspot has all of the ingredients of a great get-together in your own back garden, only bigger, better and bubblier (the Prosecco list is among the longest and best in town).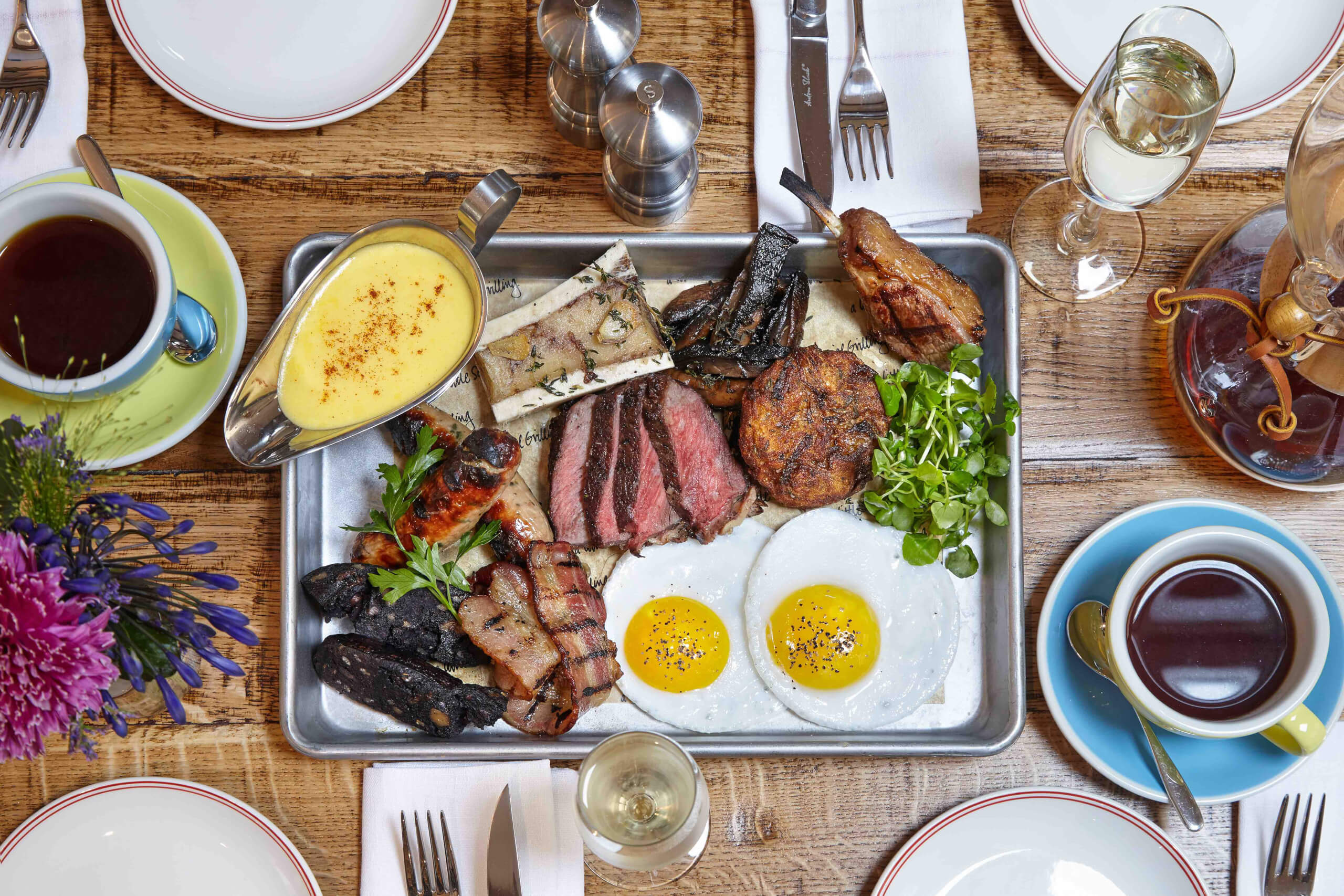 Why: Head Chef Stephen Hinkley who comes via Meatopia and Foxlow (Hawksmoor Group) has created a mighty menu based on British ingredients. A day at MeatUp begins with brunch: thick cut, barbecued bacon sandwiches; house salted brisket hash with fried duck eggs, and smashed avocado served on sweet potato 'toast' with a poached egg and dill yoghurt. For the main event, it's all about the gargantuan sharing plates: social starters of smoked salt and pink peppercorn squid; ale braised pig's cheeks, and selected cuts of beef big enough to share. They've just created an all new sharing platter, brace yourself for a mixed grill of sausage, bacon, steak, lamb chop, bone marrow, eggs, mushrooms, black pudding, potato rosti, and a carafe of Gentleman's Baristas coffee.
Where: 350 Old York Rd, Wansdworth SW18 1SS
5. For a Vegan Brunch: Jaz and Jul's
What: Jaz & Jul's have knocked up a new chocolate-themed weekend brunch at their Chocolate House in Islington, meaning there is now a seriously sweet reason to hop out of bed on Saturday and Sunday mornings. There's plenty of vegan options for all the plant powered queens out there.
Why: You just have to try the cinnamon and cocoa dusted French toast made in a coconut, almond and banana batter, and topped with berry compote and maple syrup. Looking to satisfy your inner Willy Wonka? Tuck into sweet fluffy chocolate-stout waffles with toppings ranging from peach and nectarine slices, plus Kentish cobnut ice-cream (handmade by fellow Broadway Market trader Nonna's); to banana, chocolate sauce and crushed peanuts. Brunchers who are sweet enough already can opt for cornbread waffles paired with Mexican-inspired black bean chilli in mole sauce and avocado, or roast cherry tomatoes, crumbled feta and cocoa pesto drizzle.
Where: 1 Chapel Market, London, N1 9EZ
Photo Credit: Kirsty Owen
One for luck…
For a Bank Holiday Brunch: Village East
What: Village East brings Modern European fare, heady cocktails and smashing brunch grub to Bermondsey. To celebrate the Bank Holiday, they're rolling out their bottomless brunch for £15 per person on Sunday (28th) and Monday (29th). The drink will be a bottomless cocktail from the Village Fountain and you can choose from a gin or rum base.
Why: Sweet toothed fiends can munch on organic porridge oats with maple syrup, banana and muscavado sugar; cranberry granola, or Village muesli. Meat-free lovers, devour the Village veggie breakfast with fried eggs, halloumi, avocado, field mushroom, grilled tomato, potato croquettes, baked beans and toast, or avocado on toast topped with tomato, garlic, chilli, coriander and lime. For more meat goodness, there's steak and eggs, bacon and egg muffin with  smoked cheddar, tomato relish, and the campfire breakfast which includes barbecue beans, 2 fried eggs, and slow-roasted pork shoulder. 
Where: 171-173 Bermondsey St, London SE1 3UW
Photo Credit: Paul Winch-Furness