Brunch: the socially acceptable excuse to drink before noon.
We've found the best places to brunch in London this weekend. Happy days:
1. For an American Brunch: CUT at 45 Park Lane 
What: CUT at 45 Park Lane is a feast for all the senses. A modern American steak restaurant featuring great food in a contemporary and dynamic environment, they also do a killer brunch. Their Sunday brunch includes American pancakes, French toast, beef hash cakes and the requisite Sunday cocktails. Make a lazy Sunday out of it and go for a stroll in Hyde Park after your delicious brunch.
Eat: The best of brunch, designed by Wolfgang Puck. Start with something light, such as their seven-grain granola with wild flower honey and natural Greek yogurt. Move onto the serious stuff – the omelettes here are world-famous, for good reason. Try the omelette with wild mushrooms, bacon and onions for an absolute treat, or the salt beef hash – both are solid choices. Don't miss the pancakes, too, the buttermilk pancakes come with whipped maple butter and seasonal berries, and are totally amazing.
Where: 45 Park Lane, 45 Park Lane, London W1K 1PN
2. For a Classic Brunch: Coppa Club 
What: Coppa Club is a place for eating, drinking, meeting and unwinding. Head to their Tower Bridge branch for brunch overlooking The Thames, or pop into their Oxford Circus restaurant for a post-shopping feed. Their weekend brunch is served till 4pm and features well-loved brunch dishes. Don't fix what's not broken, people.
Eat: Their full skillet brekkie will set you up for the day, or help you recover from the night before. Chow down on 2 fried free range eggs, sausage, bacon, Spanish black pudding, field mushrooms, roast tomato, Heinz baked beans and toasted ciabatta. Keeping with the egg theme, there's quinoa, toasted seeds, avocado, topped with 2 free-range poached eggs and sriracha mayo, and Severn & Wye Valley salmon and scrambled eggs on toast, and not forgetting out favourite – avocado on toast with poached eggs. There's also porridge, pastries and plenty of coffee to go round. Just a heads up – they make a mean soya latte.
Where: Locations here 
3. For a Middle Eastern Brunch: Tabun Kitchen 
What: Tabun Kitchen opened last month in Soho, and if you haven't made it down yet – don't fret, they've just launched their new brunch offering. Known for their lunchtime wraps, baked fresh onsite every morning, their brunch menu showcases Middle Eastern dishes with a modern twist.
Eat: All the Middle Eastern favourites, like the shakshuka with homemade tomato and red pepper sauce served with mixed olives and freshly baked tabun flatbread, and the Ijjeh, a classic Palestinian omelette with finely chopped onions, flat parsley, thyme and mint. For a breakfast sandwich hybrid, opt for the labneh wrap filled with olives, tomatoes, cucumber, pickles, fresh mint and za'atar. If you're in the mood for something lighter, there's labneh topped with orange blossom honey, crushed pistachios, dried apricots and figs, and their za'atar crossiant, a sort of savoury baked good with a thyme and sesame topping.
Where: 77 Berwick Street, Soho, London
4. For an Italian Brunch: Bernardi's 
What: Bernardi's is a modern Italian restaurant in Marylebone, serving up stella brunch dishes at the weekend. Brothers Gabriel and Marcello Bernardi are the duo behind the restaurant and along with Head Chef Sabrina Gidda, they've created a menu concentrating on fresh, seasonal dishes without the obscene price tag.
The Lowdown: Cereal lovers, try the almond granola served alongside yoghurt and honey, or the porridge topped with berries. Veggie can tuck into the courgette and parmesan fritters, with avocado and tomato, or the dreamy French toast, with oranges and mascarpone. The restaurant has put an Italian spin on their brunch menu, which features pizzette such as N'duja with egg, basil and spinach, and the tasty egg and parmesan. And there's also a chocolate and hazelnut pizzette for dessert. Stop it.
Where: 62 Seymour St, London W1H 5BN
Photo Credit: Paul Winch-Furness
5. For a South of the River Brunch: Peddler 
What: Dear residents of South London, this one is dedicated to you guys. Pedler in Peckham Rye serve a cracking brunch that will have your friends who 'don't travel south of the river' topping up their oyster card immediately. Pedler is an all-day restaurant cooking up fantastic food with some smashing coffees to boot.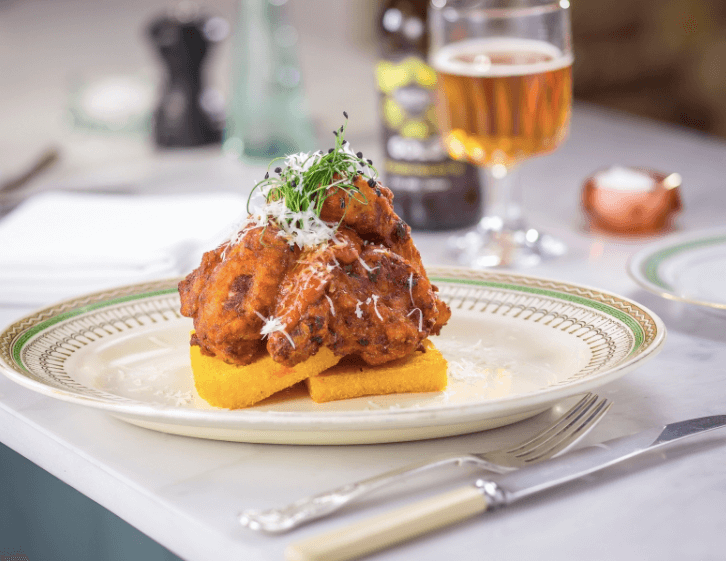 Eat: Their Saturday brunch menu will make all your dreams come true. Sweet dishes include; cherry toast with last season's preserves and maple whipped butter, and ricotta pancakes with peach, strawberries and maple syrup butter. Savoury eats don't come better than this –  wild 'shrooms on toast topped with chives and poached hen's eggs, and the mighty harrisa scrambled eggs served on a toasted muffin with whipped labneh. Go all out and order the Pedler breakfast, a plate of  eggs, little bird gin sausage, valley smokehouse bacon, house-made baked beans, pig's head croquette, flat mushroom, slow roast tomato, toast and maple salted butter.
Where: 54 Peckham Rye, London, SE14 6JR