Sunday Brunch: aren't those two of the happiest words in history? Grab your friends. Grab your Visa Debit. Let's talk brunch.
1. For Eggy Sunday Brunch: Yolk
What: Sunday brunch doesn't come much better than this. Yolk is a pop-up restaurant with a passion for simple food, done well. After a series of successful brunch residencies in North and East London, they are now in Soho, taking over Mojo cafe every weekend. They operate a BYO policy on drinks (there's a handy off-licence over the road), and serve lunch and dinner on Saturdays and brunch on Sundays. 

Eat: Yolk are egg aficionados, serving up (they think) the best eggs in London, and they'll also be developing new dishes for their Mojo menu. For brunch, their signature Eggs Benedict is a winner, with pulled ham hock, brown butter hollandaise and perfectly-poached Burford Brown eggs. For something healthier, try their avocado-laden Poached Rancheros, or for something sweet their Spiced Buttermilk Waffle with maple mascarpone and berry compote.
Where: Mojo cafe, 8 D'Arblay Street, W1F 8DP
[related_articles]
2. For Relaxed Sunday Brunch: Curio Cabal
What: Opened in 2013, Curio Cabal is a thriving cafe in the heart of Haggerston. It's not fancy and it's not fussy, but that's why Curio Cabal works. It champions locally sourced produce to create delicious, honest food and fantastic cups of consistently good coffee. The cafe serves brunch on both Saturday and Sunday, with different menus for each day.
Eat: The easy to navigate menu is brimming of different brunch offerings. If you're feeling virtuous, try the superfood granola packed full of all the good stuff. Traditional brunch fare of avocado on sourdough or rye and poached eggs on sourdough is also available. They also serve a range of bagels crammed full of different fillings. Swing by on Sunday for velvet eggs, Kedergee and harissa white beans. The coffee is locally sourced from the Square Mile Roasters, and not forgetting the tea fans – sip on a wide range of fresh mint, English Breakfast, and ginger and lemon infusions. Sunday brunch just got super.
Where: Curio Cabal, 258 Kingsland Road,London E8 4DG
3. For a Classic Sunday Brunch: Embassy East
What: Embassy East is a real testament to the ethos that less is more. Shabby chic furnishings and kooky light adorn the walls, it's back to basics here – with wooden stool and tables to match. It's a low key coffee shop, that lets the coffee and food do the talking. And, like any Antipodean cafe – the coffee takes centre stage. Sunday brunch is all about coffee after all, isn't it? The chaps at Embassy East work closely with Assembly Coffee to bring together the finest beans, with the outcome being superb coffee.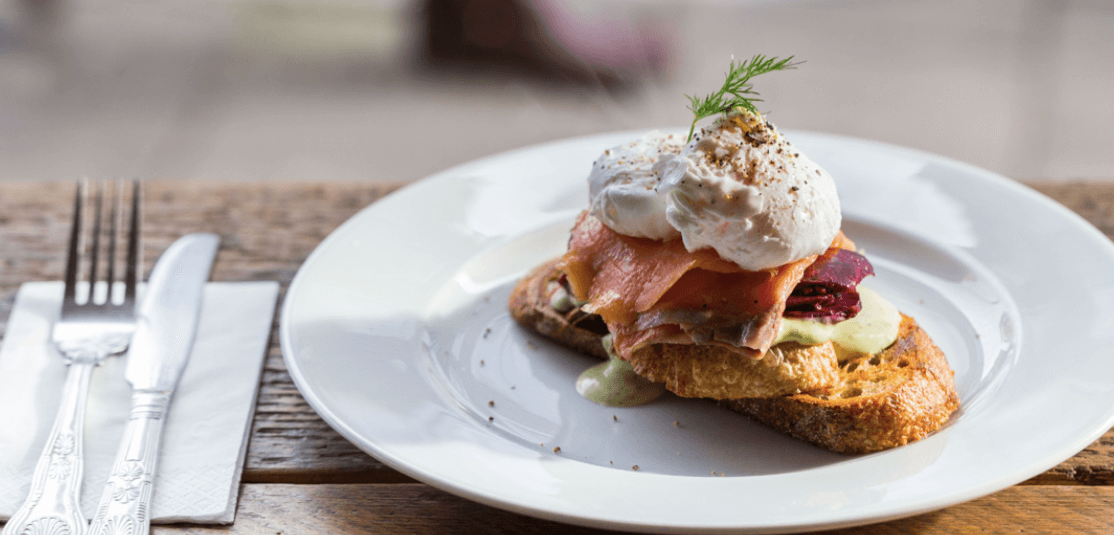 Eat: Embassay East has a well-balanced menu, to suit every mood. For those wanting sweet dishes try the chia pudding, made with chia, coconut, fruit, almonds and date, or the granola topped with banana, yoghurt and honey.  The Eastern eggs with braised aubergine, spinach, goats cheese and tahini yoghurt comes highly recommended by us, as do the poached eggs, salmon, greens and furikake. To mend a hangover, order one of their cheese and ham toasties, they are out of this world.
Where: 285 Hoxton Street, London
[related_articles]
4. For French Sunday Brunch: Cafe Pistou
Why: Cafe Pistou brings a slice of southeastern France to the capital. Located in Exmouth Market, this quaint French brasserie knocks up small plates at dinner along with a weekday and weekend brunch menu. Here, it's about 'sunshine food' bringing across the fresh and vibrant flavours that Provençal France is so well known for.
Eat: Start by ordering the Pistou Bloody Mary, a combination of Romano and Espelette pepper infused Finlandia vodka finished with Cafe Pistou's own seasoning blend. The Bloody Mary can be ordered by the carafe, it's the weekend after all. For a real taste of France, order the Fougasse and Bayonne Ham – a traditional Provençal bread from their charcoal oven, served with extra virgin olive oil. The salt cod croquettes with  bacon and fried egg is also and good shout. If you can stomach any more food, order the crepe to share – it's served with passion fruit syrup, pineapple and mango. Magical.
Where: 8-10 Exmouth Market, London, EC1R 4QA
[related_articles]
5. For a Meaty Sunday Brunch: Clutch
What: Clutch Chicken is an intimate restaurant with quirky industrial interiors. They're mad on chicken and their menu is full of this well-loved bird. London is brimming with deep-fried chicken shops and while most are reppin' a two star hygiene certificate, Clutch Chicken has risen head and shoulders above the rest. Their secret is simple; the chicken used is from free-range farms and they only use free-range eggs for the coating.
Eat: Meat Mania awaits at Clutch Chicken. In the mood for both sweet and savoury? Opt for the wishbone waffles, a combination of morning buttermilk fried Chicken with pancake waffles, turkey bacon and homemade bourbon syrup. The clutch Mac muffin of  turkey Haché, poached egg and smoked applewood cheese leaves Mcdonald's dead in the water. If you're here for the chicken, order the honey and sesame wings – there's 12 of them, cooked in groundnut oil (it's healthy, apparently). On Sundays they serve the Clutch roast, complete with rotisserie chicken and all the trimmings. This is the Sunday brunch for meat-lovers, for sure.
Where: 4 Ravenscroft St, London E2 7QG