For all Pad Thai newbies, you've missed out on stir-fried noodles with egg, tofu, and loads of toppings. The Pick and Mix dish is fresh from the lime and crunchy with crushed peanuts, there's so much more than the average plate of noodles. It isn't swimming in soup like Ramen, and much lighter than those Chinese noodle take-aways. Healthy, delicious and affordable.
So why go on a search for the best Pad Thai in London? Fill your bellies with the best Thai food London has to offer.
1. The Authentic One: Rosa's Thai Cafe
What: Pad Thai
Why:  The first of Rosa's Thai Cafe's opened in Spitalfields in 2008, but now there's plenty to go around. A relaxed, casual cafe with punchy Thai food and locally sourced ingredients. Their Pad Thai is like eating noodles straight from the Street Food Markets, but with an East End twist. Personalise your dish with vegetables and tofu, chicken or prawns and try the Thai iced coffee. Their blog has a collection of traditional recipes to try at home.
Price:  from £8.00
Where:  Rosa's Thai Cafe, various locations across London
Photo taken by Alex Maguire
What: Pad Thai
Why: Healthy, fun and traditional, Dim T's Pad Thai is sweet and spicy, all at the same time. Choosing between chicken, prawn or tofu versions, their Asian fusion menu is packed with plenty of options. Whilst you're there, try the steamed dim sum, the seabass and miso is especially good. Then finish off the evening with a complementary fortune cookie.
Price: from £8.75
Where: Dim t, various locations across London
3. The Modern One: Busaba Eathai
What: Sen Chan Pad Thai
Why: This icon is given an upgraded twist with green mango and crabmeat, and they also serve a version with smoked chicken and shiitake mushrooms. Busaba Eathai started out in the heart of soho back in 1999, and with a restaurant philosophy 'as you eat, so you are', there's only goodness inside. They also hold cooking classes in the restaurant's own kitchen, to learn the tricks of the Thai food trade with the masters.
Price: £9.90
Where: Busaba Eathai, various locations across London
What: Pad Thai
Why: Part of the Ricker Restaurant group is the Asian Fusion XO, though they are more famous for restaurant-in-a-sex-shop 'La Bodega Negra'. Hidden in Belsize Park, their Pad Thai is part of a very tasty set of specials. Another 'pick and mix' with veggie, meat and fish options. Better yet, next door is XO to go, where you can find even more Pad Thai to eat at home. That's if you can find your way home after a Thai Tini or two.
Price: £10.50
Where: XO/ XO to go, 29 Belsize Lane, London NW3 5AS
5. The Veggie One: The Mango Tree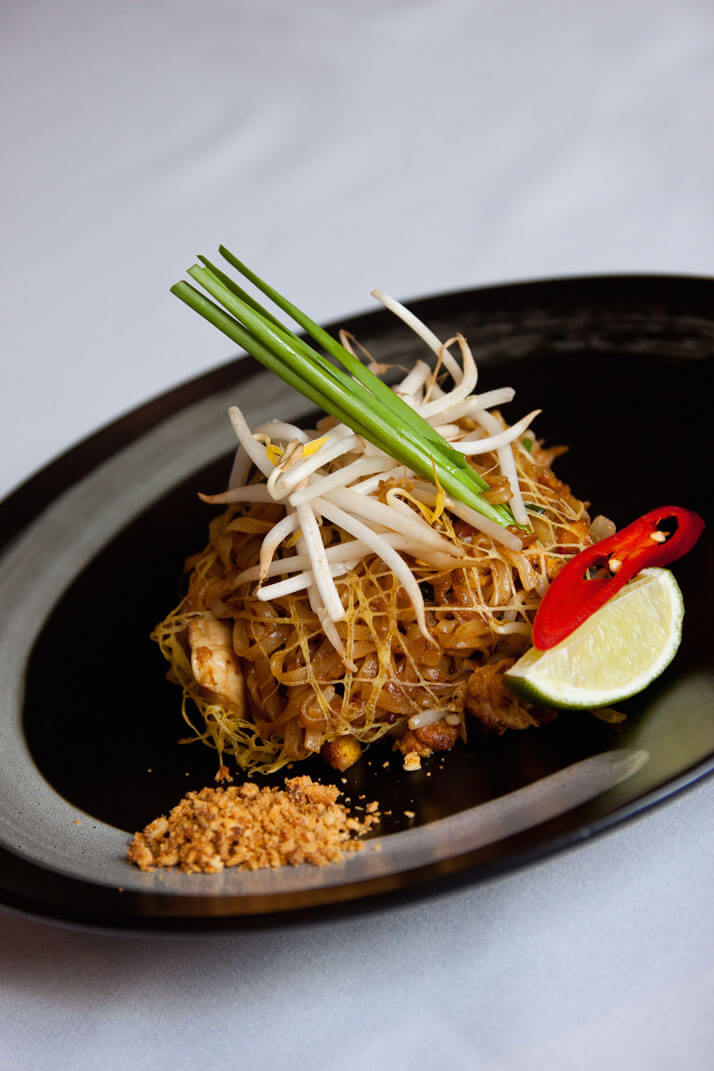 What: Pad Thai Jay
Why: Serving a range of Eastern classics, The Mango Tree takes care to make each dish special, creating their own homemade sauce for the Pad Thai Jay. The vegetarian menu is filled with meat-free Thai dishes, then treat yourself with homemade ice cream and sorbet in exotic flavours like lavender rose and chilli-lemongrass. Bringing a little bit of Thailand to London with their food and feng-shui decor, it's no wonder they were featured on Masterchef.
Price: £13.75
Where: The Mango Tree, 46 Grosvenor Place, Belgravia, SW1X 7E