There's never been a better time to support the hospitality industry. With restaurants having to shut at 10pm following the government's new guidelines, get your bookings in early evening to enjoy dinner at these new openings in the capital.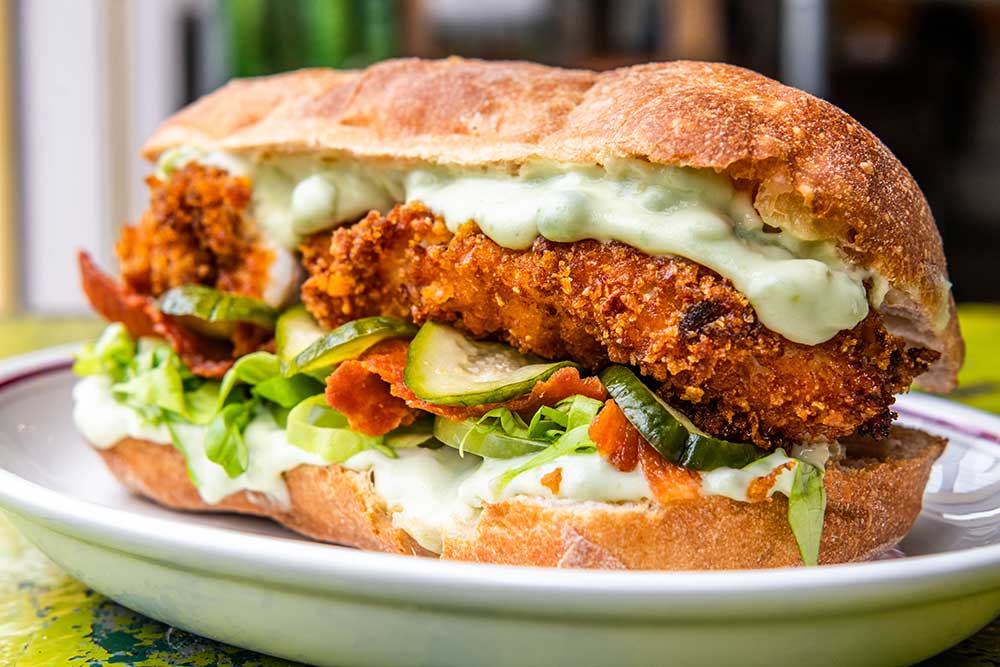 What: The hotly anticipated Saint Elmo's Late-Night Sandwich Bar has opened its doors in the heart of London's Soho. Saint Elmo's takes up a permanent residency at The Breakfast Club's Berwick Street caf every day from 5pm.
Eat: The menu conjures up the magical memories of childhood and nostalgia, and features the tea favourite, Chicken Kiev Sandwich and a twist on Findus Crispy Pancakes which sees slow-cooked beef parcelled in a pancake and drizzled with truffle mayo. For the veggies, they've got you too. How does Mac and Cheese, Veggie Haggis and Chip Shop Sauce all sandwiched between two slices of delicious bread sound? Answer: divine.
Where: 11 Berwick St, Soho, London W1F 0PL
What: The Lebanese Bakery has opened its second London site at the world-famous department store Harrods. Despite the economic headwinds facing the hospitality industry, The Lebanese Bakery has pressed ahead with their ambitious expansion plans following the successful launch of their first site in Covent Garden.
Eat: The Lebanese Bakery is a speciality eatery serving a glorious take on traditional Manousheh and Mouajjanet – the quintessential everyday Lebanese food. Manousheh is one of Beirut's most popular food and is made from a soft dough similar to pizza, they include a selection of Lebanese cheeses, from the well-known Halloumi sprinkled with fresh basil and pine nuts to the more adventurous Sirene cheese with fresh spinach. Free-range lamb, beef and chicken provide a carnivorous option, and the menu at Harrod's features new add-ons for those looking for a more indulgent meal with bone marrow and truffle.
Where: Harrods, 87–135 Brompton Road, Knightsbridge London SW1X 7XL
What: Rosa's Thai Cafe has expanded its restaurant empire with the launch its latest restaurant at Waterloo on Monday 5th October, offering 50% off food only for pre-booked tables on Saturday 3rd and Sunday 4th October.
Eat: Rosa's offers a variety of vibrant dishes using seasonal ingredients, including Saiphin's signature red butternut curry with sweet basil and drunken noodles with galangal. Elsewhere on the menu, expect chicken and cashew stir fry, Thai calamari, and fresh summer rolls.
Where: 77 The Cut, South Bank, London SE1 8LL
What: Redemption has recently relaunched with a brand new Head Chef and menus. Erich Ribeiro joins Redemption's founder, Catherine Salway, and new owners, Alex and Saiphin Moore (Rosa's Thai Cafe, Lao Cafe, Ceviche), in revitalising the popular health-oriented hub, diversifying its food and drink menus to incorporate a balance of healthy and indulgent options.
Eat: The new and improved Redemption continues to focus on vegetables, and the infinite ways in which they can be spiced and cooked to create taste sensations. Starters include: broad bean and avocado hummus with cassava shards and toasted amaranth seeds, BBQ cauliflower wings, and lemon and pumpkin mac and cheese, to larger main options including Brazilian tofish moqueca, Brussels sprouts and purple kale winter Caesar salad, and BBQ pulled jackfruit with smashed avocado.
Where: 2 Neal's Yard, West End, London WC2H 9AT
What: On Sunday 4th October, Arenella, a brand new autumnal alfresco terrace, will be launching at The Chapel Bar, in the heart of Islington. Expect a hearty Southern Italian inspired bottomless lunch, comprising mouth-watering 2-course meal and free-flowing spritzes and Prosecco.
Eat: The all-day weekend lunch menu will feature various seasonal dishes – warming stews and freshly made pasta mains to choose from along with an additional starter or dessert course comprising of typical Italian fare.  Examples from the menu include: Caponata – aubergines, capers and pine nuts; Nduja Tortellini and red pesto; and Tortelloni Mushroom with truffle, butter and parmesan.
Where: The Chapel Bar 29 Penton Street London N1 9PX