We love brownies, but what we love more is matcha brownies. Along with our friends at Vivid Drinks, who make premium matcha powder, we've found some of the best matcha brownies in London. Follow them during #VividMatchaWeek for more matcha goodness:
1. For the Vegan Brownie: Saint Sugar of London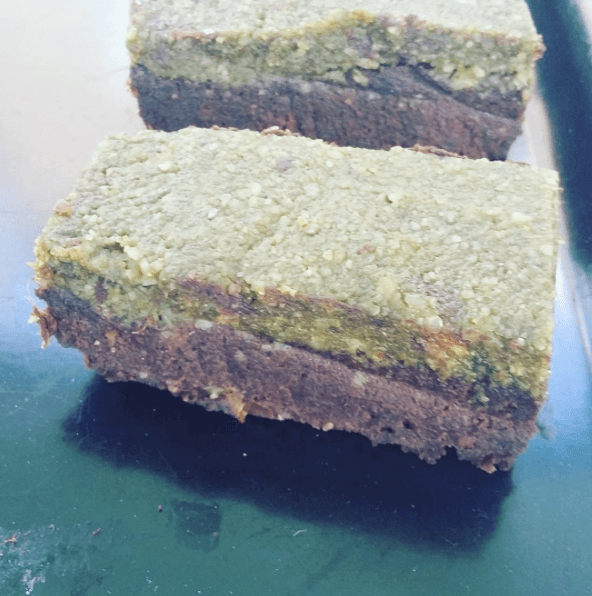 The Story: Saint Sugar of London are big believers of using the finest ingredient: time. They're on a mission to fight back against the blandness of chains and supermarkets by creating cakes that are homemade and made with genuine love and care. Saints Sugar of London was founded in 2009 and specialise in French patisseries and artisan bread, while bringing some of the finest brioche to East London.
The Lowdown: This is a vegan's paradise  – who said vegans can't have their cake and eat it too. We're talking about raw treats including the mighty raw flat white bar made from coffee, cashews, vanilla, pecans and maple syrup or try the equally dreamy raw coffee brownie. They also have a range of cakes that are both gluten and dairy-free, don't you know. And if you're after a good slice of cake with a cuppa, you can't go wrong with their apple and frangipane strudel. Absolute bliss.
Where: Friday: Greenwich Market, Saturday: Roman Road Market and Sunday: Brick Lane Market
2. For the Classic Brownie: Moba 
The Story: What happens when you mix traditional French bread and pastries with a sprinkle of  distinct Vietnamese flavours? You get MoBa a modern banh mi and boulangerie creating some of the best fusion cakes, baguettes and other savoury delights.  
The Lowdown: Early risers can enjoy their porridge with salted caramel and spicy pineapple chansons (a pocket of flaky pastry to you and I). Traditional Vietnamese sandwiches are  up for grabs at lunchtime and contain a whole host of fillings. If you want to make new pals in the office, take one of their matcha brownies back. Friendships guaranteed.
Where: 53 Goodge St, London, W1T 1TG
3. For the Flavoursome Brownie: Tombo
The Story: This popular family-run Japanese café is also London's first dedicated matcha bar. They concentrate on three things: sushi, matcha and tea and execute each one in fine fashion. All of their sushi is handmade and freshly prepared by their sushi experts and the green tea and matcha used at Tombo have been sourced from the foothills of Mt. Fuji – there's certainly no sub standard ingredients used here.
The Lowdown: Head down to Tombo for a range of different Japanese cuisine, from healthy bento bowls to warming bowls of noodles and delicious katsu curries – Tombo have got you covered. For the sweet toothed fiends, they've got a whole menu devoted to the green stuff – soft serve, gateaus, macaroons, tarts and sundaes. Wash is all down with one of their iced match lattes, it's what liquid dreams are made of.
Where: 29 Thurloe Place, South Kensington, SW7 2HQ
4. For the Nutty Brownie: Pacata
The Story: Following the success of the original Pacata in Bangkok, Singa Beer was keen to bring Pan-Asian fusion street cuisine to the West End. Pacata recruited the world's only Michelin Starred Ramen Chef, Yazuji Morazumi to design the menu which features a wide variety of dishes. Expect Thai curry burgers (tastes better than it sounds), Pacata pasta (think Pad Thai with a twist) and tom yum soup.
The Lowdown: Pacata is an ideal spot for hearty lunches, a quick pre-theatre dinner or for a take away snack. Their menu is quirky, but they've nailed the fusion food concept. Rib eye steaks are served with a choice of Green curry, Massaman curry or Japanese curry and French Fries are sprinkled with a choice of Larb powder or Tom Yum powder. It's Asian food, but not as we know it.
Where: 4 New Row, Covent Garden, London WC2N 4LH
Photo Credit: shelives2eat
5. For the Fruity Brownie: Straits Times Kopitiam
The Story: East London is inundated with coffee shops, sandwiches bars and cafes – but the Straits Times Kopitiam stands out for all the right reasons. Owned by two friends, Vanessa and Janet met in Singapore and decided to quit their jobs to open a cafe serving good coffee and good food that certainly won't make your purse strings tighten.
The Lowdown: Come here for a laid-back vibe, a warm welcome (become a regular and they'll get to know you on a first name basis), no fuss decor and a simple menu to match. For breakfast you can't got wrong with their cinnamon butter on a toasted bagel. Sandwiches and fresh salads are up for grabs at lunchtime and for an afternoon pick me up they've got a fantastic selection of cakes.
Where: 66 Whitechapel High St, Whitechapel E1 7PL
Post in association with Vivid Drinks as part #VividMatchaWeek – follow them on Twitter here for more information.