If you've found yourself recovering after another heavy weekend and a few too many doner kebabs (extra garlic sauce on mine please) and have decided to jump back on the healthy band wagon, we've found some healthy brownies that will keep your Twix cravings at bay. Happy snacking, London:
1. For the Gluten-Free Brownie: Juicebaby 
What: Brazil nut brownies – Brazil nuts, walnuts, dates, cacao, cashews, almonds, vanilla and maple syrup
The Story: Juice Baby is a jewel in Kings Road forever growing healthy food scene, using locally sourced ingredients, hand making all food and drink and staying away from dairy, eggs, gluten, chemical additives and preservatives – Juice Baby have nailed the art of healthy living. All of their coffee is fair trade and organic and tastes way better than your standard coffee shop version, we promise.
The Brownie Lowdown: Juice Baby's brownies taste like absolute heaven. All freshly made daily and on site, they're nutty, moist and are naturally sweetened by dates. Order one of their brownies and a skin balm juice to takeaway. Absolute perfection.
Where: 98 Kings Road,London, SW10 0LJ
2. For the Veggie Brownie: Ethos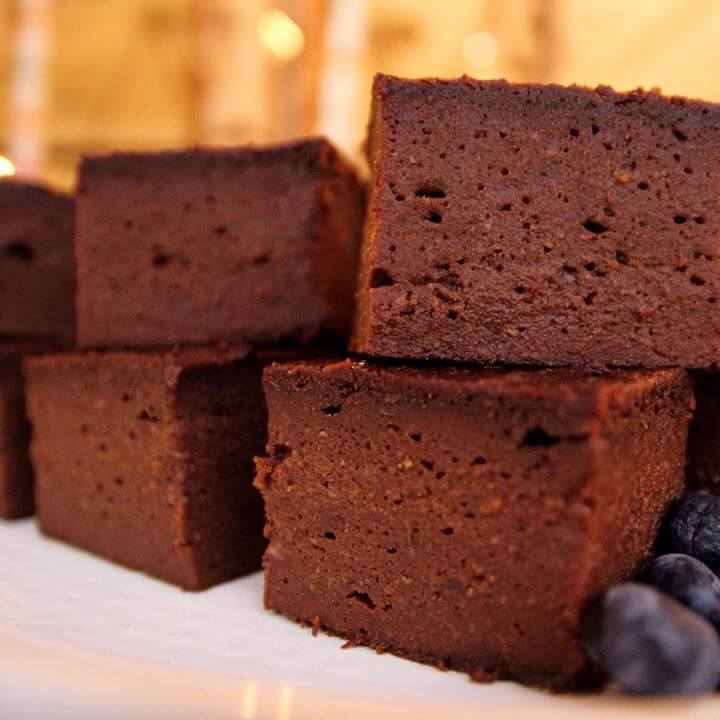 What: Sweet potato and date brownies
The Story: Ethos is a dedicated veggie restaurant serving dishes from around the world that are full of flavour, healthy and a refreshing change from the pre-packed variety . The restaurant is a pay-by-weight concept and rustle up gluten-free, dairy-free and vegan options. People travel far and wide to get their hands on the Hyderabadi Scotch Eggs. I mean, rightly so – they are delicious. 
The Brownie Lowdown: The sweet potato brownie craze had people running for the vegetable aisle to stock up on spuds for their latest baking venture. I honestly think putting any type of veg into a cake (I draw the line at carrot) is absurd, however Ethos have proved me wrong. The sweet potato brownie is a new addition to the menu and isn't overly sweet, with the flavours still tasting sensational.
Where: 48 Eastcastle Street, Fitzrovia, London W1W 8DX
3. For the Chocolate Brownie: Fix Coffee 
What: Brownie –  Dark chocolate, dairy-free butter alternative, eggs, brown sugar and coconut
The Story: Fix Coffee is a small independent cafe in East London. They serve their own blend of coffee expertly roasted by Climpson & Sons. Their signature blend is sweet, smooth and strong, with other coffee beans sourced from Brazil, Colombia and Ethiopia. Sit down with a flat white and one of their brownies – a Sunday afternoon well spent.
The Brownie Lowdown: The brownies made at Fix coffee contain no veg and no super foods (sorry to disappoint). The brownie contains 5 simple ingredients and although it includes brown sugar don't let that put you off  – it's still healthier than other alternatives.   
Where: 161 Whitecross st, London, EC1Y 8JL
4. For the Raw Brownie: Raw Imagination 
What: The raw brownie – cashew nuts, hazel nuts, dates, cacao nibs, cacao butter, cacao powder, coconut sugar, raw coconut oil, almonds, reverse osmosis water, vanilla, nutmeg and himalayan salt
The Story: The clue is in the title, with Raw Imagination creating raw sandwiches along with tons of other raw treats. They've sassed up raw food by experimenting with different flavours, ingredients and sandwich fillings. All of their products used are certified as organic and are suitable for vegans, don't you know.
The Brownie Lowdown: Their raw brownie is more of a cheesecake that a chocolate cake creation. The crunchy base is made from cacao nibs and hazelnuts, with the topping a creamy, dense mixture of heirloom cacao, dates and cashews. It will leave you feeling virtuous for days.
Where: Stockists here 
5. For the Nutty Brownie: The Juice Well 
What: Chocolate brownie – dark chocolate, aduki beans, dates and coconut oil
The Story: Having gained big love stateside, London is now fully embracing the cold press juice movement. The Juice Well is a juice bar in Soho, creating organic cold pressed juices, superfood smoothies and cleanses. They pack their juices with heaps of veggie and fruit goodness and make some pretty mean treats without the nasties and additives. No one could possibly turn down a healthy spin on a peanut butter cup.
The Brownie Lowdown: Aduki beans, almond flour and coconut oil are the three main ingredients in these little sweet treats. The brownie is chocolatey, fudge-y and is a surefire afternoon pick me up.
Where: 4 Peter Street, Soho, London, W1F 0DN