Dessert pizzas; two Davids combined to make one Goliath. To skip all the foodie jargon, we're basically dealing with Nutella and dough, but delicious baked dough topped with a sweet, satisfying nutty, chocolatey spread. Read on to discover the best dessert pizzas in the capital:
1. For a Pizza Ring: Pizza Pilgrims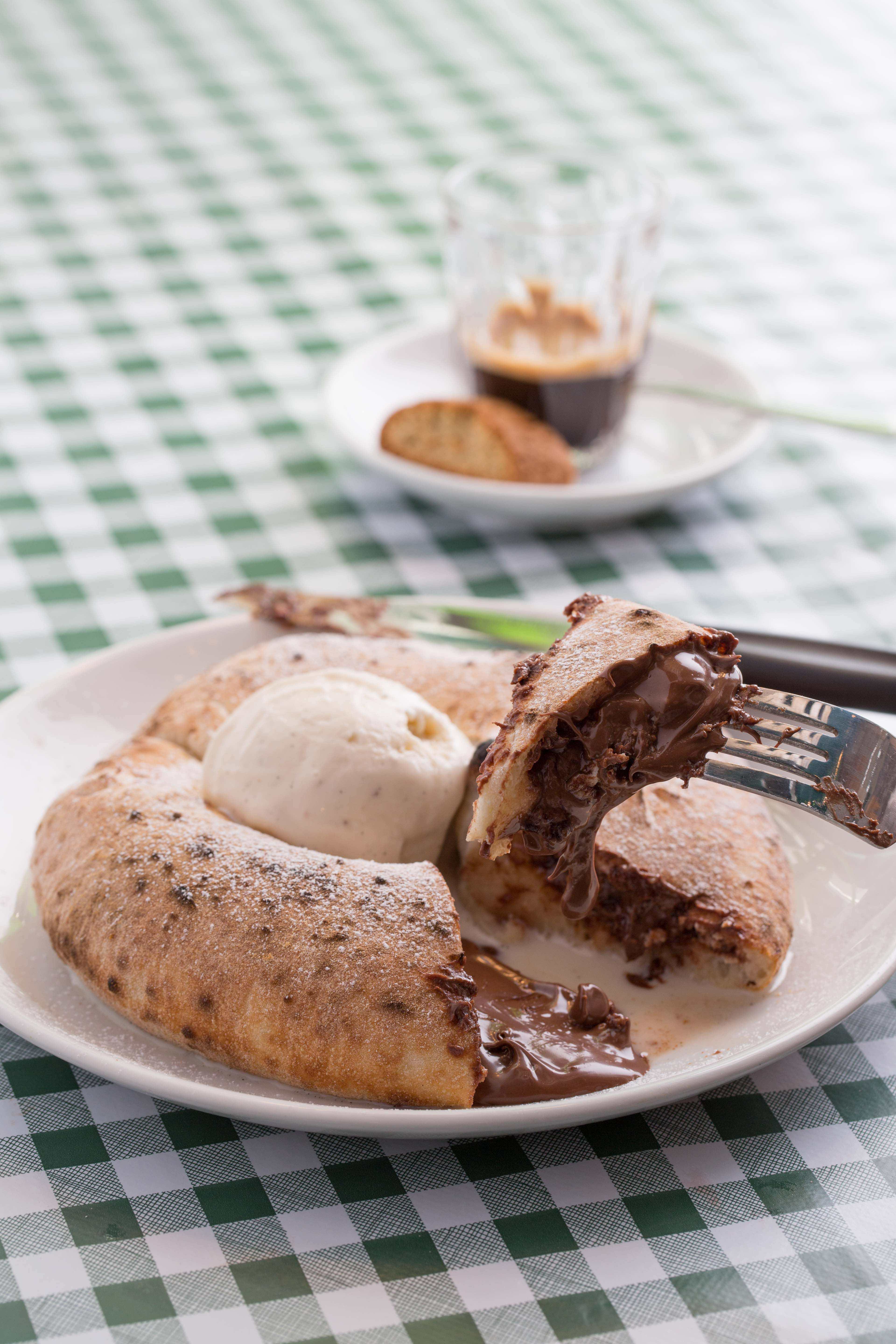 Order: Nutella Pizza Ring (£5.50)
The Lowdown: Bready, chewy, flavoursome and with a hint of char – Pizza Pilgrim's Neapolitan pizza are a sight to behold. The Aubergine Parmagiana pizza, an ode to Italy's most iconic dishes, in dough form, is spellbinding. And obviously, you have to finish with something sweet: the Nutella pizza ring. A ring of Pizza Pilgrim's Neapolitan dough, filled to the brim with Nutella chocolate and hazelnut spread, and salted ricotta, all baked in the oven to make sure the filling has that perfect ooze.
Where: Locations here 
2. For a Vegan Desert Pizza: Purezza
Order: Oreo Pizza  (£5.85)
The Lowdown: Yes, that pizza pudding you see before you is 100% vegan. Born in Brighton, but now in London, Purezza is a first of its kind: a 100% vegan pizza restaurant creating some mad plant-powered creations (the lasagne is so good, we thought some witchcraft was going on). But, friends, the Oreo Pizza, a kind of accidental success in the kitchen really is magnificent – combining a sourdough pizza base with Purezza's creamy hazelnut chocolate, Oreo biscuits and mascarpone-style sauce, the dessert will send your sugar (and happiness) levels through the roof.
Where: 43 Parkway, Camden, London NW1 7PN
3. For a Nutella Calzone: The Belrose
Order: Nutella calzone with pistachio ice cream (£6)
The Lowdown: The Belrose, a restaurant/pub/on-site microbrewery, nestled on the leafy stretch between Chalk Farm and Belsize Park is not your usual British pub, as the kitchen team dish up Roman-style pizzas, and Italian small plates with style and flair. Do not overlook the Nutella calzone with pistachio ice cream: break the doughy wall and let the melted, rich Nutella escape. Ooo-er.
Where: 94 Haverstock Hill, Belsize Park, London NW3 2BD
Photo Credit: Charlie Mckay 
4. For a Nutella and Mascarpone Pizza: Pizza Union
Order: Dolce Classico (£3.20)
The Lowdown: You certainly get more dough for your British buck at Pizza Union, as they're banging out crispy, thin Margherita pizzas for less than £4. Simply order from the board, perch at a table, wait for your buzzer to ring, and heavenly, fire-baked Roman-style pizzas will be in front of you in a matter of minutes. Make no mistake, the carb-heavy life decisions you make at Pizza Union are totally worth it – the Dolce Classico, a warm dough ring stuffed with a hefty hand of Nutella and mascarpone, is the one.
Where: Locations here 
Order: Nutella pizzetta (£6)
The Lowdown: Polpo's Venetian sharing dishes are what people come back for time and time again (the 'Nduja and mozzarella arancini – deep-fried rice filled balls of goodness are legendary). Nothing, however, comes close to Polpo's Nutella pizzetta – a thin, crispy doughy foundation drizzled with Nutella, and finished with a final flourish of chopped hazelnuts and icing sugar. Crunchy, chocolatey, divine.
Where: Locations here