Easter is all about eggs, right? How do you like your eggs in the morning? Poached, baked, fried – you can do a lot with these little beauties. With the Easter weekend well and truly here, there's no better excuse for indulging in an extra special brunch or lunch with family and friends.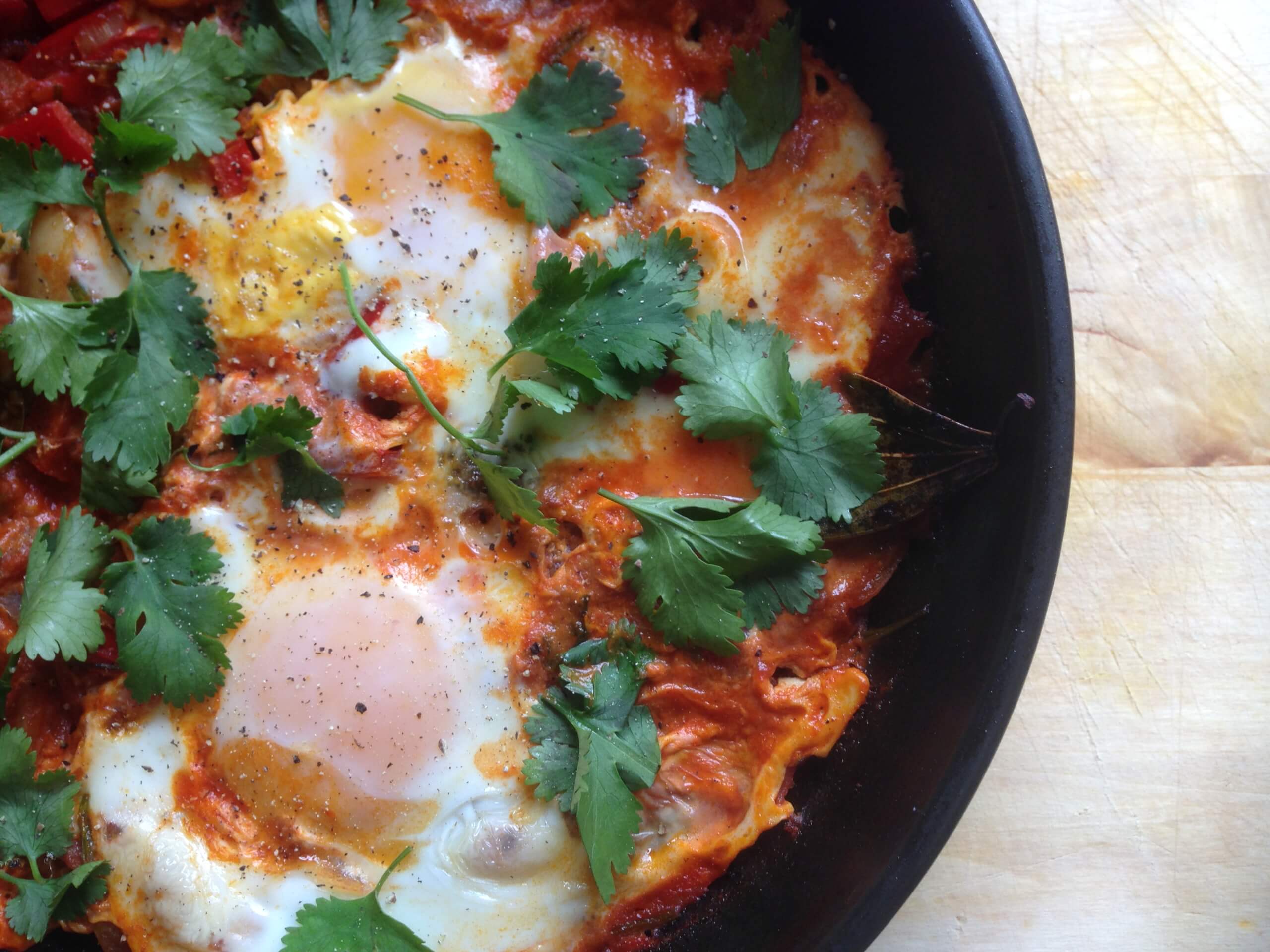 On top of the crazy amounts of chocolate eggs you're about to consume, why not enjoy some of the traditional variety? Here are our top 5 eggcellent egg recipes to tuck into this weekend – get cracking!
#1 Eggcellent Avocados
If you're a fan of avocado, you need to try these. Super quick and easy in the oven, they're great for any time of the day.
Serves 1 as a meal, or 2 as part of a meal
Baked Eggs in Avocado (gluten free)
Ingredients
2 eggs
1 avocado
Black pepper to season
Method
1. Cut the avocado in half and using a spoon, carve out a portion of the centre.
2. Crack an egg into a mug and spoon the yolk into the middle of the avocado half.
3. Carefully pour as much egg white as you can fit in the remaining space (this can be a little messy, so take care).
4. Repeat with the other half, then place in an oven dish (one that will support the avocados and keep them upright) and bake for 15-20 mins at 180 C, or until the egg whites are cooked.
5. Season with black pepper and serve with whatever you fancy.
This recipe is one of mine. Feel free to check out my gluten free blog here.
#2 Veggie Frittata
Got people over? A frittata is a quick and easy way to feed a big group. Just cut up and let them dig in!
Vegetable Frittata (gluten free)
Ingredients
6 eggs, beaten and seasoned
good handful of sliced mushrooms and diced peppers
1 sliced Spring onion
1 small tomato, diced
salt, pepper and chopped chives to garnish
Fry light
Method
1. Into a hot medium sized pan add your vegetables and fry for a few minutes. With a few sprays of fry light.
2. Add your eggs and leave over a medium heat until the bottom is completely cooked.
3. Remove from the hob and place under a hot grill until cooked through and browned on top.
4. Garnish with the chopped chives and season with salt and pepper.
Recipe and image thanks to Emily Herbert. Check out Emily's blog here.
#3 Shakshuka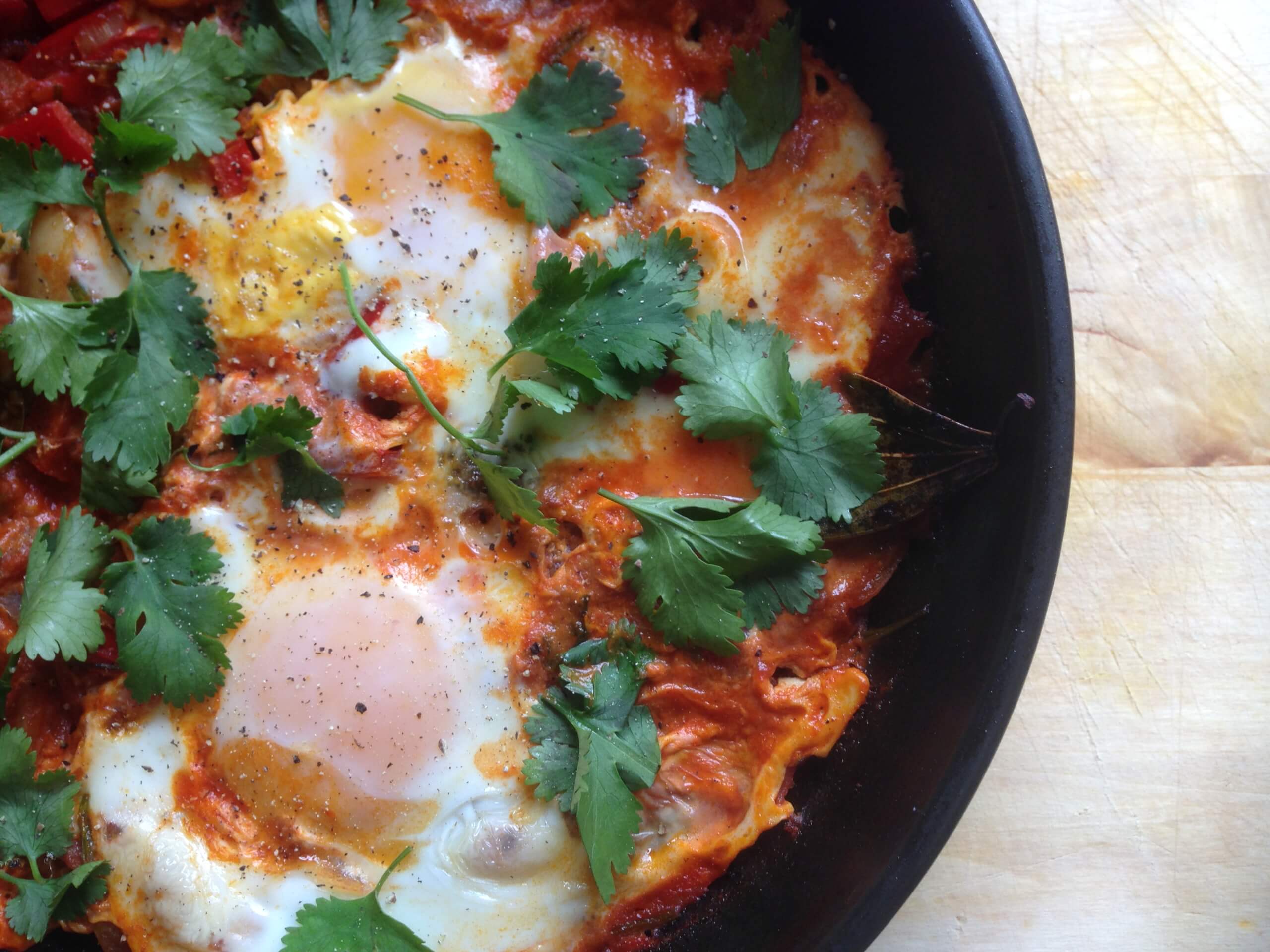 Shakshouka means 'a mixture' in Arabic but it is potentially from an old Berber word meaning a ragout. It is the perfect combination of vegetables, tomatoes, eggs and spices all cooked in a way that melts them altogether in one skillet.
Shakshouka (gluten free)
Serves 6
Ingredients
1 tbsp olive oil
1 clove garlic, minced
1 white onion, peeled and diced
1 medium green or red pepper, chopped
60 grams of chorizo or merguez sausage, chopped
2 tins diced tomatoes
2 tbsp tomato puree
2 tsp chili powder or cayenne pepper (depending on how hot you want it)
1 tsp cumin
1 tsp paprika (sweet or smoked)
2 bay leaves
1 tbsp muscavado sugar
Salt and pepper to taste
5-6 eggs
2 tbsp fresh chopped parsley
2 tbsp chopped coriander
Method
1. Heat a deep, large pan or skillet on medium. Dry roast the spices and add the oil, onions and sausage and cook until they have softened. Add garlic, pepper and bay leaves and sauté for several minutes over medium until softened.
2. Add tomatoes, sugar and tomato paste to the pan, cook for several minutes until nicely blended. Add salt and pepper and chilli to taste.
3. Making some holes in the mixture, crack the eggs, one at a time, directly over the tomato mixture. I usually place 5 eggs around the outer edge and 1 in the centre.
4. Cover the pan. Allow mixture to simmer for 10 minutes, or until the eggs are cooked and the sauce has slightly reduced.
5. Garnish with the chopped parsley and coriander as desired. Ideal served with warm crusty bread or pita.
Recipe and image thanks to Sanjay Aggarwal, the founder of Spice Kitchen, an online shop and artisan producer of high quality hand-blended and homeground spice blends and spices.
       #4 Tabasco® Huevos Al Benny
Who could think of a better way to start the day? Easter weekend breakfast – yes please.
Tabasco® Huevos Al Benny
Ingredients
2 free range eggs
1 English muffin
2 chorizo sausage
Hollandaise sauce (make your own or buy from your local shop)
Tabasco® Red Pepper Sauce
Sliced mixed peppers
½ avocado smashed with a little lemon juice and seasoned with salt.
1 finely sliced red chillies
Butter (for the muffin)
1/2 tsp. smoked paprika
Method
Grill chorizo sausages on a griddle, when cooked on the outside. Slice the sausage down the centre with a knife and gently grill the centre for 1 minute.

In the meantime heat water and vinegar in a sauce pan until simmering. Poach the eggs in the heated water for 3 to 4 minutes before straining thoroughly.

Add the peppers for a couple of minutes until they soften.

Slice the muffins and lightly toast, brush with butter and place on griddle until golden brown

Spread avocado on toasted muffins followed by the char-grilled peppers

Place the grilled chorizo flat side down onto the peppers followed by the poached eggs

Warm the hollandaise add a few drops of Tabasco® (as much as you like)

Serve sprinkled with paprika and the finely sliced chillies.
Recipe and image thanks to Tabasco.
#5 Lazy Baked Eggs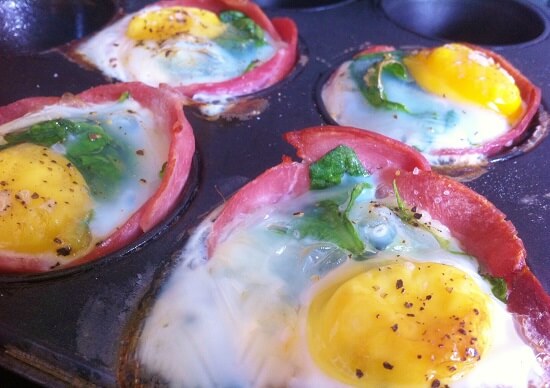 Rushed for time? Bake eggs the lazy way. A little, compact breakfast for lazy Sunday mornings. Goodbye all day breakfast in a can, hello baked lazy eggs.
Lazy Baked Eggs (gluten free without the muffin)
Makes 4, serves 2
Ingredients 
4 free range eggs
4 slices of posh ham – I used Wiltshire
2 tomatoes – slice into four
Your favourite cheese – these mozzarella discs are really handy but have also used Red Leicester and blue cheese
50g spinach, wilted
American muffins, toasted
A muffin/cupcake tin
Method
1.Begin by spraying the tin with an oil spray. I think butter would also work here but most importantly use something that wont stick and will crisp up the ham.
2. Add on the cheese and wilted spinach. you can do this in any order really but I think the tomato works best as a based and stops the cheese from melted through. Then, the spinach works as it incorporates into the egg white as it bakes.
3. Carefully crack the eggs on top, trying to get the yolk central. The whites may leak a bit but this is fine and actually adds a nice crisp. I also used cupcake tins but maybe a muffin tray would hold more tasty filling!
4. Bake for 15 minutes in the middle of the oven, turning half way. Meanwhile, toast the muffins.
5. Serve on toasted muffins and there you have it – lazy baked eggs!
Recipe and image thanks to Emily of Recipes and Reviews. Check out Emily's blog here for more recipes.