Baba ganoush is the best thing aubergines have ever given us. Fact. We've eaten our fair share of cold mezzes to bring you the best baba ganoush this city has to offer:
1. Randa Restaurant, Kensington
What: Moutabal Baba Ghanouj – Grilled aubergine purée mixed with sesame paste (tahine), and lemon juice (£5.75)
Why: Part of the Maroush Group, London's most celebrated and renowned Lebanese restaurant collection, Randa Restaurant offers sensational traditional 'home from home' ambience and authentic cuisine,  just a stones throw away from the hustle and bustle of Kensington High Street. From the open-plan kitchen the team of chefs prepare favourite dishes that include a huge array of hot and cold mezzas, grilled meats and fish, mixed shawarma, fresh salads and delicious fresh fruit juices, all made from the finest seasonal ingredients. Seriously, this is the best falafel you'll find in London.
Where: 23 Kensington Church St, London W8 4LF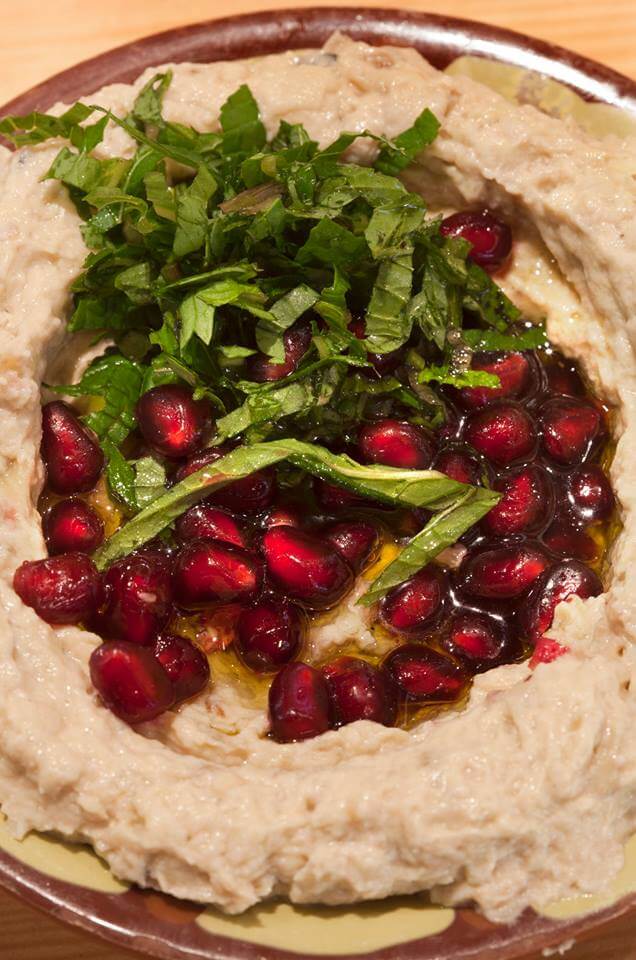 What: Baba Ghannouj – Charcoal grilled aubergine purée, tahini and fresh lemon juice.
Why: Cheap eats and fresh ingredients is the name of the game at Yalla Yalla. Serving up informal Lebanese and other Middle Eastern cuisine from their Soho and Oxford Street branches, Yalla Yalla became an instant hit when it first opened in 2008. The menu is filled with delicious offerings including wraps, a wide array of sharing mezzes and charcoal meat dishes. The reason why Yalla Yalla has risen head and shoulders above the rest is the fact that it's consistently good. Their hummus shawarma – hummus with a generous topping of lamb strips  is on point and their fattoush is always worthy of an order. For the time strapped Londoner you can be fed in less then 20 minutes, making Yalla Yalla an ideal lunchtime pit-stop.
Where: 12 Winsley Street, London, W1W 8HQ and 1 Green's Court, London, W1F 0HA
3. Comptoir Libanais, Various Locations  
What: Baba Ghanuj- Smoked aubergine, tahini and lemon juice with pomegranate seeds (£5.25)
Why: Comptoir Libanis first opened its doors in 2008 and now has 11 restaurants across London. Enjoy traditional Lebanese fare in a souk-like setting and treat yourself to a new bag after you've finished your falafel – they sell some pretty sweet accessories too. The food at Comptoir is fresh, healthy, honest and affordable with their breakfast menu far more adventurous than your average porridge. Think organic yoghurt topped with pomegranate and orange blossom water and their best seller the crispy onion, halloumi cheese and tomato tortillas. Computer Libanis is a great spot for a takeaway brekkie, a quick but wholesome lunch or a dinner with friends.
Where: Locations here
4. Warda Restaurant, Southgate  
What: Baba ghanoush –  Purée of grilled aubergine, tahini and lemon (£5.25/ £2.95)
Why: Warda Restaurant is North London's answer to fine Lebanese cuisine. There's no need to venture into Central London to get your hands on a mix mezze. Everything is made in-house including dips, stocks and sauces. The menu is a Lebanese food lovers dream with everything you'd usually expect, hummus, flat breads – you know the drill. Their veggie mezzes are pretty spectacular too, expect deep-fried pumpkin and cracked wheat parcels, baby aubergines filled with walnuts and spices and okra cooked in garlic, onions and tomato sauce.
Where: 22 The Broadway, The Bourne, Southgate, N14 6PH
5. Arabica Bar & Kitchen, London Bridge
What: Moutabel – Smoked aubergine, tahini, garlic, olive oil and lemon (£5.50)
Why: Located in the busy and bustling London area of Borough, Arabica offers Levantine inspired food for breakfast, lunch and dinner – taking inspiration from the sun drenched countries of the Eastern Mediterranean including Lebanon, Jordan, Palestine and Israel. You'll be hard pressed to find something to complain about at Arabica Bar & Kitchen. It's not just about eating here, it's an experience – sharing is recommended, so order a few dishes and get stuck in. It's not fussy or pretentious, it's simple ingredients combined to create punchy and flavoursome dishes.
Where: 3 Rochester Walk, London SE1 9AF