About Time You Tried: London's Best New Afternoon TeasBy Angelica Malin
Fancy a new afternoon tea in the city? With the depressing British Summer Time, what could be better than enjoying a glass of bubbly and a freshly baked scone in the face of the rain. Here's the afternoon teas in London we're totally loving at the moment:
The Spring Gardens Tea at 11 Cadogan Gardens
What: A boutique hotel nestled in the heart of Knightsbridge, 11 Cadogan Garden oozes all things British. The tea is created by Alexis Gautier and we say: no finer tea can be had in London. The Spring Flower tea is £40 with a glass of champagne the price rises to between £52 – £95 depending on choice of champagne.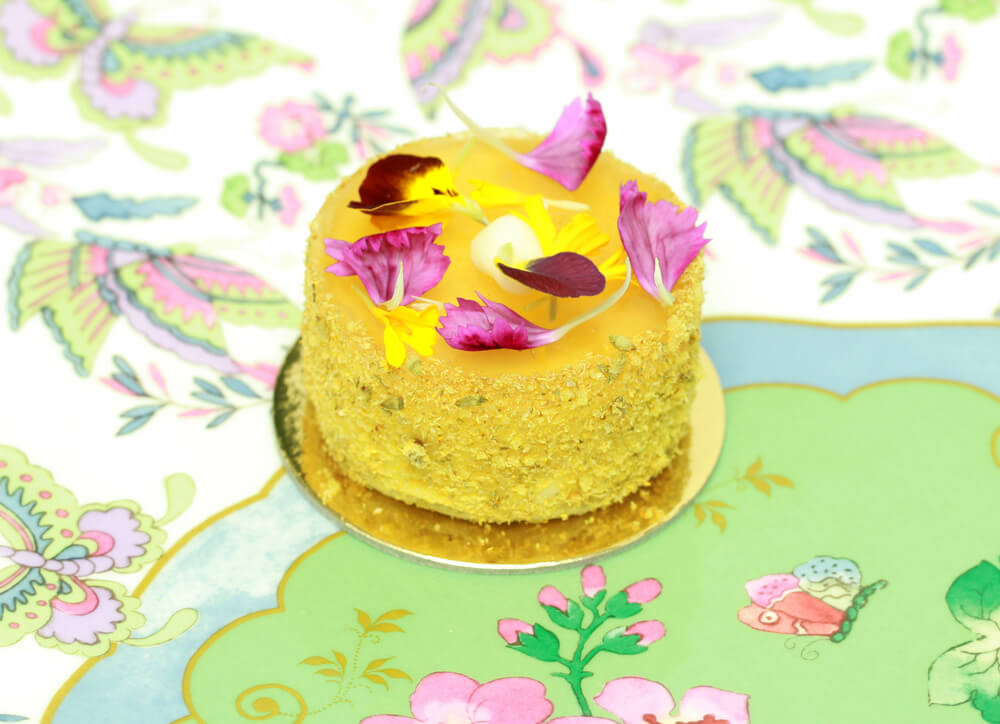 The Food: The cakes are inspired and, really quite delightful. There's a great selection, including matcha green victoria sponge, walnut and lemon verbena with caramelised petals, and a cake of 73% dark, chocolate, dill and fennel cream with flowered honey glaze. Perhaps the highlight of them all is a light violet mousse and white musk rose cream, thin frangipane and mandarin layer salted vanilla jelly. Scones come hot from the oven baked at the moment of request… This is a treat not to be missed, trust me.
Our Verdict: The tea is one of the most delicious ever tasted in the city. The tone is set by an amuse bouche of a sweet pea and chocolate mint, followed by sandwiches which are quite beyond compare. The cucumber and lemon oil sandwich is absolutely delicious, as is the toasted sweet corn, spinach and tarragon aged Gruyere, which comes to the table still bubbling from the grill.
 The Right Royal Afternoon Tea at The Royal Horseguards Hotel 
What: This beautiful tea is designed by John Waite, who featured on Great British Bake Off. There is a warm sense of welcome and gracious hospitality, in this sun-filled tea lounge in the Royal Horseguards Hotel.
The Food: The tea menu is inspired by events from her Majesty's past, for instance the raspberry and rose crumble chorus buns, created because the Indian Prime Minister came to the home office on his tour of Britain and met the queen who was holding a bouquet of red and white roses.
Our Verdict: The food is absolutely top notch. Cakes are also themed on the favourites at Buckingham Palace – chocolate cake being a firm favourite in the Royal household. Their chocolate cake features hazelnut caramel tart with maple mousse, and is a real highlight. At £39 per person for sandwiches, cakes and freshly baked scones with Cornish clotted cream- plus £10 for a glass of Champagne to raise a toast, it is a lovely afternoon tea experience.
The Skyline Tea at ME London Radio Rooftop Bar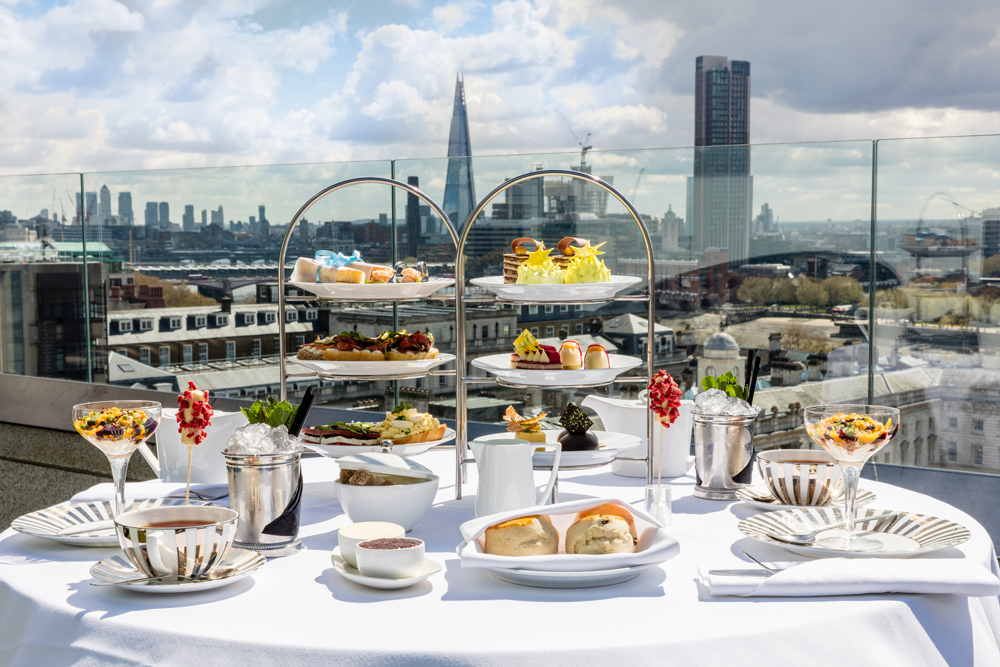 What: ME London's Radio Rooftop Bar, overlooking the Capital's iconic sights, has just launched its first ever afternoon tea: The Skyline. Guests can while away an afternoon viewing London's attractions from The Shard to The London Eye, whilst savouring traditional delights with a contemporary international twist. Skyline Afternoon Tea with tea or coffee is £45 per person, with Champagne afternoon tea priced at £55 per person and £60 per person for Rose Champagne.
The Food: The Skyline Afternoon Tea, a modern day interpretation of afternoon tea, serves sandwiches such as Croque Monsieur, compressed watermelon with feta and black olive tapenade and cucumber buffalo ricotta with black sesame seeds. To cleanse the palate between savoury and sweet, guests will experience a liquid nitrogen frozen fruit sorbet with earl grey mousse and popping candy. The final course of cakes and pastries include a blend of traditional dishes such as lemon meringue pie, hazelnut opera, and passion fruit tart, with modern flavours such as lemongrass with apricot and pistachio cake and a raspberry and lychee sandwich.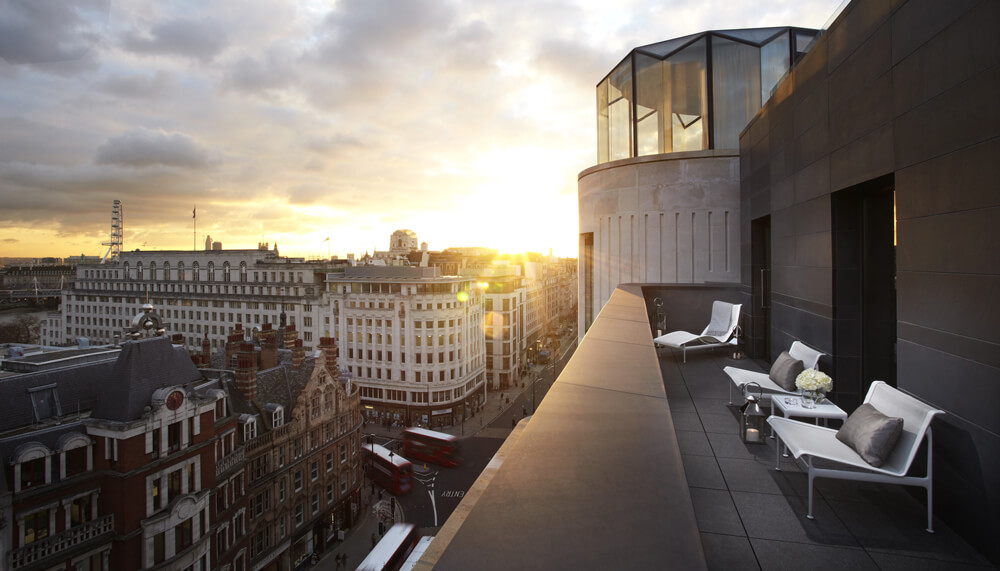 Our Verdict: Amazing for a real London experience. In celebration of The Skyline Afternoon Tea's launch, dinners can also pair the afternoon tea with Moët Imperial Brut, Perrier Jouët Brut and Billecart Rosé Champagne, as well as a range of herbal and traditional teas. For those who wish to experience a signature cocktail Radio Rooftop Bar's skilled mixologists have also created The Somerset, Rosemarie is on the Radio and a virgin Alkalize.
And something for luck…
What: If you're in a savoury mood, then get yourself down to Raj of Kensington. Relating to the Royal love of all things Indian, visit the recently opened Raj in Kensington for food rich in variety, taste and flavour. At the Raj, meaning"rule" in Hindi, there is a selection of the finest regional cuisines of India.
The Food: There is a set menu, the Travellers Yaktra menu, available for the entire table at £38 per person, which gives a delicious range of foods from lamb curry, once served on the long train journey from Bombay to Calcutta, to cider soaked King prawns sautéed with chopped peppers, tomatoes, spring onions and crushed mustard.
Our Verdict: Just delicious. I particularly recommend the murk Bezule which is west coast Mangalorean street food of chicken morsels coated with aromatic spices. The star of the menu are the best lamb chops, which are very tender and extremely tasty. This Barra Lamb Kebab is regional favourite in Peshawar, and must be tried. It has to be said that this has to be the best service in London, combined with some of the best Indian food, for a really special experience.