Teaming up with leading nutritionist Libby Limon, who believes in creating optimal health through a diet and lifestyle that fits around your life, Farmdrop has created three super-easy new recipes designed to boost cognitive performance. Containing a variety of ingredients, from seasonal asparagus to wild dandelion leaves, the recipes have been carefully curated to include the best foods to boost brain power and naturally combat fatigue.
Ingredients in the recipes are all available inclusively in a new brain-fuelling food bundle curated by Libby and available to purchase here. This Brain Fuel bundle includes three quick and easy meal options containing all the essential ingredients needed to boost cerebral power throughout the day. The bundle contains 17 of Farmdrop's fresh and larder ingredients, all from high-welfare and mostly local sources. Time to cook a feast:
Breakfast: Einstein's Breakfast
A perfect, healthy but hearty breakfast to sustainably fuel the mind for the day ahead, created by qualified nutritionist Libby Limon. The protein from the eggs, the complex carbs from the wholegrain sourdough and the healthy fats from olive oil and avocado mean you will feel fuller and more alert for longer. Combined with brain boosting ingredients such as spinach and asparagus, using both seasonal and organic ingredients will maximise their nutrient potential, while sourdough contains less sugar and uses a slow fermentation process that breaks down gluten, making it much easier on the digestive system than shop-bought sliced bread.
Serves: 1
Time: 15 minutes
Suitable for:
Ingredients:
2 eggs (per person)
100 grams of mushrooms
50g spinach
100g asparagus
½ tbsp olive oil (pantry)
¼ avocado
1 slice Sourdough toast
black pepper and sea salt (pantry)
Method: 
Beat and season the eggs. Place in the saucepan with half the olive oil, over a very low heat, slowly scramble the eggs by stirring gently regularly until they have silky texture.
Meanwhile, in a separate frying pan, slice the mushrooms and break off the woody ends of the asparagus. In high heat fry pan, add the olive oil and cook them off for 4-5mins until soft. Lastly, add in the spinach and allow it to wilt for 30sec to a 1min. Add seasoning to the vegetables.
Spread the toast with the mashed avocado. Top with the vegetables, pour over the eggs and serve.
Lunch: The Smart Salad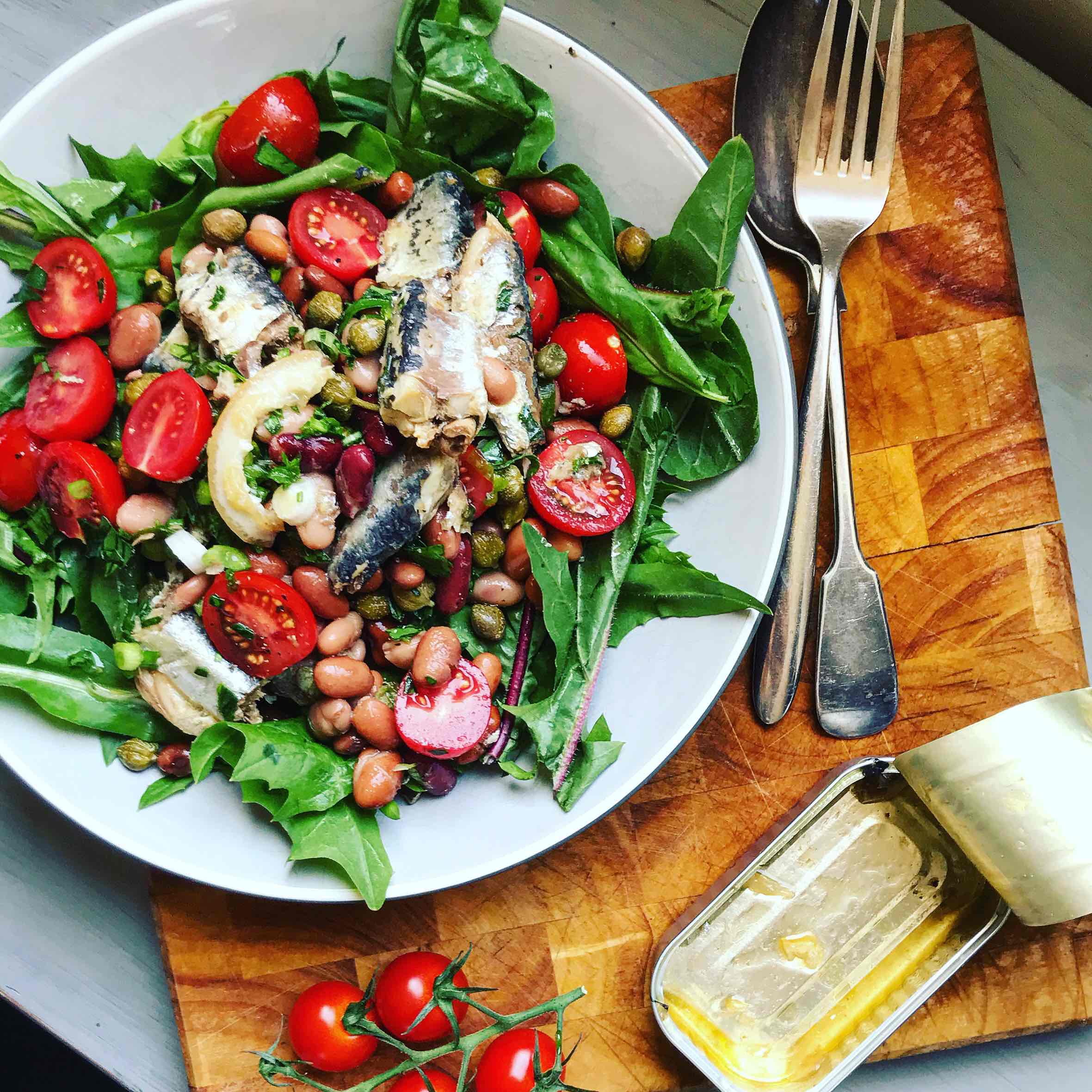 This recipe provides all your daily requirements for peak brain function. Oily fish provides DHA and B12, whilst beans, dandelion leaves and parsley are packed full of folate – a vitamin proven to help improve memory and concentration. British grown tomatoes contain powerful, neuro-protecting antioxidants which come from their natural red colouring. Eaten together, this is a fresh, delicious and easy way to make salad, with lots of vibrant antioxidants to protect your body and mind.
Serves: 1
Time: 15 minutes  
Ingredients: 
1 tin sardines in lemon olive oil
½ tin organic mixed beans
1 spring onion
10 cherry tomatoes
20g parsley
50g dandelion leaves
1tbsp capers (pantry)
1tbsp apple cider vinegar (pantry)
Method: 
Finely chop the spring onion and place in a bowl with the cider vinegar and capers. Leave to marinate for 5 mins.
Slice the tomatoes in half, drain off and rinse the beans.
Finely chop the parsley and add these and all the remaining ingredients to the spring onions.
Toss together to combine. Season and serve.
Dinner: Clever Cakes
A healthy gut equals a healthy mind, with both requiring the other to be healthy for optimal function. Fermented foods such as kimchi or kraut, contain live probiotics that can help support a healthy gut flora. Salmon is also a great source of omega 3 and B12, which support brain function and these delicious sustainable fish cakes are already handmade, so couldn't be quicker to prepare.
Serves: 2
Time: 50 minutes
Suitable for: 
Ingredients: 
1 large or 2 medium sweet potatoes
2 Forman and Field Hot-Smoked Salmon fish cakes
200g broccoli
2 tbsp sauerkraut or kimchi
2 handfuls of dandelion leaves