Established in 1982, The Chicago Rib Shack has restaurants in Clapham, Stratford Westfield, Twickenham and Leeds. Known for their burgers, delicious ribs and succulent chicken – The Chicago Rib Shack is a must for any American food fan. To celebrate all things meaty and delicious, the chefs share their favourite dishes from the menu that you can create at home:
Fried Chicken 
Ingredients
1 whole chicken
400g plain flour
180ml buttermilk
15g cayenne pepper
5g white pepper
15 dried rosemary
10g onion powder
5g garlic powder
1 lemon
2 sprigs fresh rosemary
2 sprigs fresh oregano
50g pink salt
4 bay leaves
Vegetable oil
Method 
Cut your whole chicken into 8 pieces. You should have 4 breast pieces (with wings on), 2 thighs and 2 drumsticks.
Make a brine with 1 litre of water, 1 lemon cut into half inch rings, pink salt, fresh rosemary, fresh thyme and bay leaves.
Add the chicken pieces to the brine and refrigerate over night. Make a dry mix with the spices and flour and use a spice grinder to grind the rosemary.
Dust your chicken pieces with some of the flour mix and put aside. Put the rest of the flour in a strong paper bag. Dredge the pieces of chicken through the butter milk and shake in the bag with the flour for 20 seconds until well coated and do one piece at a time.
Heat the oil in your fry pan to 160 degrees. To check if the oil is hot enough, drop a piece of bread in (the bread should brown after 30 seconds).
Fry of pieces in batches of 4 (dark meat then white meat). Turn every 5 minutes until cooked through, thicker pieces should take around 15 minutes with the breast pieces around 10 minutes depending on the size of your chicken.
Use a skewer to poke the chicken, if the juice running out is clear – it's done.
Key Lime Pie
Ingredients
150g plain flour
25g icing sugar
55g Butter
2 eggs
salt
For the Filling 
7 eggs
350ml double cream
10 lime
1 lemon
225g caster sugar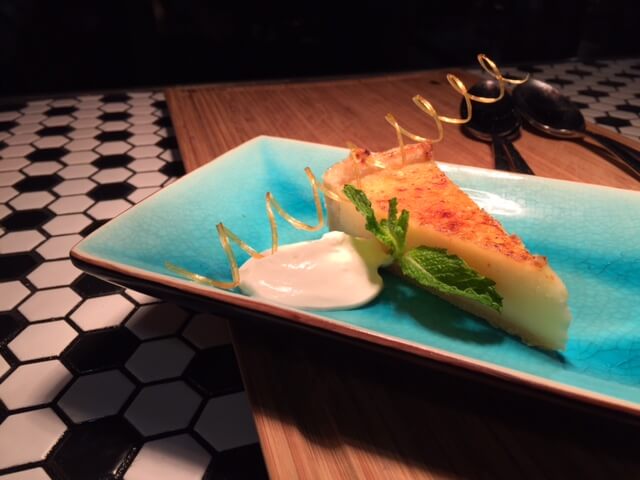 Method
Sift together the plain flour, icing sugar and a pinch of salt in a mixing bowl. Crumb with the butter until you have an even breadcrumb consistency.
Crack 1 egg into the mix and quickly knead to form a strong dough. Shape into a ball and slightly flatten, wrap in cling film and refrigerate for 30 minutes.
Remove the dough from the fridge and roll the pastry out to a 3 mm circle and line into a 10" pie tin.
Bake blind at 180 degrees for 20 minutes. Remove and egg wash the inside of the pastry and return to the oven to bake for a further 10 minutes.
For the filling, lightly whisk the eggs with the sugar until slightly pale. Add the rind and juice from the limes and lemon and stir in the double cream. Leave in the fridge for 20 minutes and remove any foam that may be on the top.
Fill the pie base to the brim (do this while the base is in the oven on the rack so you don't have to try to carry it) and bake at 150 degrees for 45 to 50 minutes. When cooked it should be set on the side but wobbly in the middle.
Allow to cool and serve with a dollop of creme fraiche and a sprig of mint.
Smoked Pork Shank Baked Beans
Ingredients 
2 Smoked pork shank
2 white onions
2 shallots
4 cloves garlic
5 bay leaves
1 tablespoon smoked paprika
1 teaspoon cayenne pepper
2 teaspoon ground cumin
1 teaspoon ground white pepper
1 red bell pepper
soft brown sugar
250g chopped tomatoes
150g tomato puree
125g butter beans
150g cannellini beans
Method
Chop the pork shank into half inch cubes. They are not very easy to fillet so ask your butcher to do this for you. Soak the diced meat in cold water for an hour before you need them.Finely chop your onions and shallots and sweat over a medium heat. Stir until they are soft and golden in colour.
Add the red pepper, finely diced along with the crushed garlic. Keep on stirring over a medium heat until soft. Add the spices and bay leaves to the mix and keep stirring making sure the spices don't burn. Add the diced pork and make sure all the pieces are covered. Continue on a medium heat for 5 minutes and then add enough water to cover.
Reduce the heat and allow to simmer for 2 hours, until the meat is soft. In a heat proof dish mix the beans, chopped tomato and tomato puree with a table spoon of soft dark sugar.
Add the pork and mix together. Bake in the oven without covering for 1 hour at 200 degrees or until the tomato has broken down and sauce has thickened – remember to stir every 15 minutes. When it's done serve on a piece of grilled rye with a poached egg.