What could be better than Mother's Day afternoon tea in London? Nothing saying 'I love you' like finger sandwiches and scones, right? The good news is London is full to the brim with amazing Mother's Day afternoon tea this year – everything from gin-based teas, to traditional fare, and wild and whacky teas. Here's where to get your clotted cream fix this Mother's Day in London:
1. For a Quirky Mother's Day Afternoon Tea: Cutter & Squidge, Soho
What: Soho-based bakery Cutter & Squidge are putting their own stamp on afternoon tea with their latest offering. Famous for its unique and quirky creations – spearheaded of course by the Biskie, this is no run of the mill job.
Eat: Lift the lid on the first layer and indulge in a selection of mini sandwiches and smoked cheese scones. Next up is the main event, in the shapely form of a Biskie – the one-of-a-kind fusion of biscuit/cookie /cake filled with lightened buttercream, jams and award-winning caramels, and a slice of the aptly named dream cake. Both confections use only the finest all-natural ingredients. To finish, an assortment of little sweet treats, including handmade marshmallows, mousses, brownies and truffles.
Price: £24.50 per person
Where: Cutter & Squidge, Brewer Street, Soho, London, W1
2.For a Traditional Mother's Day Afternoon Tea: Fortnum & Mason, Piccadilly
What: Afternoon Tea is always a sure-fire earner of brownie points. Fortnum & Mason are pulling out all the stops with their special afternoon tea at The Diamond Jubilee Tea Salon.
Eat: Signature tea towers will be complemented by a plate of delicate pâtisserie designed exclusively for the Mother's Day weekend – including black forest cake with striking mint chocolate work, passion fruit curd, raspberry cheesecake and salted caramel choux bun. The table can be decked with additional gifts  including the new Fortnum & Mason candle collection infused with the grocer's world renowned teas. Choose beautiful aromas of Earl Grey, Lapsang Souchong and Jasmine.
Price: Served with your choice of Fortnum's Classic Blend Tea £44 per person
Where: 181 Piccadilly, London W1A 1ER
3. For a Bespoke Mother's Day Afternoon Tea: The Ampersand Hotel, South Kensington 
What: The Ampersand Hotel are bringing back their amazing Mother's Day themed tea, available from Monday 29 February – Sunday 6 March. The hotel's talented pastry chef Mi Kyung Jeong, has created a special Mother's Day Afternoon Tea that boasts all the favourites.
Eat: Start by enjoying a selection of finger sandwiches including Gloucester old spot ham, wholegrain mustard on Mediterranean bread, spring smoked salmon, dill and cream cheese on brown bread, among others. Follow this with homemade white chocolate and plain scones, with Devonshire clotted cream and homemade strawberry preserve as well as delicious pastries including rose cup cake, spring tart, Simnel cake, Earl Grey opera, rhubarb compote with rosé champagne.
Price: £27.50 per person
Where: 10 Harrington Rd, London SW7 3ER
Photo Credit: Amy Murrell
4. For a Pretty Mother's Day Afternoon Tea: The Orangery, Kensington Gardens
What: For the day, The Orangery at Kensington Palace will be putting on a special Mother's Day Afternoon Tea complete with a harpist playing on Mothering Sunday from 2 – 4pm.
Eat: Treat her to an afternoon filled with pastries, orange scented and currant scones, and finger sandwiches in the beautiful setting that is The Orangery. Each tea will be decorated with edible rose petals and a complimentary glass of Rose Spumante Prosecco for each mother. Afterwards, enjoy walking through the beautiful grounds of Kensington Gardens.
Price: £28
Where: Kensington Palace, Kensington Gardens, London W8 4PX
5. For a Japanese Mother's Day Afternoon Tea: Kurobuta, Knightsbridge
What: Launching this week, Kurobuta at Harvey Nichols are introducing Scott Hallsworth's unique take on afternoon tea with his Tokyo Tea Party. The menu changes weekly, and is served Monday-Sunday from 3-6pm.
Eat: Tasty tea-time treats with an Asian twist. Think warm Kabocha scones (Asian squash), artichoke chopsticks, punk rock sushi, toasty chicken katsu sandwiches and sticky short rib buns. There's also Green tea ice cream, as well as daily "sweet surprises". All this will be washed down with tea, coffee or Kurobuta's super refreshing, homemade iced tea.
Price: £19 per person – add a glass of prosecco or a cocktail to the tea party mix for £25 per person
Where: 109-125 Knightsbridge, Fifth Floor, London, SW1X 7RJ
6. For a Cinematic Mother's Day Afternoon Tea: Charlotte Street Hotel, Fitzrovia 
What: Charlotte Street Hotel are putting on a special afternoon for Mother's Day. They'll be a film screening of Joy in the hotel's luxurious private cinemas followed by a three course lunch, dinner or afternoon tea in Oscar Restaurant. Film starts at 2pm and again at 5pm.
Eat: The sweet selection includes winterberry custard tart, apple and pear strudel, battenburg cake, chestnut macaroon and Oreo cupcake, alongside plain and fruit scones. Nibble on prawn cocktail sandwiches, goat's cheese and tomato palmier, chorizo rolls, ham and cheese croquettes and the much loved avocado on sour rye.
Price: £40 per person. Mum dines for free on tables of 4 or more.
Where: 15-17 Charlotte St, London W1T 1RJ
What: March brings a bright and creative start to the year with new limited edition creations from Executive Pastry Chef Zoe Wager at Conrad London St. James.Conrad Catwalk afternoon tea offers  elegant canapés and light bites to create a delicious journey through the eras of fashion.
Eat: Bites of delicate savoury morsels designed to tempt the palate include beetroot wafers, smoked mackerel with horseradish and beetroot caviar. Miniature cherry tartin with onion confit and choux pastry offer a fresh and clean taste, whilst the delicious selection of individual finger sandwiches include smoked salmon and crème fraiche and coronation chicken. The traditional scone has been reinvented with flavours of vanilla bean, raspberry and served with passionfruit curd.
Price: £65 per person with free flowing G.H. Mumm Cordon Rouge Champagne or £39 per person without champagne.
Where: 22-28 Broadway, London SW1H 0BH
8. For a Luxury Mother's Day Afternoon Tea: The Dorchester, Park Lane
What: Treat your mother to a wonderful afternoon tea experience at The Promenade at The Dorchester. Relax on their comfortable, high-backed, tufted divans and enjoy a traditional British Afternoon Tea accompanied by a glass of Laurent-Perrier Brut champagne. As a special gift, all mothers joining The Dorchester for afternoon tea will take home a small bouquet of posies.
Eat: Savoury bites on offer are, a selection of home-made finger sandwiches on artisan bread. There's also warm raisin and plain scones from their bakery served with home-made strawberry jam, a seasonal jam and Cornish clotted cream. To finish, there's a fine array of pastries and cakes, and a choice of their especially selected grand and rare teas.
Price: £59.00 per adult and £35.00 per child (aged 5-11 inclusive)
Where: 53 Park Ln, London W1K 1QA
9. For a Magical Mother's Day Afternoon Tea: The Sanderson, Soho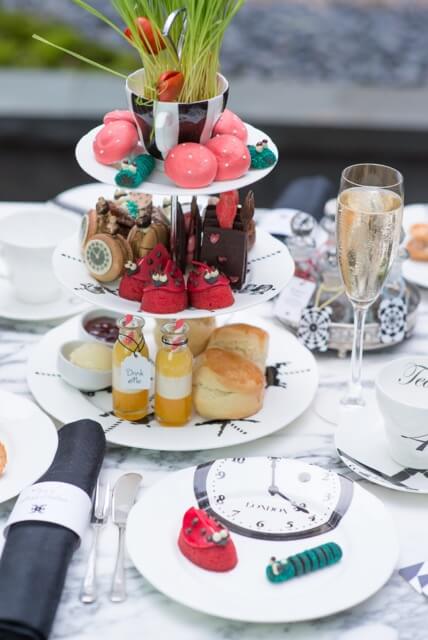 What: Inspired by Alice in Wonderland, the Sanderson is inviting everyone to enjoy the splendour of their Mad Hatter's Afternoon Tea. They can expect to discover menu's hidden inside vintage books, teapots adorned with kings and queens and sandwich plates decorated with carousels, birdcages and ticking clock.
Eat: Those with a sweet tooth will enjoy the red velvet Ladybird Cake, sinful scones, and especially created for Mother's Day, a chocolate pot with raspberry coulis.The savoury bites include specialist sandwiches, such as classic cucumber, sumptuous smoked salmon with caviar scotch egg, and white crab eclairs, all created with speciality ingredients.
Price: £58 per person, this special Mother's Day afternoon tea package also includes a glass of Perrier-Jouet brut champagne
Where: 50 Berners St, London W1T 3NG
10. For a Fashionable Mother's Day Afternoon Tea: The Churchill, Marylebone 
What: For Mother's Day, The Montagu are rolling out their very special Haute Tea, accompanied by lavish surprises and luxury prize draws. Furthermore, every lady who joins them on Sunday, 6 March, will take home a luxurious gift bag with indulgent treats and experiences from Molton Brown, Newby Teas, Beauty Rose and plenty more.
Eat: Stylish canapés includes smoked salmon sushi, leopard print brioche with foie gras and chicken liver parfait, goat's cheese mousse tartlet, roast beef with horseradish and a choice of fashionable sandwiches. For sweet fans, dig into vanilla and liquorice panna cotta, red velvet diamond studded macaroon and a chocolate gold stiletto. Sticking to tradition, warm fruit scones with lashings of homemade strawberry jam Cornish clotted cream and lemon curd are also  available.
Price: £38 per person, or £47 per person with The Churchill Bar's special "Needle & Thread" cocktail.
Where: 30 Portman Square, London, W1H 7BH
11. For a Fairytale Mother's Day Afternoon Tea: St James' Court Hotel, Westminster
What: Get lost in a whimsical world 'through the rabbit hole', with the St James' Court, A Taj Hotel's Afternoon Tea in Wonderland, with an exclusive selection of finger sandwiches, decadent pastries and Queen's recipe strawberry drop scones.
Eat: The eclectic menu of cakes and pastries is inspired by characters and quirks from Alice's Adventures in Wonderland, like 'Queen of Hearts' mango tarts, 'Drink Me' strawberry potion, 'Caterpillar's Mushroom' raspberry marshmallows, white chocolate mousse teacups and pocket watch macaroons. Accompanying finger sandwiches include Alice English cucumber and cream cheese on beetroot bread, fish footman tuna mayonnaise on white bread and Lory Cornish Yarg and tomato with redcurrant jelly.

Price: £30 per person
Where: 54 Buckingham Gate, London SW1E
12. For a Boozy Mother's Day Afternoon Tea: Hush Mayfair, Mayfair 
What: The quintessentially British experience of afternoon tea has been given a twist with Hush's Gin & Jam cocktails, giving you the perfect excuse to put some tipple in your tea time. Each cocktail has been curated with Hush's very own gin and tea, paired with a delicious hand made jam exclusively created for Hush by Wendy Brandon.
Eat: Classic tea time treats, including elegant finger sandwiches, warm scones with clotted cream and jam, macaroons and Earl Grey creme brûlée, served alongside a selection of artisan loose leaf teas by H. R. Higgins of Mayfair. Served in the beautiful surroundings of Hush's Silver Room, the tea is a quintessentially British experience, all featuring Hush's London-distilled boutique gin.
Price: £35 per person
Where:  Lancashire Court, 8 Brook St, London W1S 1EY
What: 
The
Lanesborough
 will launch a special afternoon tea this Mother's Day, in support of mothers2mothers, 
the
 charity which harnesses 
the
 power of Mentor Mothers to end paediatric AIDS in Africa. Recently re-opened after its 18-month refurbishment, 
the
 hotel will donate £5 from each tea which will be available between 6 – 24 March directly to mothers2mothers.
Eat: The hotel's star Head Pastry Chef, Nicolas Rouzaud has created a special afternoon tea to inspire awareness and donations for the cause.  Served in the stunning surrounds of the hotel's fine dining restaurant Celeste, the tea includes a specially designed cake inspired by the charity's logo, along with finger sandwiches, patisseries and homemade scones.
Price: £48 per person or £62 per person with a glass of Champagne Taittinger
Where: Hyde Park Corner, London SW1X 7TA
14. For a Musical Mother's Day Afternoon Tea: The Wellesley. Knightsbridge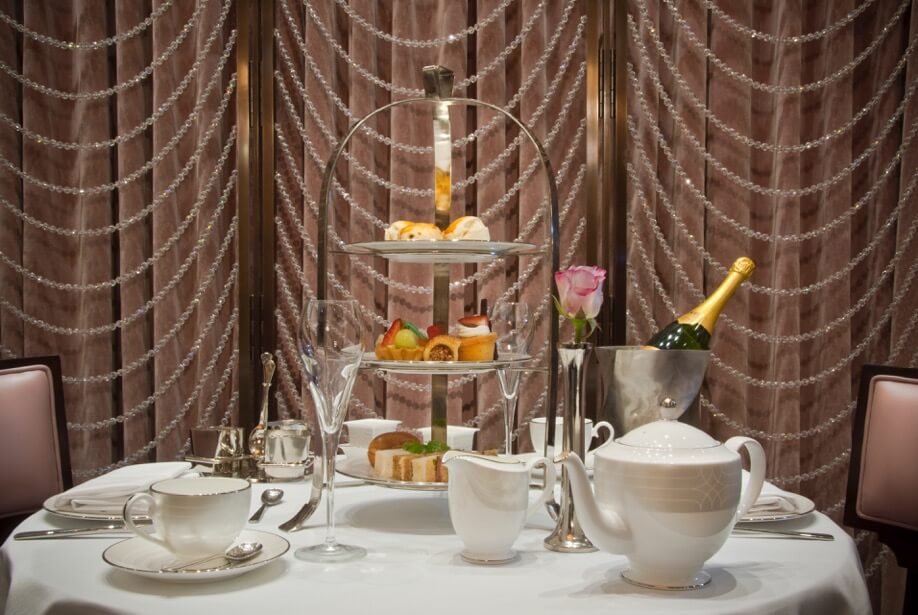 What: The luxury boutique hotel offers a classic and intimate Mother's Day afternoon tea in the elegant surroundings of The Jazz Lounge. Everyone can enjoy an afternoon tea whilst listening to the live pianist in the 1920's inspired room.
Eat: Created by Pastry chef Cristiano Paolini the enticing Mother's Day Afternoon Tea combines the classic with the contemporary and includes teas that have been hand selected from the world's prime estates. The hotel has its own tea sommelier who offers an amazing range of tea – including the signature Churchill blend which combines the bitterness of a black tea with sweetness of vanilla and amaretto. All tea is paired with delicate constructions of desserts and finger sandwiches.
Price: £55 per person, including Veuve Cliquot rose champagne
Where: 11 Knightsbridge, London SW1X 7LY
15. For a Complimentary Mother's Day Afternoon Tea: Flemings Hotel, Mayfair
What: When dining with at least three others, mums can be treated to a free decadent Afternoon Tea in the hotel's Drawing Room on 5th and 6th March (2pm or 4pm sittings). Part of an impressive £14 million refurbishment at the luxury hotel, The Drawing Room is an elegant haven that captures the essence of a traditional Regency drawing room.
Eat: Start with a glass of champagne or virgin cocktail, followed by a selection of freshly made sandwiches, handmade scones, a mouth – watering assortment of petit fours and a selection of the East India Company's refreshing teas.
Price: £49.50 per person
Where: 7 – 12 Half Moon Street, London W1J 7BH
16. For a Sweet Mother's Day Afteroon Tea: The Savoy, Strand
What: The Savoy presents the Temptation Wheel, which offers an exquisite dining experience this Mother's Day with desserts and hand-crafted cocktails; a stylish upgrade from the typical afternoon tea. Served in the Thames Foyer at the heart of The Savoy, with its magnificent glass domed atrium, this is the perfect enchanting and elegant space for chocolates and cocktails on Mother's Day.
Eat: All the desserts. The sweet menu is all about decadent puds such as; One Thousand and One Layers – ginger chiboust cream, roasted mangoes, passion fruit caviar, and caramelised puff pastry, and roasted figs with almond brittle, and red wine marbled ice cream. The cocktail selection includes Southern Rose – Grey Goose, rose, muscat, St Germain, raspberry syrup, and Kings and Quince made with Woodford Reserve, quince liqueur and salted almond.
Price: Desserts start from £16
Where: Strand, London WC2R 0EU
17. For a Grand Mother's Day Afternoon Tea: Crocker's Folly, St Johns Wood
What: Afternoon tea is best enjoyed in grand surroundings, and they don't come much grander than Crocker's Folly, a Grade II listed former gin palace, painstakingly restored and repurposed as a show-stopping restaurant and bar.
Eat: The menu changes weekly, but expect finger sandwiches filled with egg mayonnaise and watercress, Scottish smoked salmon and cream cheese, roast beef, rocket and horseradish, and buffalo mozzarella, tomato and basil. There's also a range of cakes up for grabs – Victoria sponge, black forest gateau, lemon tart with meringue, and seasonal fruit tart. Don't forgetting scones, jam and all washed down with an enviable selection of teas and glasses of Ruinart champagne.
Price: £22.50 per person (or £30 with champagne included). Monday – Saturday, 2.30 – 6pm
Where: 24 Aberdeen Place, St Johns Wood, London, NW8 8JR
18. For a Classic Mother's Day Afternoon Tea: The Arch London, Marylebone 
What: Five-star boutique hotel The Arch London is the perfect place for a spot of afternoon tea. The Arch London is tucked away on a calm residential street in Marylebone and spans seven Grade II listed Georgian townhouses and two mews homes. The afternoon tea can be enjoyed in the hotel's stunning Martini Library, stylish restaurant, or chic Salon de Champagne lounge.
Eat: The specially created Mother's Day Afternoon Tea features timeless classic treats such as fruit scones with strawberry jam and clotted cream, rhubarb and custard tarts, chocolate and blood orange tea cake and coffee éclairs
Price: £25 per person or can be upgraded to a Champagne Afternoon Tea
Where: 50 Great Cumberland Pl, London W1H 7FD
19. For a Special Mother's Day Afternoon Tea: Pont St, Belgravia 
What: Mother's Day at Pont St will be an opulent affair with a champagne afternoon tea inspired by Marie Antoinette. All mother's will be given a gift to take home to mark the special day. Available Sunday 6th March from 1pm – 5pm.
Eat: The menu includes savouries such as foie gras on brioche toast, cheese balls with quince and Hollandaise quail egg tartlets, and finger sandwiches. Sweet treats such as champagne lychee jelly with rosewater cream, absinthe choux and chocolate opera cake sit alongside classic scones with jam and clotted cream.
Price: £50 per person 
Where: 20 Chesham Place, London, SW1X 8HQ
20. For a Detox Mother's Day Afternoon Tea: The Courthouse Hotel, Soho
What: The Afternoon Teatox is the perfect way to relax and recharge during a hectic day's shopping in nearby Soho, or simply to enjoy the opulence of the hotel's stunning in-house restaurant, Silk, which is complete with original judicial furnishings from the hotel's former days as the Marlborough Street Magistrates Court.
Eat: The Mother's Day Afternoon Teatox includes a selection of herbal tea delights such as the immune system – boosting ginger peach or cholesterol busting pomegranate. Crudités with fresh hummus come with a zesty shot of juiced green apple, celery and cucumber, along with delicacies such as artisan smoked salmon and citrus guacamole on crispy oat bread, which makes way for guilt- free sweet options like fresh fruit kebab of pineapple, blackcurrants and watermelon with honey yoghurt and raspberry sorbet.
Price: £24.50 per person
Where: 19 – 21 Great Marlborough Street, W1F 7LH