Once again, Chelsea Flower Show has returned to London, with the city embracing flower power in full force. From floral themed menus, edible flowers and flower cocktails – we've rounded up the best edible floral treats London has to offer. Pack your hay fever tablets:
1. For a Pop-Up: The Dorchester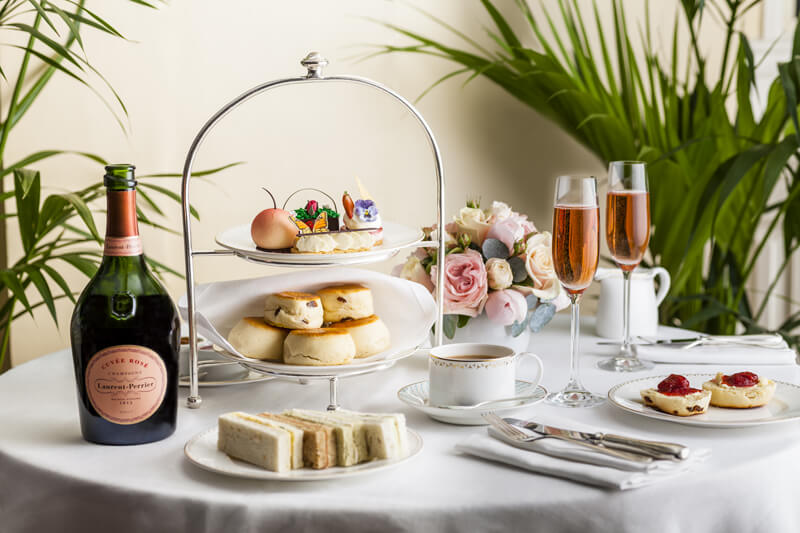 What: Looking for something special? Well, this year, The Dorchester will be celebrating Chelsea Flower Show by serving afternoon tea in a bespoke pop-up restaurant at the show. This exclusive afternoon tea showcases the talents of The Dorchester's head pastry chef, David Girard, and designer florist, Philip Hammond, who have collaborated to create a special dining experience.
Eat: Each cake tells a story. Try The Dorchester and the Giant Peach – a peach mousse with peach and verbena on a rice crispy biscuit to honour the 100th anniversary of Roald Dahl's birth. There's also the Garden Basket – a flower pot filled with lime, white chocolate, fresh strawberries and a sprig of mint sprouting out of chocolate crumble, accompanied by berry and hibiscus coulis, served in a watering can.
Why: Because the setting is beautiful, too. The Dorchester Afternoon Tea will be served in a specially decorated space at the show, evoking the heritage and glamour of The Promenade. The room will feature famous urns and palms that line The Promenade, as well as live music from The Promenade resident pianist. Tea will be served in The Dorchester's own china, bringing a taste of the iconic British hotel to the show.
When: The Dorchester Afternoon Tea at the RHS Chelsea Flower Show will cost from £60 per person available from Tuesday 24 May until Saturday, May 28 2016. Tickets can be purchased online here.
What: Visiting the Chelsea Flower Show this year? Fuel up with a pit stop at Gordon Ramsay's two maze Grill restaurants in Chelsea, where a table side picnic-inspired lunch menu will be served from 23rd – 28th of May.
Eat: Created for the horticultural fans visiting the show, the menu features picnic staples prepared with a maze Grill twist. There's all the essentials there: British sparkling wine, afternoon tea, coffee and cakes. Take a break from the hustle and bustle of the show and indulge in sausage roll enhanced with hot Iberico ham and a Scotch egg with a quail egg and lobster. There's also farmhouse terrine and you must try the house-fried potato crisps, which are topped with a leek mousse and nori. Picnics never looked so good.
Why: Because you get a taste of the best here. To top-off the eight dishes, the restaurants have included their signature spicy salmon maki rolls, for a Japanese element to the picnic. You will then end the feast with afternoon tea, coffee and cake – what's not to love?
When: Available until 4pm each day, the sparkling picnic lunch costs £35 per person, including a glass of Balfour Brut Rosé.
3. For Dining Al Fresco: Bibendum
What: To celebrate all the things floral, Bibendum restaurant has teamed up with A Place in the Garden, five time Chelsea exhibitors, who will be returning to the Royal Hospital gardens this year. Pop in for lunch at Bibendum and you'll be greeted with a very lush, green facade and a distinctly floral feel.
Why: The space will fuse traditional and temporary design with the timeless art of Topiary and planting. This unique combination will create a calming atmosphere in which to dine al fresco within the elegance of the Art Deco Michelin Building. The garden will be teaming with plants of deep green and soft grey; complementing the quintessential settings of Bibendum whilst remaining contemporary in its aesthetic.
When: The Courtyard Garden at Bibendum: 24th – 28th May 2016
4. For Special Cocktails: Gallery Mess
What: Flower power! To celebrate the Chelsea Flower Show, Gallery Mess will be featuring a floral cocktail, The Lavender Paloma, alongside a dedicated set-menu of fresh dishes to put a spring in your step. Boasting an enviable location, just off the King's Road, Gallery Mess is great place to relax and unwind after a busy day of browsing the show's floral displays.
Drink: In true flower-power style, The Lavender Paloma cocktail is a heady, fruity mix of tequila, grapefruit juice, house-infused lavender syrup and topped with a spring of lavender, drawing inspiration from the beautiful blooms of the iconic Flower Show.
Why: Take a seat indoors amongst the stunning art-displays or dine alfresco on the sunshine-soaked terrace and enjoy a suitably superb menu provided by award-winning rhubarb, responsible for all of the restaurant's food and drink. It's really the most beautiful spot.
Price: Bursting with seasonal flavours, the light and delectable Chelsea Flower Show menu is priced at £19.50 for two courses or £24.50 for three, including a glass of wine or the Lavender Paloma Cocktail.
5. For Gin Cocktails: The Botanist
What: Looking for a special pop-up? Well, The Botanist Sloane has unveiled a BLOOM Gin pop-up for Chelsea in Bloom. This pop-up features a new curated menu of special floral cocktails, and will run for the duration of the Chelsea Flower Show.
Drink: Chelsea de Janeiro is a blend of BLOOM Gin, Kings ginger, kiwi, hibiscus, grapefruit bitters, pink grapefruit and pineapple syrup. Botanist Floral Spritz, featuring BLOOM Gin, Belsazar White, Kamm and Sons, St Germain elderflower, lemon juice and a dash of Angostura bitters, is topped with soda and garnished with cucumber, dill and an edible flower. These cocktails will wow you.
Why: Brought to you by Cadogan, Chelsea in Bloom sees local retailers competing to create carnival themed displays made entirely from fresh flowers. This year The Botanist Sloane Square has teamed up with BLOOM Gin to create two delightful, floral and botanical cocktails alongside a truly ginspirational pop-up. Chelsea in Bloom is a lovely floral alternative, which brings the world famous event out into the local area. We love.
When: Wednesday 25th until Saturday 28th May between 12pm- 8pm
6. For Afternoon Tea and Spa: Sofitel London St. James
What: In celebration of the 2016 RHS Chelsea Flower Show, Sofitel London St James has created a new afternoon tea menu and spa package inspired by the horticultural extravaganza, available until the end of May. A mixture of amazing cakes and pastries, and the ultimate floral facial and massage, this package will both relax and excited you.
Eat: Head chef Matt Greenwood has crafted four delectable pastries , which will be served alongside a specially created champagne cocktail and guest's choice of tea in the tranquil setting of the So Spa. The cakes includes Poppy Velour, a vanilla sponge with a heart of strawberry compote, poppy mousseline cream and pink chocolate spray atop a poppy seed base, and Rose Tartlet, a sweet pastry shell filled with rhubarb and grenadine compote topped with rose water cream petals.
Why: Alongside their afternoon tea, guests can indulge in a floral inspired package designed to leave skin nourished and deeply relaxed. A refreshing hibiscus tea welcomes guests on arrival, followed by a 30-minute brightening Fleur de Bali facial. In a mist of rose or orange blossom petals, guests are then indulged in a 30-minute back massage using sesame, neem and boswellia oils.
When: The Spa and Afternoon Tea package is available for £117 – the tea is also available to take in the Rose Lounge for £32.00 for two, and the spa package on its own can be booked for £85. The tea and spa package runs until the 31st May 2016.
7. For Afternoon Tea: Flemings Mayfair
What: Want a luxury adventure? Well, luxury boutique hotel Flemings Mayfair is hosting a very special Chelsea Flower Show Afternoon Tea, in honour of the floral occasion. Well-versed in the art of indulgent foodie offerings, Flemings Mayfair has curated a fitting homage to the annual event by adding a touch of green-fingered glamour to The Drawing Room.
Eat: Enjoy a selection of traditional finger sandwiches, along with fresh scones served with clotted cream and jam, followed by decadent mini cakes including exotic pineapple choux, opera cake, homemade Victoria sponge and strawberry macaroons all decorated with edible flowers, of course.
Why: They've got a fantastic special cocktail, too. The tea is accompanied by a Chelsea Bloom – a vodka-based tipple featuring elderflower and blueberries topped up with champagne, which is the perfect way to raise a glass to one of most beautiful British institutions. The tea is served in The Drawing Room, an elegant space launched in 2015 as part of the hotel's impressive £14 million refurbishment.
When: Available 24th – 29th May, price at £43.50 per person and comes with the Chelsea Bloom cocktail
8. For Champagne: Thomson & Scott
What: Thomson & Scott, specialists in zero and low sugar Champagnes and sparkling wines, are hosting a floral themed pop-up, during the Chelsea Flower Show at The Good Place. You might know the name from Thomson & Scott Skinny Champagne and Thomson & Scott Skinny Prosecco. The pop-up takes place at The Good Place's annual summer party – for one day only!
Drink: The #FloralFizz pop-up takes place on Thursday 26th May, and guests can indulge in no added sugar Thomson & Scott Skinny Champagne and low-sugar treats from Sweet Elements London, whose range includes gluten-free and low-sugar cupcakes.
Why: Thomson & Scott is passionate about delivering top quality Champagne with no added sugar. The Good Place, Chelsea showcases beautiful and ethical brands that 'do good', and the thoughtful stories behind them. Together they bring a new kind of indulgence for today's conscious consumer. What's more. The Good Place featured brand 3107 Skincare will be offering complimentary hand massages.
When: The pop-up, #FloralFizz will run from 11am-6pm on Thursday 26th May at The Good Place, Chelsea
9. For More Cocktails: Benares
What: This May, paying homage to Chelsea Flower Show, Atul Kochhar's Michelin-starred Benares in Mayfair will be serving a collection of floral cocktails, inspired by the fragrances and flora of the show.
Drink: Created by Benares' Head Barman, Stefano Marchetto, 'The Garden Collection' of three, exclusive cocktails will showcase a variety of delicate herbs, fruits and Benares' homemade floral syrups, for the perfect post-flower show pick-me-up.
Why: The Garden Collection includes an amazing Jasmine Sour with Amaretto, Cointreau, dried lavender and fresh lemon, and Chelsea Garden with Sipsmith gin, rosemary syrup and violet liqueur. They are seriously delicious; if you like vodka, you must try the Mandarin Blossom with Grey Goose, mandarin syrup and orange blossom essence.
When: Benares, 12a Berkeley Square, London W1J 6BS – avaiable 23rd – 29th May. 
10. For Non-Alcoholic Cocktails: Social Eating House
What: Seedlip, the world's first non-alcoholic spirit, have partnered with The Social Company to create a special cocktail serve to celebrate this year's Chelsea Flower Show.
Drink: This unique serve is created using Seedlip's newest product, Seedlip Garden 108, which is a green and floral blend of copper-pot distillates including handpicked peas and hay from the founder's family farm and traditional herbs including spearmint, rosemary & thyme.
Why: Because who needs booze when it tastes this good? Trust Jason Atherton to always be ahead of the trends, and this is no exception. 
When: "Due Dilligence" is now exclusively previewed in all Jason Atherton establishments, including Little Social, Pollen Street Social, Social Eating House and Berners Tavern before Seedlip Garden 108 officially launches on 24th May and is then available throughout the summer.
11. For Special Afternoon Tea: The Ampersand
What: Inspired by the Chelsea Flower Show, head indoors to The Drawing Rooms of the beautiful Ampersand Hotel and enjoy a floral afternoon tea that's a feast for all the senses.
Eat: Savouries include Spring smoked salmon with dill cream cheese, Egg mayonnaise & Mustard cress and 'Leoncini' prosciutto cotto with whole grain mustard.
Why: There's some amazing sweet treats too. Pastry Chef Mi Kyung Jeong has created a selection of pastries that celebrate the prestigious Chelsea Flower Show, including a green tea and jasmine blossom mousse in a ginger bread garden, violet macaroons and raspberry and rose layered cake.
When: The Ampersand – £32.50 per person or £45.50 per person with a glass of champagne. Enjoy complimentary glass of Champagne Monday – Friday, when booking The Chelsea Flower Show Afternoon Tea Special offer on line.
12. For Sipsmith Cocktails: Galante
What: To herald this year's Chelsea Flower Show, the team at Chelsea's Bar Galante have created a veritable floral haven for guests to enjoy.
Drink: With three specially curated signature Sipsmith Gin serves available throughout the week, even those not attending the Chelsea Flower Show will be able to enjoy floral brilliance. The Lavender Sour combines Sipsmith Gin with a homemade lavender syrup, balanced with citrus juices and shaken with egg white.The Gin Rose Smase fuses rose and cardamom together with gin, fresh grapefruit and bitters. For the martini lovers, there will be a Raspberry and Rosemary Martini, which uses Sipsmith's overproofed V.J.O.P. alongside fresh raspberries and rosemary.
Drink: Styled on the decadence of 1930s and 40's, Bar Galante is an Argentine inspired gem of Sloane Street with an impressive cocktail list, including ones inspired by the era, along with a selection of innovative drinks with Argentine heritage. As well as an extensive drinks menu, the bar also serves divine Argentine snacks, from sesame seared beef to lobster ceviche.
When: Galante, 87 Sloane Ave, London SW3 3DX – cocktails until the 29th May.
What: This recently revamped Japanese restaurant are going for gold with their exclusive menu to celebrate the Chelsea Flower Show. As of the 24th May, Chelsea will be in full bloom with floral displays transforming the Royal Borough and springing to the mark are MURAKAMI whose elaborate menu is a pure celebration of colour and Japanese flavour.
Eat: Tuck in to the stunning 'Aburi Sushi' which includes a selection of beautifully presented sushi and edible flowers. Think: salmon with wasabi kizam and Tuna spicy onion salsa and salmon with blanched white asparagus.
Why: Also on the menu will be a handful of Sushi Rolls; choose between fresh mango, avocado, tuna roll with golden leaves, tuna and avocado roll with lime in Maminori and crispy rice crackers or the delicious soy and sake marinated salmon roll.
When: This show-stopping menu will be on display from the 23rd – 29th May.
14. For a Unique Tea: 11 Cadogan Gardens
What: Award-winning chef Alexis Gauthier has created an inspired new style of afternoon tea for 11 Cadogan Gardens. The first time in London that a chef of Alexis' renown has put his name to an afternoon tea, The Flower Tea by Alexis Gauthier retains the essential elements of savoury, scones and sweet, but brings a lightness and finesse in execution missing in other heavier, more sugary offerings.
Eat: It begins with elegant savouries – an amuse- bouche of warm choux followed by a selection of tea sandwiches, such as hay smoked beetroot, aged Cheddar and pickle, and smoked salmon, bergamot and cream cheese. Classic scones follow, served with clotted cream and Wilkin & Son special preserves, after which a floral pre-dessert  is served to cleanse the palate for the sweets to come. Called 'Flower Delicacies', Alexis' exquisite patisseries include Chamomile & Honey, light honey mousse, chamomile jelly & Indonesian Lemon Pepper and Rose petal, fondant rose macaroon, lychee & bergamot, raspberry cream.
Why: The last of the Flower Delicacies is Alexis' most personal and unique note, his homage to a favourite fragrance embodied in patisserie. Each season Alexis will choose a fragrance – for Winter, Hermès' Un Jardin Après La Mousson – and challenge himself to translate the fragrance into flavours. For Un Jardin Après La Mousson this means a jellied and crunchy blend of bergamot, cardamom, coriander and light cayenne pepper, in a confection shaped like the perfume's famous flacon. Amazing.
When: 11 Cadogan Gardens, London SW3 2RJ – £40 per person; with a glass of Deutz NV Champagne, £52 with a glass of Duetz, Champagne Rosé £60, with a glass of Cuvée William Deutz 2004 £95.
What: Artisan Italian gelato specialist Amorino is marking 2016's RHS Chelsea Flower Show by unveiling the world's first lickable florists in the heart of Chelsea's iconic King's Road. Technicolour gelato cones, sorbet rose petals and rich ice cream floral bouquets will offer a sensory experience that tastes just as sweet as it smells with dozens of flavours on offer to coincide with the country's most prestigious flowershow which runs from 24-28 May in the grounds of The Royal Hospital.
Eat:  With over 20 exotic flavours – from Mango Alfonso d'India and Ginger and Blood Orange to Caramello al Burro Salato and Tiramisu, the gelato roses are unlike any Chelsea has seen or tasted before.
Why: RHS Chelsea is expected to attract over 170,000 visitors from across the globe. Hubert Attali of Amorino said: "The King's Road has been celebrated for its glamour, fashion and celebrity for decades and we thought it was about time to celebrate its floral heritage which is arguably second to none. We have drawn the line at giving our ice creams Latin botanical names, but flowers you can admire for their beauty and then eat seems like a very enjoyable way to do it."
When: Gelato flower cones and bouquets are available throughout the RHS Chelsea Flower Show at the store at 67A Kings Road, with prices starting from just £3.50 a cone.
And one for luck..
16. For Honey Cocktails: South Place Hotel
What: Boutique City of London hotel, South Place, has partnered with artisan preserves company, Butterfly and the Bee, to offer a selection of four honey-infused cocktails in the Secret Garden open-air bar.
Eat: The 'Sweet Spritz' is a blend of rhubarb liqueur with rum, lemon and honey, garnished with grapefruit zest and mint. The 'Honeycomb Old Fashioned' combines a sweet hand-blended honey and camomile syrup, with zingy orange bitters and rum. The 'Bee Sting' packs a fruity punch with a rum, mango, lime and honey blend. Brandy-based 'Honeydew' combines lemon, honey and rhubarb notes with muskmelon-flavoured liqueur.
Why: In celebration of the Chelsea Flower Show and the start of summer, the new cocktails are set to send taste buds into a blooming frenzy.
When: South Place Hotel's limited-edition 'Bee's Knees' cocktail menu will be available in the Secret Garden bar until 28th May – £11.50.