Warning: if you love chocolate as much as us, and you're hungry, then look away now. This week, we've teamed up with our friend's at Billington's for a special week dedicated to all things baking – we'll be exploring the baking recipes with Billington's, amazing coffee shops in London and how to make breakfast with Billington's at home. To stay up to date with #BakewithBillingtons week, follow them on Twitter here and like them on Facebook here. Now, let's talk chocolate cake. We know how we like it: sweet, moist and full of rich flavour. No dry cakes in sight, here's where to find London's best chocolate cakes:
1. Best Triple Chocolate Cake: Bea's of Bloomsbury
Order: Triple chocolate cake
What to Expect: The 3-layer cake to end all cakes: chocolate Devil's Food cake, smooth chocolate buttercream and dark chocolate truffle, layered together and glazed in chocolate. Glorious.
The Story: With stores in Bloomsbury, St Paul's and Farringdon, Bea's serves customers across London with the best cake around. Bea's of Bloomsbury is an independent tea room, known for baking unique goodies, with a menu based on using the best seasonal ingredients available – it's all about care and dedication with this team. Their afternoon tea has won them a mantlepiece full of awards and that equals great cakes. Note: the white chocolate blondies at Bea's are an absolute beauty and will certainly perk you up on a Sunday afternoon.
Where: Locations here
2. Best Chocolate Caramel Cake: Primrose Bakery
Order: Chocolate caramel layer cake
What to Expect: A rich dark chocolate sponge, filled and topped with silky salted caramel icing. They decorate this special layer cake with crushed daim bars for an extra caramel crunch.
The Story: Primrose Bakery, founded in October 2004, is an unstoppable force in the London bakery scene. With four cookbooks and an app, Primrose is much more than a bakery. The focus here is on simple old fashioned cooking, using good quality, seasonal and well-sourced ingredients, to create the ultimate baked goods. The cupcakes are baked fresh every day, using free range eggs and organic products, in small batches to ensure quality and freshness. Come here for the best red velvet, salted caramel and classic chocolate cupcakes around. 
Where: Locations here
3. Best Quirky Chocolate Cake: Konditor & Cook
Order: Chocolate Curly Whirly cake
What to Expect: Rich and dark chocolate sponge cake, layered with smooth vanilla bean frosting and decorated with swirls of dark chocolate ganache. The Curly Whirly is their most famous cake, perfect for a birthday, celebration or an indulgent treat.
The Story: Everybody rants and raves about Konditor & Cook, even Nigella Lawson is a fan and that lady knows her stuff. Established in 1993 by Gerhard Jenne, who trained as a pastry chef in Munich, the shop specialises in brownies, cakes, and a whole host of other baked delights. Think lime and blueberry cheesecake, lemon chiffon cake, summer berry tart and the crowd-pleasing take on a Victoria Sponge. Their chocolate noisette cake, with chocolate and hazelnut sponges and a gianduja mascarpone frosting, needs to be tried to be believed.
Where: Locations here
4. Best Wicked Chocolate Cake: Hummingbird Bakery
Order: Mile High chocolate salted caramel cake
What to Expect: Take a first-class ticket to heaven with a slice of this sensational chocolate salted caramel cake – it's utterly divine. Soaring sky-high, this decadent cake has six layers of the richest chocolate sponge imaginable, sandwiched with golden salted caramel, smothered with chocolate frosting and scattered with caramel curls. As naughty as it sounds.
The Story: The Hummingbird Bakery handmake American style cupcakes, cakes, pies and brownies with serious style and flair. They're also well known for baking unbelievable cheesecake and pies. Drop into one of their many locations across London and don't forget to buy one of their famous red velvet cupcakes – known all throughout London, their Red Velvet is happiness in cake form.
Where: Locations throughout London – here
5. Best Build-a-(Chocolate)-Cake: Kroger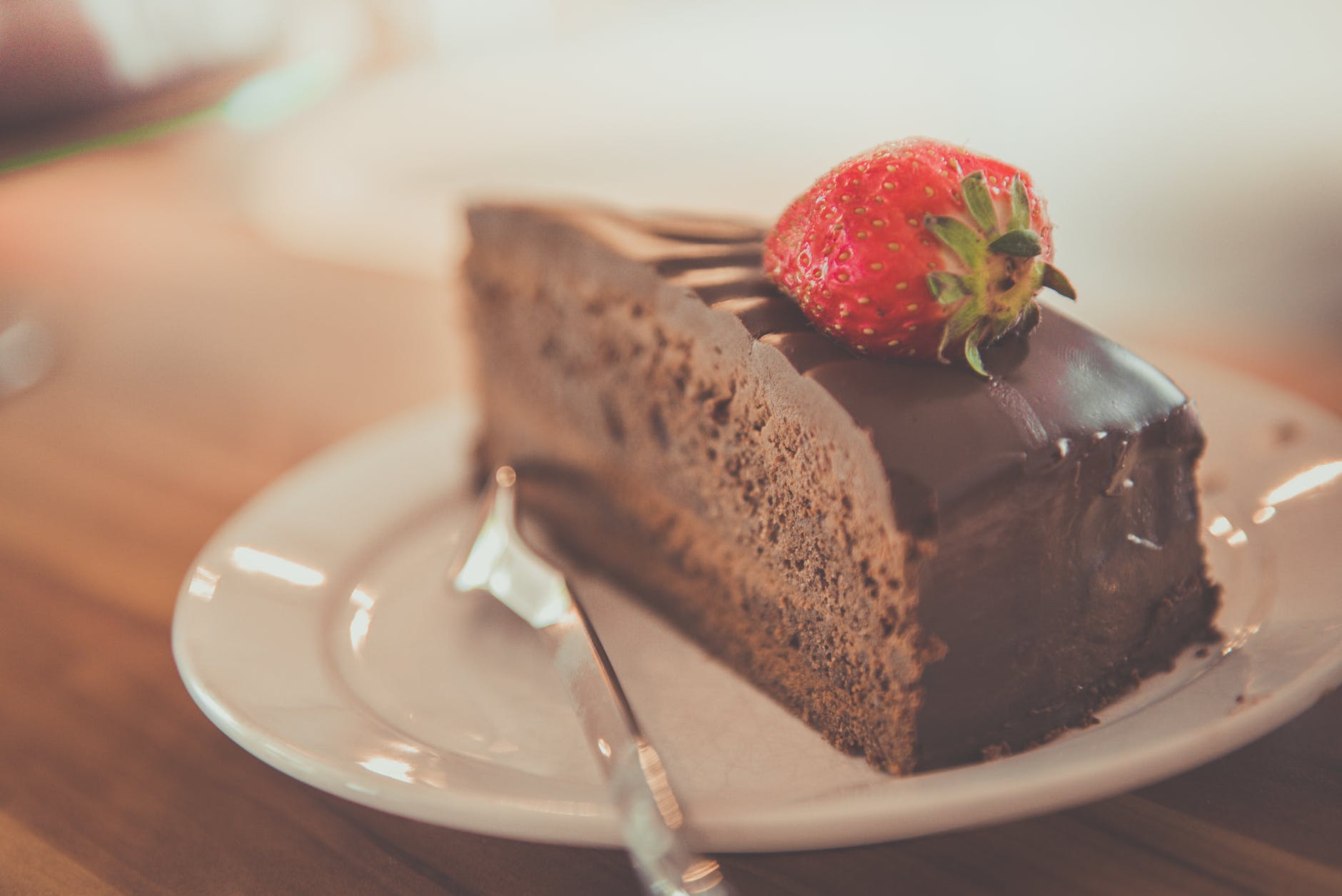 Order: Chocolate Cake
What to Expect: Freshly baked chocolate cake. The cake sponge has a rich chocolate flavour and you can add between the layers any ingredient you want. This is where the whole "build" idea comes from. You can also add icing of any colour or consistency you like.
The Story: In 1883, Barney Kroger invested all his savings (around $372) to open a grocery store in Cincinnati. He ran the business thinking that Kroger should be particular and not sell "anything you would not want yourself". Since then, the business evolved into a variety of formats, satisfying the ever-changing needs of clients.
6. Best Chocolate Brownies: Bad Brownie
Order: April Brownie Box
What to Expect: This new box is amazing, featuring the always crowd-pleasing salted caramel, peanut butter and triple chocolate brownie, which are joined by the familiar Ferrero and two other flavours: a coffee and biscotti brownie, for all of you caffeine addicts out there, and a lemon and raspberry blondie, their very first one!
The Story: Bad Brownie are flavour crazy chocolate addicts, hell-bent on spreading gourmet brownie love, street by street, home by home, chocoholic by chocoholic. Founders Paz and Morag met while working together at a branding agency in London. Baking in a tiny flat in leafy Richmond, they took their first batches of gourmet brownies to a South London market in Paz's mum's trusty (and rusty) Nissan Micra. The people of Clapham had never seen anything like their Bad Brownies. Within a matter of weeks, they had expanded to other markets across London in a mission to educate people that brownies no longer had to be boring squares of average chocolate. Tuck in.
Where: Locations here
7. Best Chocolate Ganache Cake: Fortnum & Mason
Order: Chocolate ganache cake, as part of the Queen's 90th Birthday Afternoon Tea menu
What to Expect: The most delicious, rich, soft cake around – Fortnum's do cake very, very well. This beautifully presented cake can be selected from the cake trolley, we promise you won't be disappointed.
The Story: The tradition of taking tea and that little bit of something between lunch and dinner has long since been a feature at Fortnum & Mason. Their tranquil Diamond Jubilee Tea Salon was opened by HM The Queen and has since become a stylish destination for the most traditional of afternoon teas. On the Queen's 90th tea, expect finger sandwiches, featuring coronation chicken, smoked salmon and tuna mayonnaise, Fortnum's scones with Somerset clotted cream and choice of Fortnum & Mason preserve, such as lemon curd, strawberry, raspberry and wild blueberry. There's also chocolate ganache cake, shortbread and scottish strawberries, and Earl Grey pannacotta. Don't forget the Royal Blend Jubilee Blend, too.
Where: 181 Piccadilly London W1A 1ER
8. Best Dark Chocolate Cake: Melrose & Morgan
Order: Devil's Food chocolate cake
What to Expect: The cake is a Devil's Food cake recipe, made with dark 70% cocoa chocolate. It has wonderful dense chocolatey texture – they bake it whole and slice it and then fill with a dark chocolate ganache. What's more, they bake it with organic stone ground flour and free range eggs.
The Story: Melrose & Morgan is a high-end grocers, deli, cafe and gift shop in Hampstead and Primrose Hill. Prada for your larder it might be, but the salads and cakes at the two North London branches of this uber-grocer are faultless. Their first shop on Gloucester Avenue was opened in 2004 – years on and they still see the same faces every day, along with a lot of new ones besides. Like Hampstead, the Primrose Hill shop has a café where you can sit, enjoy breakfast, lunch or tea, or pick up something quick for supper or ingredients for cooking at home. Glorious.
Where: Locations here
9. Best Baileys Chocolate Cake: Ottolenghi
Order: Flourless chocolate and almond tea cake
What to Expect: The most delicious sponge cake, made with dark chocolate, and totally without flour. Ottolenghi can do no wrong – come here for the best cheesecake, meringues and sponge cakes in town. , This is one of Ottolenghi's classic cakes, and we demand you try it.
The Story: For perfect bakes with a Middle Eastern touch, look no further than Ottolenghi. Yotam Ottolenghi's chain of sexy, cool eateries and delis have received critical acclaim since opening their first shop back in 2002; now operating four outlets across London, the Ottolenghi delis concentrate on seasonal food, great breakfasts and incredible cakes. From the simple and beautiful strawberry and vanilla cupcakes to lemon and blueberry – the secret here is great quality ingredients, that let the flavours do the talking. It would be criminal to go home without a piece of their famous cheesecake – the salted caramel and macadamia nut cheesecake will blow your mind.
Where: See locations here
10. Best Chocolate Sachertorte: Kipferl
Order: Sachertorte
What to Expect: The one and only truly Viennese cake – super rich in chocolate with layers of apricot jam. Kipferl does one of the best Sachertorte's in London, hands (and forks) down.
The Story: Dining at Kipferl is like stepping into a cosy, warm Austrian chalet, a welcome retreat. The menu is hearty, just what we all need at this time of year. Modern Viennese dishes include delicious wursts, schnitzels and meatballs – perfect comfort food. Best of all, are the homemade Austrian cakes and fantastic coffee. They also have specially imported rum stollen cake from Cologne, buttery and boozy – it's win win.  So much baked goodness, you may never want to leave.
Where: Locations here
11. Best Chocolate Cupcakes: Peggy Porschen
Order: Chocolate salted caramel cupcakes
What to Expect: Rich gooey chocolate cakes, filled with hand made salted caramel filling topped with a caramel cream cheese frosting and chunks of handmade English toffee with toasted hazelnuts.
The Story: Award-winning bakery Peggy Porschen is a personal favourite of Kate Middleton, and we can see why. It's every little girl's dream; the pastel pink bespoke bakery in Belgravia simply oozes femininity, charm and warmth – no wonder it's the site of many a marriage proposal. Come here and get lost amongst the cupcakes – you'll be spoilt for choice, with everything from coconut and pineapple cake to refined strawberry and champagne. Try the banoffee cupcake which is a rich blend of chocolate chips, fresh banana and has a secret layer of toffee sauce running through it.
Where: 116 Ebury St, London, SW1W 9QQ
12. Best Show-Stopper Chocolate Cake: Belle Epoque
Order: Belle Epoque
What to Expect: A signature cake; chef patron Eric Rousseau created this cake for his wife 15 years ago. The flavours are classically perfect, an orange infused crème brulee is encased in a decadent Valrhona dark chocolate mousse. Textures are very important and Eric uses a crunchy orange streusel, praline and a chocolate sponge to excite the palette. All of this is finished with a shiny chocolate glaze and decorated with crunchy pearls and the cake personal logo.
The Story: It all began in 2000, when Eric met with Hulya over a conversation about their long lasting love for Africa. They found an 18th century building in the heart of Stoke Newington, and knew that this was the opportunity to transform this listed building into a pastry shop. The decoration of Belle Epoque in Newington Green is the result of decade's long treasure hunt made up of bargains and treasures collected in markets over the Channel and England. In July 2014, Belle Époque renewed its branding and opened its newest shop on Upper Street in Islington.
Where: 262 Upper St, London N1 2UQ
13. Best Chocolate Caramel Cake: Peyton & Byrne
Order: Chocolate Caramel Explosion
What to Expect: Rich dark chocolate sponge with layers of dark chocolate mousse, bursting with molten salted caramel, and coated with chocolate ganache and chocolate cake crumbs. This beauty is available to buy online here.
The Story: The master bakers at Peyton and Byrne serve oven fresh, homemade artisan bread, cakes, pastries and other baked goods daily, as well as sandwiches using bread baked that day with the motto – 'when they're gone, they're gone'. The recipes for their classic bakes have been in development for years, think exciting flavours like the West Country apple cake and an amazing Jaffa Cake. You will find over 40 exclusive blends of teas and ground on-site coffee as well as Dalston Cola, and incredible cakes.
Where: Throughout London – here
14. Best Naughty Chocolate Cupcakes: Crumbs & Dollies
Order: Caramel Rolo cupcakes
What to Expect: The richest chocolate sponge with caramel buttercream, freshly-made caramel, topped with a ganache drip and caramel-filled Rolos. Dreamy. You can also order the cake online here.
The Story: For a taste of the bespoke, head to Kingly Court for the awesome Crumbs & Doilies. Every day, they make and deliver amazing cakes and cupcakes throughout London. Every cupcake uses the finest available ingredients, including organic free range eggs, organic Doves Farm flour and Callebaut chocolate and cocoa. The cupcakes are baked fresh to order in small batches by their team; each one is hand-decorated by a same small gang of cake-obsessed individuals. The cake are made with no additives or preservatives, for an utterly delectable creative treat. If you can get your hands on one, the PB & Jelly cupcake is the absolute dream.
Where: 1 Kingly Court, Carnaby, London W1B 5PW, United Kingdom
15. Best Italian Chocolate Cake: Princi
Order: Chocolate and walnut cake
What to Expect: Rich, gooey, chocolate-y, this cake is utterly divine. It's a bit like a brownie, but we're totally OK with that. Chocolate and walnut cake fresh from the oven tempts you with the combination of the bitter sweetness from chocolate mixed with nutty tones from the walnut chunks throughout. Delicious.
The Story: Artisan baker Rocco Princi, whose stylishly branded shops are a beloved Milanese institution, has a seriously good thing going on in London. Princi is built around baking a range of quality hand-made delights, such as fresh pizza, cakes and more. Come here for all the pizza – the Burrata pizza with Sicilian tomatoes and basil is a taste of pure heaven. Don't miss their linguine vongole, it's seriously good.
Where: 135 Wardour St, London W1F 0UT
16. Best Chocolate Mousse Cake: Lanka
Order: Chocolate and raspberry mousse cake
What to Expect: Simple, pure goodness – this cake is a mix of cream, sugar, chocolate and cocoa powder. No messing about, and it tastes so damn good. Raspberries and chocolate were made for each other, no?
The Story: Japanese born chef Masayuki Hara is the brains behind Lanka. A trained French chef, Hara bakes french cakes and pastries influenced by Japanese flavours; green tea tart, green tea panacotta, green tea roll cake and green tea and azuki pudding – you get the idea. Don't worry if you don't dig green tea, there's shelves full of loads of  other sweet treats to choose from. Baking 20-25 cakes from their selection of 50-plus varieties – the cake selection here is certainly not average. For classic French cakes get your fork stuck into their Paris Brest, mont blanc, chocolate tea eclair and chocolate and raspberry mille feuille.
Where: 9 Goldhurst Terrace, London NW6 3HX
17. Best Chocolate Fudge Cake: Cake Hole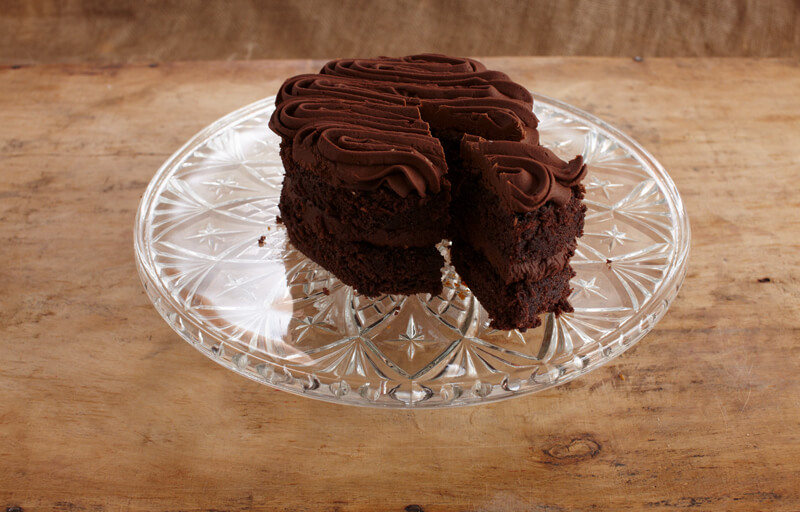 Order: Chocolate fudge cake
What to Expect: This cake is a farmers market customers' favourite, made with free range eggs, British sugar and organic flour and milk.
The Story: Cooking up delicious cakes in her Vauxhall kitchen, Lara Morley is the brains behind Cakehole. She has become a regular fixture at various markets across the city for good reason. This isn't your Betty Crocker stuff, with each cake made from the finest and freshest ingredients – organic milk, British sugar and fair-trade cocoa. Come here for red velvet, coffee walnut cake and chocolate fudge cake. For those who have a big sweet tooth order a slice of their salted caramel and walnut cake – the walnuts are a perfect nutty accompaniment to the salty, sweet caramel. Don't fret if you're gluten, wheat or dairy-free there's plenty of cake for you too.
Where: Locations here
18. Best Chocolate Devil's Food Cake: Violet Cakes
Order: Chocolate Devil's Food cake with salted caramel icing
What to Expect: You won't always find this at the bakery, but if you do manage to get a slice, you're in for a real treat. The Devil's Food cake has the most delicious salty and sweet icing, which just sets the whole thing off. You must try it.
The Story: Starting life as a stall at Broadway Market, Violet Cakes opened in 2010 by Claire Ptak. With 4 cookbooks under her belt, Ptak knows what how to create great tasting bakes – using only organic flour, sugar, milk and eggs.  We've got a lot of time for Violet Cakes, this cute cafe sells a range of well-made cupcakes and other sweet delights. The lime, coconut, carrot cake with mascarpone cream is an absolute show stopper, along with the equally delicious chocolate and salted caramel cupcakes.
Where: 47 Wilton Way, London, E8 3ED
19. Best Vegan Chocolate Cake: Fleet River Bakery
Order: Vegan chocolate cake
What to Expect: No-one misses out here, as lovely Fleet River Bakery does a vegan chocolate cake! They also have a delicious chocolate and peanut butter slice, which you need to try.
The Story: Independent coffee shop Fleet River Bakery, is a small quaint cafe found behind Holborn Station away from the hordes of people. Fleet Street Bakery focuses their attention on dishing up traditional cafe nosh; simple yet delicious breakfast dishes, a daily lunch menu and more baked goods than you can shake a stick at. Take away a slice of cake and a cappuccino and head to Lincoln's Inn Fields for an afternoon of sun worshipping. Come here for chocolate brownies, honey polenta cake, peanut butter and chocolate chip cookies, banana and walnut cake – the list is endless.
Where: 71 Lincoln's Inn Fields, London WC2A 3JF
20. Best Chocolate Cake Bites: Gail's Bakery
Order: Chocolate pistachio bites
What to Expect: Bite-size pieces of chocolatey heaven. Made using intense and flavourful Valrhona chocolate, with pistachio chunks for extra crunch. These teatime treats are the perfect accompaniment for their Union coffee – delicious stuff.
The Story: Gail's was started by Ran Avidan and Tom Molnar who met working in London in the late 1990s. Ran had been used to artisan bread every day at home in Tel Aviv, and Tom had grown up baking bread with his grandmother in Florida. Their hunt for a good loaf brought them together. Don't judge it for being a chain: Gail's is world class. At their bakeries, you can pick up a world-class loaf from a seasonal, ever-changing range, as well as top-notch coffee made by carefully-trained baristas. They also do fantastic brunch dishes; we love the smoked salmon and cream cheese crepes, they are utterly divine.
Where: Throughout London – here
Ingredients
For the cake
150g Billington's Unrefined Golden Caster Sugar
100g Billington's Unrefined Dark Muscovado Sugar
50g cocoa powder
250ml boiling water
125g unsalted butter
225g plain white flour
1 tsp baking powder
2 tsp vanilla extract
1 tsp coffee extract
2 eggs
For the icing
30g Billington's Unrefined Dark Muscovado Sugar
125ml water
300g 70% dark chocolate
175g unsalted butter
Method
Preheat oven to 180°C/160°C fan/gas mark 4. Grease and line a 7inch round tin with baking paper.
In a saucepan, add the boiling water, cocoa powder, Dark Muscovado Sugar, butter and Golden Caster Sugar and mix well. Bring to the boil and remove from the heat.
In a large bowl, sift the flour and baking powder. Add the cocoa mixture into the flour and stir well. Add the vanilla extract and coffee extract. Break the eggs and mix into the mixture. Mix until well combined.
Spoon the mixture into the prepared tin and bake for 50 minutes. Leave to cool on a cooling rack in its tin.
To make the ganache, in a saucepan, bring the water and Dark Muscovado Sugar to the boil until dissolved. Add the chocolate and keep stirring until melted.
Slowly add in the softened butter, stirring until the butter has melted and is evenly mixed, creating a glossy ganache. Leave to cool.
Once the cake is cool, remove from the tin and carefully cut in half. Fill with ganache and spread the remainder over the cake using a palette knife to smooth.
Sponsored post in association with Billington's – to stay up to date with #BakewithBillingtons week, follow them on Twitter here and like them on Facebook here.