Top 15: Vegan Snacks You Need to Try Right NowBy Gemma Perlin
We understand the need for good snacks. And vegan snacks can either be dry, or just a bit sad. Fear not, plant powered queens – we've discovered 15 fantastic vegan snacks you should all be buying immediately. Happy shopping, amigos:
Savoury 
1. For Healthy Crisps: Chika's
What: Chika's is a recent success story from Dragon's Den, having launched their line of African-inspired snacks in the UK earlier this year. Chika's – An Adventure in Taste Awaits, includes plantain crisps, hand-toasted peanuts, sea salt and black pepper cashews, smoked almonds and chickpea crisps.
The Lowdown: Packed with nutrients, all GMO-free, natural and made in the UK, Chika's snacks are developed with only the highest quality ingredients that are vegan-friendly and gluten-free. Spending years developing, sourcing and perfecting her products, Chika's – An Adventure in Taste Awaits now grace the shelves and pockets of those seeking a healthier, tasty and authentic food experience.
Stockists: Waitrose and Whole Foods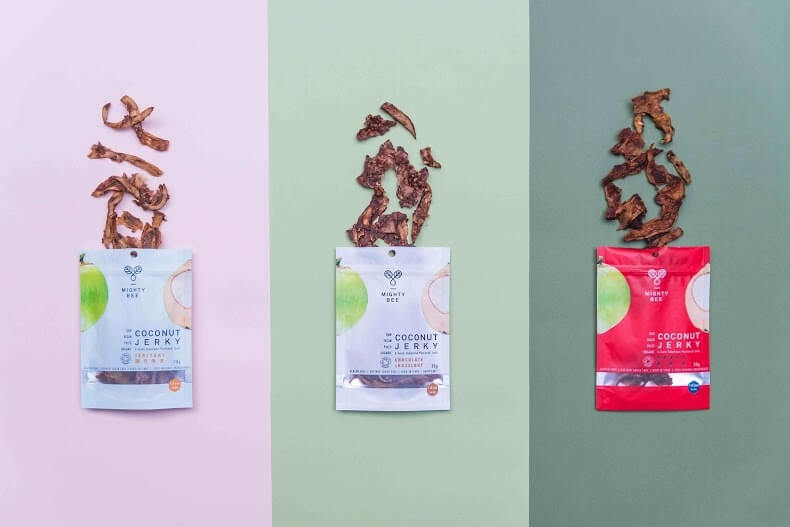 What: Calling all coconut lovers! Mighty Bee, one of the UK's leading producer of coconut water, has released its range of raw, organic, vegan jerky made purely from young Thai coconuts. Each bag of chewy jerky is made from 100g of pure coconut flesh and counts as one of your five a day. Plus, it's full of middle-chain fatty acids, which support a healthy digestive system and are proven to boost your body's metabolism.
The Lowdown: There is jerky for the sweet and savoury tooth. The range includes chocolate and hazelnut inspired by Ferrero Roche,r teriyaki flavour for those Asian fanatics and spicy BBQ for the more traditionalist jerky eater. All jerky is vegan and free from gluten, refined sugar, dairy and preservatives. We love the chocolate hazelnut flavour – it's a match made in heaven: the tender flesh of organically grown, young Thai coconuts and chocolate sauce. Nom.
Stockists: Wholefoods Market and Barrecore
Bars 
3. For Flavour: The Primal Pantry 
What: The Primal Pantry was the brainchild of nutritionist and paleo fan Susie Walker in 2014. Recognising that there was a gap in the market for tasty Paleo snack bars, Suzie, armed with a blender and some ingredients, created the bars in her kitchen. The taste-testers (including Suzie's daughter) approved, and The Primal Pantry was born.
The Lowdown: The Primal Pantry bars are made by cold-pressing combinations of fruit and nuts (forget the additives, flavourings and colourants), with different combos to create a top five: Hazelnut and Cocoa, Brazil Nut and Cherry, Coconut and Macadamia, Apple and Pecan, and Almond and Cashew. Each bar is made with under six natural ingredients (some as few as four), and are suitable for coeliacs, vegans and dairy-free hunnies.
Stockists: Tesco, Waitrose, Ocado and Sainsbury's
What: Based in the rolling welsh hills in Denbighshire, Meridian have been making nut and seed butters for over 30 years. At Meridian they're committed to producing foods that make you feel great because they're delicious. They select the finest, simplest ingredients so that you can enjoy nature's energy.
The Lowdown: Featuring Meridian's popular palm oil-free nut butters, the bars come in six unique flavours – Peanut, Almond, Cashew, Peanut and Cocoa, Peanut and Banana, and Peanut and Berry. Developed using a simple recipe of the finest ingredients, there are no hidden 'nasties' and the bars are dairy-free, soya-free and gluten-free. Protein is provided naturally from Meridian's roasted nuts and not by added processed protein that is found in most other protein bars, with each 40g Meridian bar containing at least 7g of protein.
Stockists: Holland and Barrett
What: Mother and daughter team Charlotte and Jess founded 100% Natural in 2011. Inspired by a passion for healthy living, the company produces organic, raw chocolate brownies. 100% Natural started by selling just 20 brownies a week in their favourite shop made by hand with one cookie cutter, now the brownies are now made in a specialist factory in the Cotswolds which only uses renewable energy.
The Lowdown: The brownies are available in four flavours using simple organic ingredients. Each flavour has its own special twist and includes: Organic Raw Chocolate Brownie with Raw Cacao, Organic Raw Chocolate Brownie with Himilayan Rose Salt, Organic Raw Chocolate Brownie with Goji and Acai Berry, and Organic Raw Chocolate Brownie with Coconut and Chia. All brownies are raw, paleo, dairy, gluten, refine sugar-free, and damn good.
Stockists: Whole Foods, Planet Organic and Sourced Market
What: Pulsin' is an award winning company which was set up by three university chums. Pulsin' has a range of healthy products made from natural ingredients, including; protein bars, raw chocolate brownies, protein powders and organic snack bars.
The Lowdown: Pulsin' protein snacks are designed to give you sustained energy release without the crash and are the perfect on-the-go snack pre and post workout or to simply boost your protein levels during the day. The bars are dairy-free, gluten-free, and contain non GMO ingredients. The bars come in a variety of flavours: Orange Choc Chip, Mint Choc Chip, and Maple and Peanut Butter.
Stockists: Tesco, Ocado, Holland and Barrett
7. For Fruit Lovers: N'eat Healthy 
What: The brand's name 'N'eat Healthy' aims to show that healthy eating on the go can be easy (or neat!) whilst not compromising on taste. N'eat Healthy Food Co was founded in 2015 by Anthony Jenks and Chris Collins.  As keen sportsmen, they wanted to create a healthy wholefood bar that could be eaten at your desk or after exercise, but did not contain any sugar or preservatives.
The Lowdown: As well as re-designing three original bar flavours, the rebrand has also introduced a new Red Berries and Quinoa bar to the range. They are all vegan friendly, nut-free and contain no refined sugar, palm oil, wheat or dairy whilst also providing a natural source of protein and fibre.
Stockists: Independent cafes, delis and sports venues across the UK
8. For a Treat: The Living Food Kitchen 
What: The Living Food Kitchen create tasty, plant-based food which is 100% natural and, where possible, organic. They never use animal products and they're committed to producing foods that are free of lactose, gluten and soya. They produce a range of items including raw desserts, smoothies, buckwheat granola and their bestselling flapjacks.
The Lowdown: There's three flavours in the flapjack range – cacao and date, coconut, and inca berry and pumpkin seed. All flapjack are made with gluten-free oats and virgin coconut oil, and all bars are dairy, gluten and refined sugar-free.
Stockists: Buy online
9. For a New Classic: Deliciously Ella 
What: Deliciously Ella started in 2011 after Ella was diagnosed with the rare illness; Postural Tachycardia Syndrome. Bed-bound, Ella began exploring methods of self-healing through lifestyle and dietary changes; taking up a natural, plant based approach to food. Blogging about her experiences lead to the creation of the Deliciously Ella brand, two cookbooks, the opening of The Mae Deli, and recently, the launch of her energy balls.
The Lowdown: One of the all-time favourite recipes from Ella's blog – and a popular pick on the menu at The Mae Deli – energy balls are Ella's signature, all-natural snack. Dig into Cacao and Almond, Hazelnut and Raisin, and Cashew and Ginger. The energy balls are made with all-natural, whole ingredients and are gluten, dairy and refined sugar free.
Stockists: Whole Foods and Waitrose
Chocolate 
10. For Dark Chocolate: Divine Chocolate 
What: Divine chocolate is made with the finest quality Fairtrade cocoa beans from Kuapa Kokoo, a co-operative of smallholder farmers in Ghana. The cocoa is grown in the shade of the tropical rainforest, and slowly fermented and dried in the sun by the farmers, who take great pride in the chocolate company they co-own. And Divine Chocolate Ltd is the only Fairtrade chocolate company that is also co-owned by cocoa farmers.
The Lowdown: Just launched, Divine Chocolate has created a dark chocolate with crystals of the finest pink Himalayan salt. All Divine's ingredients are selected for their premium taste and quality, and are also sourced from Fairtrade producers around the world. The chocolate is sweetened with sugar from Kasinthula, a Fairtrade co-operative in Malawi and flavoured with creamy vanilla from Fairtrade farmers in Madagascar.
Stockists: Whole Foods
11. For Flavour: Chocolate and Love
What: Chocolate and Love is a family owned company which was created by husband and wife chocolate connoisseurs, Richard and Birgitte. Additionally to the high antioxidant levels naturally found in cocoa, each bar has the added health benefit of being gluten-free, GM-free and completely natural with no additives and all but two of Chocolate and Love's products are dairy free, making them ideal for vegans.
The Lowdown: The range consists of seven different flavours including the popular sea salt and caramel and two pure chocolate bars. All of their cacao beans are sourced from San Martin in the central Amazonian area and the Apurimac Valley in Peru, the Yamasa area in The Dominican Republic and the Talamanca mountain range in Panama.

Stockist: Buy online 
12. For Healthy Chocolate: Doisy and Dam 
What: Richard and Ed have been close friends since they were 5 years old, sharing a passion for both business and food, in particular, 'real' food that isn't pumped full of stuff that doesn't need to be there. So they set about creating  a food brand that strikes the balance between indulgence and nutrition, with the final product, Doisy and Dam. Superfood chocolate with real bite.
The Lowdown: Packed with natural goodness, ​Maple, Toasted Rice and Pink Himalayan Salt ​features Doisy and Dam's ​smoothest organic chocolate, a cheeky drizzle of pure Canadian maple syrup and a sexy sprinkling of Himalayan pink salt. With a final scattering of lightly toasted, wholegrain rice; this crispy caramel bar of delight is chocolate wizardry at its finest.
Stockists: Planet Organic, Whole Foods and Ocado
13. For Quirky Chocolate: Seed and Bean
What: Since its launch Seed and Bean's mission has always been to create the most ethical, sustainable, handmade British chocolate. They believe in courageous chocolate, mixing flavours from nature to transform the simplicity of a pure cocoa bean into what they call kaleidoscopic moments of pleasure; some tastes are easy on the palette, some quite unusual while others will rocket your taste buds – all are a taste sensation.
The Lowdown: 2016 sees the launch of 3 new flavours at Seed and Bean.  They always ensure their flavours are creative and imaginative, without being quirky. First up Rich Milk Caffe Mocha, tastes as the title sounds; smooth, creamy with a subtle hint of coffee for that little pick me up. Next up is a unique flavour to the chocolate world: Dark Aromatic Fennel, the sweet licorice flavour of the fennel sits wonderfully with the smooth dark chocolate. And, Dark Sweet Orange and Thyme, the combination of the citrus from the orange and the peppery fresh flavour of thyme is a smashing flavour blend.
Stockists: Waitrose, Selfridges, Wholefoods and Planet Organic
Nut Butters
What: Pip & Nut is the brainchild of aspiring entrepreneur and keen marathon runner, Pip Murray. In 2013,whilst on the hunt for a tasty protein hit to support her demanding exercise regime, she discovered there was a real gap in the market for an all ­natural nut butter with simple yet inventive ingredients.
The Lowdown: All Pip & Nut's nut butters are made from all­natural, quality ingredients, with n​o refined sugars, additives or palm oil.​Plus, they are high protein, vegetarian or vegan and packed full of vitamin E and magnesium.The new limited Edition Crunchy Maple Peanut Butter (250g), is naturally sweetened with a drizzle of Canadian maple syrup and has an extra peanut­-y bite making it a perfect blend of sweet and savoury.
Stockists: Sainsbury's, Holland & Barrett, Ocado, Dunnes, Whole Foods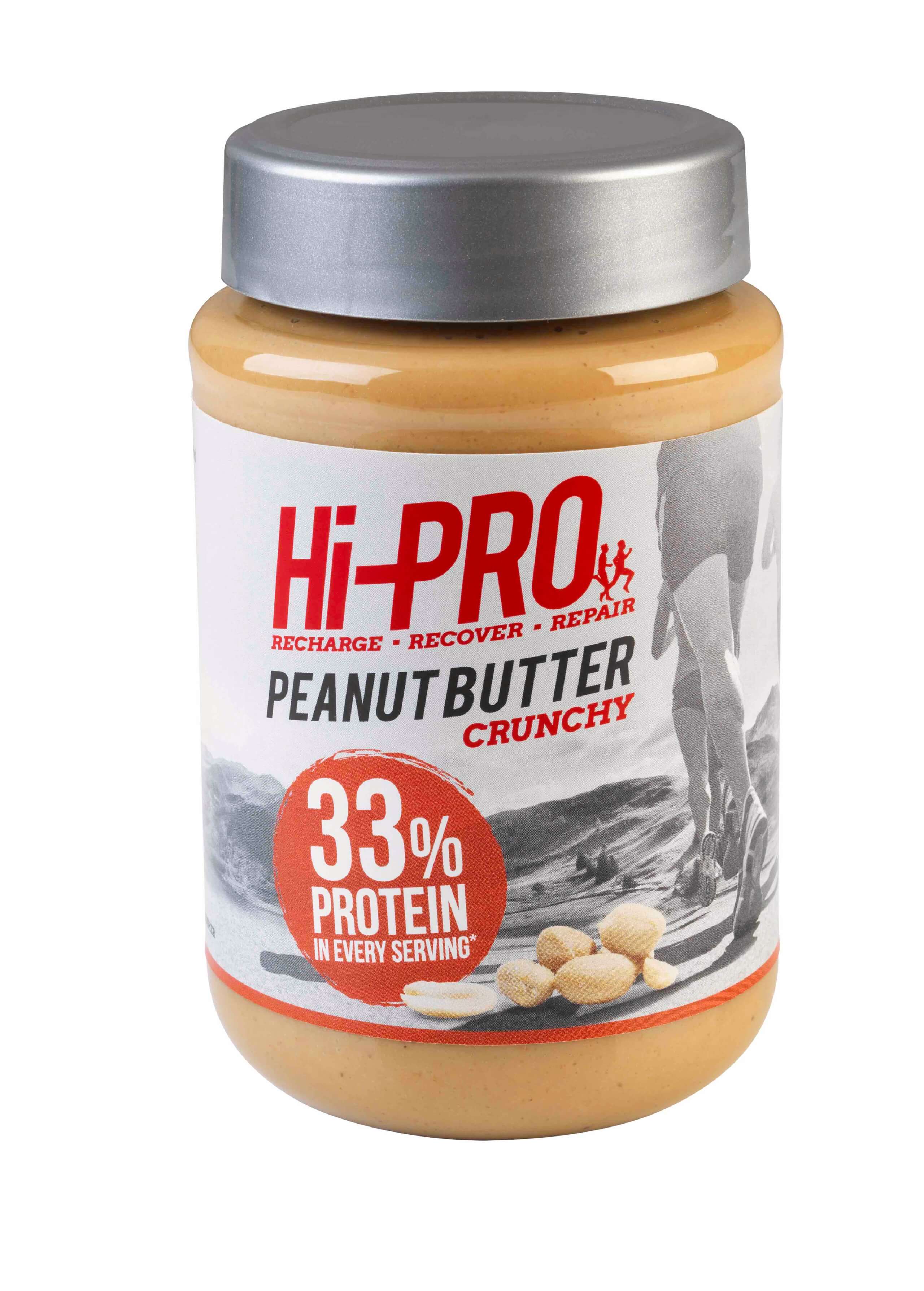 What: Hi-PRO is a brand that focuses on one thing: peanut butter. But with an added protein hit. There's two products in the range; crunchy and smooth. In every two-tablespoon serving (33g) there's 10g of protein. Ideal for people who train, or are seeking added protein in their diet.
The Lowdown: Hi–PRO is unique as it gets its high protein content from all-natural peanut ingredients, not from whey or soy. Instead, whole peanuts and peanut flour are combined to pack a protein punch that ensures you are only putting quality forms of essential nutrition into your body, and it contains no added sugar.
Stockists: Sainsbury's