As part of Lizi's Brekkie Week in association with Lizi's Granola (like them on Facebook here and follow them on Twitter here), we've been hunting for some seriously beautiful breakfasts. 
Instagrams at the ready, London. Forget your greasy fry-ups, if you're spending money on a breakfast in London, make it worth it, make it beautiful. Snap happy, here's the prettiest breakfast in London:
What: 26 Grains is the breakfast-loving creation of Alex Hely-Hutchinson. She combines her trusty secret porridge recipes and a big spoonful of love to create beautiful, fresh bowls of porridge goodness at her Covent Garden cafe. Think carrot cake inspired porridge with carrot juice on an oat and bye blend with spices, toasted nuts and ginger maple (£4.50).
Order: Hazelnut and Butter – almond milk oats, butter, hazelnuts, cinnamon coconut palm sugar and apple (£4.50)
Why: For vibe. The company is inspired by Scandinavian influences; they find their inspiration from Scandinavian cooking traditions and spices and the menu features a selection of healthy dishes based on grains, spices, and fresh ingredients. With many dairy-free options, it's a great spot for the health-conscious breakfast in London. Also, just look at that beauty.
Where: Neal's Yard, London, WC2H 9DP
Photo by Issy Croker
What: Expect Peruvian dishes made with fantastic British ingredients, served with cocktails in colonial-style surrounding – this place is fantastic for weekend breakfast in London.
Order: Superseed granola, ginger yoghurt, blueberries (£6)
Why: Want a little South American kick to your brunch? Pachamama has recently launched a British-Peruvian brunch with inspiration from traditional Andean dishes. Combining Peruvian flavours with British ingredients to create mouth-watering brunch plates, think dishes like quinoa waffles with smoked bacon and yacon syrup (£9), baked eggs with hot avocado and Farmers cheese (£10) and smoked brisket with plantain hash (£12). Heaven.
Where: 18 Thayer St, London W1U 3JY
What: Michelin-starred Benares Restaurant in Mayfair has opened its doors on Sundays to launch Atul's All-Day Sunday Brunch. Chef-owner Atul Kochhar has created an exceptional feast, with a vast selection of Indian small plates made for sharing, accompanied with unlimited drinks options, which can be enjoyed until end of play on Sunday. It's an Indian food lovers dream.
Order: All-day brunch (£45) which includes a glass of sparkling wine or a lassi.
Why: Atul's signature modern Indian cuisine with a distinctive British twist is reflected in these brunch dishes, think masala omelette, Lamb Seekh kebab, chicken tikka caesar salad. There's fantastic vegetarian plates, like corn and spinach stew, aubergine bhajia and paneer tikka. And, of course, the sweet offerings are brilliant too – plates of zingy lemon torte, creamy Rasmalai and traditional Indian Kulfi. For those after a boozy brunch, an unlimited wine package will also be available for £25 per person, featuring Atul's signature Sauvignon Blanc. Unlimited freshly-squeezed juices and soft drinks and will also be available, for £10 per person. Winner.
Where: 12a Berkeley Square House, Berkeley Square, Mayfair London, W1J 6BS
What: Think a mix of the upbeat rhythm of South America with the elegant refinement of Japan, throw in the vibrancy of Miami and sprinkle with the eclecticism of Venice Beach. The result is MOMMI: a new Japanese-Latin Raw Bar and Grill setting up shop in Clapham.
Order: Peruvian breakfast of crispy pork and ponzu, spicy aji amarillo beans, purple potato pancakes, fried egg, roasted vine tomatoes and yuzu soy mushrooms (£9)
Why: Expect cuisine influenced by Japanese and Latin communities – MOMMI's menu focuses on raw, fresh and healthy small plates for sharing, most of which are gluten and dairy-free, packed with punchy flavours and vibrant colours. They've got unusual breakfast offerings, such as purple potato pancakes with honey, natural yogurt, blueberries, plantain, avocado and toasted almonds (£6). Dreamy.
Where: 44 Clapham High Street, London SW4 7UR
5. For a Berlin Brunch: Brünch
What: Expect a four-course brunch, inspired by the Antipodean and Berlin breakfast cultures, hosted in a different location every month. Combine that with great drinks straight from the German capital (like Club Mate, fritz-kola, Berliner Weisse) and you've got yourself a damn good time. The next one is on the 26th July and you can book your tickets here (£23 per person).
Order: The feast includes a selection of fine German cold meats and cheeses, smoked mackerel pâté, brünch signature amaranth & chia granola with German quark, Berlin-style 'Eggs in a Glass', home-made jams and nutella. Also, there's unlimited fresh sourdough & rye breads, typical German dessert and fresh Berliner waffles. All for £23 – quite a bargain we'd say.
Why: Noemi, founder of brünch shares her passion for bread, brunch and booze and brings you the ultimate Berlin experience – Berlin drinks, brunch, tunes and a great atmosphere. It's always a good laugh.
Where: Pop-up – see here
6. For Pancakes: Berners Tavern
What: Jason Atherton's super posh, super trendy Modern British restaurant at the London Edition Hotel is a true gem, and a fantastic spot for a week-day breakfast of kings. Come here for the best pancakes, waffles and Eggs Benedict in town – a breakfast in London that can't be missed.
Order: Buttermilk pancakes, summer berry compote, vanilla cream (£8)
Why: For their cocktails, too. If you think hotel bars are dated, think again: the bar at the Edition will seduce you with its cool design, laid-back crows and great energy. Think marbled walls, floor and corner bar, iconic British and European design and 24-karat gold Salvador Dali inspired floor lamps – you'll fall in love with the design before you taste the cocktails, which, by the by, are really good.
Where: 10 Berners Street, London, WIT 3NP
7. For Pudding for Breakfast: Caravan
What: Caravan is simply the best place for brunch in London. I'm sorry, but it's true. If you can't handle an hour-long waiting time on weekends, try the Exmouth Market branch which tends to be a little calmer than its Kings Cross sibling. They do fantastic cornbread, avocado on toast and sensational porridge with date syrup, dates and banana.
Order: Coconut bread with lemon curd cream cheese and rhubarb (£7.50)
Why: Honestly, everything on the Caravan brunch menu is worth trying; their baked eggs (£8) with a rich tomato sauce, stirred with thick Greek yogurt, is simply divine. Don't leave without trying the barbeque baked beans with fried eggs, mojo verde, coriander and toast (£8.50) too. Also, the their avocado on toast (£5) is heavenly – the combination of avocado and chilli on home-baked sourdough is simply wonderful.
Where: 11-13 Exmouth Market, London EC1R 4QD
8. For Scrambled Eggs: Dishoom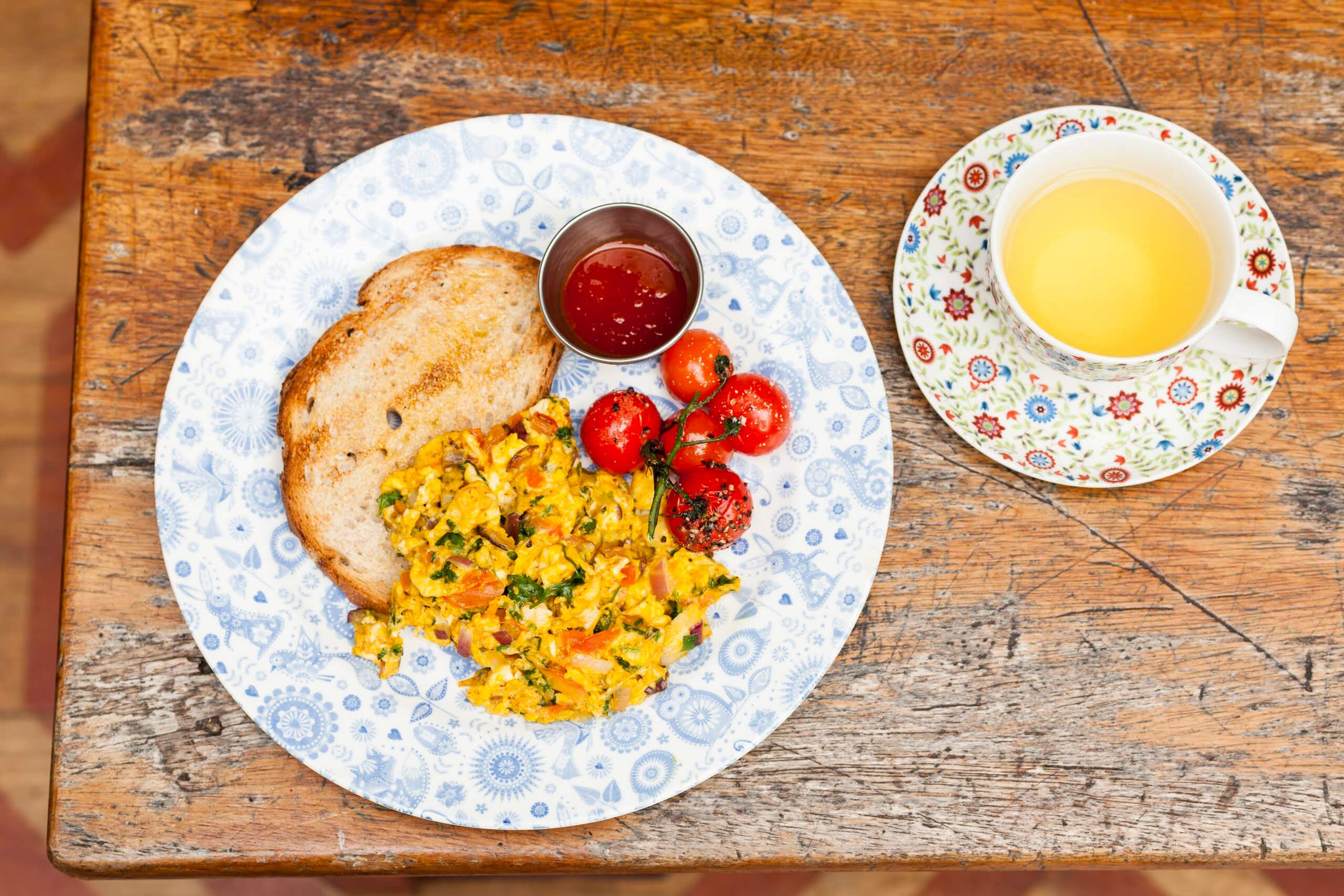 What: London's favourite Bombay-inspired cafe that does wickedly good weekend brunch – think Bacon Naan, Egg Rolls and the best spiced granola in town. If you like a buzzy atmosphere, slightly hectic but very loveable staff and Chai tea, this place is for you.
Order: Akuri  – spicy scrambled eggs, piled up richly alongside plump pau buns and served with grilled tomato (£6.90)
Why: If you like spice, these eggs are the one. Dishoom in Kings Cross and Covent Garden has such a wicked vibe, and the food is top. They also serve unlimited porridge and unlimited chai on week days, so you can make a morning of it. Word of warning: it gets really busy at the weekends, so prepare for a queue.
Where: Throughout London – here
What: OPSO have boarded the brunch train, offering a lovely Mediterranean way to eat brunch in London. The stylish Greek eatery brings a taste of Greece to Marylebone with quirky, delicious brunch plates, as well as great sharing food for the evening.
Order: OPSO Granola with blueberries, pomegranate, oat and hazelnut crumble and thyme honey (£7)
Why: OPSO is the brainchild of Georgianna Hiliadaki and Nikos Roussos, co-founders of two-Michelin starred restaurant Funky Gourmet in Athens. OPSO's menu of sharing dishes is fantastic – think velvety yellow fava beans spread (£6), 'Souvlaki' slow cooked pork (£4) and slow-cooked lamb for sharing (£24). Thing is, they've really smashed brunch too – Earl Grey rice porridge (£5), OPSO pancake with cheese cream, strawberry jam and blueberries (£6) and sesame-covered 'koulouri' milk bread with goat's curd (£4). Seriously sexy food. Best of all, you can enjoy your brunch on their 40 seater terrace outside.
Where: 10 Paddington Street, W1U 5QL
10. For Arabic Breakfast: Pont St.
What: Refined and elegant, Pont Street is a great neighbourhood-feel restaurant in Mayfair – and their incredible brunch will keep you going all day.
Order: Arabic Breakfast of Ful Medames with tomato, red onion, lebanaese cucumbers, olives, grilled Akawi cheese, zatar, flat bread and labneh (£18.50)
Why: Executive Chef Sophie Mitchell creates stunning seasonal dishes which are crying out for an Instagram – there's great healthy options like dairy-free porridge and 'Liver Cleansing' beetroot juice. It's not all virtuous though, the take on a Snickers Bar with peanut butter mousse is a delicious weekend treat.
Where: 20 Chesham Place, London, SW1X 8HQ
Photo by Paul Winch-Furness
11. For Avocado on Toast: South Kensington Club
What: The perfect spot for a healthy brunch, the South Kensington Club is a new private members club and gym in Chelsea. They've got The Club Restaurant – open from breakfast through to dinner, with a fresh and nutritious menu, think lots of vegetarian and gluten-free options. There's raw fish specialities, crudos, nutritious breads and pizzas with traditional Sicilian soups and zesty salads. Grab a juice at the 'South' juice bar, handmade on site.
Order: Avocado hummus bruschetta on spelt toast (£7)
Where: 38-42 Harrington Road, London SW7 3ND
Why: For one, the club is really beautiful. They also do fantastic fresh juices, try the Energiser (£7) cold pressed form apple, celery, cucumber, ginger, lemon and kale, it's the perfect way to start your weekend. If you want something deliciously treaty, try the organic yogurt served with toasted granola, chia seeds and mixed berries (£9).
12. For Parfait: Magazine Restaurant
What: This creative sushi and Japanese restaurant at the Serpentine Gallery, designed by Zaha Hadid Architects, serves up fantastic Asian-inspired food with a twist in the evening, but also does a great morning breakfast. They do a wonderful build-your-own breakfast parfait – choose Greek or low fat yoghurt with choice of toppings, including fresh berries, and pomelo with puffed rice.
Order: Greek yogurt with fresh berries, granola and honey, banana and pecan or pomelo and puffed rice (£4.75)
Why: For the design. It's an absolutely beautiful space for a sunshine-filled brunch on the weekends. The breakfast is a real treat; from pineapple, coconut, fresh strawberry and lime juice smoothies (£5) to scrambled eggs with H. Forman & Son's smoked salmon and dill crème fraîche (£8.50), you won't be disappointed.
Where: Serpentine Sackler Gallery, West Carriage Drive, Kensington Gardens, London W2 2AR
13. For Eggs: Ottolenghi Spitalfields 
What: This is the largest and newest of the Ottolenghi delis, sitting 70 people, with all of the bustle and atmosphere you'd expect from its Spitalfields location. Although we suspected as much, the food is absolutely top notch.
Order: Shakshuka with eggs, peppers and tomatoes, served with labneh and grilled focaccia (£9.50)
Why: The deli has everything you want and need in a breakfast spot. From cannellini bean stew with bacon and chorizo (£9.50) to oat porridge with poached plums, blackberries and toasted mixed nuts (£7.20) and star anise French toast with brioche (£7.95), each brunch plate has the wow factor. For those on the go, there's a pack-to-order counter service for food to take away, as well as a grab-and-go fridge fully of ready-made salads and sandwiches for lunch. No visit is complete without a stop by the pastry and cake display, for something sweet to eat in or take home.
Where: 50 Artillery Ln, London E1 7LJ
14. For Lobster Benedict: Aqua Shard
What: British dishes, panoramic views and a Benedict dish like no other – Aqua Shard is a must for any dining enthusiast. Come for breakfast, as lunchtime gets busy and so does the camera flashes.
Order: Lobster Benedict – Colchester Blue lobster, two poached eggs, toasted english muffins, Hollandaise sauce (£20.00)
Why: The dish is a really unique take on the classic breakfast meal and wonderfully decadent, with the lobster being poached in a spiced butter which is then used to make the Hollandaise sauce. The garnish on top adds a lovely, delicate touch, too. The service is quick, the staff are helpful and the views don't distract from the damn good food being served. Travel 31 floors up to get your hands on their brunch ASAP.
Where: Level 31, The Shard, 31 St Thomas St, London SE1 9RY

15. For Yogurt Breakfast: Fields Cafe
What: Another brilliant cafe from the people behind m1lk, come here for incredible weekend brunch and apparently some of the best coffee in London.
Order: Sprouted grain granola, Suffolk yoghurt, strawberries, geranium and almond (£7.50)
Why: Great for al fresco dining, the cafe has room for 80 outdoors on a heated terrace – Fields Cafe is a lovely summer spot for breakfast in London. The cafe even has its own roof garden and plant nursery where founder Julian Porter grows his own produce and micro herbs to be used in the café. Joy. The desserts are incredible – try the peat-smoked lardy cake (£2.50) for a slice of heaven.
Where: 2 Rookery Road, Clapham Common, SW4 9DD
Post in association with Lizi's Granola – like them on Facebook here and follow them on Twitter here.