Is your supermarket trolley look a bit sad? Stock up this week on our pick of the best new food products to grace the aisles in forever. Here's our favourite new food products right now – happy shopping, one and all:
New Food Products: Breakfast Heroes
1. For a New Spread: Bonanza Peanut Butter
What: Bonanza Peanut Butter has launched with its debut crunchy and smooth flavours in the UK and we're super obsessed with it. We're also big fans of Pip&Nut Crunchy Peanut Butter, Pic's Peanut Butter and, when we're feeling hungover, a spoonful of Skippy Peanut Butter straight out of the jar.
The Lowdown: Bonanza is looking to shake up the peanut butter aisle with their 100% organic peanut butter that is packed full of high oleic peanuts. These good fats courtesy of Bonanza's VIPeanuts have been shown to reduce bad cholesterol, helping to maintain a healthy heart. Every jar is made purely with peanuts and the occasional pinch of sea salt – never palm oil. Available in crunchy and smooth – Bonanza hits the spot.
Buy: To find out more about Bonanza and to buy visit here
2. For a Dairy-Free Yogurt: The Almond Collaborative Raspberry
What: We're loving the new The Almond Collaborative yogurt for a dairy-free treat – the raspberry flavour is our personal favourite, it's so sweet, creamy and delicious. Almonds are packed with protein and calcium. And did we mention they're a waistline-friendly snack known to boost heart health? The total package, they're the greatest.
The Lowdown: These yogurt alternatives aren't just a delight for tastebuds. They're better for your whole body too. What's more, plant-based products use 80% less water than dairy, and produce 60% less CO2 Sustainable and scrumptious – hooray for plants.

Buy: Online here
3. For Breakfast: MOMA Jumbo Porridge Oats
What: MOMA have launched their new Jumbo Porridge Oats – the UK's first gluten free, quick cook jumbo porridge oats on the market. The perfect thing for your winter breakfast creations, we love MOMA porridge – our personal favourites are the MOMA Plain, the Almond Butter & Salted Caramel Pots, and Golden Syrup Sachets.
The Lowdown: A UK first and the newest addition to MOMA's range of award-winning, oat-based breakfasts, MOMA's jumbo porridge oats have been finely rolled to allow for a quicker cook time and a more convenient breakfast for consumers. Breakfast perfection.
Buy: Jumbo Porridge Oats are available exclusively on Ocado for £2.99.
New Food Products: Dips + Condiments
4. For Avocado Lovers: Holy Moly Guacamole Dips
What: Holy Moly has launched the first guacamole dips that taste JUST like homemade. We're totally into them.
The Lowdown: Delivering the holy-grail of guac: perfectly ripe, all-natural and ready-to-eat, Holy Moly has harnessed HPP technology to save Brits from the ultimate of first world problems, The Avocado Lottery. Available in Original and Spicy versions, each tub is free from preservatives, artificial ingredients and is 100% vegan-friendly, unlike other shop-bought guac.
Buy: Shake that hass down to Sainsbury's or visit here
5. For Vegans: Hellmann's Vegan Mayonaise
What: Hellmann's answers the calls of the nation with new vegan mayonnaise. Perfect for vegans and flexitarians alike the new mayonnaise brings with it an all new look. We're loving the new vegan mayo, although you also can't beat the classic Hellman's Garlic Mayo and Hellman's Chilli Mayo.
The Lowdown: With over 168,000 people signing up to Veganuary this year and 330,000 estimated to sign up in 2019 there is an obvious high demand to offer both vegan and plant-based diet alternatives. Whether it's burgers, baguettes or simply a dip with their chips, Hellmann's Vegan Mayo now makes it easier for consumers make the meals you love, free from the things you don't.
Buy: The new mayonnaise is available Tesco at £2.15 and is set to roll out to all major supermarkets by the end of the year.
6. For Spice Lovers: Tabasco Hellmann's Chilli Mayonaise
What: Hellmann's is partnering with the iconic TABASCO® brand Pepper Sauce to create Hellmann's Chilli Mayonnaise Fired by TABASCO® Sauce, designed to tap into the growing hot sauce market.
The Lowdown: Aimed to appeal to those looking to add heat to their meals, the new condiment from Hellmann's combines with the iconic TABASCO® brand Pepper Sauce.  Hellmann's Chilli Mayonnaise Fired by TABASCO® Sauce offers shoppers the creamy texture of Hellmann's traditional mayonnaise, with added flavour from the world-famous TABASCO® brand Pepper Sauce, to create a rich and spicy flavoured mayonnaise. For TABASCO lovers, stock up on some cute minis while you're at it.
Buy: Hellmann's Chilli Mayonnaise fired by TABASCO® Sauce is rolling out nationwide at £1.99.
7. For Flavouring: Turci Seasoning Sprays
What: Heritage Italian brand, Turci, is launching their seasoning sprays in the UK, available in four authentic flavours – basil, garlic, chilli and oregano. We're loving the cold-pressed Garlic Spray and punching Basil Spray for mid-week dinners.
The Lowdown: Unlike fresh, dry or frozen seasoning, Turci's seasoning sprays tick all the boxes when it comes to home cooking; maximum flavour, long shelf-life, recipe personalisation, value for money and low in calories – 100% natural ingredients and only 2 calories per spray. 
Buy: Turci Seasoning Sprays are now available in the herbs and seasoning aisle at Tesco stores, priced at £2 per bottle. Also on Amazon here.
8. For a Health Boost: Coconut Merchant Turmeric Coconut Oil
What: Coconut Merchant's Raw, Organic, Extra Virgin Coconut Oil infused with turmeric combines their famous coconut oil with the added health benefits and powerful flavour of turmeric. We're already obsessed with their Raw Coconut Oil, delicious Coconut Milk and tasty Coconut Chips.
The Lowdown: Coconut oil has been praised for its health benefits in recent years due to its unique makeup, containing a high proportion of Medium Chain Fatty Acids and more specifically lauric acid. These types of fats are linked to various health benefits, most notably that they are more readily used as a source of energy and less likely to be stored in the body as fat, while turmeric has been celebrated for centuries for its anti-inflammatory and cleansing properties.
Buy: Buy in Morrisons, Amazon or visit here.
New Food Products: Dinner Winners
9. For Quick Lunches: GLORIOUS! Indian Soups
What: With the colder weather just starting to settle in, GLORIOUS! Soups has come to the rescue with the launch of its brand new warming and flavour-packed Indian Sweet Potato and Coconut Daal Super Soup.
The Lowdown: Gluten free, vegan and full of fibre, this creamy soup features sweet potato, carrot, spinach and yellow split peas and offers two of your five-a-day per portion. For an added burst of flavour, reminiscent of your favourite South Indian curries, it also contains coconut cream, ginger, chilli, turmeric, cumin and cinnamon.
Buy: The new GLORIOUS! Indian Sweet Potato and Coconut Daal Super Soup pots are available in Morrisons from Oct 21st, Sainsbury's and Ocado. To find out more visit here.
10. For Vegan + Gluten-Free Pizza: The White Rabbit Pizza Co
What: The White Rabbit Pizza Co have launched a selection of vegan options from their authentic Italian-style gluten-free pizza range. Choose from Viva La Vegan, an epic combo of vegan cheese, pesto and sun-dried tomatoes, Smokin' Vegan, topped with Greek olives, baby spinach and Sicilian tomatoes, perched on smoky vegan cheese.
The Lowdown: With a belief that everyone should be able to enjoy delicious pizza, The White Rabbit Pizza Co was founded by three friends, Nick, Josh and Italian Pizza Maestro, Matteo, in the White Rabbit Pub in Oxford. Within two years The White Rabbit was rated No. 1 pizzeria on TripAdvisor and the award-winning Gluten Free range is now available in major retailers across the UK. 
Buy: Available in Waitrose, Sainsbury's, Ocado, Daylesford, Abel & Cole, Whole Foods Market, Planet Organic.
11. For a Quick Dinner: Quorn Products
What: Quorn is introducing a variety of new meat-free products and ready meals, while also improving three of its bestselling meals. Sweet Chipotle Goujons, savoury Bratwurst Sausages and a family friendly Mixed Grill are all new additions to Quorn's chilled product range. While Creamy Laksa Curry and fragrant Moroccan Tagine create the new sizzling ready-meals line up, along with improved recipes for the UK's favourite dishes – Lasagne, Cottage Pie and Tikka Masala.
The Lowdown: Quorn's ever-expanding range has been designed to help meet the increasing demand for meat free options and offer a greater choice when it comes to quick and tasty protein rich meals. And because the main ingredient in Quorn produces less Co2 emissions and uses less land and water then meat, it's good for the planet as well.
Buy: To find out more about Quorn, or to find a stockist near you, visit here.
12. For Healthy Frozen Meals: By Ruby
What: By Ruby is a brand-new frozen food delivery service that uses 100% natural produce, no additives or preservatives. It's honest food, made from scratch using carefully sourced ingredients and delivered straight to your door.
The Lowdown: This is the perfect product for those who simple don't have time to cook but are looking for tasty and nutritious meals. So why not stock up your freezer with a handful of delicious tasting meals that will surely satisfy your taste buds and can be cooked straight from frozen. The meals are available nationwide in the UK via next day delivery and use eco-friendly packaging made from sheep's wool: sustainable, recyclable, compostable and biodegradable. Firm favourites include Black Bean Chilli, Keralan Vegetable Curry, Macaroni & Cheese and a comforting Fish Pie.
Buy: By Ruby meals can be purchased online here and they are also currently stocked at Finn's Deli in Chelsea.
New Food Products: Sweets + Treats
13. For New Flavours: Halo Top Creamery
What: Halo Top Creamery, have launched three more iconic flavours in the UK – and we think they are going to be a big hit.
The Lowdown: Candy Bar and Cookies & Cream join the existing dairy range, while Chocolate is now available in a delicious dairy-free, vegan-friendly alternative. The new launch follows the arrival of Birthday Cake, Red Velvet and Oatmeal Cookie flavours, which all landed in the UK mid-July alongside the first three delicious vegan-friendly additions, including Toasted Coconut, Sea Salt Caramel, and Peanut Butter Cup. The three newest offerings mean there are now 16 unbelievably delicious tubs of Halo Top® dairy and dairy-free ice cream flavours available in the UK.
Buy: All good supermarkets nationwide
14. For Fairtrade Chocolate: Eat Your Hat
What: Eat Your Hat is a new fairtrade chocolate brand, with a range of chocolate slabs made with innovative ingredients sourced from around the globe. With seven bars in the indulgent range, each flavour has its own story – our personal favourite is the Dark Chocolate with Sri Lankan Turmeric and Black Pepper.
The Brand: Eat Your Hat is all about making delicious things out of sustainably grown, organic ingredients that elevate grower communities and taste buds alike. Taste fair trade cardamom and turmeric from an ethical co-operative in Sri Lanka, natural sea salt harvested from the salt pans of South Africa, and rich cocoa from the world-famous São Tomé growers. The range is truly fair trade, grown by smallholder farmers at ethical co-operatives across Africa, South America and Asia, and is free from GMOs, artificial colours and preservatives.
Buy: Available here
15. For Better-For-You Ice Cream: Breyers Delights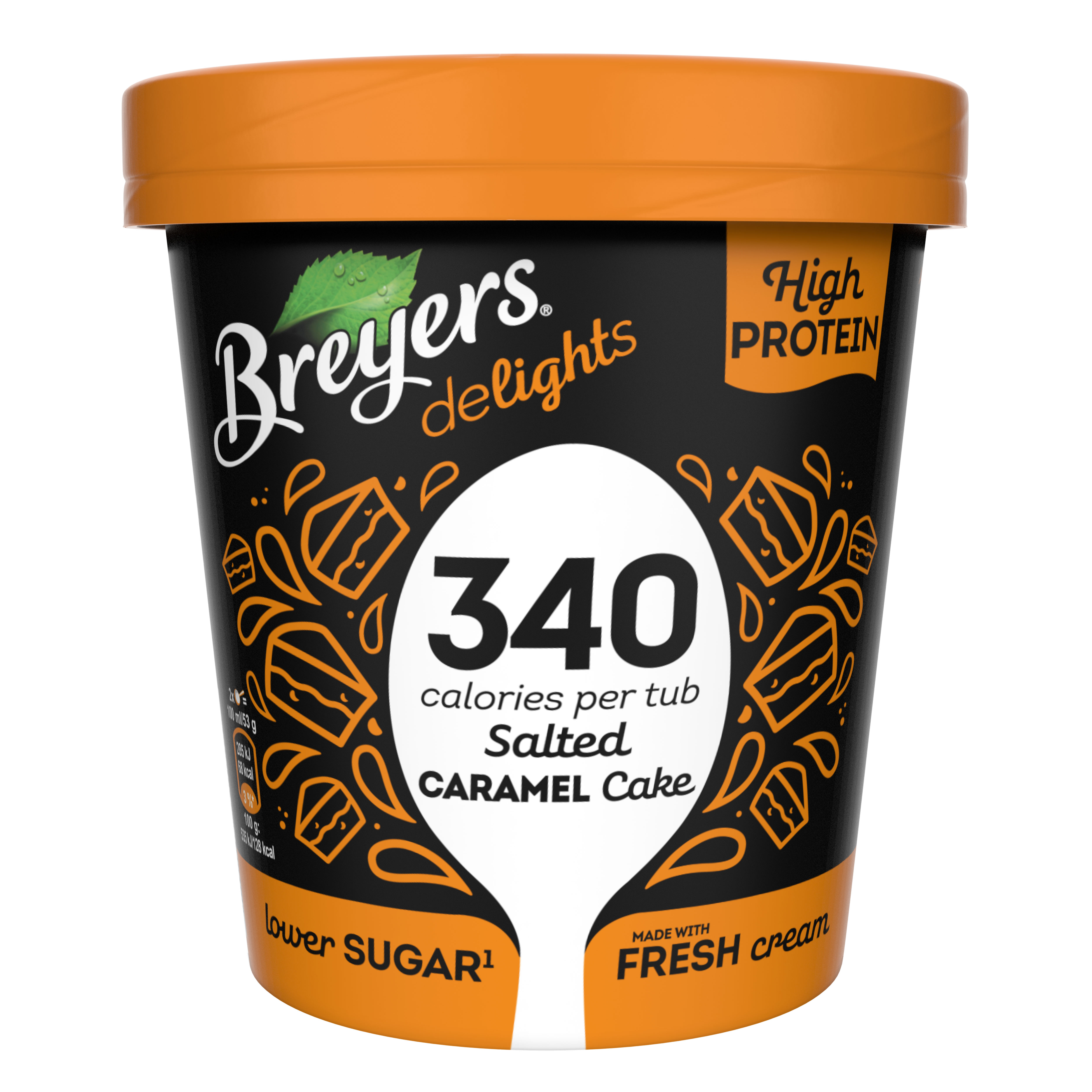 What: Breyers Delights has launched three new delicious flavours: Chocolate Orange & Almond, Cinnamon Oat Crunch and Coffee Cupcake to their range.
The Lowdown: Tapping into the UK's biggest ice cream food trend, Breyers delights has been shaking up the frozen aisle since its debut in January, becoming the go-to ice cream for healthy lifestyle lovers looking for better-for-you, high-protein products, without compromising on taste. Each tub contains between 290 – 350 calories and is now available in nine deliciously creamy flavours.
Buy: Visit here
One for luck…
16. For Swiss Chocolate Bars: Rhythm 108
What: Rhythm 108 Deeelicious Swiss Chocolate Bars have just launched in Local Sainsbury's and expanded to more Sainsbury's stores. Rhythm 108 create gluten-free, dairy-free and refined sugar-free chocolate bars, biscuits and dessert bars. Creating indulgent treats that are better-for-you and allowing you to find a little bit of balance back into your day.
The Lowdown: Their award-winning Deeelicious Swiss Chocolate Bars are a gluten-free and vegan chocolate bar, made with the finest Swiss chocolate and wholesome superfood fillings like almond, quinoa and coconut and contain 45% less sugar than comparable bars without compromising on taste or quality. Our personal favourite is the Hazelnut Praline Quinoa Swiss Chocolate Bar – it's SO good.
Buy: To find out more about Rhythm 108, or to find a stockist near you, visit here.
We're feeling really lucky…
17. For a Special Product: Pots & Co The Flat White Whip
What: Discover Pots & Co's latest pudding in collaboration with Caravan Coffee, the Flat White Whip. Inspired by the silkiness of the flat white, smooth cream has been infused with a honey processed Guatemalan coffee, roasted by Caravan Coffee Roasters, to create a soft creamy finish.
The Lowdown: The Flat White Whip is a limited edition pudding launched for International Coffee Day, and available exclusively in Selfridges until the end of the year. It uses coffee from Guatemala and single origin chocolate from Colombia, with no additives or preservatives. It's also completely gluten-free.
Buy: Exclusive to Selfridges