Top 15: Scarily Good Ways to Celebrate Halloween in LondonBy Angelica Malin
"The older you get, the harder it is to find someone willing to share a horse costume with you."
Who doesn't love Halloween? It's fun, kitsch and totally childish – which is what makes it so damn great. If you're a bit old for trick and treating (are we ever too old?) then instead indulge in some of these Halloween specials in London instead. Here's 15 ways to celebrate Halloween in the capital:
1. Drink Pumpkin Cocktails: Bluebird, Chelsea
What: To celebrate the flavours and colours of Autumn, Chelsea's favourite spot Bluebird will bring back its well-known Pumpkin Patch to the Courtyard from Monday 26th October until Sunday 1st November.
Expect: In the first floor restaurant, special Halloween cocktails will be on offer for the adults including the spook-tacular Jekyll and Hyde, served in a real pumpkin. And for the kids, the Food Store will be hosting a pumpkin carving event on Wednesday 28th October from 4pm.
Details: Tickets cost £20 per child and include a pumpkin, hot chocolate and cookies. To book, please email ellieb@danddlondon.com. 
Where: 350 King's Rd, London SW3 5UU
2. Eat Pumpkin Waffles: Dirty Bones
What: This October, American comfort food restaurant, Dirty Bones is serving up two ghoulish specials to celebrate Halloween. They are scarily delicious, we'll tell you that free.
Expect: First up is the Dirty Bones dusted southern fried chicken on a spiced pumpkin waffle, served with smoked chilli infused maple syrup (£12). And to follow, the White Chocolate Gelato with salted fudge bottom, served with shattered sugar glass and dripping in strawberry blood (£7.50). On the Saturday there will also be a Halloween party at Kensington, with live music, specials, and more spooky surprises.
Details: The dishes will be available at Dirty Bones Kensington and the new Dirty Bones restaurant in Carnaby, on Friday 30th and Saturday 31st October. 
Where: 20 Kensington Church St, Kensington, London W8 4EP
3. Drink a Zombie Smoothie: Hotel Café Royal
What: This Halloween Hotel Café Royal will be offering a number of scary treats to get guests in the mood. The Green Bar will have a selection of spooky cocktails, including the Zombie Smoothie with Koko Kanu Rum, pumpkin syrup, fresh lime juice, apple juice, strawberry purée, topped up with ginger ale.
Expect: There's also the Alien Blood Martini with Ketel One vodka, apple juice, Midori liqueur, fresh lemon juice, Agave syrup and fresh kiwi. In The Café, Andy Blas and Armand Sablon have created a dedicated menu of Halloween treats including Casper and spider themed cupcakes priced at £5 each, and a classic pumpkin and chestnut soup priced at £8.
Details: All of these ghoulish goodies will be available from 26th October– 1st November.
Where: 68 Regent St, London W1B 4DY
4. Drink a Halloween Cocktail: Scarlet's
What: Scarlet's, Mabel's, Bar Soho and Loop have teamed up with candy dream makers Jelly Belly to create some pretty spectacular spooky cocktails.
Expect: All the cocktails. Sip on 'Toil and Trouble' – think a fishbowl style serving cocktail served in a cauldron, brimming with gummy worms, this cocktail for sharing is a cracking choice. Seriously, we're channelling the Sanderson Sisters over here sipping and pretending we're back for one night in Salem.
Details: Available till November 1st
Where: 1 Upper St Martin's Ln, London WC2H 9NY
5. Eat Special Hot Dogs: Shake Shack
What: Raise your spirits this Halloween at the Shack with two devilishly delicious specials.
Expect: Shake Shack will serve up 'Smoke Dog', topped with cheese sauce, chopped cherry pepper and Wiltshire cured smoked bacon and 'Pumpkin Pie Oh My' Concrete – rich and creamy vanilla frozen custard blended with a slice of pumpkin pie. Devilishly good.
Details: From Monday October 19th to Saturday October 31st, £6 for hot dog and £5 for frozen custard.
Where: 24 Piazza, London WC2E 8RD
5. Eat Toffee Apples: Tom's Kitchen Deli
What: Toffee apples, everyone's favourite Autumn treat, will be on sale at Tom's Kitchen Deli from 26th October to 6th November to celebrate Halloween and Bonfire Night 2015. 
Expect: Tom's Kitchen Deli offers an array of homemade seasonal sandwiches, soups, hotpots, salads and sweet treats, perfect for food lovers on the go.http://www.tomskitchen.co.uk/
Details: They will be priced at £3.50 each and will be available from the delis located adjacent to the restaurants in Canary Wharf and St Katharine Docks.
Where: Locations here
6. Drink The Witches Brew: Old Bengal Bar
What: To celebrate this year's Halloween, Old Bengal Bar will be serving up cocktail, 'Witches Brew'.
Expect: Served in a spooky skull glass, the drink is a heady mix of rum, Dom Benedictine, Mezcal shaken with angostura, lime, hazelnut syrup and pumpkin puree for an extra Halloween twist.
Details: Available from 30th October to the 2nd November, 'Witches Brew' will be priced at £12.50 and can be enjoyed in the surroundings of the historic 18th century Old Bengal Warehouse near Liverpool Street.
Where: 16 New St, London EC2M 4TR
7. Eat All the Pumpkin: Angler, South Place Hotel
What: Michelin-starred seafood restaurant, Angler, will be marking this year's Halloween celebrations with dishes inspired by the festival's most famous ingredient.
Expect: Head Chef Tony Fleming has created plates such Roast fillet of John Dory with poached langoustines, mushrooms, truffle and pumpkin as well as Salad of roast pumpkin, bitter leaves, Pink Lady and confit egg yolk in a sophisticated nod to the occasion and in celebration of the rich Autumnal ingredients available at this time of year.
Details: Until 31st October.
Where: 3 South Pl, London EC2M 2AF
8. Discover Highgate Cemetery: Trip4real Local
What: Everyone knows that the best but scariest thing to do around Halloween is a night time graveyard visit, and we know exactly who to go with – trip4real's amazing locals.
Expect: Essentially the Airbnb of travel experiences, trip4real allows locals to become guides for those wanting a true insight into a city…or here its darkest secrets.
Details: For £20 per person, lovely local Abel is at hand to show guests around the Highgate Cemetery, which now houses the departed souls of many of London's most famous, or infamous, inhabitants. He'll also let you in on some creepy legends such as the 60's vampire that lurked around at night…
9. Try a Halloween Family BBQ: The Pointer, Brill
What: Join The Pointer for their annual Halloween Family BBQ on Friday 30th October from 5.30pm-7.30pm.
Expect: The ticket price includes seasonal dishes such as festive pumpkin soup, a burger or sausage, toffee apple and treats! There are also prizes to be won in the Carved Pumpkin Competition or the Children's Fancy Dress Competition.
Details: Tickets are £4.50 for children and £9 for adults, with all proceeds donated to Brill School.
Where: 27 Church St, Brill, Aylesbury HP18 9RT
10. Dance the Night Away: Mondrian London
What: Mondrian London invites guests to an immersive Hallowe'en event 'The Darkness Within' at rooftop bar Rumpus Room on Saturday 31st October. 
Expect: Don a mask or veil to protect your anonymity and head for London's South Bank to journey the blurred boundaries between light and dark, reality and fantasy. Explore a series of twisted workshops and otherworldly performances, all looking out over a Hallowe'en skyline and witnessing the moon's reflection shimmering in the Thames.
Details: Guests are invited to explore The Darkness Within from 8pm until late. Tickets include a bespoke cocktail and canapés reception. Tickets are priced at £49 and are available to buy here.
Where: 20 Upper Ground, London SE1 9PD
11. Go to a Halloween Party: Dirty Martini
What: This Halloween, Dirty Martini summons the daring characters of Clapham, Islington and Monument to join them for an evening of dangerous dancing, devilishly delicious cocktails and bewitching entertainment at the official Dirty Martini Halloween Party.
Expect: Forget bobbing for apples and enjoy a Halloween with a stylish twist as you sip on some of Dirty Martini's finest cocktails during its Happy Hour which will run until 8pm. Try the Spiced Pumpkin Flip – a delicious rum based cocktail bursting with gingerbread and cinnamon flavours with a citrus twist, all served in a Viitta Coupette cocktail glass.
Details: Dirty Martini Islington has extended its opening hours till 2.30am – for more information visit here.
Where: Locations here
12. Eat a Halloween Pizza: PizzaBuzz
What: Don't waste Halloween locked in your house behind closed curtains avoiding those trick or treater – feed your dark side at PizzaBuzz, east London's newest pizza joint.
Expect: Allow us to introduce The Black Widow. This spookily satisfying 12" pizza with crawling spiders on a haunting black base will be ready for you to feast on Halloween. A dramatic midnight black squid ink-coloured base – using a flour blend developed in-house to aid good digestion – is generously topped with mozzarella, butternut squash, red onion, green peppers, cherry tomatoes, black olives and a drizzle of garlic-infused olive oil.
Details: Fresh from the ferocious flames of the wood-fired oven, you'll be truly rooted to the spot as you slice up and savour every mouthful of the £9.95 scary special. Available from 26th October-1st November.
Where: Alphabeta Building, 2 Worship St, London EC2A 2AH
13. Try Pumpkin Carving: The Black Penny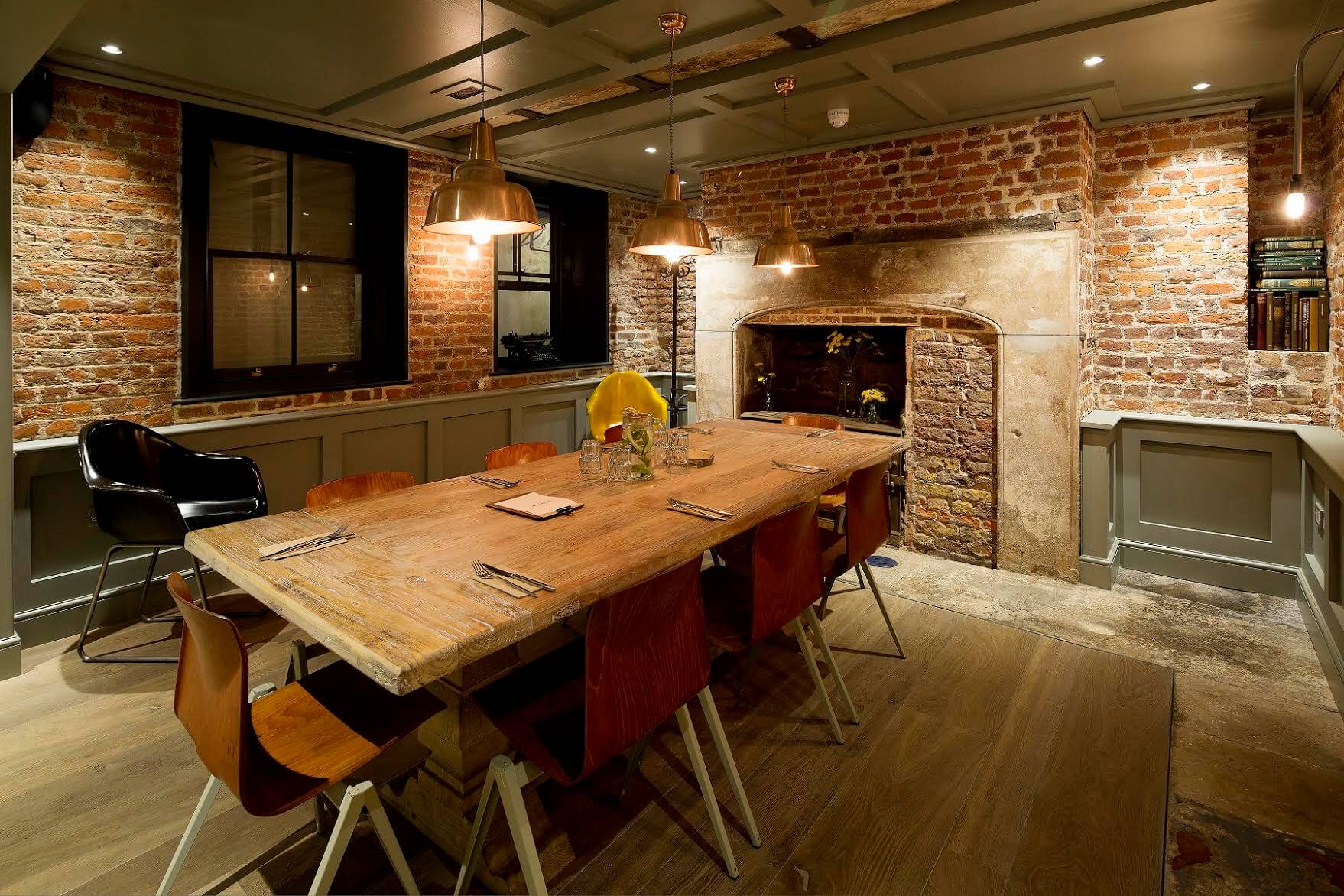 What: This Halloween, The Black Penny, a modern coffee house located on Great Queen Street in Covent Garden, is inviting Londoners to get into the spooky spirit early with a pumpkin carving masterclass.
Expect: Hosted by East London artist and designer Zeena Shah, the class starts at 6.30pm and will teach even the most novice of carvers how to create a ghostly masterpiece. Following the class, guests can take their creations home or have them proudly lit up in the windows of the venue.
Details: The class takes place on the 28th October 2015.
Where: 34 Great Queen St, London WC2B 5AA
14. Eat all the Halloween Specials: The Diner
What: The Diner has created a special Halloween menu and we totally love it. Start your night with the gory bloody queso dip, and for the main event, tuck into The Diner's Jason Vorhees Burger.
Expect: Inspired by the fearsome character in the cult classic film, Friday the 13th, the special 6oz diner patty comes oozing with grated cheese, crunchy fritos, tomato and jalapeno messy innards, sandwiched between a Rinkoff's bun branded with the iconic hockey mask image. There's also The Diner's vampire fries – tasty chips that come dripping in garlic butter. If you're still feeling daring, try The Diner's unique dessert: deep-fried watermelon slices drenched in blood.
Details: Available in The Diner throughout London. Locations here.
Photo Credit: Paul Winch-Furness
15. Get in the Spirit: Lomax LIVE Halloween Blast
What: Fancy an exercise class with a difference? Lomax Chelsea has teamed up with Cirque Le Soir and Mahiki DJ, Yakir Elia, who will help you push through those super sets and really get your heart racing.
Expect: For one night only, the gym at Lomax will undergo a spooky transformation for their first ever LIVE Blast. With London-based DJ Yakir Elia banging out a live set to accompany the class and a few pulse-accelerating twists to the workout itself, this is a Lomax Blast Class like never before. Treats for those in fancy dress, tricks for everyone else…
Details: 3 classes on Thursday 29th Oct at 6pm, 7pm and 8pm to get you costume ready for the Halloween weekend.
Where: 293 Fulham Rd, London SW10 9PZ
And one for luck…
16. Eat a Halloween Burger: Boneyard
What: Within the industrial route-66 inspired interior, ex-petrol station, Boneyard have spooked-up their already gory bone marrow burger.
Expect: It could be the setting of a horror film, with reclaimed corrugated iron, and walls covered with reclaimed floorboards from a convent. Between sesame-topped black brioche buns their bone marrow burger topped with crispy bacon, laced with a pumpkin hash and is dripping with cheese.
Details: Boneyard's Halloween burger is £9 and will be served until 31st October.
Where: 168 Shoreditch High St, London E1 6JE