It's a great year for great mince pies; from the glorious creations at the new Holborn Dining Room Pie Room – yes, an entire space dedicated to Calum Franklin's miraculous pastry work – to a box of speculoos topped crumble ones at Harrod's. Here's our tips if you want something a lot more exciting than a box of Mr Kipling's finest:
1. For a Proper Pastry Feast: Bread Ahead
The Run-Down: Justin Gellatly is truly the master of baking, and the mince pies at Bread Ahead's various locations (including a pop-up cafe this month in Mayfair) are almost a meal in themselves. The pastry is substantial but so good, so buttery, and so shortbread like, you could eat it by itself. The mincemeat, from a family recipe, is packed full of goodness too. And the the mince pies from St John Bakery are similarly lush.
Where: Locations here
2. For the Perfect Proportion: Gail's
The Run-Down: It's all about the right balance between pastry and filling, and we can't get enough of Gail's mince pies; just the right size to nosh with your morning coffee without making you too full for lunch. While you're there, the chocolate hazelnut sandwich cookies are the sleeper hit of their festive range.
Where: Locations here
3. For a Really Great All-Rounder: Melrose and Morgan
The Run-Down: Melrose and Morgan make one of our favourite mince pies: the pastry is short, crumbly and rich, and the filling isn't at all dry and avoids being too sweet. Warm up a batch of these of an afternoon. Happy days.
Where: Locations here
4. For a Deep-Filled Treat: Ottolenghi
The Run-Down: Ottolenghi's pies are generously filled, and naturally the pastry is great. The filling is beautifully fruity and has just the right balance of spice. They are £3 a pop but – hey – it's Christmas after all.
Where: Locations here
5. For Double-the-Crumble Fun: Jacob the Angel
The Run-Down: Jacob the Angel is justly famed for their brilliant baked creations – and their mince pie slice comes inside shortbread-like pastry with a layer of delicious crumble on top. Plus an extremely generous amount of their home made mincemeat filling. A definite winner.
Where: 16A Neal's Yard, London WC2H 9DP
6. For a Flaky Pastry Pie: Llewelyn's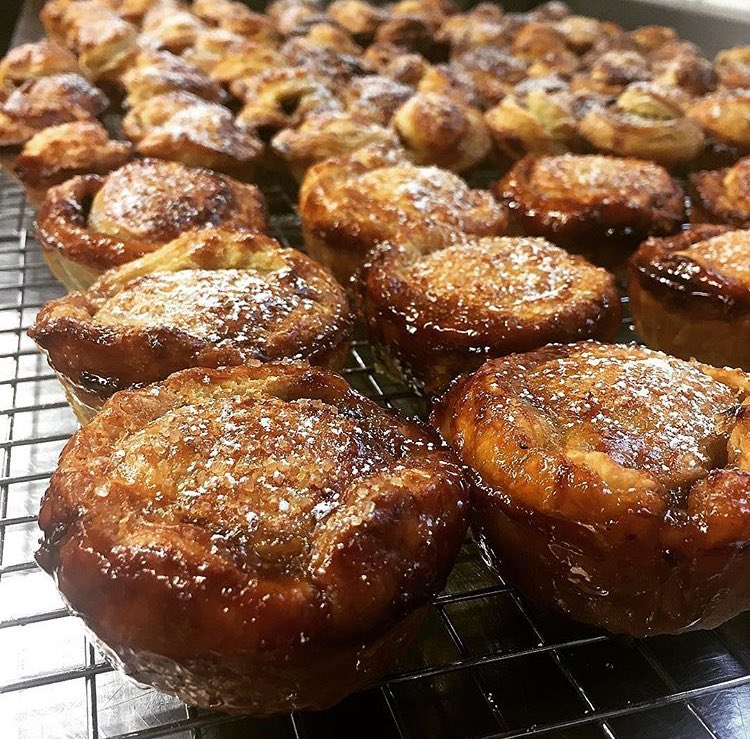 The Run-Down: The team at Herne Hill's much loved Llewelyn's, led by pastry chef Ravneet, tested about 15 mince pie variations before coming up with their final favourite. The puff pastry is baked golden and crisp and it's rather marvellous indeed. Rav recommeds serving it with a frankly unseemly amount of clotted cream, and who are we to argue.
Where: 293-295 Railton Rd, Herne Hill, London SE24 0J
7. For a Frangipane Topping: Quality Chop House Deli
The Run-Down: Who doesn't love a frangipane topping? Head straight to the Quality Chop House Deli next to their Farringdon restaurant to find mince pies with a layer of frangipane and a slice of tangerine baked into the top. We challenge you not to leave without a slice of the gingerbread loaf which is one of the best we've ever tried.
Where: 88-94 Farringdon Rd, Clerkenwell, London EC1R 3EA 
Photo Credit: Martha Delacey
The Run-Down: Konditor and Cook sell thousands of their mince pies every year, with bakers working round the clock to keep up supplies. They are small and perfectly formed, and come in boxes of 6 or 12 for all your extended Xmas mince pie needs.
Where: Locations here 
9. For Pastry Dodgers: Blondies Kitchen
The Run-Down: Yes, a cookie dough mince pie exists. As a colleague said when he tried one of the new Blondie's Kitchen mince pies – 'why have I been eating pastry all my life?'. They are squidgy and crisp on top and definitely for the sweet toothed, but we applaud their daring innovation.
Where: 400 Oxford St, Marylebone, London W1A 1AB
10. For Mince Pie Deliveries: Butterscotch London
The Run-Down: Too busy or too stressed to venture out into town? You can order Bea Vo's brilliant mince pies from Butterscotch London online via their website to be delivered, or pick up from one of her diner locations around town. Plus they have a pop-up stall at Old Street station, so you can get a box for the commute home.
Where: Order online 
Photo Credit: Frasier Communications 
11. For a Croissant-Style Pie: Popham's Bakery
The Run-Down: The new Popham's Bakery in Islington specialises in sourdough bread and laminated dough treats including their mince pie creation, which combines their wonderful flaky croissant with a mincemeat filling. Marvel at the layers, and covet their beautiful plates.
Where: 19 Prebend St, London N1 8PF
Photo Credit: curlyclair1
12. For a Pie to Make You Smile: Dominique Ansel Bakery
The Run-Down: The team at Dominique Ansel Bakery have created the ultimate festive mince pie, full of plump dried fruit with a layer of tangerine jam, inside sweet shortcrust pastry. Plus with their trademark sense of fun, they've piped a Rudolf the Reindeer face on top. It's almost too pretty to eat – but don't let that stop you tucking in.
Where: 17-21 Elizabeth St, Belgravia, London SW1W 9RP
One for luck… 
13. For an Out of Town Treat: North Star Coffee Shop
The Run-Down: Anyone within reach of Leeds over Xmas – go to North Star Coffee Shop near the Armoury where YBF award winning baker Sarah Lemanski is supplying wonderful baked goods. Xmas specials include her utterly brilliant 'Quince pie' – a square of shortbread topped with her home made quince mincemeat and a layer of buttery, crunchy crumble. Worth the journey even if you are nowhere near Leeds.
Where: Unit 33, The Boulevard, Leeds Dock, Leeds LS10 1PZ
Also highly recommended: more excellent mince pies can be found at Dusty Knuckle, E5 Bakehouse, Brickhouse Bread, Lyles, Fortnums for a box of praline mince pies – which also come in a single GIANT version.